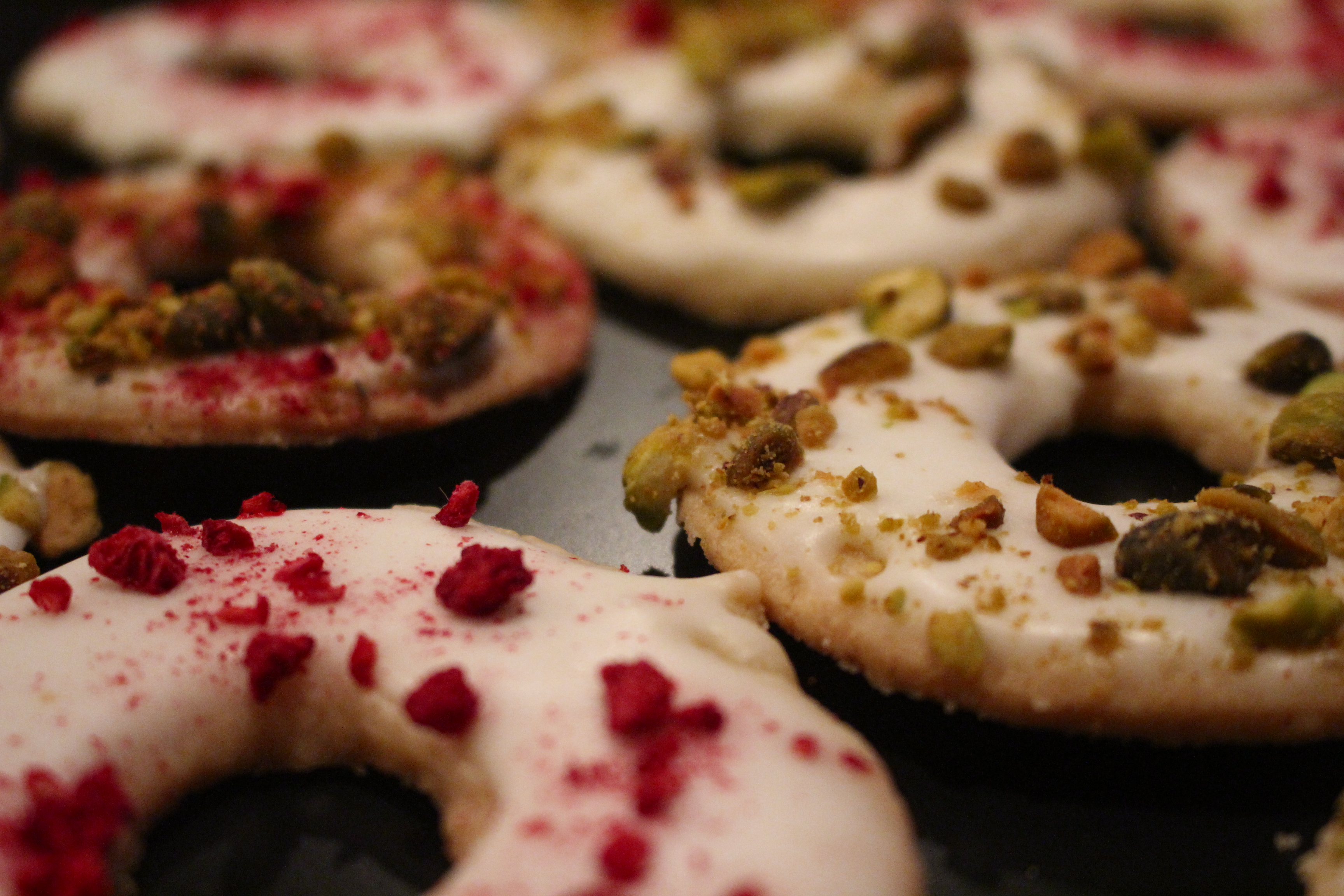 Do you hear what I hear? Are those trumpets tooting my horn? YEP! I am proud to say as of this weekend I "successfully" cooked EVERY cover of Bon Appétit magazine this year keeping my New Year's Resolution! (Barb actually has kept all of her resolutions including the one to talk in the third person on Thursdays!)
I enjoyed the experience and some of the obstacles these covers presented every month. The biggest challenge was the fact that I live in a smaller community. Our grocery stores do try to keep up with new foods but it takes awhile. (This is what slow food means in our community….we are slow to accept any different food!)
With that said, these barriers were actually beneficial to me because it made me think and learn more about food I was going to cook. These hurdles only made me smarter. (And if you are one of my regular readers, you know I can use all the education I can get!)
The Lavender Shortbread Cookies on the December issue were a nice way to close out the year. I did something familiar (cut out cookies) but learned how delicious something like dried herbs can be on a cookie! I also liked the "expert" instruction on making the cookies. Sometimes a gal needs illustrations to understand a concept.
So how would I rank the covers this year, you ask? Hmmmm, here would be my list from LEAST favorite to MOST Favorite…..(The links are to MY blogs about the covers but there are links to the BA recipes on each blog.)
12.  October…Grandma's Pizza Pie. It was one delicious pizza but I like my dough thin and crispy…like me. (Wait, crispy isn't a very nice adjective for myself…is it?)
11.  April…Pan Roasted Hake with Potatoes and Green Sauce. I didn't like this recipe because I screwed it up…. royally! I made a stupid choice for a fish substitution so it sort of soured me on the entire recipe.
10.  May….The Travel Issue…I like the travel issues because it teaches me more about what is out there in the big world. (And the self timed B/W photo rocks…if I do say so myself…and I do.)
9.  February…Chicken with Dumplings and Mushrooms.  Good recipe for fans of chicken and dumplings. (Dumpling…that is another one of my nicknames.) : )
8.  December….Lavender Shortbread Cookies. I topped mine with pistachios and dried raspberries. I loved the contrast with the salty nuts and sweet icing!
7.  March…Savory Short Rib Pie. Can't complain about short ribs, can you? This was a great March comfort dinner.
6.  July…Mint and Cumin Spiced Lamb…This was my favorite magazine of the year…just not my favorite cover to cook.
5.  June…Sour Cherry Pie….Best crust I've ever had in my life. IN MY LIFE!!!!!
4.  September…Lemongrass Seafood Stew…This was a lot of work but it was so delicious. I am making it for Christmas Eve this year.
3. August… Tomato, Onion Roasted Lemon Salad….I will make this again. It was like a bowl of summer love.
2.  January….Rice Noodle Soup with Spicy Pork and Mustard Greens…Probably the most adaptable of all of the covers this year!
1.  November…Mashed Potatoes….This is why I read BA….only they can take a holiday standard like mashed potatoes and make them taste like I've never had them before in my life!!!!!!!
So will I do this again next year? I'm not sure I will commit to it as a resolution….yet. I loved the challenge and looking back, I tried things I would have never done. (It was sort of like cooking magazine peer pressure…Come on Barb….everyone is cooking this cover.)
I do want to thank the folks at Bon Appétit for keeping me on my toes and continuing to teach this small town foodie a thing or two. (Or three….or four…)