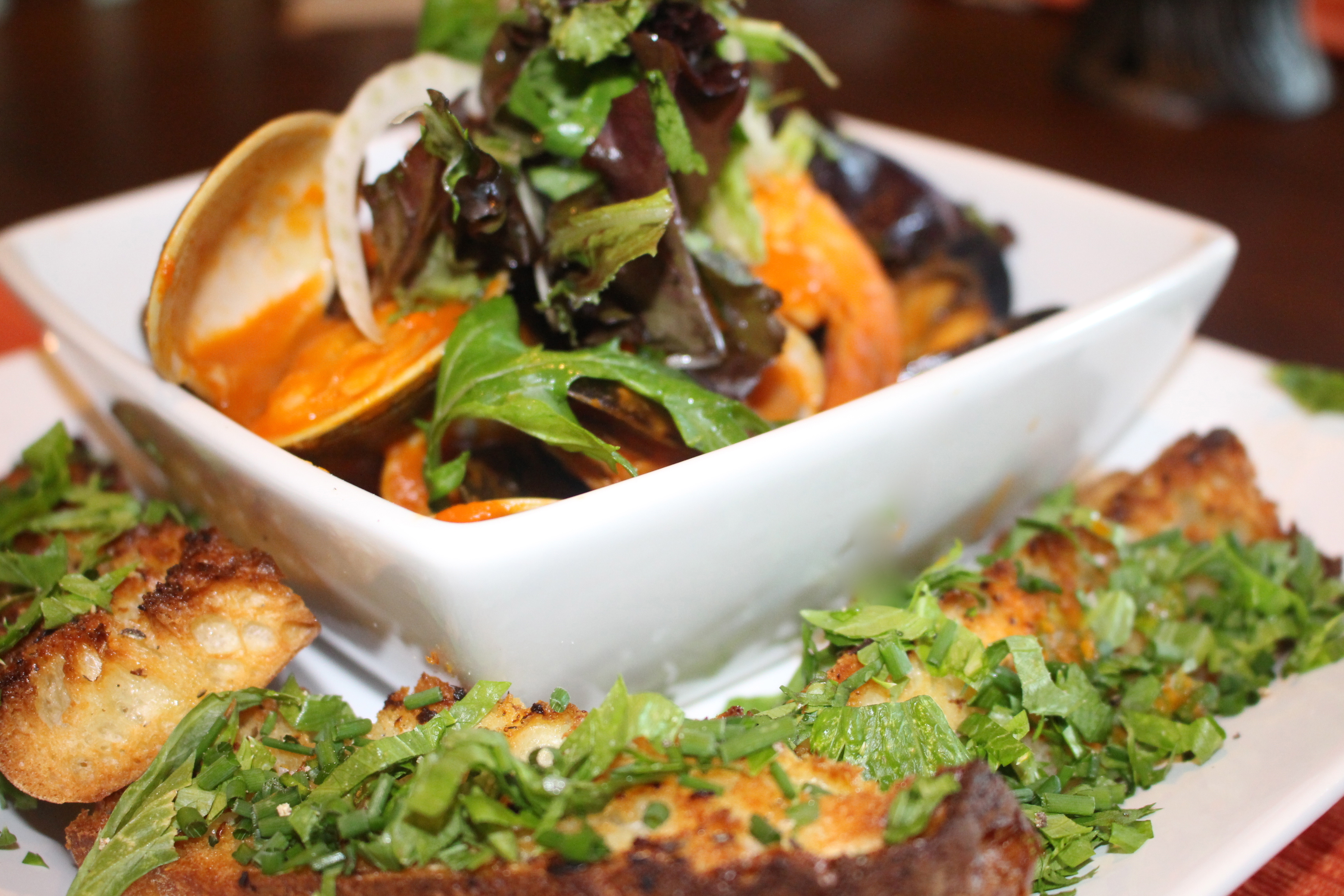 Another new month and another Bon Appetit Cook the Cover to conquer. I never thought that when I made this part of my New Year's Resolutions that it would become such a big part of my year. I am really enjoying the challenge and am proud to say I am 9 for 9!
So this month, I mosey down to the mailbox and see the familiar plastic wrapped issue just poking its pretty little head out among the bills and junkmail. I pull it to the top of the pile and said "Uh Oh."
Bon Appetit's Setember's Issue highlights the Best New Restaurants (Congrats to Rose's Luxury for receiving the dubious distinction this year) and the front picture is a gal with tattooed arms holding a bowl. When I first viewed the cover, I didn't even notice what was in the bowl. I immediately became anxious because of the tattoos.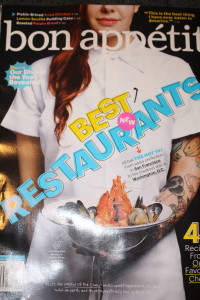 Without even busting open the magazine, I became concerned how I would create this cover. (I do have my own tattoos but you would not want me serving you dinner from "that" area and I don't think my hubby would appreciate me showing you my bits on my blog!)
My only out would be if Bon Appetit would have the recipe for the dish this cover chef was holding. I became concerned when I couldn't find anything and actually resorted to sending @bonappetit a tweet.  (Info on the recipe WAS on page 10 of the issue…my bad!)
They responded immediately and sent me a link to the Lemongrass Seafood Stew shown in the picture on the cover. Again, I said "Uh-Oh" until I started reading the recipe. (My concern living in a small town, as always, was finding ingredients.)
This issue was about Best New Restaurants but I want to give Bon Appetit a gold star for Best Instructions of a restaurant worthy dish.  They made a complex recipe soooo easy for the home cook. I loved how the instructions were set up for success.
Essentially there were four steps: creating the broth, making garlic bread, putting the salad together and assembling the dish.
Broth: If I make one recommendation it would be don't skip a step in the broth. It was probably one of the most wonderfully aromatic broths I have ever encountered. The lemongrass, garlic, ginger and lemon came together like a well-rehearsed quartet.
Garlic Bread: This is where the garlic bread comes in handy because this broth needs to be sopped up! One drop of it would be a crime against humanity! (Okay, that is a little dramatic but it really was good.) I didn't have parsley in the house so I subbed chopped celery leaf in for one of the herbs. It was a good fit.
Salad: The salad is also an essential part of the dish. The fresh fennel and lemon complimented the same ingredients in the broth. (This technically was to be done when cooking the shellfish but I didn't want to get distracted so I made it first and dressed if right before serving.)
Assembly: It is kind of funny to discuss seafood as one of the final steps since it is such a wonderful part of the meal. The mussels, clams, shrimp and squid all cook in the broth but not at the same time.
I found some nice mussels and clams but prawns and squid tentacles weren't available. I subbed in some allegedly jumbo shrimp and cut up a squid steak into ribbons.
After the seafood is done cooking, it was as simple as putting it into a bowl, adding some extra broth, top with salad and put the garlic bread on the side.
Bon Appetit said this a "restaurant-worthy" dish and they weren't lying. If the aromatics in the broth were a quartet, all of these components put together were like a symphony orchestra. It was truly amazing.
The best part of cooking all of these covers is that Bon Appetit continues to challenge me. This recipe is going into my cookbook and will be one that I will cook for years.