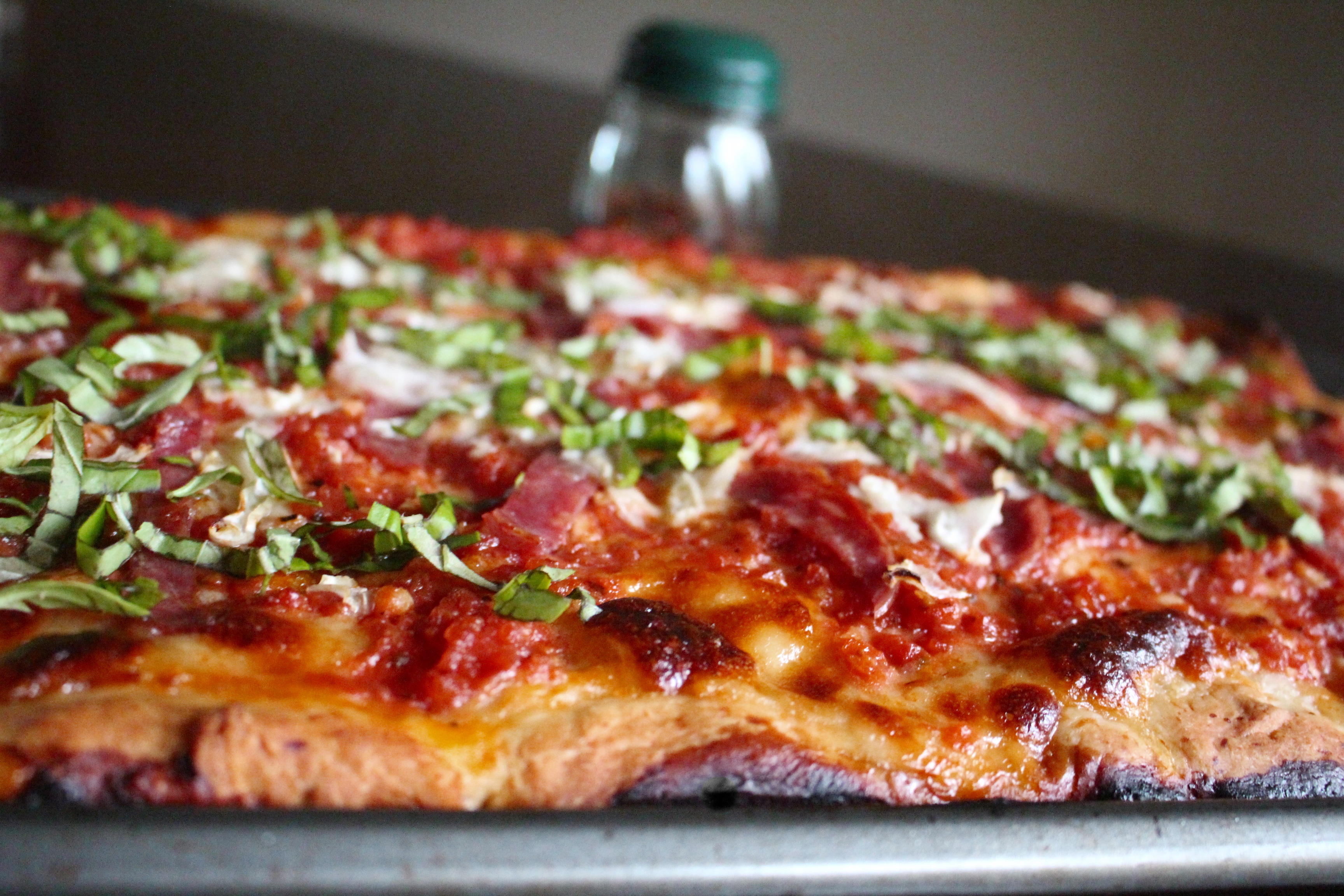 When I received this month's Bon Appétit, I was so excited to see a pizza on the cover. It was going to be a breeze to knock this cover out and keep my resolution of cooking every cover this year. (And I would be lying if I said I wasn't scared at what the holiday issues may toss my way in the next two months!)
Making pizza at home is probably one of my favorite things to do but it has been awhile since I made a pizza pie on a baking sheet like Bon Appétit did this month.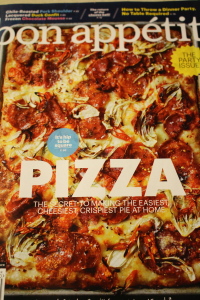 Bon Appétit called this pizza a "grandma" pizza but it wasn't my Italian grandma who made me pizza this way, it was my mom who was the pizza genius.
My memory doesn't allow me to remember how often we did this at home but every memory I do have is joyful.
Mom would make her dough and it was always a treat to be the one to punch it down after it doubled in size. She would lie out the baking sheets on the counter and stretch the dough over each one.
Sometimes a little hole or two would pop up and Mom always managed to conceal them with her gentle hands.
Mom's sauce wasn't fancy (tomato sauce, oregano, maybe some garlic) but she did teach us how to spread it out evenly so each bite of pizza would have a touch of tomatoey goodness.
Between my two sisters, and me we were all designated a part of the pan that was ours. We were allowed to add our favorite ingredients and sprinkle on cheese. (Knowing my mom, she kept it fair and made sure we all had the exact same number of pepperoni slices or olives so there would be no bickering.)
It was just one of those memories that I will cherish.
So when I made this month's cover of Bon Appétit, I was instantly taken back to Mom's kitchen. It is an easier way to make a "pie" and the outcome was absolutely delicious.
The main difference between Bon Appétit's and Mom's recipe was the thickness of the dough. BA's pie was thicker but not dense as you might imagine. The instruction on making the dough was spot on. It was absolutely fool proof. (Speaking of proof…make sure you proof your yeast to make sure it is ALIVE!)
Another key point is to make sure you do use a good amount of olive oil on the pan before cooking. The olive oil helped crisp the bottom crust so it tasted more like an authentic pizzeria pizza.
Bon Appétit gave some fun suggestions for pizza toppings that aren't' found at most pizza joints…. especially in our small town.
I like the flavor combination of fresh mozzarella, thinly sliced fennel and mild salami. The sauce Bon Appétit suggested was awesome with just the right balance of tomato, garlic and anchovies. (Don't skip the anchovies, they add a nice saltiness.) I sprinkled on some fresh basil from what is left of this year's garden and called it a pie!
It cooked beautifully but I almost burnt it! I checked it at 20 minutes and it was just about done.  I, stupidly, walked away for a couple of minutes and almost wrecked it!  (The oven is HOT so watch those last minutes carefully!)
My mom would be the first to say that she doesn't like to cook but I will always be grateful to her for teaching us how to make pizza this way.