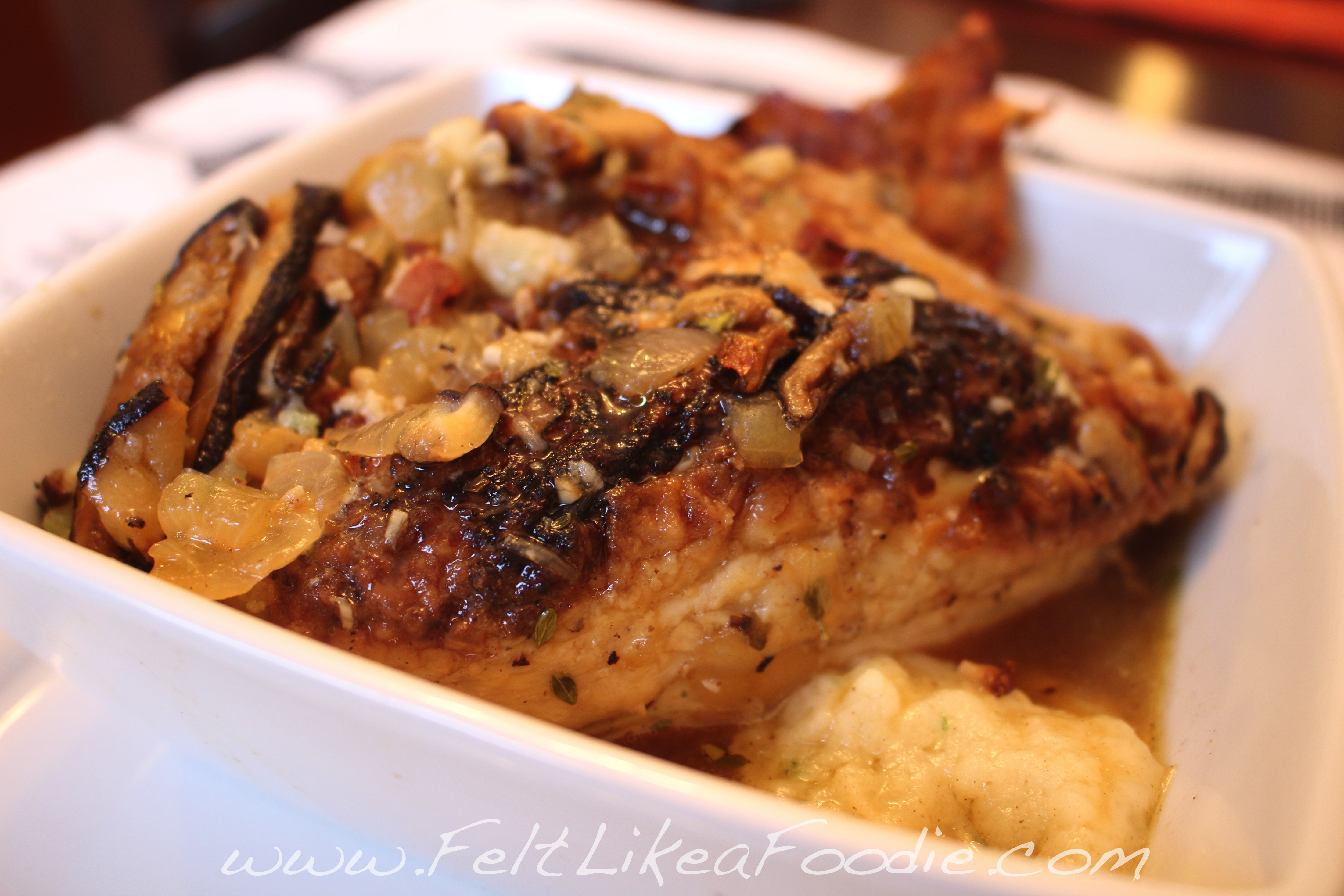 Zoiks!!!  I am cutting it close this month.  I've been doing great keeping my New Year's Resolutions but I almost let February slip by without cooking the cover of the February Bon Appétit.
I will admit I was procrastinating on this one.  It was not that Chicken and Dumplings with Mushrooms wasn't appealing to me.  (Actually Chicken and Dumpling are terms of endearment in this house.)
The problem is that I didn't want to use chicken thighs.  I know the higher fat content of thighs keeps them from drying out when cooked for long periods of time.  But there is just something about the texture of thighs that isn't my favorite.  (I am not anti-thigh by any means.  I have two of my own.)
One of my biggest frustrations is when someone makes one of MY recipes, switches some of the main components and is upset with me that it didn't turn out.  (Frustration is a nice word.  It actually aggravates the heck out of me!)  So I kept questioning myself on why would I commit the same offense on one of Bon Appétit's recipes?
Part of me played around with doing it by the book (or magazine in this case) but I knew that both my hubby and I would rather eat white meat.  I also knew that that there is nothing worse than bone-dry piece of chicken so I'd better do some research!
With that said, I didn't want to screw this up!!!   When modifying a written recipe you have to take in account that the protein you choose may call for you to make some adjustments in cooking times.  It takes a little research but it is doable.
I read a few things online and just threw caution to the wind and went for it!  I did cut the amount of broth just because my cooking time was going to be shorter.  I wanted to make sure that the broth was going to still have the time to reduce and absorb the flavors of the herbs and chicken.
The result was pretty darn good!  I do think that mine was a little more "soupy" than "stewy" but that is because of the shorter cooking time etc.
My chicken was really moist and tasted great with the dumplings.
If you like thighs, I would totally stick to the original recipe but it is nice to know there are some good, well-thought out substitutes!
Chicken and Dumplings with Mushrooms (Adapted from Bon Appétit February 2014 Cook The Cover)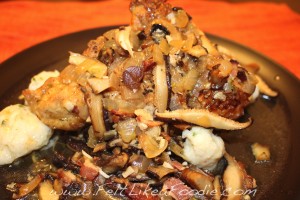 INGREDIENTS
CHICKEN STEW
4 oz.  bacon, cut into pieces (I used less bacon because that was all I had in the house!)
¼ cup all-purpose flour
3 chicken breasts (bone in with skin)
Kosher salt and freshly ground black pepper
1½ pound mixed mushrooms
1 medium onion, chopped
6 cloves garlic crushed
¼ cup dry white wine
6 sprigs thyme
2 bay leaves
6 cups low-sodium chicken broth
DUMPLINGS AND ASSEMBLY
¾ teaspoon kosher salt, plus more
1 cup all-purpose flour
2 teaspoons baking powder
½ teaspoon freshly grated nutmeg
2 tsp chives
⅛ teaspoon freshly ground black pepper
2 large eggs
¼ cup whole milk
PREPARATION
CHICKEN STEW
Crisp bacon in a large Dutch oven over medium heat; transfer to a brown paper lunch bags.  (I like lunch bags best for absorbing the extra grease.)
Place flour in a shallow bowl. Season chicken with salt and pepper and dredge in flour. Working in batches, cook chicken, skin side down, in same pot over medium heat until deep golden brown and crisp (do not turn), 12–15 minutes. Transfer to a plate.
Working in 2 batches, cook mushrooms in same pot, seasoning with salt and pepper and stirring occasionally, until brown, 5–8 minutes. Transfer to a bowl. Add onion and garlic to pot; cook, stirring occasionally, until onion is soft and translucent, 5–8 minutes.
Add wine to pot; simmer until reduced by half, about 5 minutes. Add chicken, bacon, thyme, bay leaves, and broth; season with salt and pepper.
Bring to a boil, reduce heat, and gently simmer, partially covered, skimming occasionally, until chicken is falling off the bone, about 1 hour.  (Check chicken temp at 1 hour.  It should be falling off the bone.  If not, you can cook a smidge longer but be careful not to overdo it!  It will be cooking another 10-15 minutes after you add the mushrooms back.)
Add mushrooms and simmer until flavors meld, 10–15 minutes; season with salt and pepper.
DUMPLINGS AND ASSEMBLY
Bring a medium pot of salted water to a boil. Whisk flour, baking powder, chives, nutmeg, pepper, and ¾ tsp. salt in a medium bowl. Whisk in eggs and milk (batter will be slightly lumpy). Reduce heat until water is at a strong simmer. Drop teaspoonfuls of batter into water; cook until dumpling are cooked through and doubled in size, about 5 minutes. Remove with slotted spoon; add to stew just before serving.
DO AHEAD: Stew (without dumplings) can be made 3 days ahead. Let cool; cover and chill.
I already have March's Bon Appétit lined up and ready to go!  There won't be any changes unless I can't find short ribs in my small town!