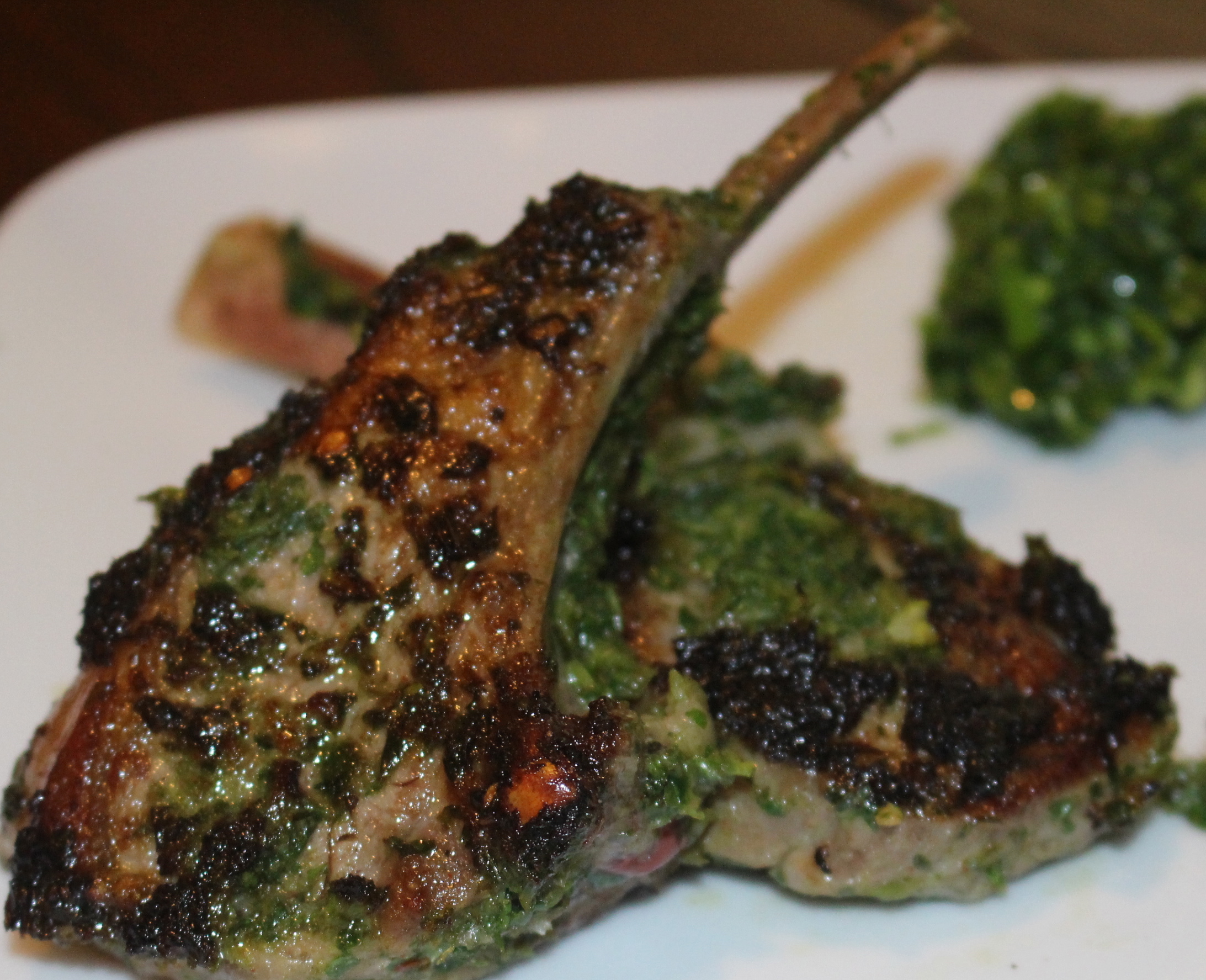 It is the end of the month which can only mean one thing….it is time to cook the cover of Bon Appetit! July's issue may be my favorite issue so far this year.
It wasn't that I was completely enamored with the cover recipe (Mint and Cumin Spiced Lamb Chops). I like lamb chops but they aren't really available in this area so I was nervous about cooking them.
I did find some chops when I was in a larger city but there wasn't really an option to leave the fat on the bone as suggested in the recipe. With the exception of finding the chops, the recipe was simple and tasty. (And may I add a "boo-yah" for myself for keeping my New Year's Resolution!)
What I LOVED about this issue were all the Global Grilling recipes!!! It was like opening the menu for our favorite local restaurant (The Pickle & Turnip, Michigan City, IN).
The recipes included things like hummus, tabbouleh and lamb burgers. These are things I want to eat all of the time. (There wasn't an eggplant recipe so The Pickle and Turnip does not have to worry about losing me.)
I can't remember the last time I found a magazine where I drooled at all of the pages. Okay, I do remember…it was when my sister went to college and she brought home a Playgirl. There were some hot dishes in there!   (Don't worry; I only looked at the pictures since my mom said that I wasn't old enough to read it yet.)
Sorry…I digress…the one recipe that I tweaked a little was the Sweet and Tangy Hummus. It was a garlic free version of hummus with a red pepper twist. Of course, once again, our small town didn't have the ingredients so I just used what I had in the pantry.
The version I made (recipe below) was delicious and probably some of the best hummus I've ever made in my life!! The best part it was EASY!!!!!
I've gotta say…this cook the cover thing has been really a challenge but I am kind of glad that I have kept it up. It has forced me to really read each issue when I know I've been guilty of skimming cooking magazines in the past. I feel like I am getting my money's worth by looking at more than just the pictures. (Maybe I should go get some Playgirls and see if that applies to them too? Next year's resolution!)
Tangy Hummus (Tweaked from Bon Appetit)
Ingredients
1 15.5 ounce can of chickpeas, rinsed
1/3 cup tahini
3 Tbsp FRESH lemon juice
1 ½ Tbsp DeLallo Red Pepper Paste (This is found in the pasta aisle and is delicious)
Sprinkle of salt
Olive Oil
Aleppo Pepper
Directions
In a food processor, add chickpeas, tahini, lemon juice and red pepper paste.
Twirl and twirl and twirl.
It should be smooth. If it isn't smooth and a drizzle of olive oil.
Taste for seasoning and add a smidge of salt and twirl again.
Serve it with a smidge of olive oil on top and a sprinkle of Aleppo Pepper.
I have eaten this on pita chips, pita bread, on chicken and with the cook the cover lamb chops. (Please note, there is no picture of the hummus. I ate it too fast!)
5 more months of covers….I wonder what August will have for me!