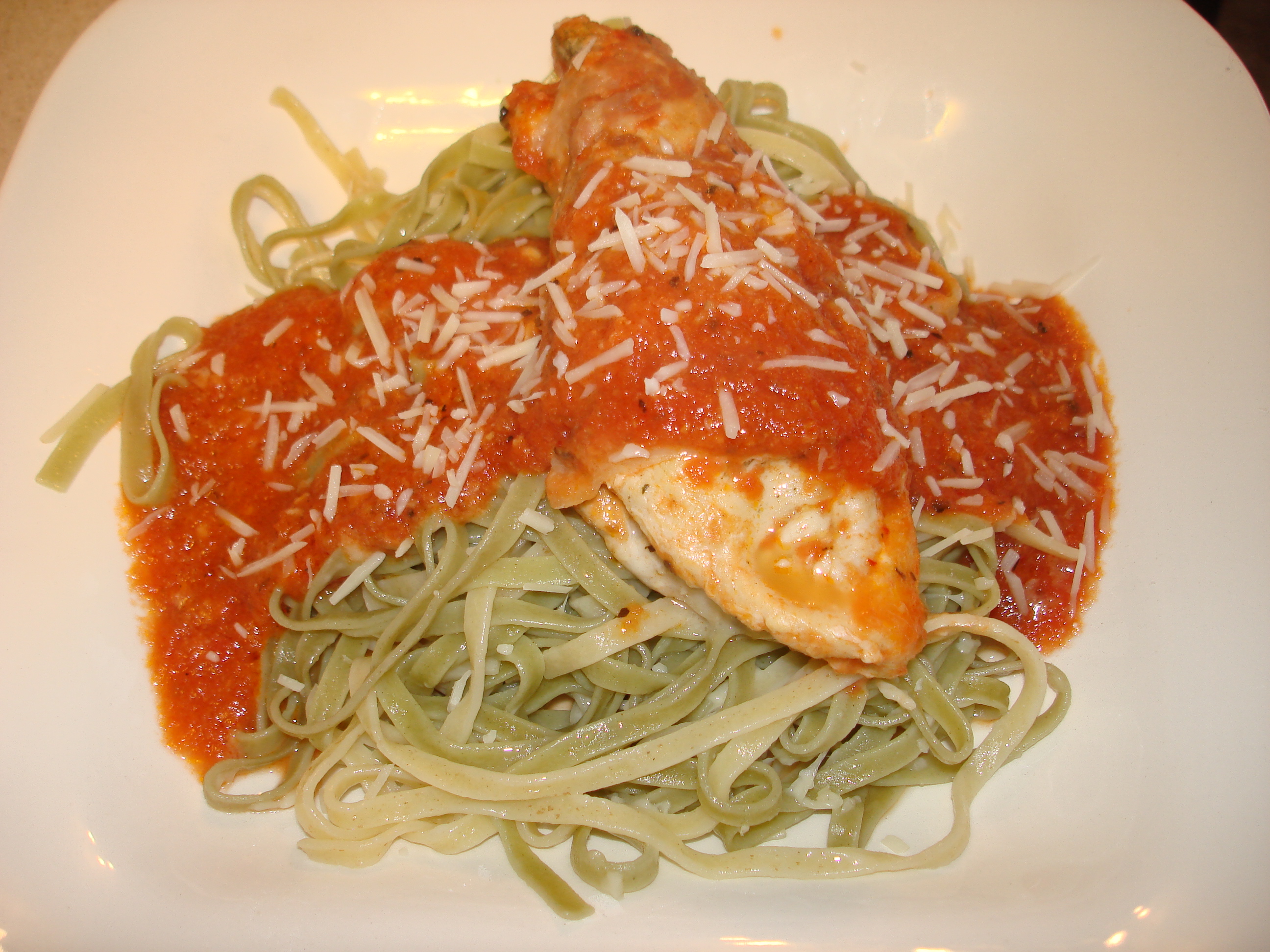 In honor of my last blog, I thought I should share a really good chicken breast recipe.  I love stuffed chicken breasts because they really are simple to make but still have a rich taste.
The other thing I like about a stuffed chicken breast is it is exactly what the name implies, a stuffed chicken breast.  One of the most important things I've learned as a foodie is that good food is really simple.  Fancy names and multiple specialty ingredients won't make your meal better.  Your knowledge and care in the food's actual preparation will make it delicious even to the most discriminating gourmets.
| | | |
| --- | --- | --- |
| Fontina Stuffed Chicken Breasts | | |
Author:
Ingredients
4 Chicken breasts
Salt, pepper, and ground sage
4 ounces Fontina cheese, grated
4 slices prosciutto
1 Tbsp. Olive oil
3 Garlic cloves, halved
cup white wine
1 15 oz can stewed tomatoes, blended
tsp red pepper flakes
1 tsp Italian seasoning
Instructions
Pound chicken breasts as thin as possible. Sprinkle one side with salt, pepper and ground sage. Sprinkle each breast with 1 ounce each. Fold chicken breast lengthwise and secure shut by wrapping a piece of prosciutto around the breast. (This will hold it together and keep any cheese in tact.)
In a large skillet, warm the olive oil over medium-high heat. Add garlic cloves and sauté in oil until fragrant. If the garlic starts to burn, remove from pan so it doesn't taint the taste of the olive oil.
Add chicken to the pan and brown the chicken on each side, approximately 2-3 minutes. Make sure you brown the sides too so the prosciutto is crispy all over.
Remove the chicken from the pan and the garlic if you haven't already done so.
Deglaze the pan with the white wine and scrape up the brown bits. Add the tomatoes, pepper flakes and Italian seasoning and let simmer for about 3 minutes.
Return the chicken to pan and cover the pan. Allow to cook 8 minutes. Turn the chicken over and continue to cook until cooked through about another 5-7 minutes.
I served mine over lightly buttered spinach egg noodles.
Still being new to food blogging, I do realize that I should have taken pictures of each step.  Next time I make this dish, I will add the pictures.  If you have any questions, please don't hesitate to contact me via email.