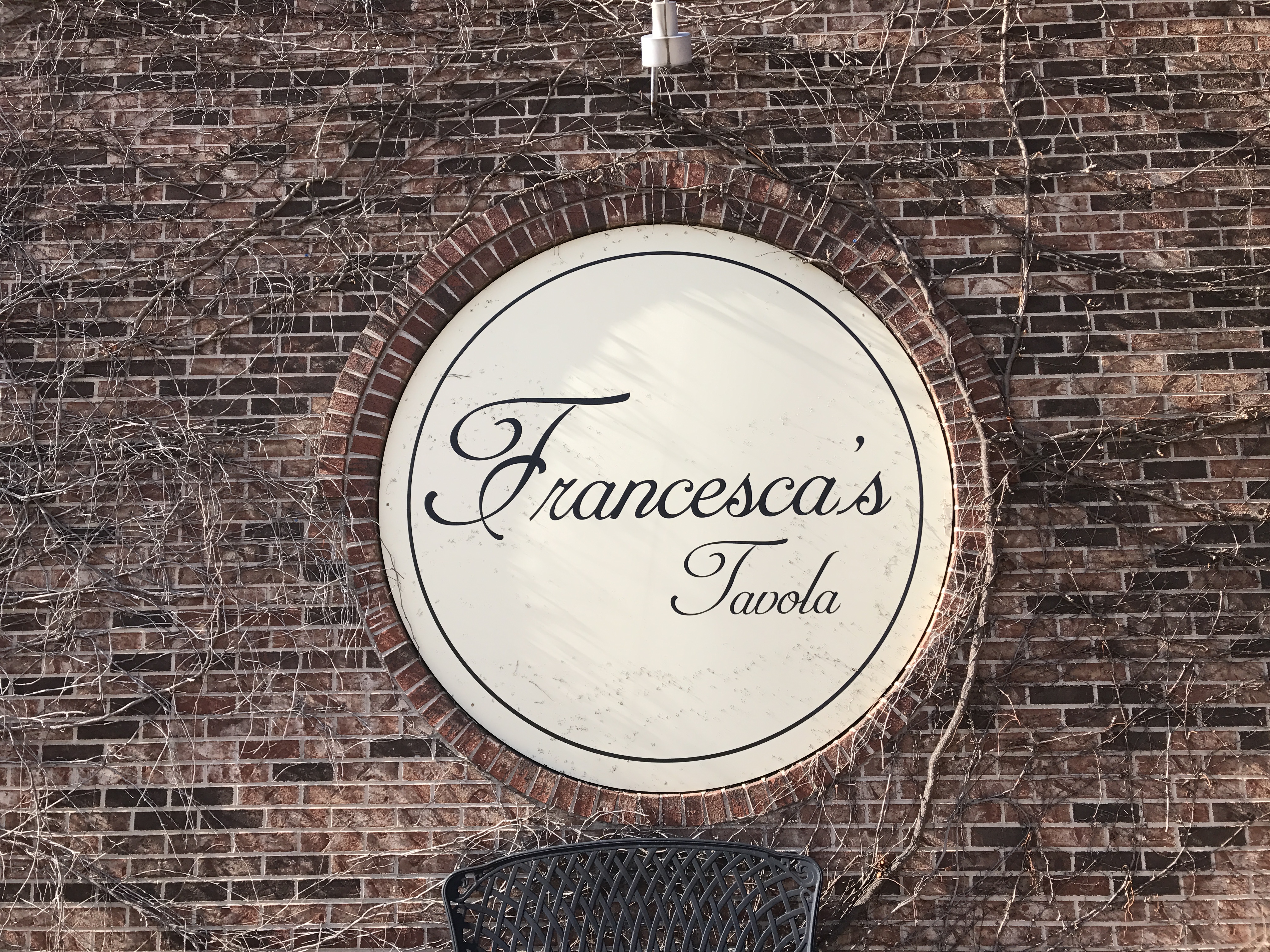 I had a case of the Monday blues today because this will be my final post previewing the upcoming Chicago Northwest Restaurant Week. (February 22, 2019-March 3, 2019.). I had a great time dreaming of all the places that I could go and say "Let's Not Cook." (Here is a list of participating restaurants and some of the menus this year.)
Every year after I experience a restaurant week, I am thrilled to discover some new favorites. I like the places that make me feel like I'm at home or at a great neighborhood trattoria. (If you are into etymology, trattoria comes from the word "tratarre" which also means "treat.")
My visit to Francesca's Tavola (208 S. Arlington Heights Rd., Arlington Heights) lived up to that "treat" definition by letting me experience a lunch that was rustic and indulgent without being heavy.  (If we are learning new words today, Tavola is Italian for table…may also come in handy during Jeopardy.)
Participating in both lunch and dinner during Chicago Northwest Restaurant week, you may need to come back more than once!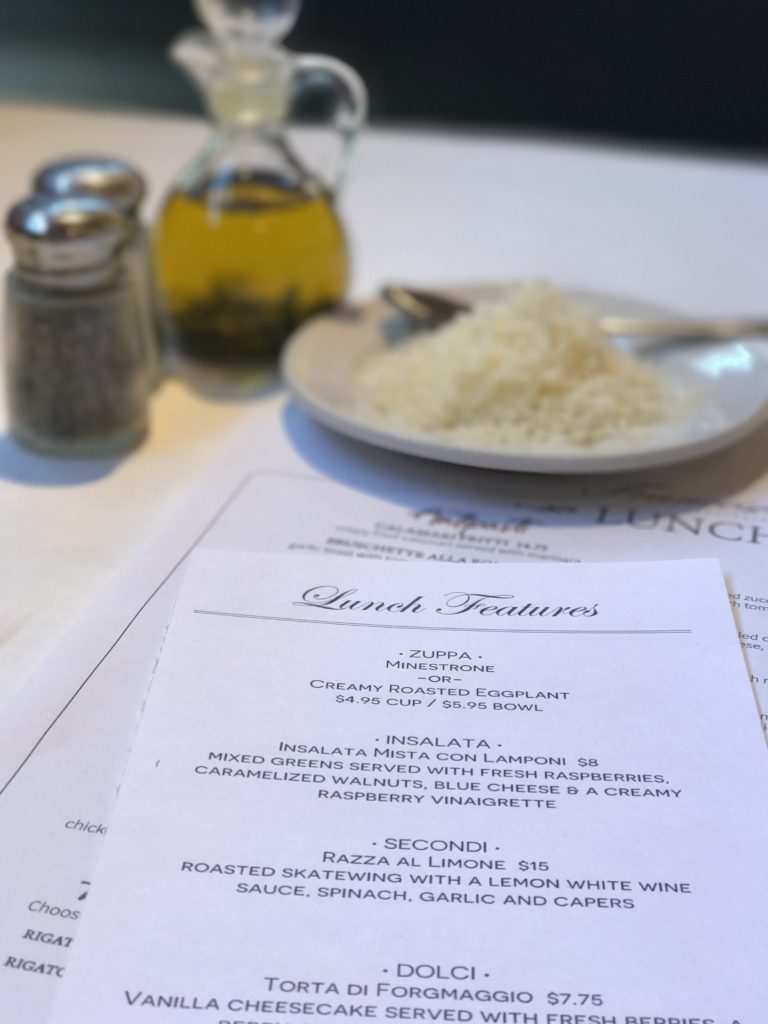 If the menu wasn't enough to get my mouth watering, Francesca's started me with a piece of Bruschette alla Romano (First Course Lunch).  Sitting with the warm sun hitting my face and biting into a crisp piece of garlic toast with sweet yet acidic tomatoes, fragrant basil and fresh mozzarella..that first mouthful made me forget that it was around 0 degrees outside. It was a taste of summer.  (And not to be a drama queen…it gave me hope for warm days ahead…which is a lot of pressure to put on a piece of bread!)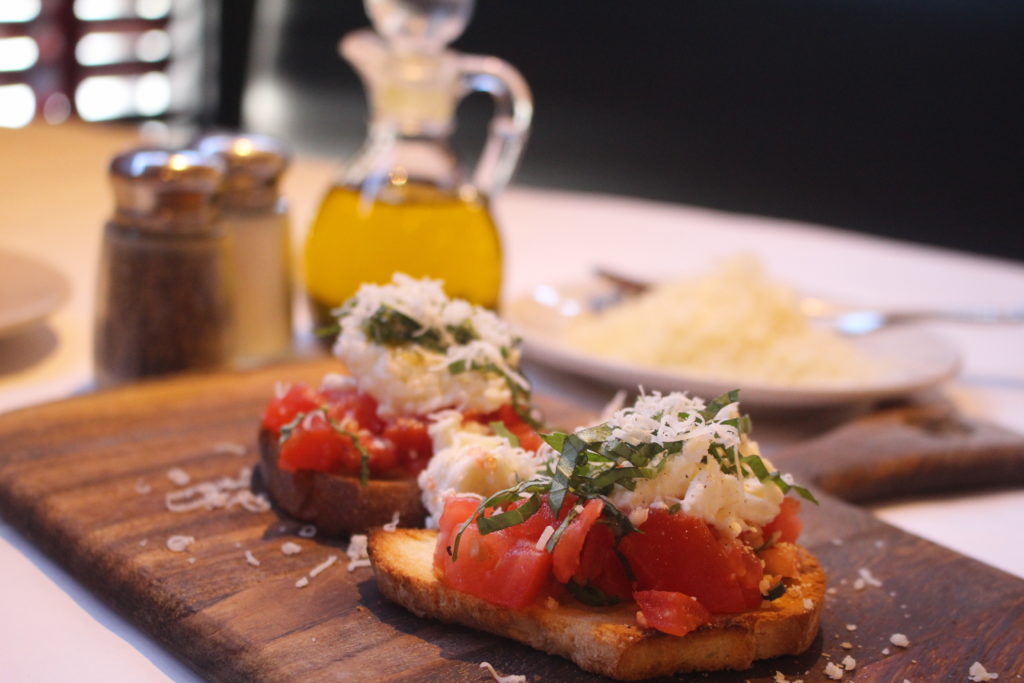 The Francesca Salad (First Course Dinner) kept that hope alive with a melody of romaine, endive and radicchio topped with carrots, cucumber, tomatoes, fresh green beans, bleu cheese and a gentle touch of balsamic vinegar and extra version olive oil. (Full Disclosure…I started eating the salad BEFORE I took my picture because it looked so good!)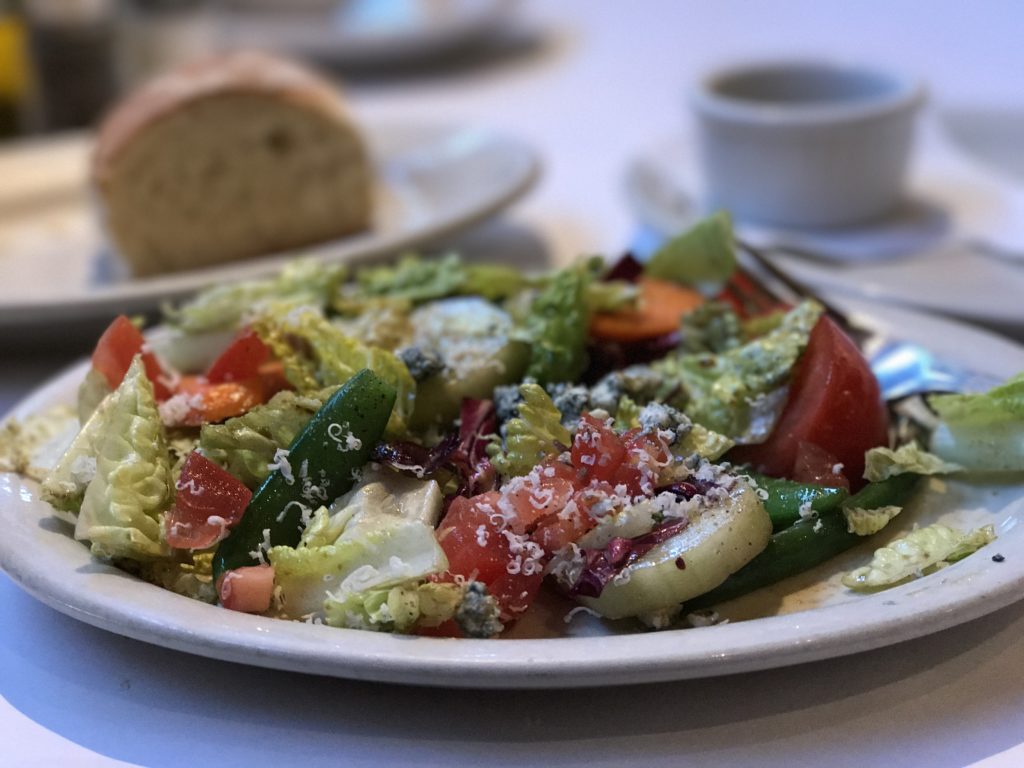 And if you are a fan of fried calamari (or if you have always wanted to try it), give the Calamari Fritti a go for a first course at dinner.  With a flawless light coating, these tender tentacled tasty tidbits tantalized my taste buds.  (I think I just went a little over board on the alliteration but I can't tell you the last time I had fried calamari that had so much flavor that I didn't even dip half of them in the accompanying marinara.)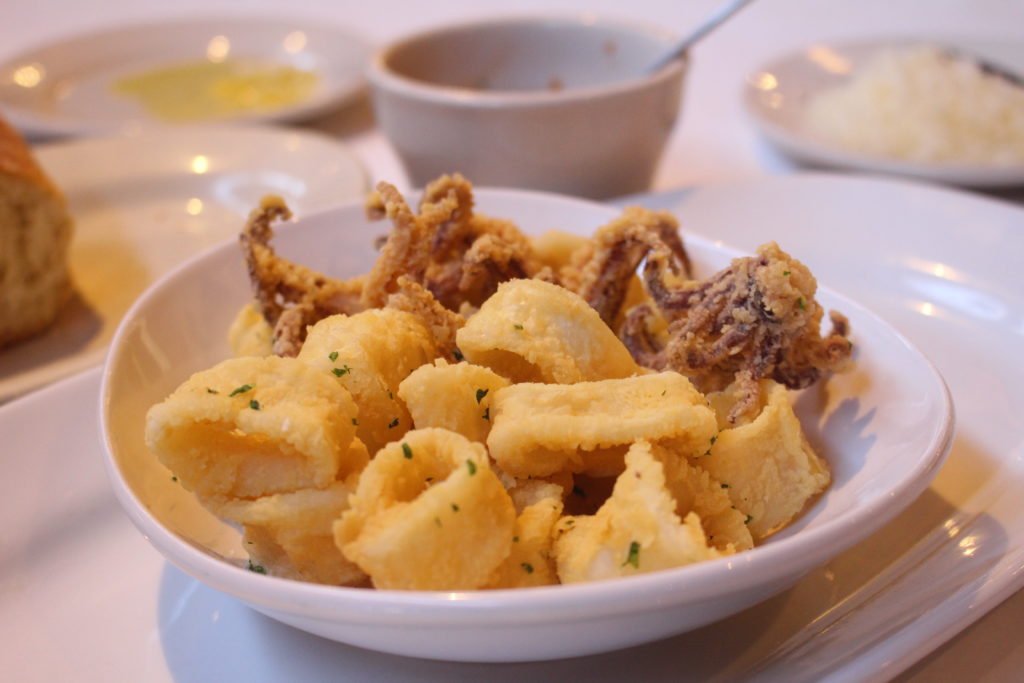 Options for your main courses at both lunch and dinner were set up so you could have an Italian favorite like Spinach Ravioli (L) or Homemade Gnocchi (D). Fish lovers might want to dive in for the Tilapia Funghi at lunch with mushrooms, peppers and a garlic white wine sauce or the dinner time Salmone al Limone with lemon, capers, spinach and white wine.
My happy place was right in front of a classic plate of Pollo alla Romano (available at both dinner/lunch).  This was the meal that made me feel like home. It was the chicken I used to strive to make when I was learning to cook but could never achieve the finesse of keeping the chicken breast light and moist while balancing out the flavors of garlic, rosemary, shallots and lemon.  Atop a handful of roasted potato slices, I could eat this every day of my life.  It is one of those dishes that shouts "We don't all have to covered in red sauce to be Italian!!!"  (Italian chicken dishes tend to get overlooked so I loved seeing this as one of the Francesca options during Chicago Northwest Restaurant Week.)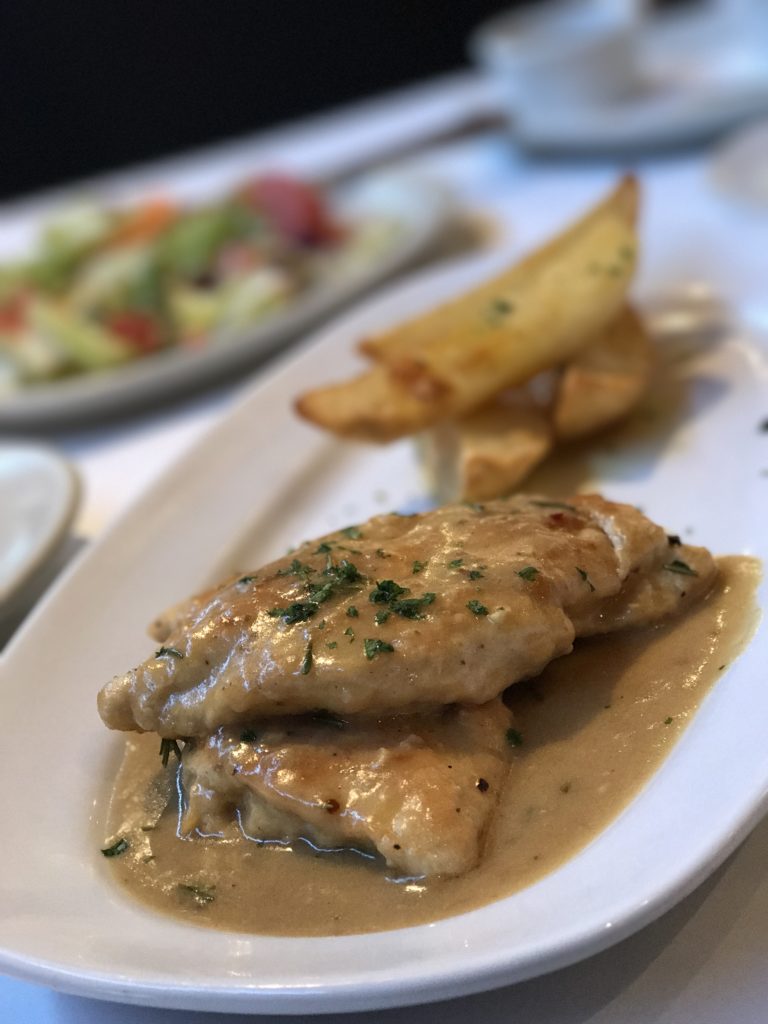 I ended my lunch with the Profiterole al gelato. (Profiteroles are one of those dishes that France and Italy both claim….I won't get into that argument….because my mouth is too busy eating it!)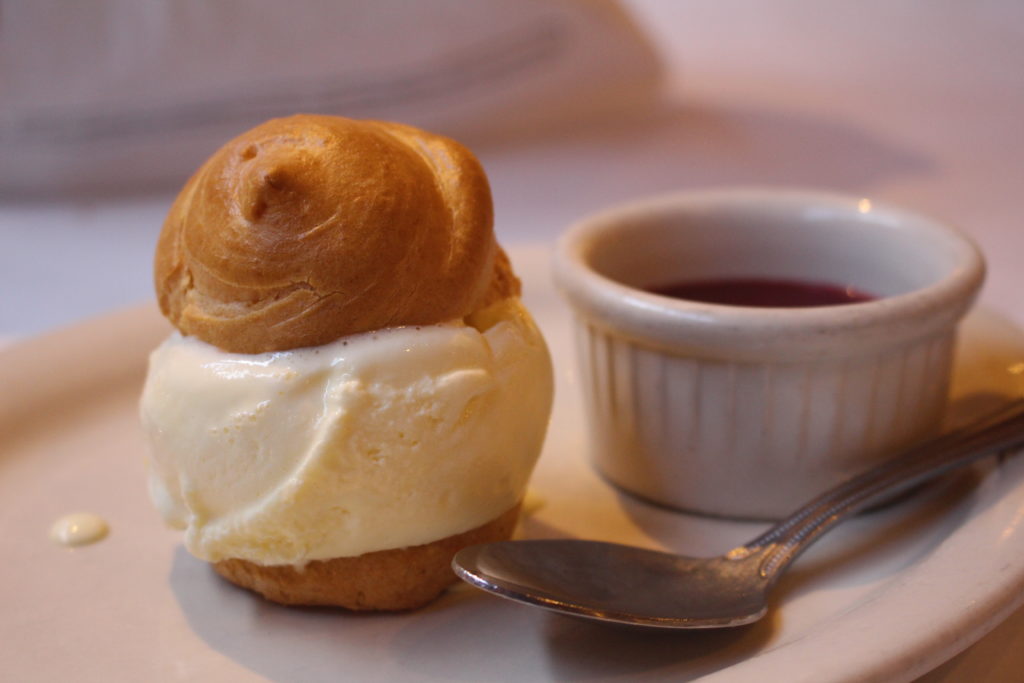 A delicate pastry filled with cold, palate cleansing gelato and a little raspberry coulis on the side was just enough to finish my dish on a sweet note. (It is normally served with chocolate but I'm allergic so they made a fabulous substitution so I could enjoy the full experience!)
Francesca's Tavola was the hardest table for me to walk away from. Part of the reason was that I didn't want this Felt Like a Foodie Chicago Northwest Restaurant week preview to end but the other part was that I was enjoying the atmosphere and the people around me so much.
Thank you ever so much to the great folks at Francesca's Tavola….you are what it means to be Italian….it is simply about eating great food and being surrounded by great people. Your community is so lucky to have you in the neighborhood!
I also need to end with a huge thank you to the folks at Meet Chicago Northwest for arranging all of these fabulous meals, terrific lodging and giving me MORE reasons to come visit the northwest suburbs of Chicago and giving me an excuse to say "Let's Not Cook."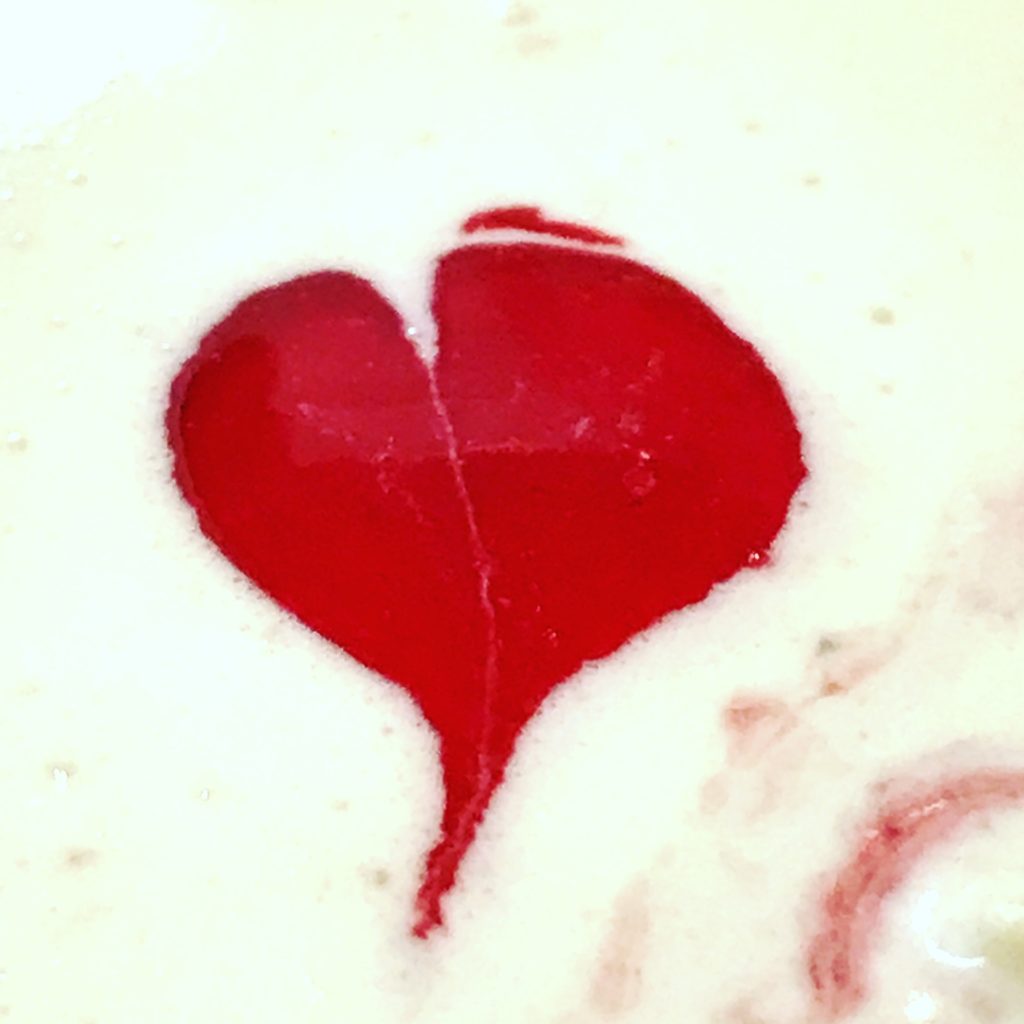 Hope everyone has enjoyed my preview and I can't wait to come back for another visit!!!!