For my second post previewing Chicago Northwest Restaurant Week (February 22, 2019-March 3, 2019), I'm going to give you an excuse to not cook AND not sleep in your own bed! That almost sounds scandalous, doesn't it?
(This is probably the point in the preview process that I need to remind folks that all opinions and views on Felt Like a Foodie are my own and may or may not represent Meet Chicago Northwest or any of the restaurants previewed this week. We all know I keep it positive, noncontroversial and "PG" so I'm sure no one is complaining.)
Back to our blog….the crazy weather can make a person feel a bit rebellious and throw caution to the 30 below wind chills. One of those ways you can do that is by crashing a private country club…okay….maybe not crash it but did you know that the Itasca Country Club has a PUBLIC restaurant (Fox & Turtle) and nano-brewery (Itasca Brewing Company) located in the lower level? (The entrance made me feel like I was entering a TV themed gastropub where I was about to meet up with a great group of friends. All that was missing was a quirky, fun theme song.)
We first popped into Itasca Brewing Company who is participating it the "Cork and Tap"portion of Chicago Northwest Restaurant Week. (Some of the restaurants will be offering tastings, flights and discounts on wine and beer so make sure you check the link to see the drink specials.)
Itasca Brewing Company is a small but creative place to hang out and discover everything you wanted to know about beers, lagers and pilsners but were afraid to ask.  Their drinks are said to be a mix of "art & craft."  I felt there was also a little whimsy in their creations as I saw them add an entire cookie to the Meemaw Oatmeal Cookie Ale.  (On their website that they offer some Craft Nonalcoholic Soda which I wished I had gotten to sample.)
They did introduce me to a "Crowler" which is a giant (32 ounce) can of beer that you can purchase to take home. (Remember to make good choices and don't drink and drive.)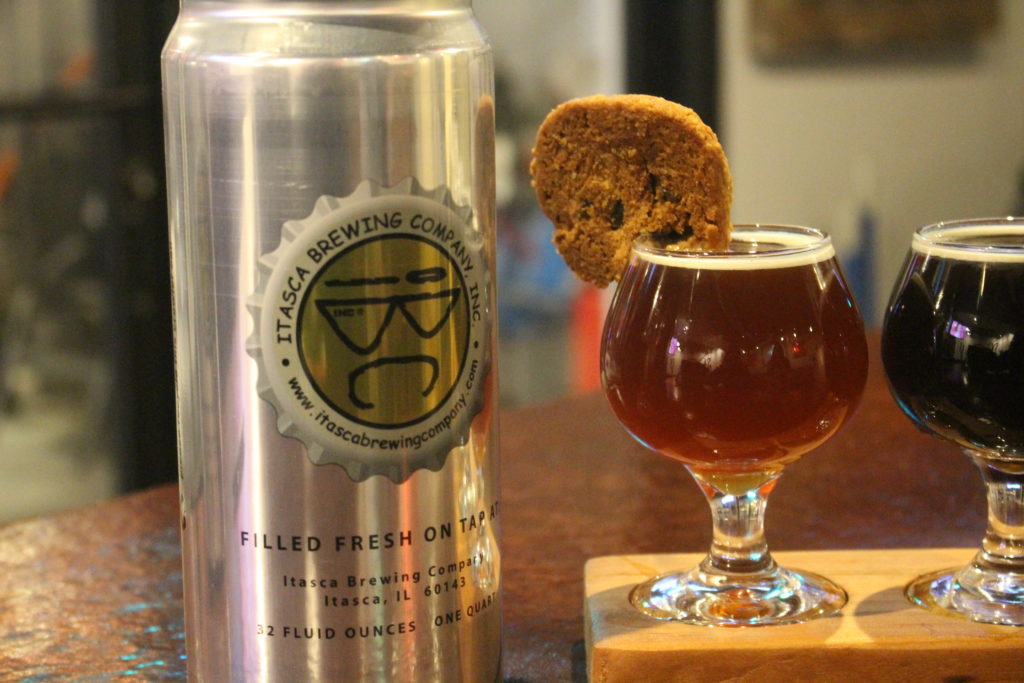 After you wet your whistle, walk a couple more feet and you can unwind in Fox & Turtle (and ask for Tori because she was AWESOME!!!)
I know what my readers are thinking "Will I be comfortable coming into a restaurant that is surrounded by a country club?". The answer is YES.  There were no secret handshakes or passwords to enter. Fox & Turtle (400 East Orchard St., Itasca, IL) was VERY welcoming with a pub-like feel to it. (But if you have the need to feel like a rebel, you can pretend that you are sneaking in…whatever gets you through this winter.)
The Chicago Northwest Restaurant Week dinner menu overall was compiled of American Favorites like artichoke dip, Margarita flatbread and a great array of salads. (Fox & Turtle is participating in both lunch and dinner.)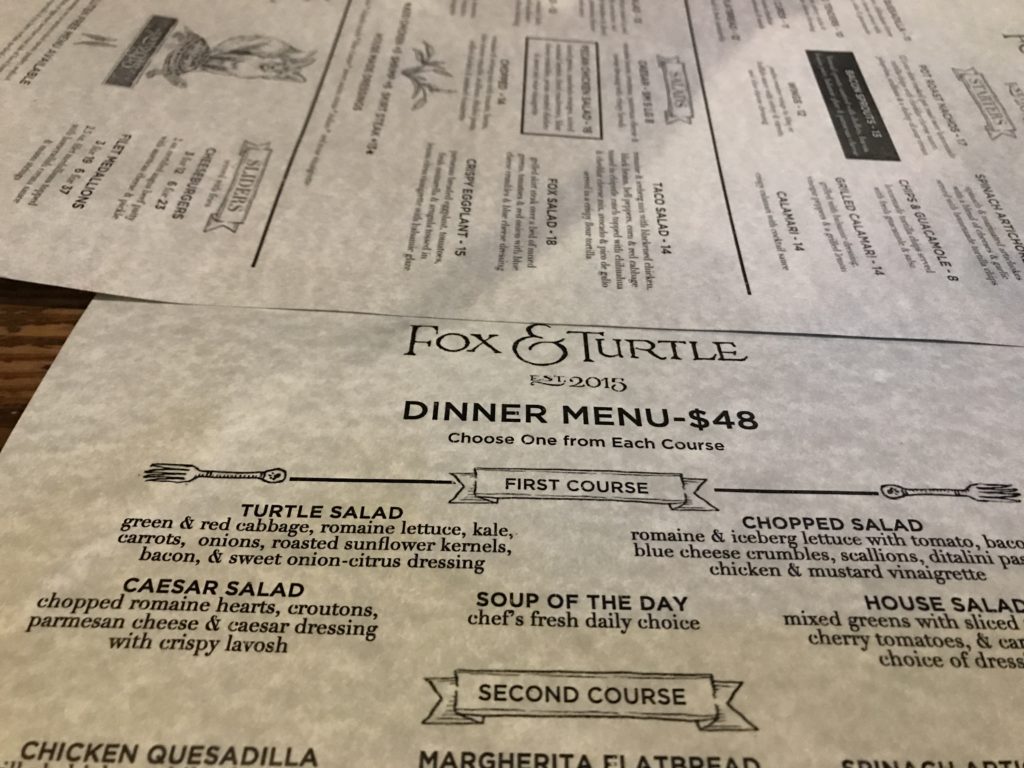 To start, we opted for the Soup of the day (Chicken Noodle) and a big plate of cheese curds.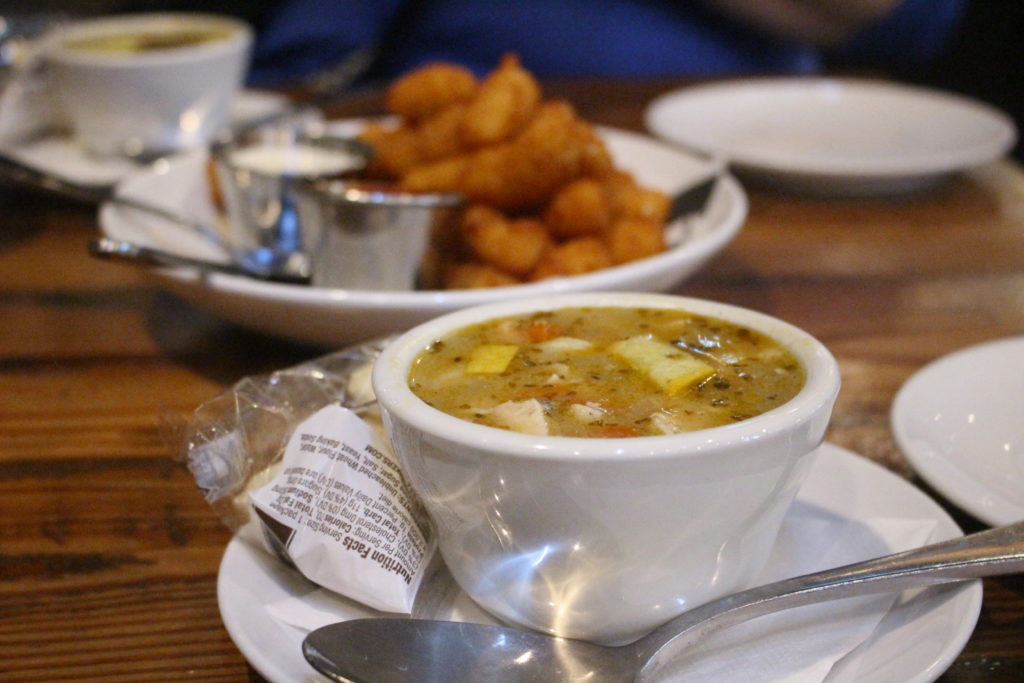 The soup had generous juicy pieces of chicken, fat egg noodles, chunks of carrot and celery and an amazing richly deep flavored broth.  I would come back here just for soup (and just smiled when I realized I could order it for take-out too next time I'm in the area!)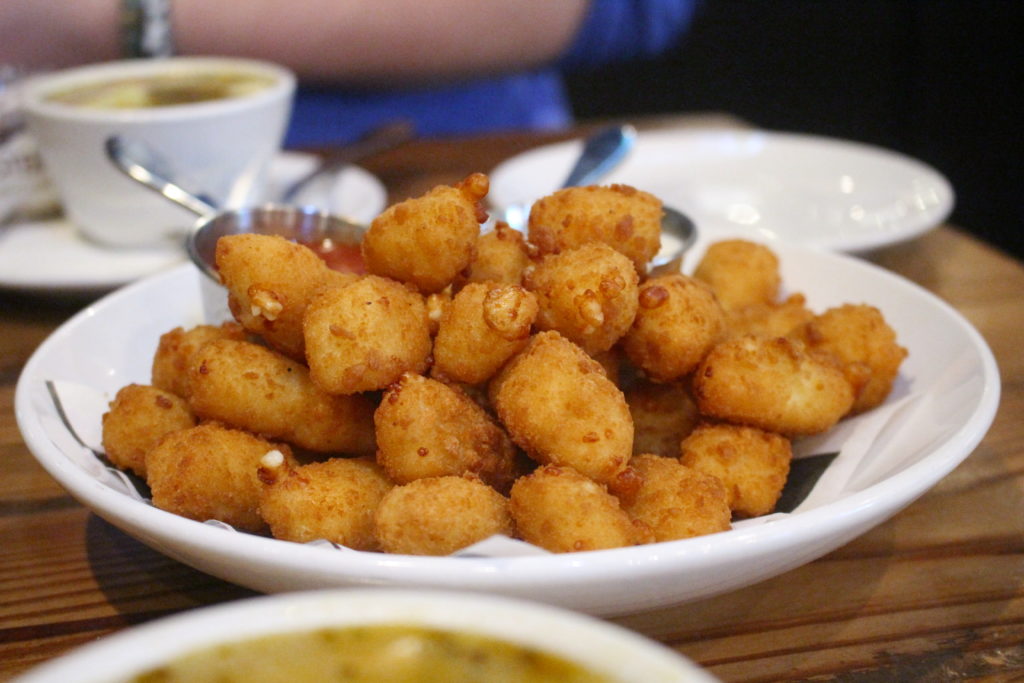 The cheese curds were the kind that made you feel like your crossed into Wisconsin. Tasty white cheddar cheese, battered and fried served with a robust marinara and tangy ranch. (FYI…they were also really good leftover straight out of the container…not that I do that.)
For our dinner entrees, we tried two of the chicken offerings…the Chicken Lombardi and the Itasca Chicken. The chicken Lombardi were lightly breaded breasts in a roasted garlic white wine sauce with an assortment of peppers on top of roasted potatoes.  Don't be afraid of the heat from the peppers because they were not overpowering and the spice level was rather mild.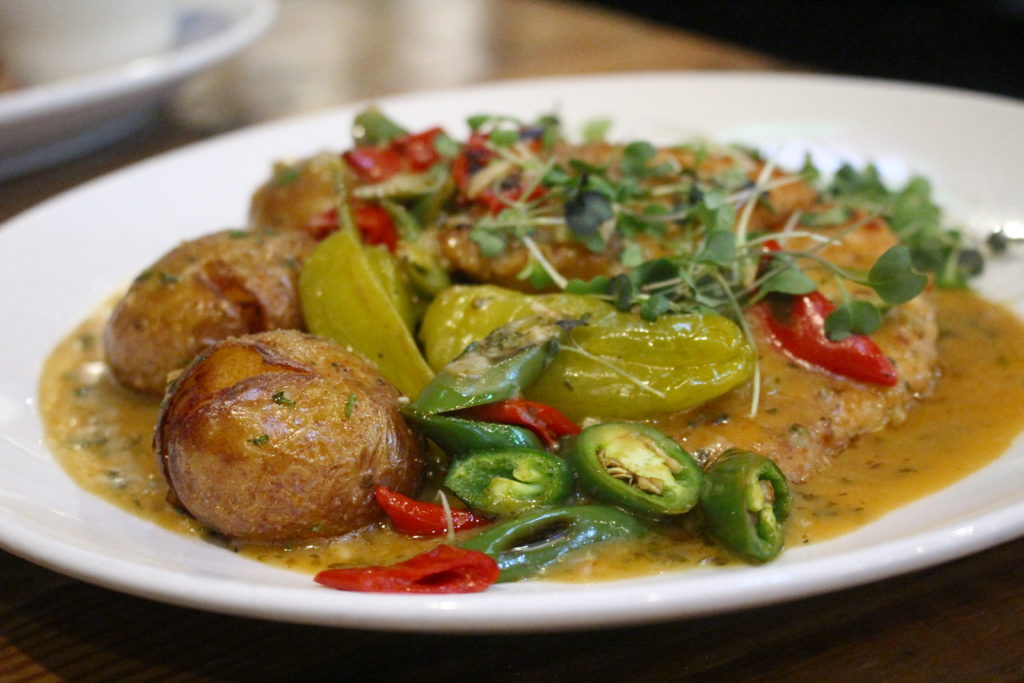 The eponymously named Itasca chicken has to be ordered just to be seen. It was a FULL deboned chicken with a lemon oregano sauce, sautéed broccoli and roasted potatoes. It takes a little time to come out but it is a feast within itself. (When you come in with your pal or partner, one of you order this dish as your Chicago Northwest Restaurant week entrée choice and then one person order something like the Chicken Mac. I think a little of both of those dishes would go a long way.)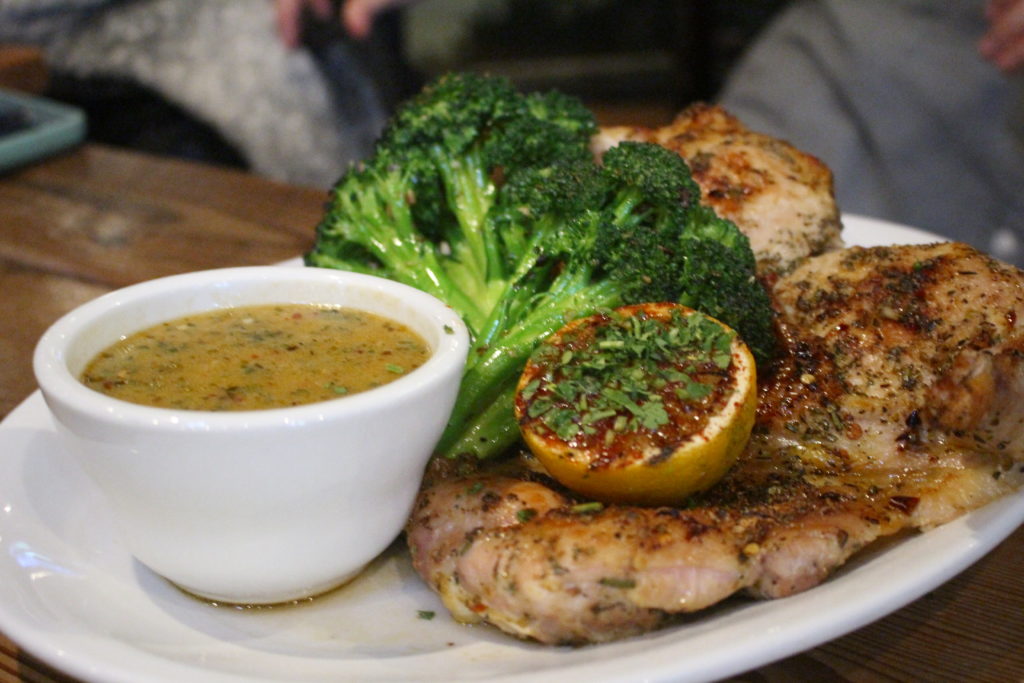 The "WOW" factor of the night had to be my key lime pie for dessert.  Besides the fact that it was a huge piece of pie, it was one of the most flavorful pieces of pie I've ever had.  It was tart, sweet and light.  (If you are a cookie fan, go for the GIANT peanut butter cookie!)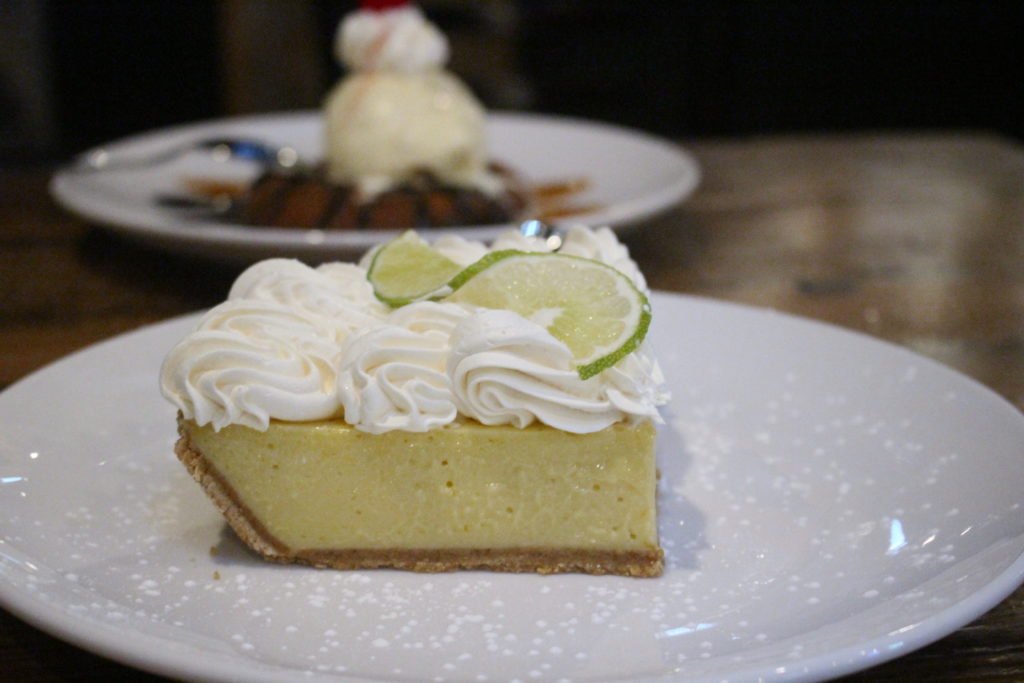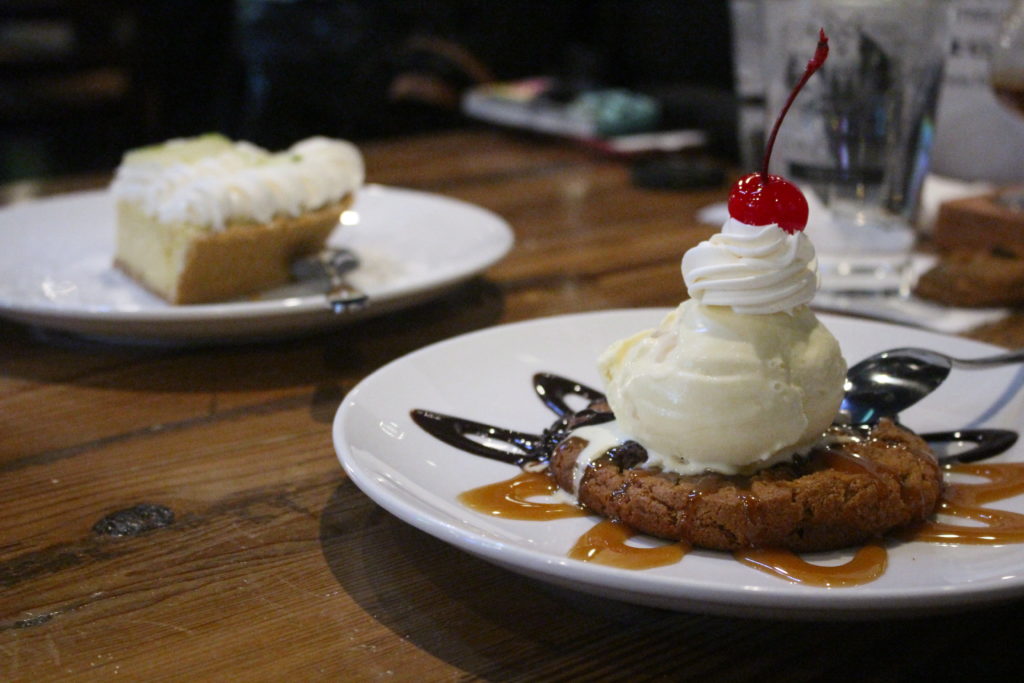 After all that great food, who wants to drive home?! Not me!!! So, part of the fun of Chicago Northwest Restaurant Week is making a little "staycation" out of the event.  It'll give you the excuse to eat a gluttonous huge meal and go stay somewhere great in the Northwest suburbs! (Plus, you can go try more restaurants the next day.)
I had the privilege of staying at the Hyatt Regency in Schaumburg.  I haven't been in since they did their big renovation and they have done a beautiful job.  I'm not an expert on interior design terms but it looked modern and a kind of regal.  I liked the gray, tans, whites and blue accents.  (There was a simple elegance and a "crisp" vibe to the decorations.)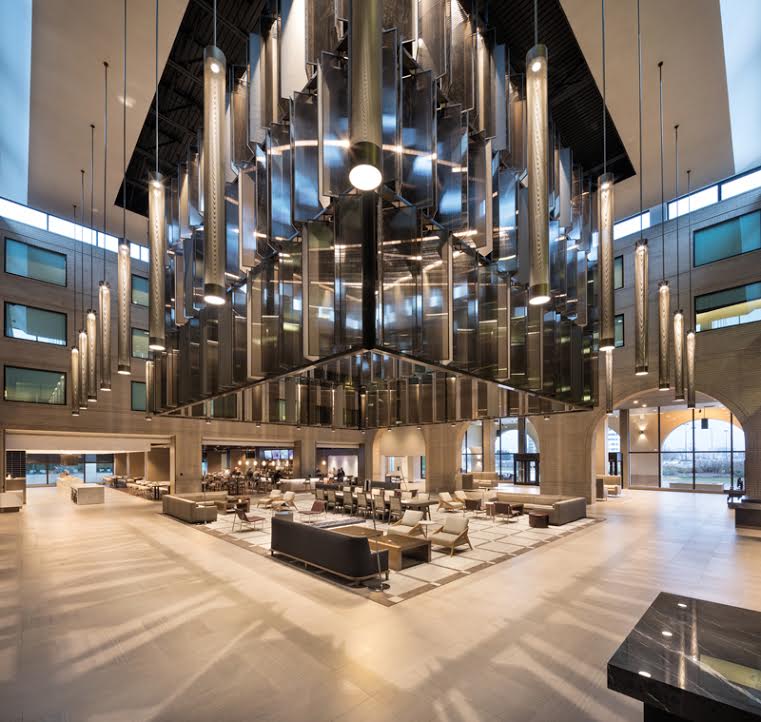 My room can be summed up in 3 words OH MY GOODNESS!!!! I walked into my King Executive Suite and was stunned at the size. (Full Disclosure…I would normally stay in a standard room but this was a bit of a blogger perk since I was traveling during horrible weather!)
The "open-air" floor plan made me think that I need to start considering this kind of room when I meet up with friends.  Plenty of space to entertain and yet you can still have your privacy because there were these neat opaque sliding doors that you could shut to the sleeping area.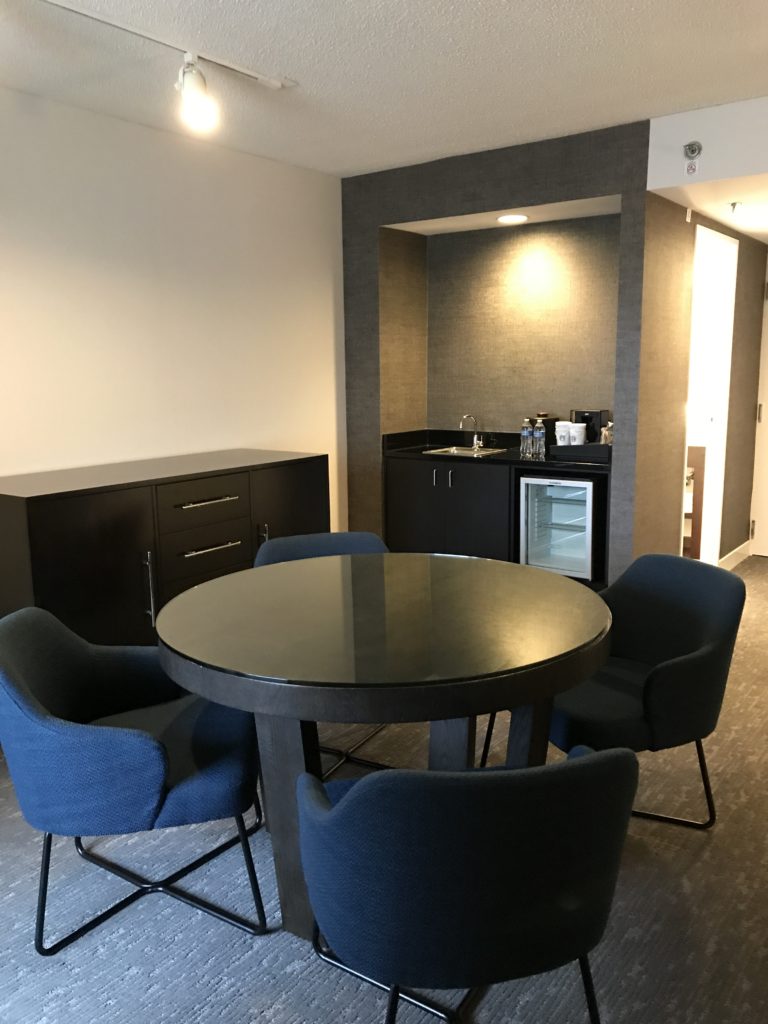 I had a bar area with refrigerator, table for 4, a sitting area with desk, television, couch and chair PLUS a powder room. The actually bedroom part had its own heat control separate from the main room, big closet and a bathroom with a giant tub and an open contemporary shower. (Although the hotel had quite a few guests, I never heard anyone in the hallway which was really nice!)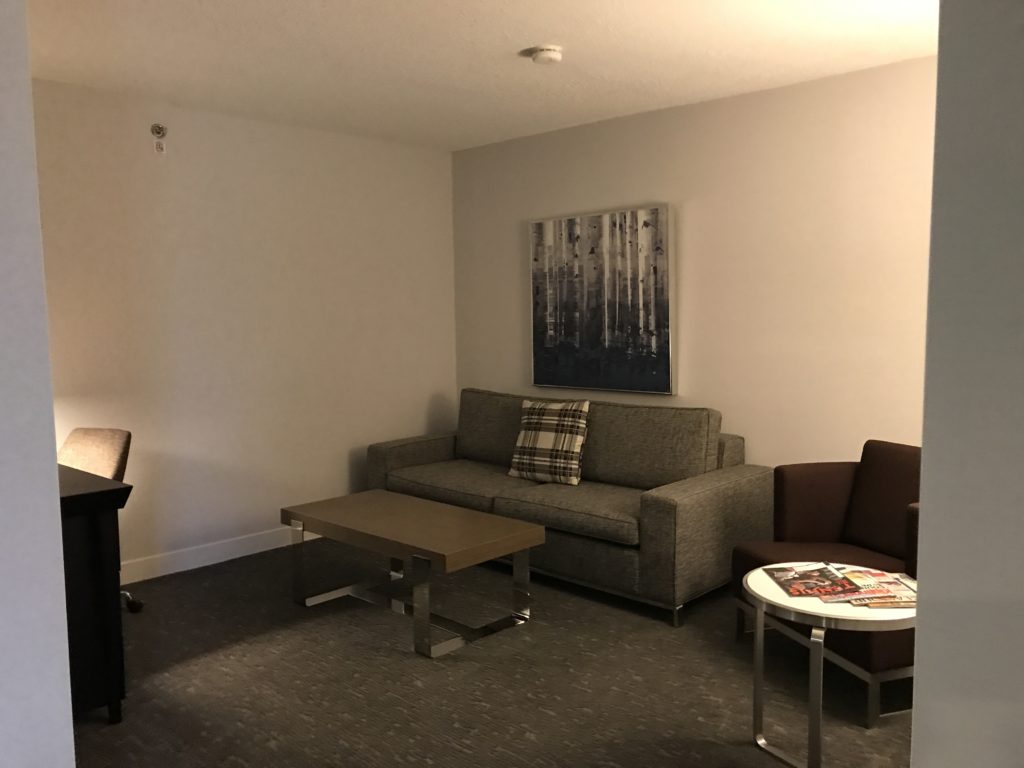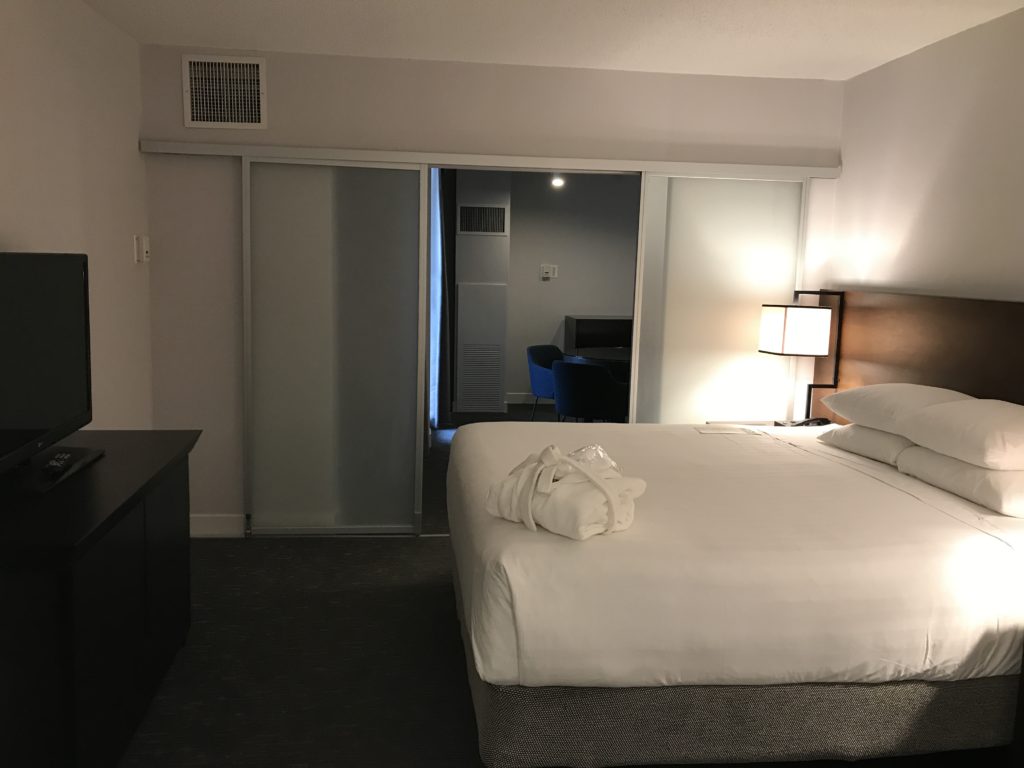 This was the point of my visit when the weather really got bad and I was thrilled to have a hotel room that I didn't want to leave. My partner and I, slid into some fluffy robes and cuddled into our downy covers and were ready to call it a night. (PS if you are someone who suffers from allergies, the Hyatt Regency Schaumburg offers some Pure Hypoallergenic Rooms…check for availability).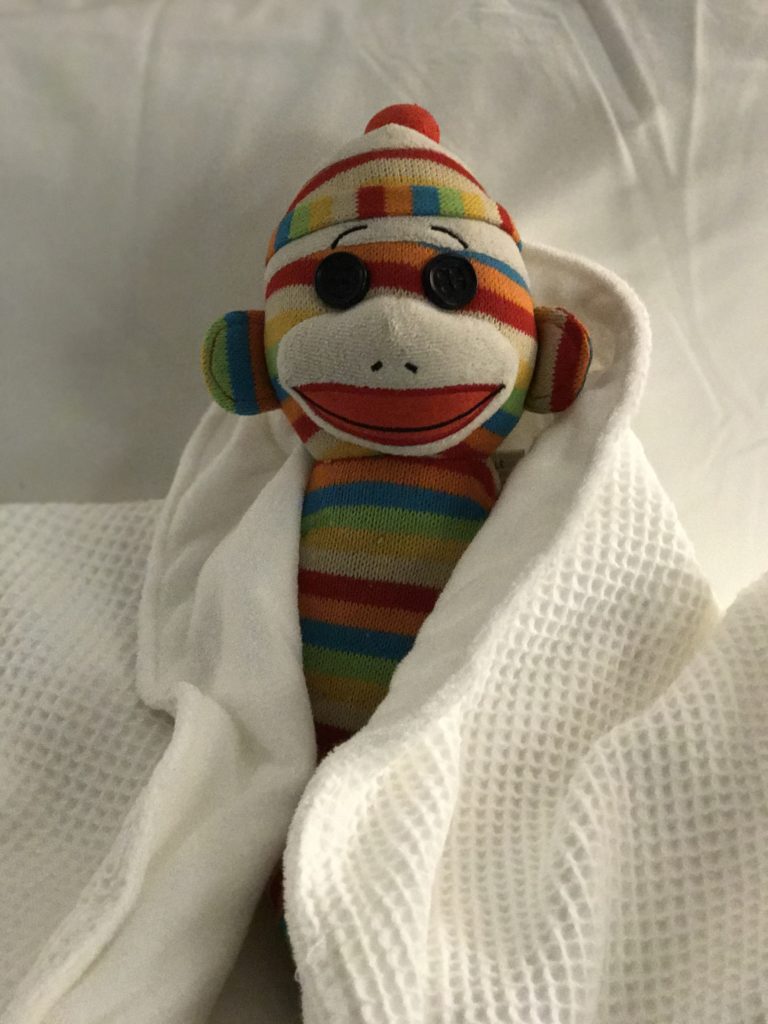 The best part was waking up and being able to walk downstairs to get a quick bite and a great cup of coffee before I set out for my next outing. (I did not go down in my bathrobe.)
Thank you to Itasca Brewing, Fox & Turtle, our wonderful server (Tori) and the Hyatt Regency for making the middle of my preview so memorable. Check back on Monday for my final Chicago Northwest Restaurant Week preview of Francescas Tavola in Arlington Heights!. (And may I suggest you have a snack ready because it is going to make you hungry!)