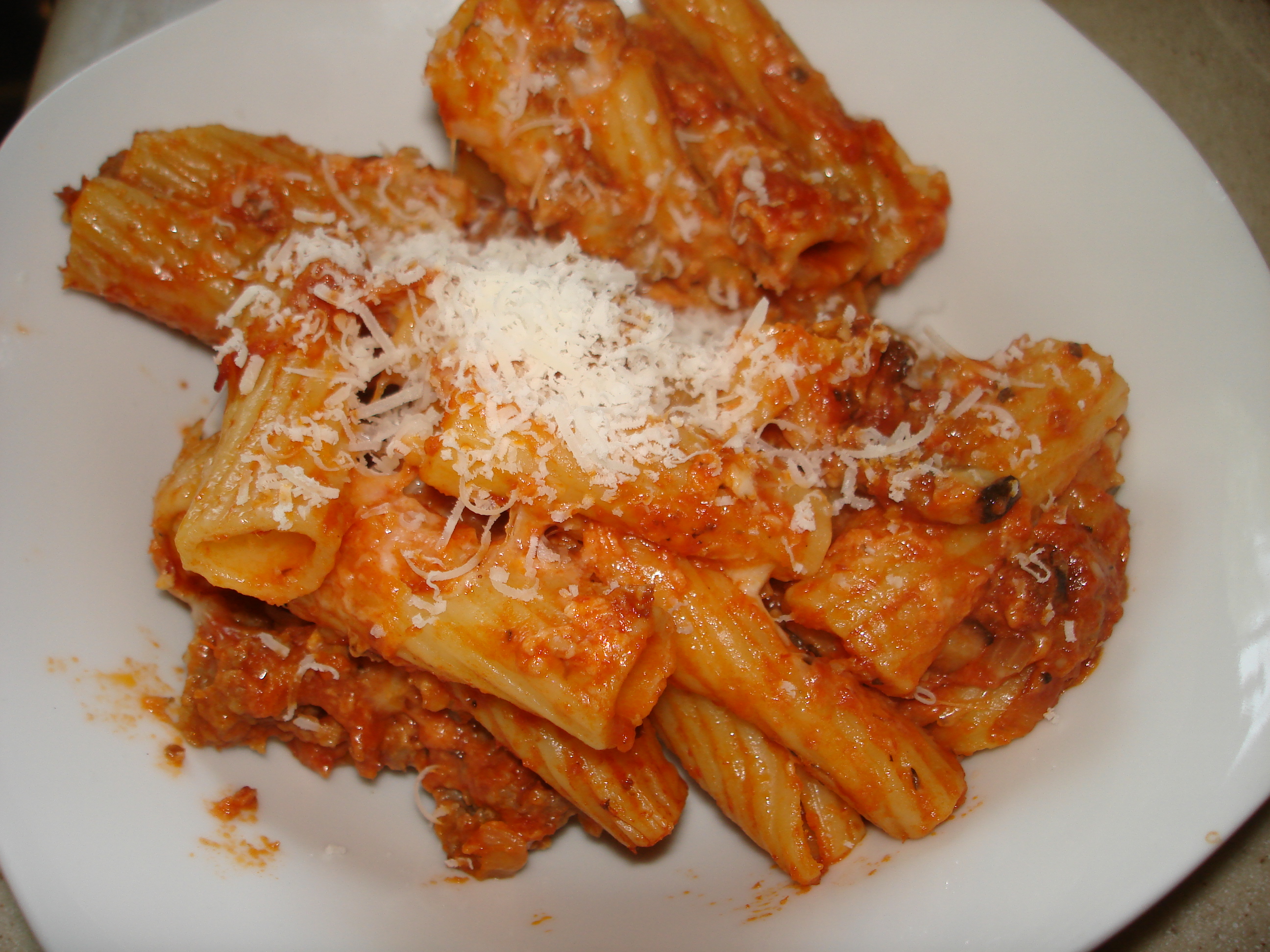 I think you may need to sit down before you read the next sentence.  I'm not sure if I have admitted this before but there are nights that I don't feel like cooking.  (GASP!)  It may happen because I am overtired or under inspired.  Either way, I still have to figure out how to put a decent meal on the table.
It is at this time I play freezer lottery.  It is an easy game that you can play at home.  All you have to do is close your eyes and open the freezer door.  Dig around with your hands until they are numb and pull out something that will soon become your dinner.  (This game can be played in pantries and refrigerators too).
The winner today was a bag of pizza meats, cooked Italian sausage and pepperoni.  I always keep the two together in a gallon plastic bag in the freezer in case I feel like making a pizza.
I also always keep a can or two of Pastorelli pizza sauce in the pantry.  It is probably the only premade sauce I use.  My sister introduced it to me when she was in college and it has a flavor that fulfills my pizza cravings to this day.
My only problem today besides not wanting to cook was that I didn't have any pizza dough or any time to make it.   I had to do what any good Italian offspring would do, I would mix it all with some macaroni.
The outcome tasted like everyone's old favorite baked mostaccioli (which was replaced by rigatoni) except it had the additional zing of a pizza.  I sure used my noodle on this one! (Yes, you may groan at the desperate attempt at humor).
Baked Pizza Rigatoni
Ingredients
1 large onion, sliced
8 ounces mushrooms (whatever you've got), sliced
2 cloves fresh garlic, minced
1 cup cooked Italian sausage
15-20 slices pepperoni
1 tsp dry oregano
A shake of red pepper flakes
1 15-ounce can Pastorelli Pizza Sauce
8 ounce cooked rigatoni
1-cup (plus a little extra) mozzarella cheese, shredded
Olive oil
Salt and pepper
Directions
Heat about a tablespoon of olive oil in a large sauté pan over medium heat.
Add onions, cook about 3 minutes.
Add mushrooms and sauté another 3 minutes.
Add garlic, sausage, pepperoni, red pepper and oregano.
Sauté for another minute or two.  (The meat is already cooked so you are really just warming it up at this point)
Add the can of pizza sauce.  Gently simmer for about 5 minutes so the flavors combine.
Mix in rigatoni and 1 cup of cheese.  (The cheese will get a little melty and that is okay).
Put in a casserole dish (or individual dishes if you want to impress your family and friends), sprinkle with the extra cheese and bake at 350 for about 15 minutes.
When it comes out of the oven, the cheese should be bubbling on top and little brown.
I sprinkled mine with Parmesan because that is how I like my "pizza".
Pretty simple?  It is the best pizza you never ate.  This was a great weeknight (I don't really want to cook) meal.  It took me less than a half an hour!  If it takes you more time than that, this recipe is free!  Barbara's in the HOUSE!!   (If you know any other pizza tag lines please let me know.  I can use all the help I can get.)