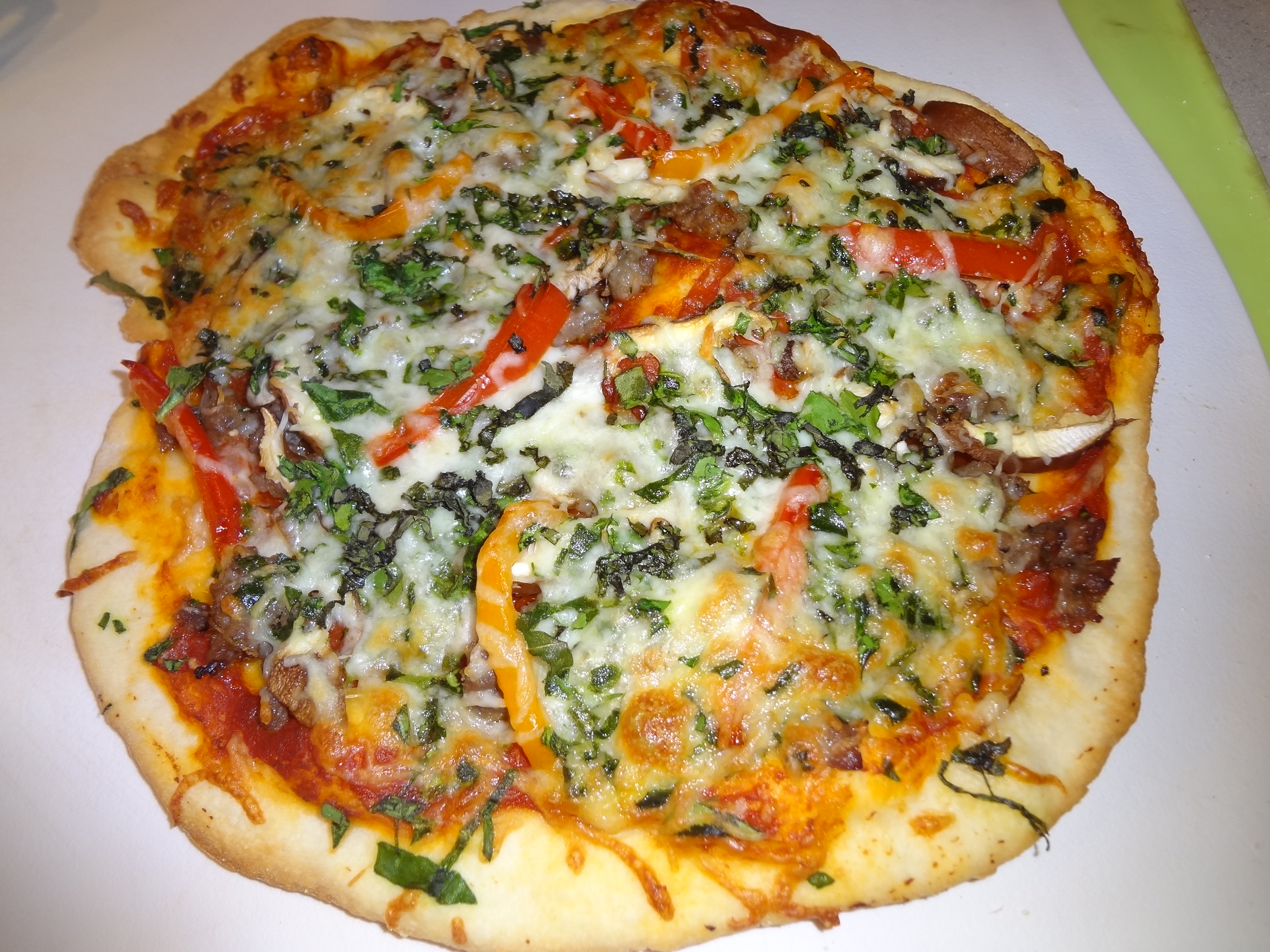 Super Bowl Sunday came and I had BIG food plans until I looked out the window…SNOW!!  My mind heard the sound effect of Pacman being eaten by ghosts.  I did not want to run around to grocery stores when our roads were covered with fluff.  (If my car could eat the snow like Pacman, it would have been a different story.)
I felt really deflated but I still wanted to make something fun for my hubby and I could eat during the big game.  I poked around my pantry and then it came to me…PIZZA!!!
Homemade pizza always invokes happy memories.  My mom used to make awesome dough and let us "design" our own pizzas.
She would have our favorite toppings chopped up and we would take turns grating the cheese.  (I seemed to always get the last nub to grate but that is part of the curse of being the youngest.)
Mom would twirl on sauce like an artist with a paintbrush on a canvas.  There was an exactness and purpose to every movement. The shake of oregano was her signature.   And in the end, we would have a pizza masterpiece.
The magic of homemade pizza isn't the recipe for the dough, the flavor of the sauce or even the ingredients on top.  It always was the love inside.
So on Sunday, my husband and I stood side by side and made delicious pizzas together.  New memories will be banked in my mind of the first time he and I made pizza but the wonderful smell of that yeasty dough will always bring me back to my childhood.
Pizza Crust (Basic)
Ingredients
1 ½ cups water (warm to about 110-115 degrees)
2 ¼ tsp dry yeast (This is approx. one packet.)
1 tsp sugar
1 Tbsp olive oil
1 tsp salt
3 ½ to 4 cups all purpose flour
Directions
Place warm water in a 4 cup bowl and stir in sugar.  Sprinkle yeast over the water and leave it alone for at least 5 minutes.
After the five minute mark, it should be brown, foamy and smell "yeasty".  If your yeast does not foam up, your yeast is dead.  Start over!!
In large mixing bowl for mixer, add foamy yeast.  With dough hook twirling, add two cups of flour, salt and olive oil.
Slowly add more flour ½ cup at a time until you get a doughy ball..
This is the point where I put my dough on a floured work surface and work in the rest of the flour by hand.  Keep adding remaining flour until the dough is no longer sticking to your hands.
Twirl the ball of dough in a little olive oil and place in large bowl to rise.  Cover with plastic wrap sprayed with cooking spray so if the dough hits the top it won't stick.
Let is sit at room temperature for an hour.
Preheat oven to 450 for 30 minutes with pizza stone inside.
When dough has doubled, punch it down.  I cut it into 4 pieces so I can make 4 small pizzas.
Pat into disk and roll into circle.  (It doesn't have to be perfect.)
Paint the edges with olive oil.
Sprinkle pizza peel with cornmeal (or use the back of baking sheet or cutting board).  Put dough on cornmealed surface, add sauce and toppings.
I lower the heat to 400-425 depending on your oven and bake for 10-15 minutes.  Cheese should be brown and bubbly and crust should be done.
Our pizzas were delicious on Sunday and they were done just in time for kick-off.  I do still want to make some of the appetizers but I am glad the snow changed my plans.