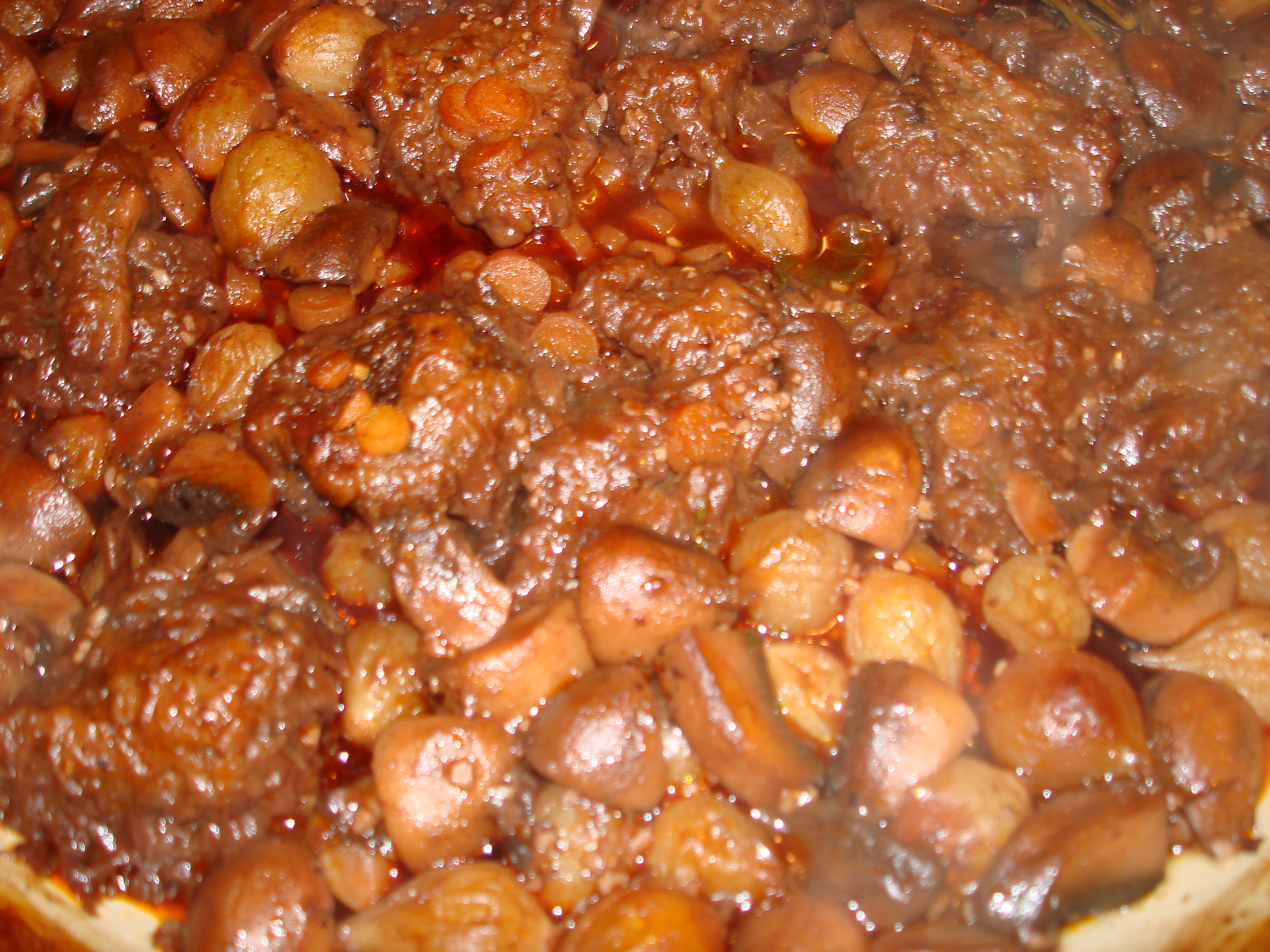 As much as I stand on my soapbox about being conscientious when making ingredient substitutions, sometimes I really surprise myself and think waaaay outside of the box or plains in this case.
I had my heart set on beef bourguignon this week.  I had some beautiful mushrooms, carrots and pearl onions all ready for my recipe.   I went in my freezer to pull out the beef chuck roast that I KNEW was in there.  To my surprise, I didn't have beef chuck roast, I had BISON!!!
Why the heck do I have bison?  I had gone to dinner with some high school friends and one of the gals ordered a bison steak.  She shared a delicious morsel with me and I was determined to try it at home.  I went to Whole Foods shortly after that dinner and bought the bison chuck roast, put it in the freezer and literally forgot about it.
Since I am not a professional cook, I took a leap of faith and thought I could trade my beef for my poor, ignored bison.  Beef Bourguignon is technically a French dish but there aren't a lot of American Buffalo in France.  (Rumor has it there are some bison roaming about in Poland but I've never seen them).  My beef bourguignon is a loose version of a Julia Child classic.  I actually would hope that she would have been elated with my "ungulate" bourguignon!
Bison Bourguignon
Ingredients
¼ pound bacon, diced
2 pounds boneless bison chuck (you can use beef chuck)
Flour
1 pound pearl onions, peeled
1 pound baby Bella mushrooms, quartered
3 cloves fresh garlic, minced
2 Tbsp tomato paste
½ cup brandy
1 stalk celery
Parsley stems
Thyme sprigs
2 bay leaves
2 cups burgundy wine
1-cup beef broth (The store was out of bison broth, ha ha)
¾ cup carrots cut into thin slices
¼ cup parsley, rough chopped
Directions
Heat oven to 325 degrees.
Heat large ovenproof pan over medium heat.
Add bacon and cook until crispy.  Remove with slotted spoon and set aside.  (If you are a bacon junky, make extra bacon because I guarantee you will start nibbling on the bacon when you are cooking.)
While the bacon is cooking, dry the bison with a paper towel, season with salt and pepper and toss in flour to coat.
Sear the bison in bacon fat (if pan is dry add grape seed oil).  It should take about 2-3 minutes to get a nice caramelization on the beef.  Set aside.
Add the pearl onions and mushrooms.   Don't fuss with them too much or that won't caramelize.  In the 6-7 minutes they will take to cook, you should only move them about a few times.
Add the garlic and tomato paste and cook another minute.
Deglaze with brandy.  Don't forget to scrape up the delicious brown bits.
Tie celery, parsley, thyme and bay leaves together  (aka bouquet garni) and add to the pan.
Add the seared bison, wine, carrots and beef broth.
Bring to a boil.  Cover and place in oven for about 2 to 2 ½ hours.
Remove the celery bundle; add parsley and sprinkle with bacon.
Serve with potatoes or buttered noodles.
If you ask my husband what this dish is called, he would say it was stew.  If you asked me, I would have to agree with the author's of Mastering the Art of French Cooking and say this is one of the most delicious "beef" dishes concocted by man.