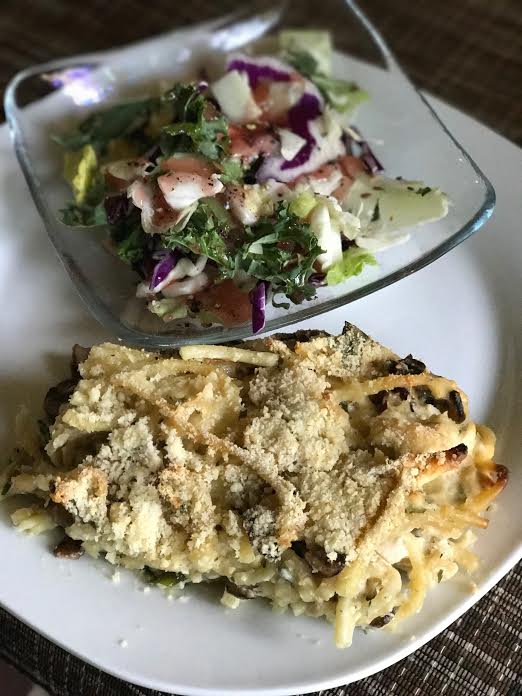 It is back to school time. For the past month, I smile each time I see the aisles of supplies in the store, hear the squeaking breaks on a school bus and seeing everyone's first day of school pictures. (I'm also hearing a lot of complaints from my parent friends who get overwhelmed with their back to school task lists.)
My mom had school days down to a science with her 3 girls.  I'm sure she probably complained too but it is not something that stands out in my memory.  She was (still is) one of the most organized people I know.
We would get our list of supplies and there were things she would buy without us and few we got to pick out on our own.  (She also bought a couple of extra folders, stacks of notebook paper and pencils for those occasions that something was forgotten, lost or broken that were kept in an old shirt box in the pantry.)
I remember being allowed on occasion to pick out certain notebooks because of the cute character on the front or getting some say in our lunchbox choices.  (I had an awesome Peanuts lunchbox until 5thgrade when two guys grabbed it and made me "monkey in the middle."  They dropped my awesome lunchbox and broke it….and then my big sister chased them ½ a block…they are lucky she didn't catch them!)
I also remember new school clothes. In our house, I was the littlest and did get my fair share of hand me downs but there were always a few things that were new like jeans and shoes.  I did get to pick out new underpants which was really exciting (and I still love a trip to the panty bar to get new undies.) 
The best memory of starting school was coming home.  It wasn't because I didn't like school…I just loved coming home to share my day.  My sisters and I would sit at the big white kitchen table and scoot onto our places on the vinyl yellow bench.  We would eat snack while talking over each other about the highlights of our day.
My oldest sister would talk about her friends, boys and her admirable social calendar.  My middle sister would talk about animals, teachers who didn't recognize her intelligence or which edition of the encyclopedia she was reading that week.
I don't remember what my topic was but I'm sure I tossed out wisecracks.  (Or planning bratty attacks to torment my sisters in the future.)
Mom probably listened intently to the banter (and bickering) as she got dinner ready in the background.
It was a time to share our day.  I'm pretty sure it wasn't always as idealistic as it plays back in my mind but I would like to think that we always shared something happy.
This is one of the best parts of being raised before (waaaaay before) the age of social media. There won't be a Facebook memory that pops up reminding us that our mom was overwhelmed or that we had bad days at school.  We can't be hit with an old Instagram picture that shows us in our awkward years.  And there definitely wasn't reminders of tweets of things we said that maybe we should have thought twice about.
Maybe this is the time to start parents on a #TellMeSomethingHappy campaign.  If every week, people would post something happy about their kids, maybe one day years later,  everyone will have reminders of happy stories shared around a kitchen table with their mom and sisters while a chicken tetrazzini cooked in the oven.
Chicken Tetrazzini
Author:
I like to use bucatini for my tetrazzini because the holes suck up the sauce and make it more flavorful.
Ingredients
1 rotisserie chicken, meat pulled off
12 ounce baby Bella mushrooms, sliced
1 onion, diced
4 cloves of garlic, chopped
1/2 cup of white wine
2 Tbsp butter
2Tbsp flour
3 cups half and half
1/2 cup chicken broth
1 tsp thyme
1 cup fresh parsley (you can use less but I really like parsley)
1 cup parmesan with some extra for a top sprinkle
12 ounces bucatini
Olive oil/salt/pepper
Instructions
Oven 375.
Cook pasta per box instructions and set aside. Reserve 1 cup of pasta water.
In a very large saute pan, heat up a good swirl of olive oil over medium high heat.
Add mushrooms. Cook until they start to brown.
Add onion. Cook until they start to become soft.
Add garlic. Cook another minute.
Deglaze the pan with the wine and reduce.
Remove from pan.
In same pan, melt butter.
Mix in flour until it starts to smell toasty.
Slowly, add in half and half.
Whisk in chicken broth, thyme, parsley and parmesan.
Add in chicken, mushroom mixture and pasta.
If it seems a little dense, add a little of the past water you reserved earlier.
In a large casserole dish (9×13) buttered or sprayed with nonstick spray, add everything.
Give it a sprinkle with the extra parmesan.
Bake for 35-40 minutes. I like my edges crispy so I went for 45 minutes.