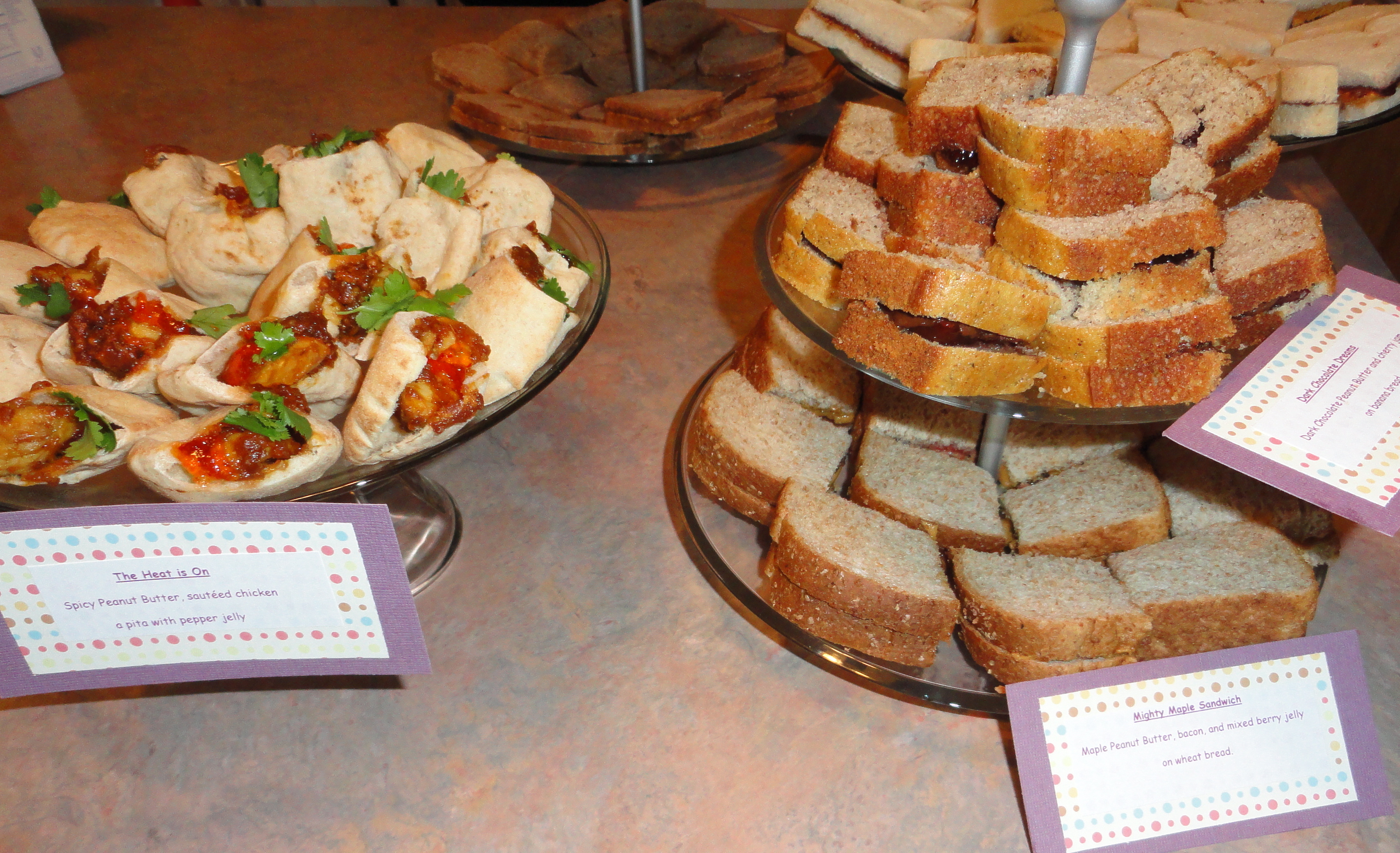 Can you recall the first sandwich you ever ate?  Most of us will probably say, Peanut Butter and Jelly. When I grew up, it was the standard sandwich in my lunch box and I never tired of it.  I liked it the old fashion way with smooth peanut butter, grape jelly and white bread.  Even the thought of it right now makes my mouth water.
I recently was given the honor of throwing a birthday party for my niece.  I wanted the food to be kid friendly but still interesting to the group of adults in attendance, my in-laws!  When it comes to food, their tastes are simple.  I knew that an elementary lunch of peanut butter and jelly sandwiches would go over big.  I had to stay true to the flavors of this classic but the foodie in me had to think outside of the lunchbox.
I started to search the Internet for some creative hints on making this very traditional sandwich when I came upon the website for "Peanut Butter & Co." (http://ilovepeanutbutter.com)   This company makes all different flavors of peanut butter, has it's own cookbook and a restaurant.
Their online store was absolutely wonderful and easy to navigate. My mouth literally watered at their descriptions of the peanut butters and my imagination ran wild.  I purchased 5 of their unique flavors (plus their cookbook) and stole a few ideas off of their restaurant menu and I was set to go!
The sandwiches I chose to make stayed true to the essence of the salty sweetness we have all grown to love over the years.
"Old Fashion": Smooth Peanut Butter and grape jelly on Italian bread.
"White Chocolate Wonderful": White Chocolate Peanut butter, orange marmalade and sliced almonds on cranberry/cinnamon bread.
"Mighty Maple": Maple peanut butter, mixed berry and BACON on wheat bread. (Seriously, you have to try this sandwich, it is amazing).
"Dark Chocolate Dream":  Dark Chocolate Peanut butter and cherry jam on banana bread
"Bees Knees": Honey peanut butter and apple butter on sourdough bread.
"Thai One On":  Spicy Peanut butter, pepper jelly, sautéed chicken in a wheat pita.
The party went over wonderfully and it was fun to hear everyone's favorite sandwich.   My brother-in-law and I both had the same favorite, the Thai chicken peanut butter sandwich!
Thai One On
Ingredients:
1-pound chicken tenders, cut into one-inch chunks
3 TBsp light soy sauce
2 TBsp fish sauce
2 tsp EACH chopped ginger and minced garlic
¼ tsp each turmeric and cumin
1 TBsp chopped lemon grass
½ cup cilantro, chopped
½ cup Peanut Butter Co. Heat is On Peanut Butter
16 mini wheat pitas
¼ cup hot pepper jelly
Directions
In a non-reactive container, combine chicken, soy, fish sauce, ginger, garlic, turmeric, cumin and lemon grass.
Let chicken marinate for at least an hour.
Drain off excess marinade and sauté in a nonstick pan over medium high heat until chicken is cooked all the way.
Lower heat to low and add the peanut butter until it is well incorporated.
Sprinkle with cilantro.
Snip the tops of the pita.  Add a couple chunks of chicken and a dollop (about ½ tsp) of pepper jelly.
Serve and taste as the magic unfolds!
When you take your first bite, your mouth will think you are eating something Thai but the memory it will evoke is PB & J.
I think I respected the time honored tradition of the Peanut Butter and Jelly sandwich. I was able to take it to the next level with the help of Peanut Butter Co.  My mother-in-law summed up the meal the best by saying she will never think of Peanut Butter and Jelly the same again.