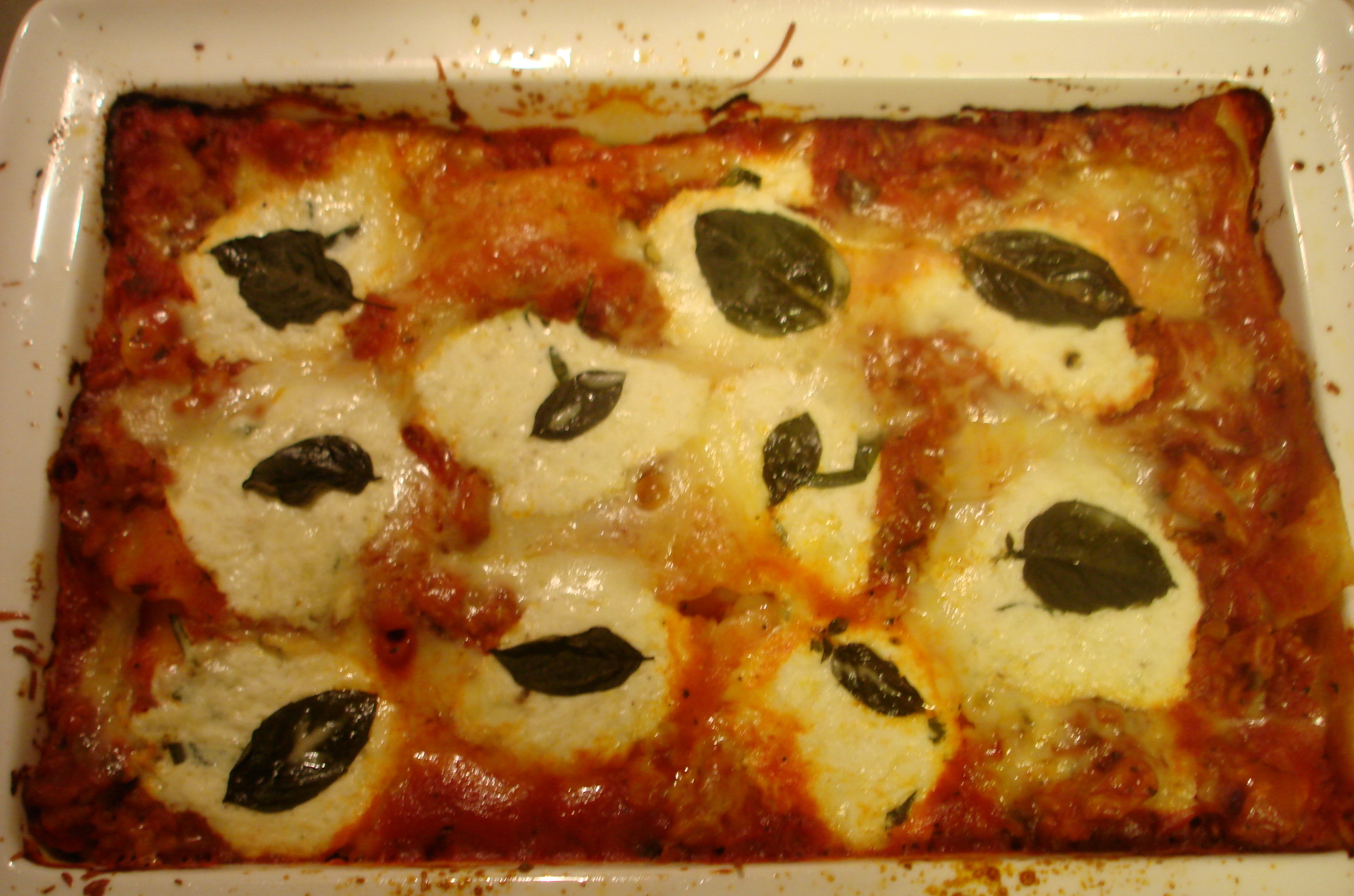 *I have deleted my original post and hope you will like my substitution.
Who doesn't like lasagna?  When you mention the dish; a person is likely to tell you about how their family made it.  Everyone's family recipe is "the best" and people tend to lean toward the flavors they grew up eating.
After I wrote this blog, I heard quite a few opinions about lasagna and family recipes.  I was right that people are really, really  passionate about their sauce and recipe.  I completely accept that sentiment and hope that people realize that I am just writing down my thoughts, memories of my Chicagoland (another shameful plea for votes) childhood, and some dishes that were inspired from those experiences.
In my family, lasagna was more of a "special occasion" meal.  It was the dish served at Christmas and at Thanksgiving in lieu of  a turkey.  I don't know if I appreciated the time and effort it took to make the multi-level masterpiece, I just knew that I always looked forward to eating it.
I don't get the opportunity to cook on most holidays so I needed to find a new venue for lasagna in my life.  It turns out that it has become my go to meal on busy weeks.  Sounds a little crazy, doesn't it?  Who would make such a complex dish on a heavily scheduled week?  ME?  (Did you seriously have to think that one out?)
I like to make a lasagna for only my husband and myself because I know we will get at least 2 dinners and 1 lunch out of the entire pan!  (Okay, sometimes one of us is a piggy and we don't get the lunch meal but I'm not mentioning any names.)  Lasagna leftovers always seem decadent and fulfilling.  It is almost like being rewarded for a hard days work in the kitchen.
So whether you have a family recipe or you derived one to fit your palate, I think we are all kindred spirits when it comes to this dish.
My Spaghetti Sauce and Lasagna
The Sauce
Ingredients
1 tsp oregano
1 tsp basil
1 bay leaf
Olive oil
Salt and pepper
2 cloves garlic, chopped
1 can tomato paste (6 ounces)
1 can chicken broth (14 ounces)
1 can tomato puree (28 ounces)
1 pound ground meat (I vary with chicken, pork, turkey and beef)
4 slices of prosciutto
1 onion, diced
Directions
In a large (5 quart) non-reactive saucepan (corningware, le creuset), add tomato puree, paste, chicken broth, oregano, basil, bay leaf, salt and pepper.
Allow it to simmer.
In a skillet, add about a tablespoon of olive oil.  Add onions and prosciutto.  Cook until prosciutto crisps up and onions are translucent.  Right at the end, add the garlic and cook until fragrant.
Add onion mixture to saucepan.
In the same skillet, brown your ground meat.  Drain any grease and then add to saucepan.
Allow saucepan to simmer for HOURS!!!  Taste occasionally.  Adjust seasoning to your palate.
Lasagna
Ingredients
9 sheets of preferred lasagna noodles, cooked per package directions (Please don't use the no boil)
2 cups mozzarella cheese
Parmesan cheese
Batch of homemade sauce
Directions
Oven 350.
In a deep 6 x 9 pan, add about a ladle or two of spaghetti sauce.  You want it to cover the bottom.
Lay 3 sheets of pasta across the bottom.
Add about 10 small scoops of ricotta cheese mixture.  You don't need to necessarily spread it.  Sprinkle about ¾ cup mozzarella cheese and a good healthy sprinkle of parmesan cheese.
Layer another 3 sheets of noodles.  Press down a little bit and then add a couple of soup ladles of sauce.
Repeat adding the cheeses in the same fashion as above.
Add another layer of noodles and sauce.
Decoratively add 10 more small scoops of ricotta mixture.  Sprinkle mozzarella and parmesan lightly over the top.  (I had some extra basil leaves so I stuck them on top of the ricotta mounds so it looked super pretty.)
Cover top of pan with aluminum foil and bake covered for 40 minutes.  Remove foil and bake another 10 mintues.  Allow to sit for 10 minutes before serving.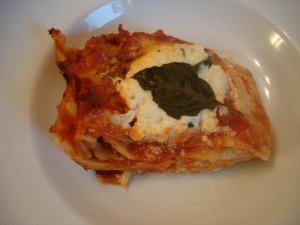 I have found that this is the best layering method for my lasagna.  Use your imagination with your ingredients but remember if you add a lot of vegetables, you will need to add less sauce.  The veggies will release extra fluid, which in turn will give you soupy lasagna.
I make a couple of other variations that I hope to share over the next year and hope you will feel free to share some of your favorite recipes with me.