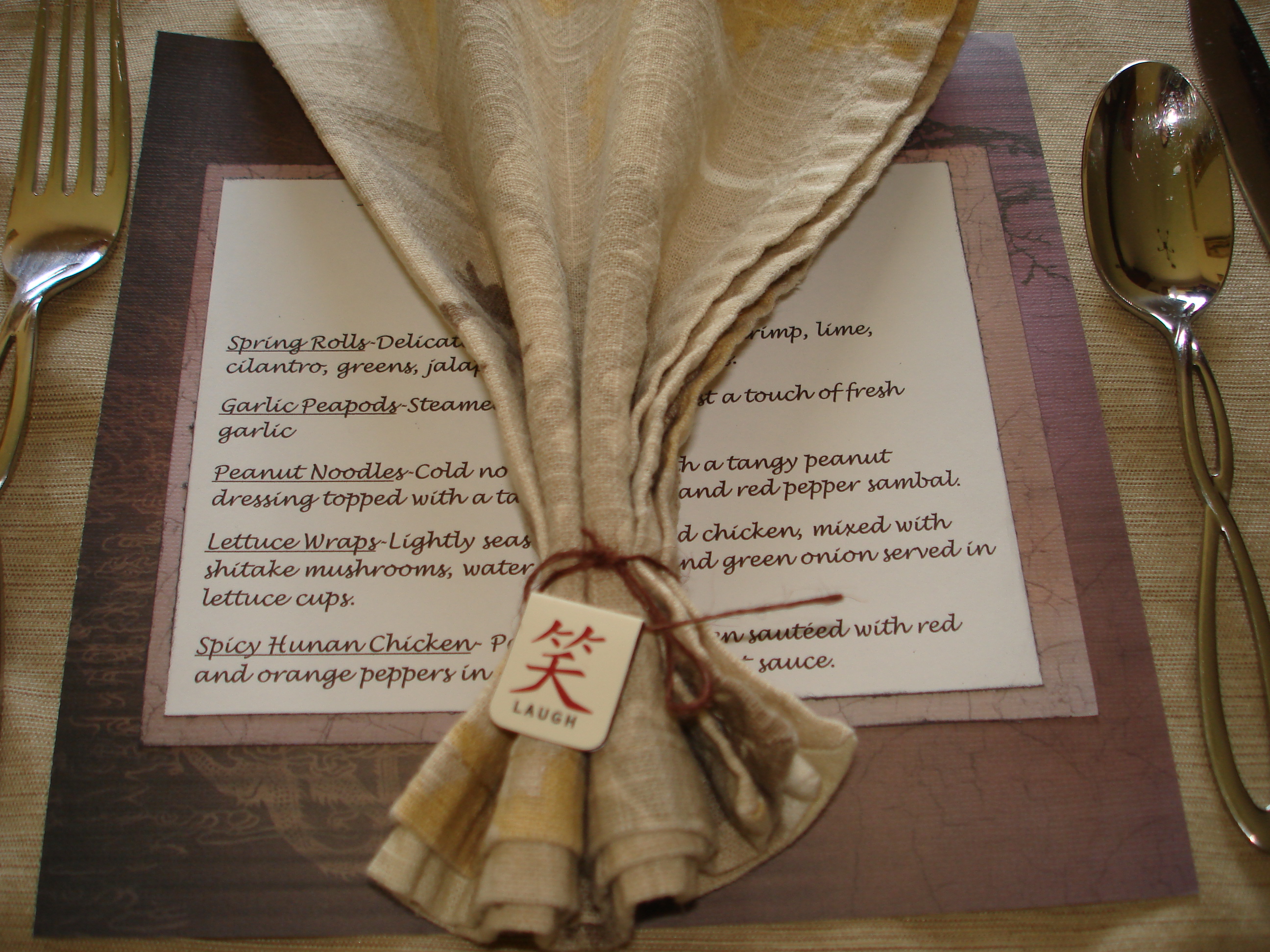 About a month ago, my husband, Earl, and I went to dinner with one of Earl's coworkers, Eric,  and his wife, Laura.   While eating dinner, Earl, Laura and I started discussing our love of reading.  (Eric kept his mouth full during this conversation, since he only likes books with pictures.  Just kidding…he doesn't like any books).
As we continued talking, we realized that our reading interests were very similar.  I'm not sure who thought of it first but we decided we needed to start a book club.  We rattled on about books we were interested in reading and different friends who may want to join us.  (At this point, both husbands were laughing at us because we were getting so excited).
As a result of our conversation on the ride home and a substantial amount of emails, we concluded that our first meeting should be about the book, The Girl with the Dragon Tattoo, since it is so popular right now.  I was excited because I was going to hostess first and I loved to make Chinese food.  I ran into one problem, the book has nothing to do with Chinese people!  (Yes, I'm a little ignorant to think anything with a dragon in its title is Chinese.)  This dragon book was based in Sweden!  What was I going to cook, meatballs?
I was obsessed with the desire to cook Chinese food for this first meeting.  I am such a fan of Chinese food and I had already promised Laura my spicy Hunan chicken.  So I quickly looked up suggested books for book clubs and found the Lisa See book called Snow Flower and the Secret Fan.    I double-checked my information to make sure that this book was indeed going to compliment my menu.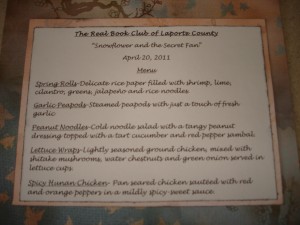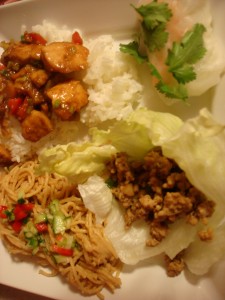 As you can see, I made quite a few items.  I've written about the Hunan Chicken in previous posts.  Today I want to share the recipe for the Peanut Noodles.  (I'll post the spring rolls and lettuce wraps at a later date).
Peanut Noodles
Ingredients
8 ounces of dry spaghetti, cook per instructions and rinse with cold water (I would love to use Soba noodles but they are hard to find in this area)
¾ cup vegetable broth
½ cup smooth peanut butter
3 Tbsp brown sugar
3 Tbsp rice wine vinegar
3 Tbsp lime juice
1 ½ Tbsp light soy sauce
1 ½ Tbsp fresh minced ginger
1 ½ Tbsp chili garlic sauce (found in Asian section of grocery)
½ cup fresh cilantro, chopped
Dry roasted peanuts, chopped
Toasted sesame oil
Cucumber & Red Pepper Sambal (see directions below)
Directions
Combine broth, peanut butter, brown sugar, rice wine vinegar, lime juice, light soy sauce, ginger, and chili garlic sauce in a saucepan.
Bring to a simmer over medium heat for about 1 – 2 minutes.
Take off heat and stir in cilantro. Let it cool until spaghetti is ready.
Cook pasta according to directions.  Drain under cool water and toss with 1 Tbsp. of sesame oil.
While all of this is cooling, make sambal.
Mix the sauce with the spaghetti.  Top with chopped peanuts and sambal.  Enjoy!
Cucumber and Red Pepper Sambal
Ingredients
½ cucumber, seeded and deiced
1 scallion, thinly sliced
½ of a red pepper, diced
1 ½ TBsp rice wine vinegar
½ Tbsp white sugar
½ tsp red pepper flakes
A shake of salt
Directions
Toss all ingredients and chill until ready to serve.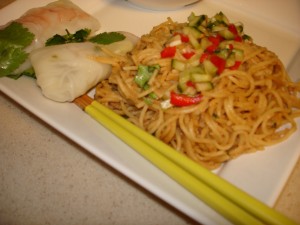 I know it is silly to pick a book based on a menu but remember I am a foodie, not a bookie.  Luckily for the rest of the girls and me,  the book was just amazing and I feel my meal was an honorable tribute to the story.