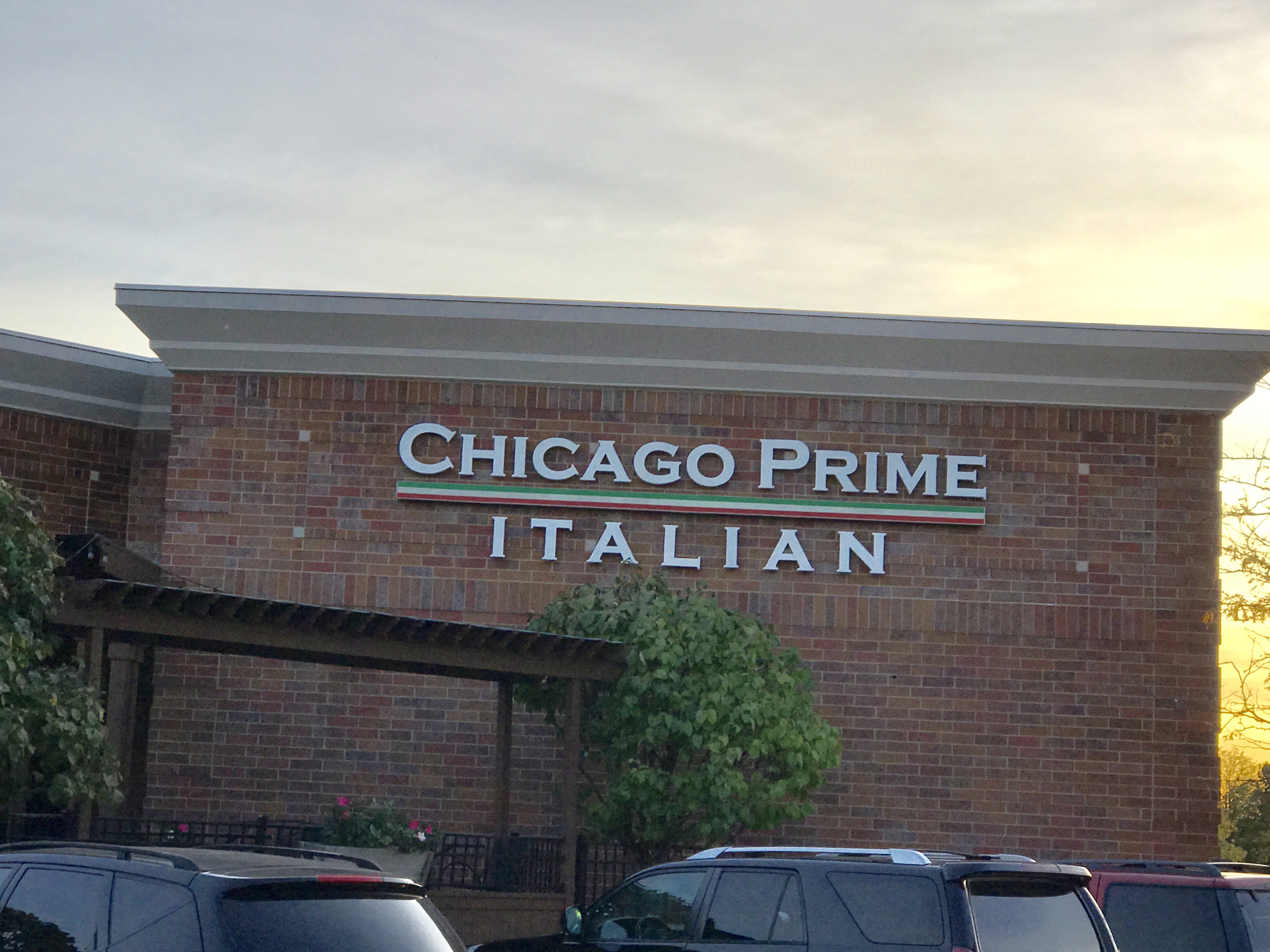 Happy Friday.  It is hard to believe it was just last week that I went to Schaumburg, IL to try some new favorite restaurants as part of a super-preview of Meet Chicago Northwest Restaurant week. (Check back on their website soon to see the participating restaurants.)  I'll remind you again that the dates are February 23, 2018-March 4, 2018 so you can make sure you plan a trip to the Northwest Suburbs of Chicago.
The final restaurant for this Foodie Fun Day was Chicago Prime Italian (1370 Bank Drive, Schaumburg, IL).  If you are thinking the name is awfully familiar to my last post, it isn't a typographical error…it is owned by the same family!  Finding a family owned restaurant in an area filled with chains means one thing….you will be able to taste the love in the food.
Open for dinner this upscale Italian treasure is special enough for a date night but casual enough that if you want to stop in after work or a power shopping trip that you will still feel right at home.  (The lounge has an awesome horseshoe shaped bar so it is a great spot to grab a glass of wine and enjoy some of the specials.)
The chef (who not only knows how to cook phenomenal food, he knows the history of where dishes were originated) made me a special appetizer sampler so I could let my readers get a better feel of what to expect at Chicago Prime Italian.
My platter included fried Calamari, Shrimp de Jonghe, Baked Clams and Caprese Salad.
This is the kind of calamari you want when you order…the coating was crisp but it didn't overpower the firm almost sweet flavor of the squid.  I usually have to dunk my calamari in cocktail sauce but this was so good I forgot!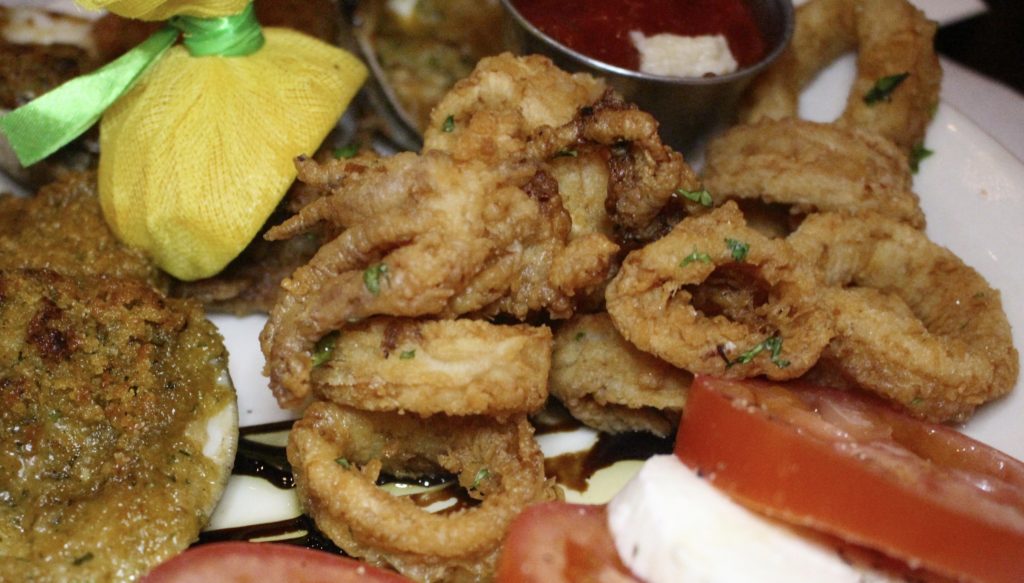 The Shrimp de Jonghe were huge shrimp sautéed with garlic and olive oil and then lightly crusted with herbs and more garlic.  The garlic in these babies made this little Italian girl so happy.  It wasn't too much and yet you knew it was there.  (This is when you question where is the picture and I can say that they "accidently" fell into my mouth before the shrimp got their close-up…I couldn't resist!!!)
The Caprese salad is a great option when you want a fresh, light option with your meal.  Locally grown tomato slices simply layered with fresh mozzarella cheese and fragrant basil leaves.  Add a little drizzle of extra virgin olive oil and balsamic glaze and the ingredients speak for themselves.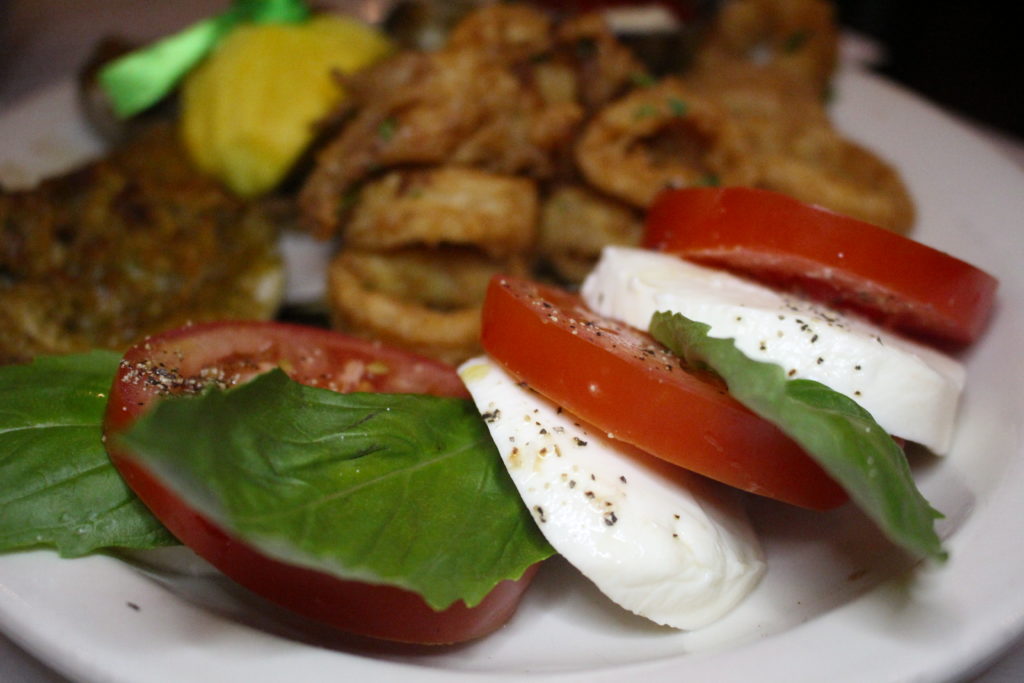 My entrée or should I say the main event was offered on the menu as a Zuppa di Mare (In Italian, Zuppa means soup and this far from a soup).  A fabulous bowl of linguine in a mildly spicy tomato sauce with more seafood in it than the ocean.  This was like an Italian Christmas Eve in a bowl!!!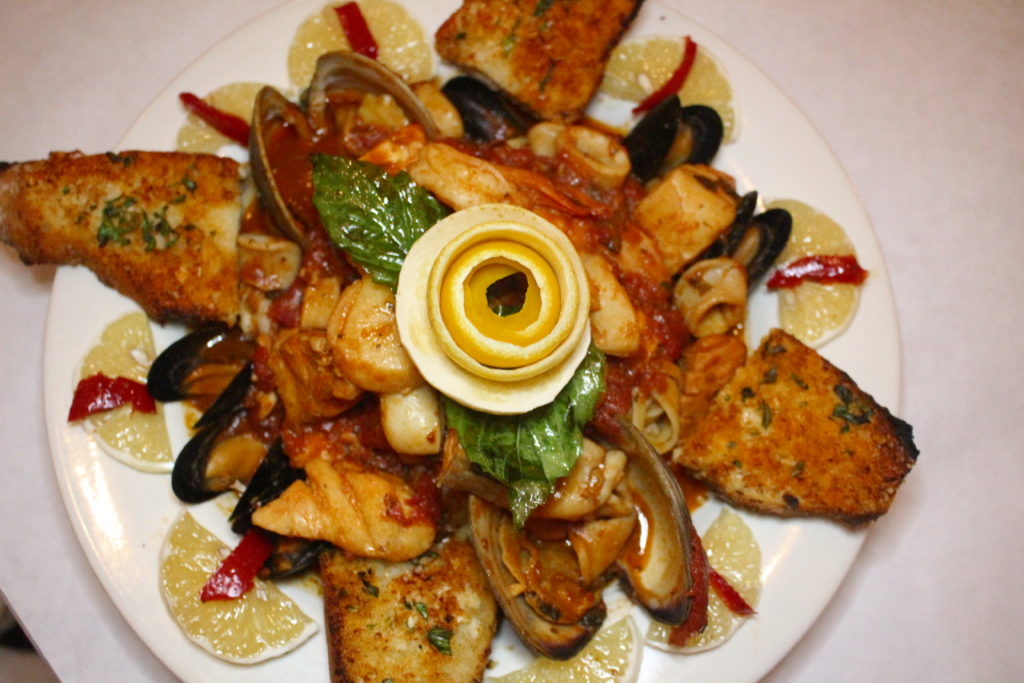 It was literally swimming in mussels, clams, shrimp, whitefish, crab and I think I spotted some scallops.  Thank goodness for the garlic crostini on the side so I could scoop up every bite.  (It was like a raft for the fish to climb on before they sailed into my mouth!!!)  It was beautifully presented and showcased Chicago Prime Italians's gift of the true marriage of the different regions of Italy.  (And if you can't finish your plate it is okay because my leftovers of the linguine had soaked up all the sauce and was an absolute incredible dinner the next night…it was like an encore performance!)
Make sure there is a some room for dessert.  I didn't get to eat the tiramisu or mousse cake (chocolate allergy) but the spumoni cheesecake was tremendous.  It gave me a terrific food memory of eating a scoop of spumoni as a child.  (Except this time my sisters didn't steal it from me.)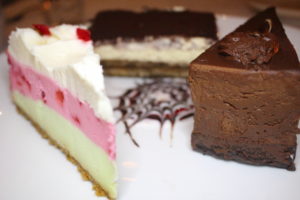 Chicago Prime Italian had a great menu with everyone's favorites like fettuccini alfredo, meat lasagna, chicken Vesuvio, veal parmigiana and mussels in red sauce.  But I liked that there were some "new" Italian dishes like the Chicken Prosciutto, Square Noodles Vodka and a braised short rib ravioli to name a few.  (There was a baked goat cheese and eggplant appetizer on the menu that I MUST have next time I am there….it sounded so good.)
Private Dining is also an option here if you have a special event to plan for the holidays or business gathering.  Plus, on Sundays kids eat free.  (Because that is how families stay together….eating great food, creating memories around the dinner table.)
Thank you to Chicago Prime Italian for hosting me for this lovely meal.  I truly left feeling like part of your wonderful family.  And a special thank you to Meet Chicago Northwest for introducing me to all of these great restaurants.  I'm sure my readers will try them all and will have their own Foodie Fun Days when they come to the Northwest Suburbs for Meet Chicago Northwest Restaurant Week next year.