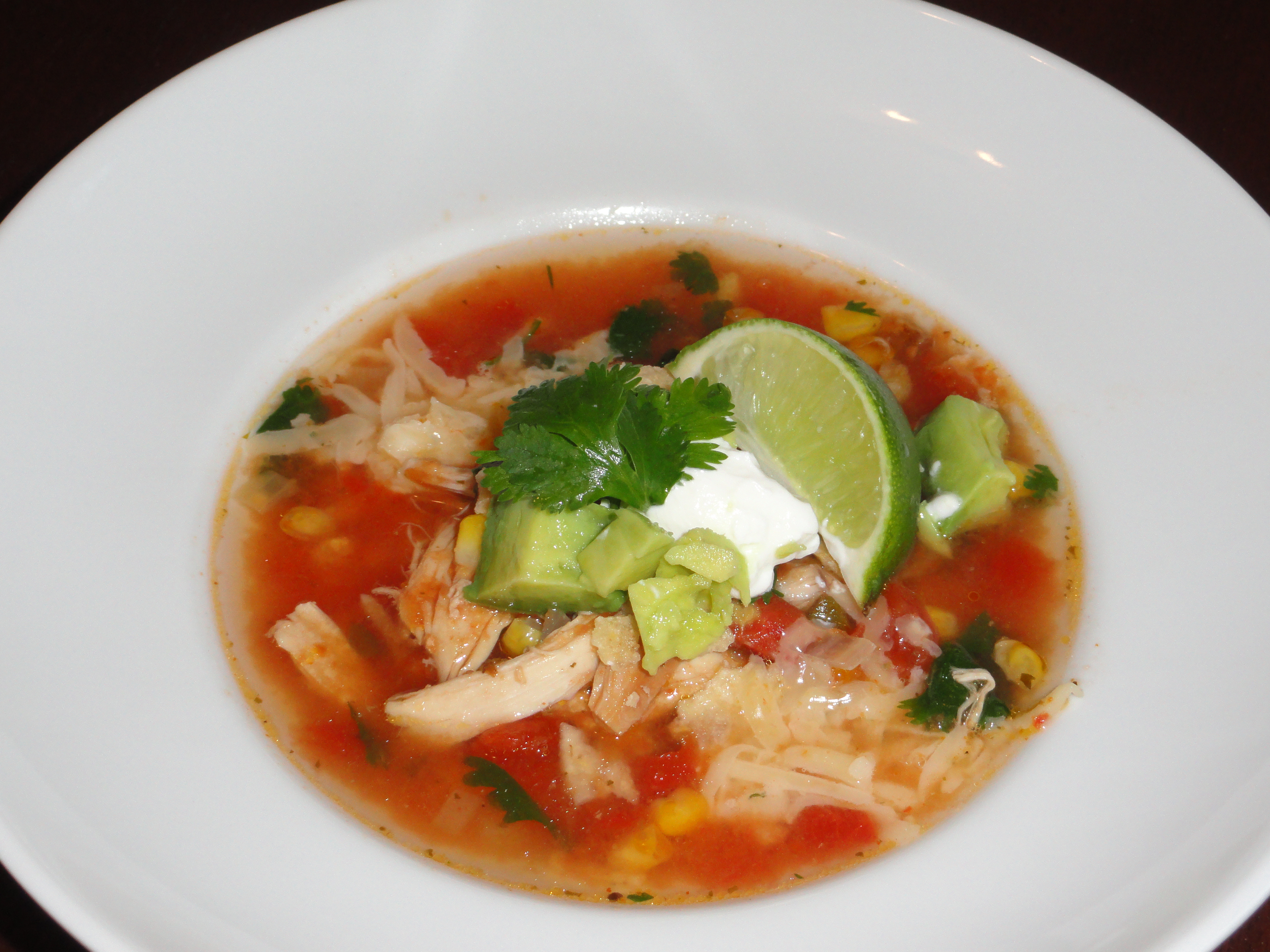 I love when the season changes from summer to fall.  The colors of the trees outside are my favorite shades of orange, yellow, brown and red.  The air has just enough chill to warrant a coat but you don't NEED one.  And the comfort food cravings make it easy to plan every meal.
The only thing I don't like about this time of year is the fact that I always catch a head cold!  I've had a serious case of the sniffles for the last week and I am just miserable.  If I typed liked I talked right now it would go something like this….I gawd a code in by nose. Cough. Cough. Sniffle. Sniffle.
Like most people, all I want is my blanket, a box of Kleenex and a nice hot bowl of soup.  (I also would be thrilled if there was a Walton's marathon on TV but I think that is just me.)
Sounds like a simple remedy, right?  Well it isn't!  I really don't like prepared soups and am only happy when my soup is homemade.  (This is the pouting; I only want what I want when I'm sick person talking now.)  I'll even settle for faux-made.
What is faux-made?  Faux-made is a homemade meal that you take the liberty of a few short cuts.  For a faux-made soup, you don't make your own stock or dice your own vegetables.  Your chicken is purchased from the deli and you may even buy your cheese already grated.  (You still have to put the love in it, that is the only thing you aren't allowed to substitute!)
The other convenient thing is that most of the ingredients are things you already have in the house so if you are really sick you don't have to go out.  (Or send your spouse to the store with a list and he/she comes home with nothing but cookies.  You know who you are!)
My favorite faux-made soup is my Mexican Chicken Soup. It is simple to make and filling.  I also like the spice since my nose is so clogged I can barely taste anything!
The prep work doesn't entail more than chopping an onion, roasting some corn and opening cans.  The use of the different types of Red Gold diced tomatoes (Green Chilies and Mexican Fiesta) adds the "authentic" flavors to the soup so you don't have to depend on your impaired palette for seasoning adjustments.  It really doesn't get any easier (unless your mom comes over to make you soup when you are sick).
Author:
Ingredients
6 cups of Chicken Broth
1 14.5-ounce can Red Gold petite diced tomatoes with green chilies
1 14.5-ounce can Red Gold petite diced tomatoes, Mexican Fiesta style
1 white onion, diced
1 ½ cups corn
2 tsp garlic
3 Tbsp cilantro, chopped
1 ½ cups cooked chicken (I always have some cooked chicken in the freezer or you can go buy one in the deli.)
Olive oil
Toppings
Avocado
Tortilla chips (crunch them up in a baggie)
Shredded pepper-jack or cheddar cheese
Sour Cream
Lime slices
Instructions
Toss corn and onion in about a tablespoon or two of olive oil. Roast in the oven at 400 degrees for about 15 minutes.
While veggies are roasting, add broth, tomatoes and garlic to a large soup pot. (When I'm really sick I like my soup "brothy" so I put the tomatoes in the blender first)
Bring temperature up to a simmer and add the chicken and roasted veggies.
Let simmer on low for about 30 minutes so your flavors develop.
Serve with a sprinkle of tortilla chips, cheese, avocado, sour cream and lime slices.
This soup may not be the cure for the common cold but it sure tastes great going down!  If you don't like "spicy", just add two cans of the Mexican fiesta tomatoes.  It will still taste great it just won't drive the cold demons out of your nose!
This recipe can be prepared quickly so you can get back to lying on the couch until you feel better!  (Good Night John Boy!)