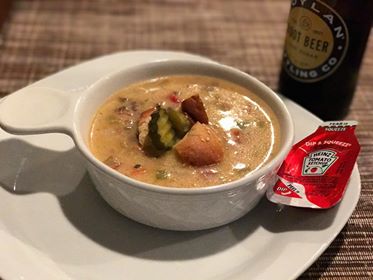 Do you get distracted easily?  Do you look at your phone every time it lights up?  Do you stop in midsentence when you suddenly remember something?  Do you see a hawk in the sky when you are driving and veer a little off the road?  It doesn't take much for me but I get distracted.
One of my biggest distractions is when I'm eating a meal that I really like.  It doesn't matter what conversation is happening in front of me, I am dissecting the dish in my mind.  You could be telling me your darkest secrets and my head is diverted into wondering if the chef used chicken broth or beef broth.  Your heart could be on your sleeve as you look toward me for support and I'm probably wondering if I just tasted a flat or curly parsley. It is not a quality I am proud of in myself (but I'm also in denial.)
You could use this in YOUR favor and tell me something I may not want hear right when my meal arrives. It is usually in the first few bites that I try to decipher the chef's code of cooking and am most easily mentally hindered.
In our small town, we have an awesome little diner called Topp Skillet (I am going to devote an entire blog to them this winter because they are so awesome).  I love their food but I'm completely enamored by their soup special each week….namely the Cheeseburger Soup.
It is magical.  It is everything I love about a burger with leaving me feeling guilty.  (Why I have burger guilt is another topic all together.)  Each time I would eat their soup, I'd swish it around in my mouth to make sure every bite awakened each part of my taste buds.
I wanted to make my own version so I could make it any time I wanted it and not risk missing a week it was at Topp Skillet. (In all fairness, they are excellent about posting their specials on Facebook but there are some weeks I can't get in there for lunch.)
I took out the basics for making a good cheeseburger…ground beef, cheese, tomatoes, a bun and pickles. (I took out some ketchup too but didn't use it.)  I then took out the ingredients for a good basic hearty soup….celery, onion, carrot, potatoes and chicken broth.  (I could have used beef broth but I find beef broth can be overpowering in some soups.)
I browned the meat in a large Dutch oven, drained it and set it to the side.  In the same pan, I added a smidge of olive oil and cooked the onions, carrots and celery until they were translucent.  I added in some small diced potatoes and chicken broth.  When the potatoes were tender, I added in a can of zesty tomatoes and the reserved beef.  I slowly whisked in some milk and some good melty cheese.  (Yes, VELVEETA is the way to go.)
I made some little sesame seed croutons out of Hawaiian rolls and cut up some pickles for the top. (My first bowl I used bread and butter pickles but my second bowl was chopped up dill pickles and I must say the dill were 100% better.)
It was a great rustic soup with a cheeseburger flair.  The best part is that I can make it anytime I want this winter!  Thanks, Topp Skillet for putting this into my head.  Imitation is the sincerest form of flattery and now I need a new distraction!
Cheeseburger Soup
Ingredients
1 pound ground beef, season with your favorite burger seasoning or salt and pepper at the very least
1 Tbsp olive oil
1 cup each of chopped onion, celery and carrots
4 cups chicken broth
2 russet potatoes, peeled and diced
1 can Rotel Classic Tomatoes (I like a little heat so these are perfect….you can opt for a can of diced tomatoes and no one will judge you.)
1 ½ cups of milk
2 cups of shredded Velveeta (a processed cheese works better in things like mac and cheese or soup…trust me)
Garnish…cut up a sesame bun, toss with a little butter and put in the oven at 250 while the soup cooks or use some croutons.
Chopped up pickles.
Directions
In a large 5-quart Dutch oven, brown the meat.  Drain and set aside
In the same pan, add a little olive oil over medium heat.
Add the onions, celery and carrots.  Sauté until tender.
Add the potatoes and broth. Cover and cook about 10-15 minutes until potatoes are tender.  (The larger the chunk, the longer the time.)
Add the tomatoes. Stir.
Add in the drained ground beef.
Put heat on low and slowly whisk in the milk.
Add the cheese in 1/3 cup (or a handful at a time as long as you don't have huge man hands)
Stir.
Taste for seasoning and adjust per your liking.
"Topp" with some pickles and hamburger bun croutons.