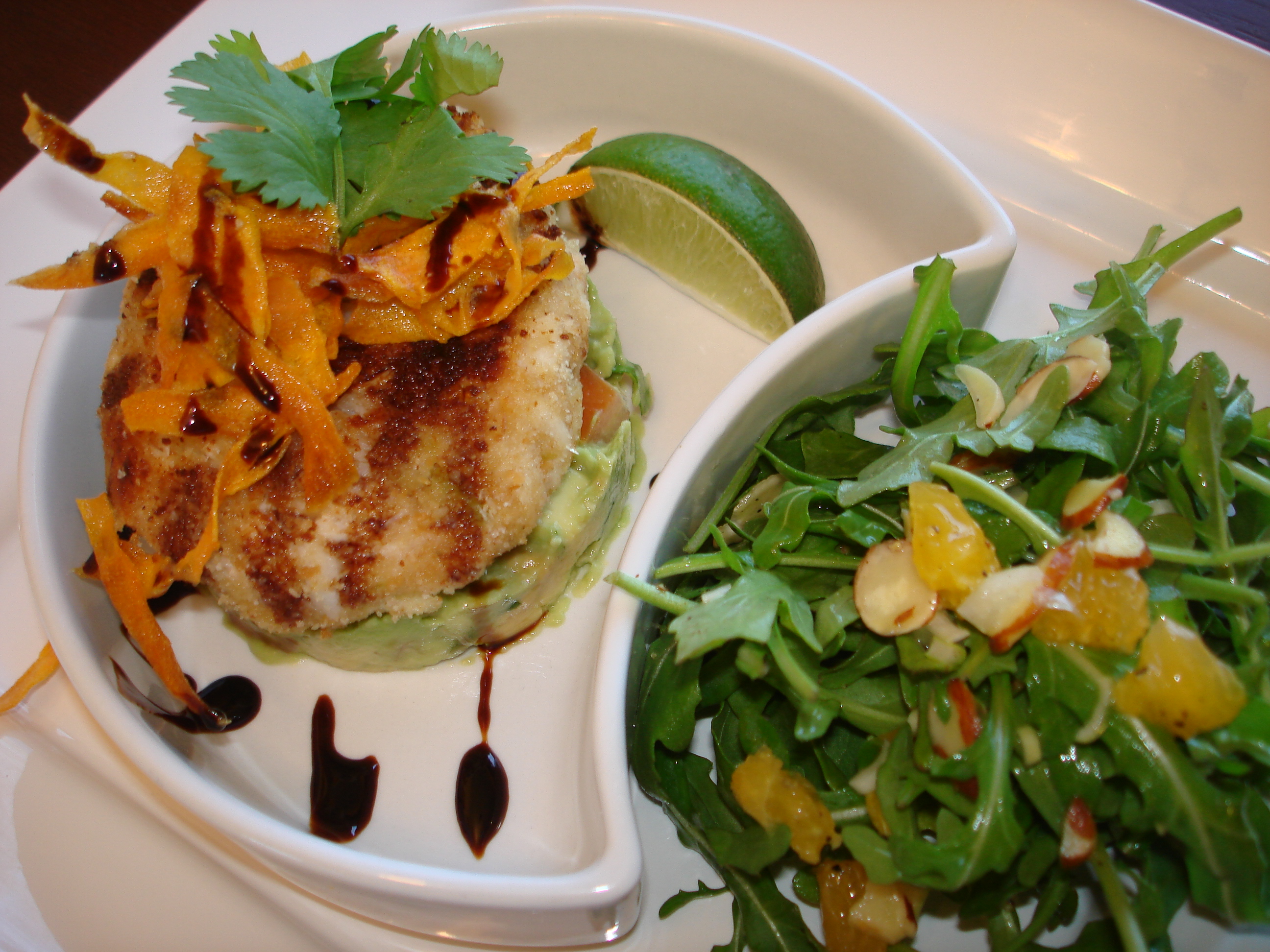 If I am skimming through a magazine and see a picture of food, I tend to want that food…now!  It becomes a challenge when there is a mystery ingredient in the picture.  It may look familiar but there are times I need a little help figuring out just what to do.
A few years back, I saw a picture of a crab cake in a magazine.  It was a beautifully browned cake sitting upon some sort of avocado relish with sweet potato strings on top.  The mystery in the picture were the swirls of brown sauce surrounding the cake.
I started to compare the picture to recipes on the internet and concluded that it was balsamic vinegar.  My challenge was to figure out how to make MY balsamic vinegar swirl on a plate.
Luckily, I had been introduced to a chef at a local gourmet club meeting.  I took out my picture (yes, I tore it out and carried it with me) and asked for his input.  He agreed that it was indeed balsamic syrup and I should have no problem replicating it on my own. He said if I thought about it, the recipe would come.  (Okay he really didn't say that but it really was my Field of Dreams recipe moment).
The one important trick that he clued me in about was about balsamic vinegar reductions. High quality balsamic vinegar is thick on it's own but most people don't have that in their pantry.  He told me to pour about a cup of balsamic vinegar and a tablespoon of sugar and reduce it in saucepan.  Over time, it becomes syrupy and very delicious.
With this tip and my picture in my pocket, I was ready to recreate these crab cakes.
Crab cakes with Avocado Relish
Sweet Potato Straw Instructions
Start your sweet potato straws before you start preparing the rest of your meal.  They are simple to make and add a nice textural crunch to your dish.
Peel the skin off of one sweet potato.  Using your vegetable peeler, peel off long, wide strips.  Stack the strips and slice them into "matchsticks."
Soak in cold water for ten minutes and dry on paper towels.
Once dry, sprinkle with a little cornstarch.
Heat a skillet with about an inch of vegetable oil and fry the strips in batches.
Drain them on brown paper bags until you are ready to garnish your dish.
Avocado Relish Ingredients
2 large avocados cut into ¼ inch pieces
1 large roma tomato, cut into ¼ inch pieces
1 scallion, finely chopped
1 large jalapeño, finely chopped
3 Tbsp Cilantro, chopped
Juice of 2 limes
Avocado Relish Directions
Mix all ingredients gently and keep in fridge until you are ready to assemble your crab cake.
Crab cake Ingredients
12 ounces lump crabmeat
1 tsp Dijon mustard
3 Tbsp Mayonnaise
2 tsp Old Bay seasoning
1 small onion, chopped
1 stalk celery, chopped
1 cup of bread crumbs with a little extra for breading the crab cake before cooking
Directions
Sauté onion and celery
In a large bowl, gently mix crab, mustard, mayo, Old Bay, breadcrumbs, and sautéed vegetables.  Don't mix it hard or you will delump your crabmeat.
Form small patties (about 6) and dredge in remaining breadcrumbs.
Lightly grease a non-stick skillet and heat over medium heat.  Sauté on both sides for about 3 minutes.  They should be golden brown and cooked all the way.
ASSEMBLY
Using a large circle cookie cutter (should be the size of the crab cake), place a few spoonfuls of relish on the plate.  Top the circle with the crab cake and sweet potato straws.  Finally, drizzle balsamic syrup over the crab cake and the dish.
This is one of those "showy" dishes that really impresses company.  You can serve it alone as an appetizer or with a nice salad to make it a meal.  I do want to change the name to Happy Cakes because no one who eats these will be crabby!