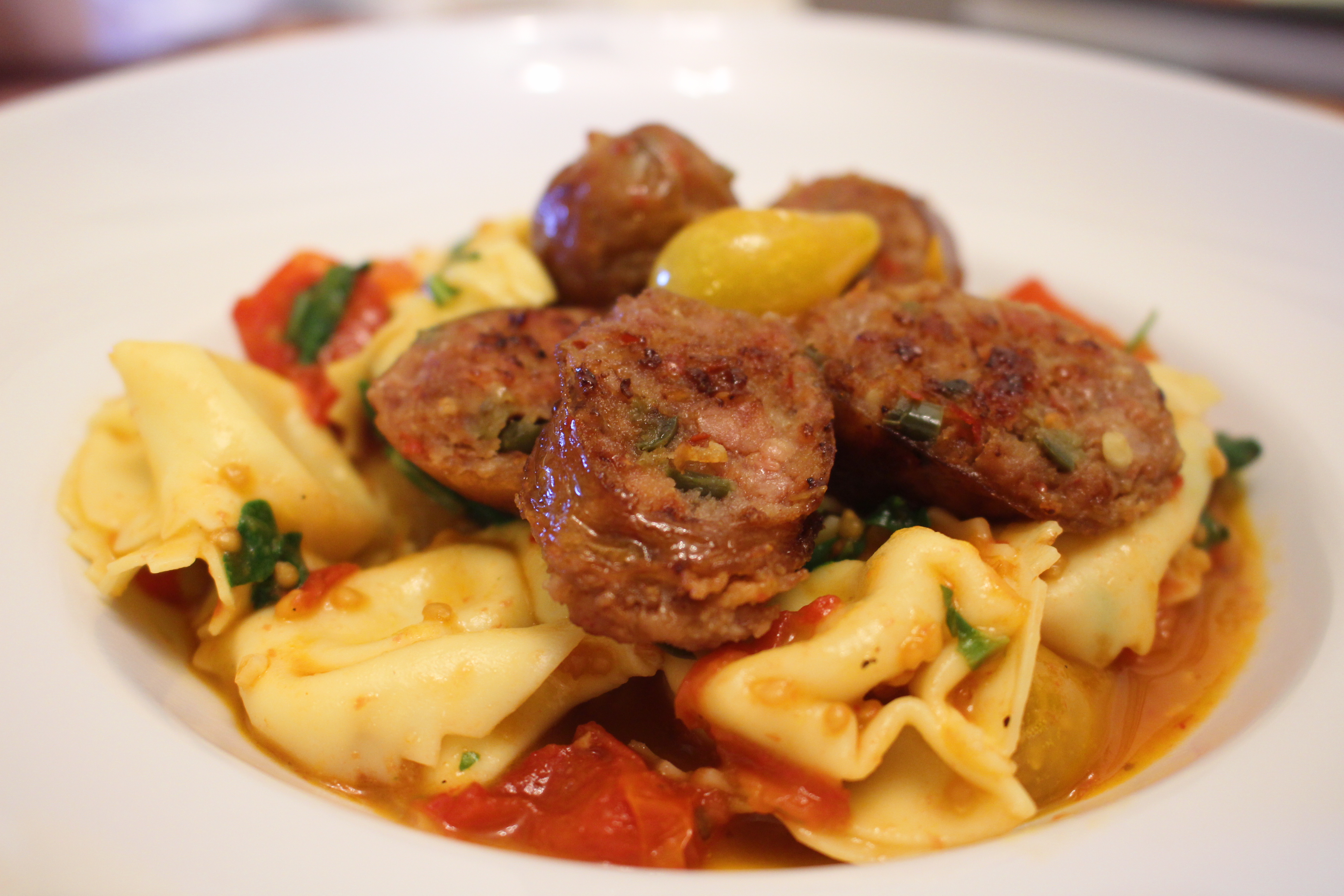 My brain seems a little frazzled right now. I've eaten a lot of really great food these last couple of weeks and now I am trying to get back into the swing of my own kitchen. I keep waiting for someone to present me with a menu, put it on a small plate and do all the work. (This is where in the movies a dark, ominous sky appears and the heroine looks forlorn.)
It is not like I'm not motivated, it is more like I just don't know where to begin because I've been so inspired. I have learned so much lately that I want to share it all with you. (Except the weight gain, I don't think any of you want to share in my newfound poundage!)
So I thought I'd start by sharing with you one of the products that I always seem to have available in my freezer…sausages. I love to have sausages in the house because your options are endless with them. (This is where I would get a PG-13 rating for all of you naughty people out there making sausage innuendos!)
Sausages can be a meal on their own like in a sandwich or as an entrée. Or you can use your sausage to add an exciting component to something like a spaghetti squash casserole.
Last week at the Fortune Fish & Gourmet Seafood and Specialty Show, I bumped into one of my favorite sausages….Big Fork. Chicago made (and nobody knows sausages as well as Chicago), natural, handcrafted, local farmed and most important…DELICIOUS!
I was first introduced to Big Fork a couple of years ago when I won some of their sausages in a raffle. (Seriously, if you have a chance to be in sausage raffle…enter it!)
I think the one I won was the Hickory & Applewood BACON sausage!
Did you catch that? Big Fork puts bacon in their sausage. I love the extra flavor the bacon adds to the sausages. (They have a ton of different flavors of fully cooked sausages like Portabella, Maple & Brown Sugar, Cracked Black Pepper and aged Cheddar.)
Embarrassing plot twist of the storyline: I was sure I won the Spicy 3 Pepper EXCEPT that hadn't come out yet. Still feeling a little stupid about that one but Big Fork humored me like a fairy godmother and granted me a package of the Spicy 3 Pepper Hardwood Smoked Pork and Uncured Bacon Sausage to try. (This time to really try..not make believe try!)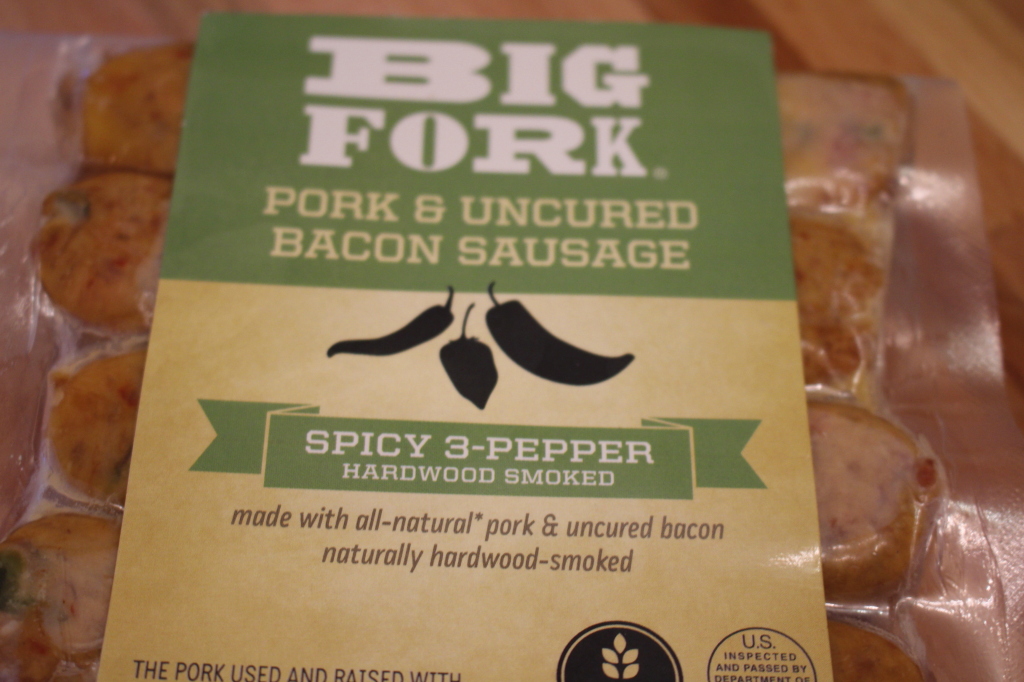 So my brain instantly thought that this sausage  would be a great compliment to a nice creamy tortelloni. And I must say that what I came up with was truly a happy ending to the story.
Tortelloni with Fennel, Peppers, Roasted Tomatoes, Arugula and Spicy 3-Pepper Sausage
Ingredients
1 bulb of Fennel, large dice
1 Red Pepper, large dice
1 Onion, large dice
3 cloves garlic, chopped
1 pint grape tomatoes (roast at 400 degrees on parchment paper (single layer) with a douse of olive oil for 20 minutes.)
2 cups arugula
½ cup FRESH Basil
1 Package (12 ounce) Big Fork Spicy 3 Pepper Sausage*
*You can purchase Big Fork Sausage online or in some stores in the Midwest. If you can't find it, make the recipe with a good spicy sausage cooked in bacon drippings. The salty-smokiness of the bacon was a nice add on to the other flavors.
1 12 ounce package of TORTELLONI (I like the brand Rana the best)
Olive oil, salt and pepper
Directions
In a large sauté pan, sauté the fennel, red pepper and onion. (A little salt and pepper is nice too.) This is one time you don't really want to brown everything. You are just softening the veggies up. It took about 8 minutes over medium heat.
Add garlic and cook until fragrant. (Another minute or two.)
Add the roasted tomatoes and lower the heat to simmer lightly. This is where your flavors are all going to hug together. The tomatoes will start to burst a little and that is a good thing.
Meanwhile, get your pasta going and put your basil and arugula in your colander.
While the pasta is cooking, get your sausages done. I browned them whole in a non-stick skillet JUST until they showed some color. And then I sliced them into circles and continued to brown them in the pan. The Big Fork sausages have a lot of juice to them and I like the extra flavor you get when you cut it up and brown it further in the juices. I do drain the finished pieces just to make sure they don't start squirting people.
Ding! Your pasta is done. Pour the hot pasta water OVER the colander filled with the arugula and basil. It is a quick and easy way to take away a little of the bite of the arugula and keep the color in the greens.
Mix the pasta with your sauce (make sure you taste for seasoning, you may want to add more salt BUT be careful with adding more pepper because the sausage has a kick to it) but don't let it cook for more than a minute or you will end up with mushy pasta.
Dish out into bowls and top each dish with some slices of sausage.
For a night that I was wishing for an out meal, I ended up creating a meal that made me feel like I was at a really good Italian restaurant. The flavors of the sauce (especially the fresh fennel) really paired nicely with the Big Fork sausages.
Thanks to Big Fork for sharing your new product with me. It was great and like your t-shirt says…I think they are made magically from unicorns!