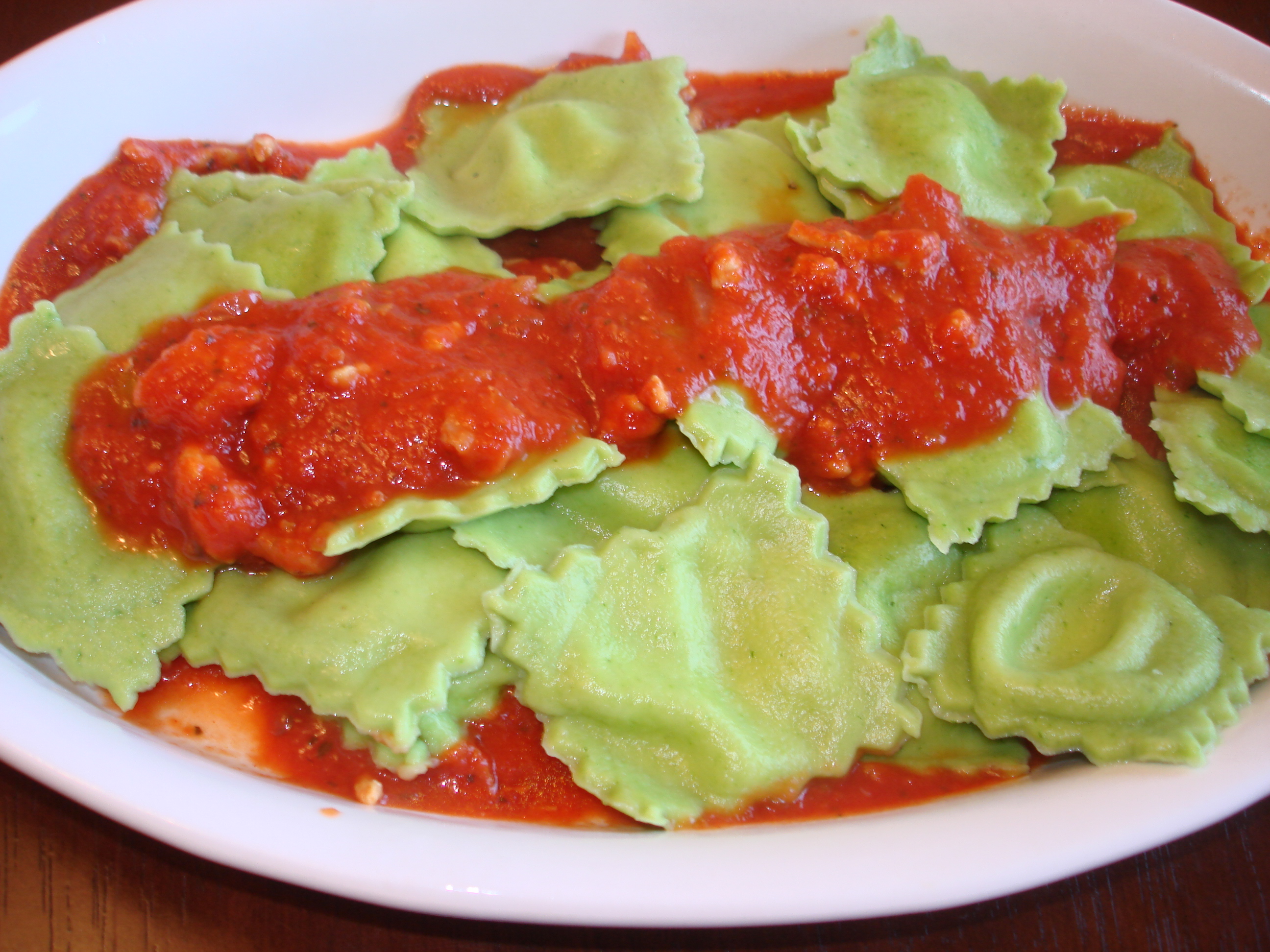 For the most part, I use dried pasta in my dishes.  It tastes great, easy to make and inexpensive.  I don't think it is for every recipe especially ravioli.  Something gets lost in the processing of store bought ravioli.  You lose some of the flavor, the freshness and the love.  That it is why Ravioli is one pasta dish I insist that is made fresh in our house.
It isn't just the taste that is important.  It is the whole experience.  The meticulous process of making the pasta sheets and filling each one is extremely gratifying to me.
I will confess that I don't make my pasta "old school."  I have never been successful in the method of making a well with the flour and adding the eggs.  I always make such a huge mess that it becomes a sorrowful experience.   I will also admit that my husband bought me a pasta machine when we first got married and it stayed in its box for 10 years.
A couple of years ago, I had the pleasure of taking a pasta class.  Our chef taught us the easiest way to make pasta.  I will admit it seemed easy but I wasn't sure I could achieve the same results at home.
I got home from the class and dusted off my pasta machine box, pulled out my recipe and started rolling, rolling, rolling.
Homemade Spinach Pasta Dough
Ingredients
1 packed cup of fresh baby spinach
3 eggs
2 cups flour
3 Tbsp semolina (if you like a chewy pasta, add up 1/4 cup or a little more.)
Directions
Puree the spinach and eggs in food processor.  (I use my 12-cup food processor)
Mix the semolina and flour together.
With the food processor running, slowly add the flour mixture.
Once a dough ball forms, remove from the processor.
Knead until it is smooth. 
Wrap in plastic and allow to rest at room temperature for 20-30 minutes.
Split into quarters.
Roll through pasta maker, using the following sequence.  Roll 3 times on the number 1 setting, folding in between rolls and then one time on settings 2, 3, 4, 5 and 6.
Rest the sheet on top of ravioli press.  (If you don't have a press, you can cut 1 ½ inch – 2 inch circles or squares with a cookie cutter and crimp the sides with a fork)
Gently press plastic mold to make little wells to place your filling.
Add filling (I used my basic ricotta/spinach filling) but not too much because you don't want the "pillow" to burst.  I usually go somewhere around a heaping teaspoon
Brush water around the edges of the pasta sheets so it will help the top sheet adhere to it.
Make another sheet of pasta, to place on top.
Gently roll over the sheet of the pasta to remove any air.  Gradually increase your pressure and then roll like crazy to cut the ravioli.
Flip press over and pop out your ravioli.  Take a second and ooh and ah over your perfect ravioli.
Place on a gently floured sheet until all the pasta dough is used up.  (This batch made about 60 ravioli).
In a pot of boiling, salted water, gently place the ravioli.  They should be done in 4 minutes.  Don't boil them too hard or they might bust.
Looking at the pictures, I am sure you can see the joy these cheese-filled pillows have brought to my life.  I am going to continue to experiment with their fillings and flour to semolina ratio.  My pasta maker sits on my counter every day with pride.  I now use it regularly and love every second of it.