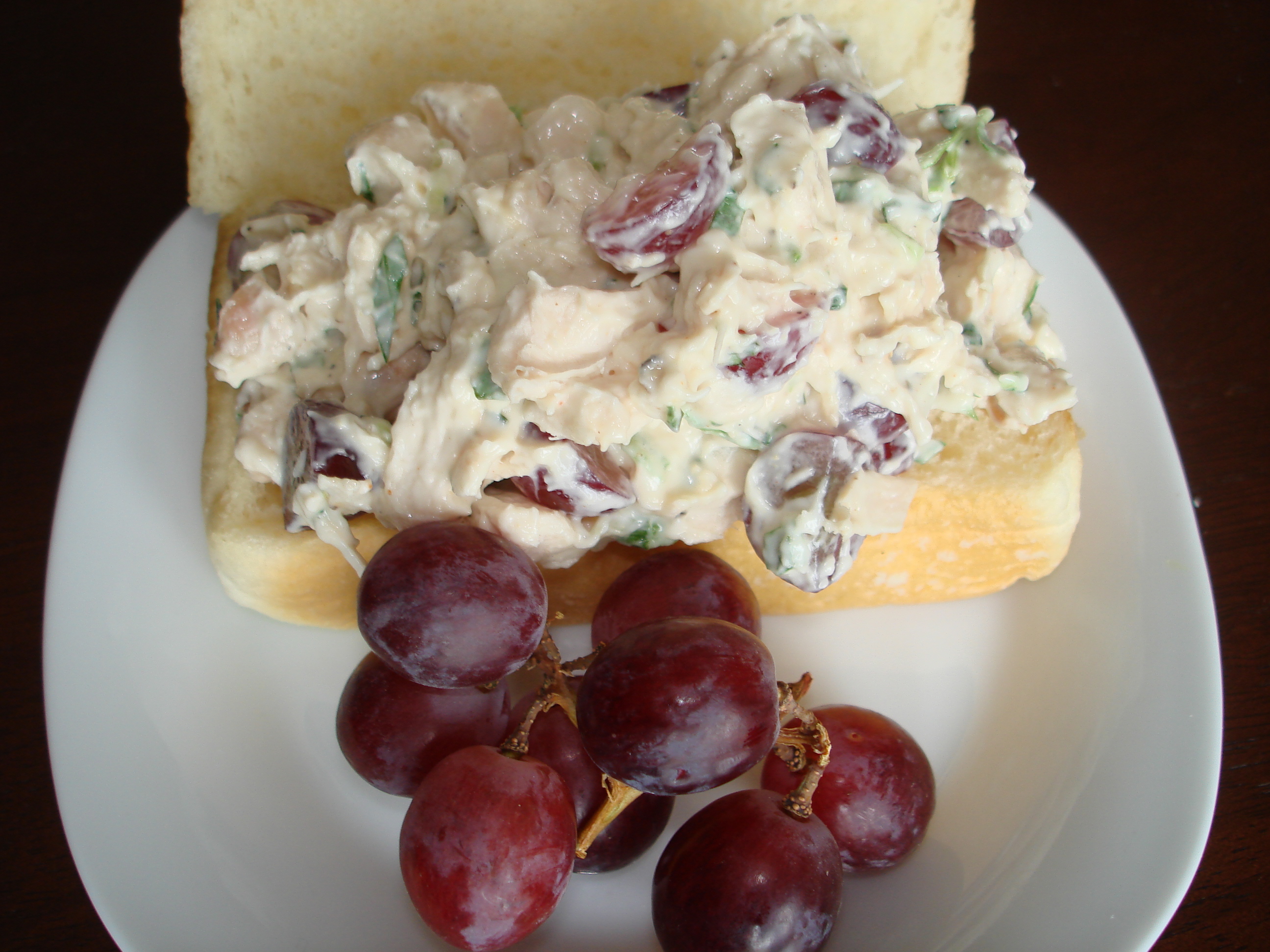 When you think about lunch, what kind of food does that make you think about?  Do you think of it just as fuel to get you through the day or is it a welcomed break to your busy day?
In our house, my husband and I have the luxury of sharing a lot of lunches together.  He works close to home and when time permits, he likes to come home to his favorite lunch counter.
As much as I enjoy his company, I must admit that it is sometimes a challenge to make lunch exciting.  I do make my fair share of lunchmeat sandwiches and homemade soups for him but there are days when I just want something a little bit different.  Something that tastes great but not too hard to make.  Something that will use up the ingredients I already have in the refrigerator.  Something like….Chicken Salad. I know most people don't consider chicken salad anything spectacular but I consider mine pretty grape.
Everyone has his or her own way of making chicken salad.  Some people add nuts, craisens, and celery.  I like mine because the flavors don't get muddled and you can distinctly taste the sweetness of the grape and the minty liquorice flavor of the tarragon.   Part of being a foodie is having "grape" expectations of every meal that is put in front of you and lunch is no exception in our house.
A Really Grape Chicken Salad
Ingredients
2 cups of cooked chicken, chopped (I tend to use ½ of a rotisserie chicken)
1 green onion, minced
1 TBsp fresh tarragon, chopped
¼ cup mayonnaise (I go very light on the mayo, you can add more later if it seems too dry for you tastes)
1 tsp Dijon mustard
A few grinds of pepper
A quick shake of salt, garlic powder, and paprika
24 red grapes, approximately, cut into quarters
Hawaiian Brand Sandwich Rolls (You can make little sandwiches with the dinner roles too)
Directions
I ALWAYS mix my onion, tarragon, mayo, mustard and spices together in the bowl so they are all well incorporated.  I think it is the key to great tasting chicken salad.
Gently introduce the chicken.  If it seems too dry for your tastes, add a smidge more of mayo.
Now fold in the grapes.
Spread on the Hawaiian sandwich rolls (should make about 4 of them) and serve.
I know this particular recipe is probably a little simple for most of you but I felt it was an important one to include in the blog.  I truly feel that the simplicity of the sandwich is also part of what makes it so satisfying.  The meat market owner who "invented" American chicken salad in the 1800's was just a simple man trying to use up his leftovers.  His delicatessen business took off after that and sandwich history was made.   I'm grateful for his discovery but often wonder if he made up that sandwich or was it his wife trying to keep things exciting at lunchtime?