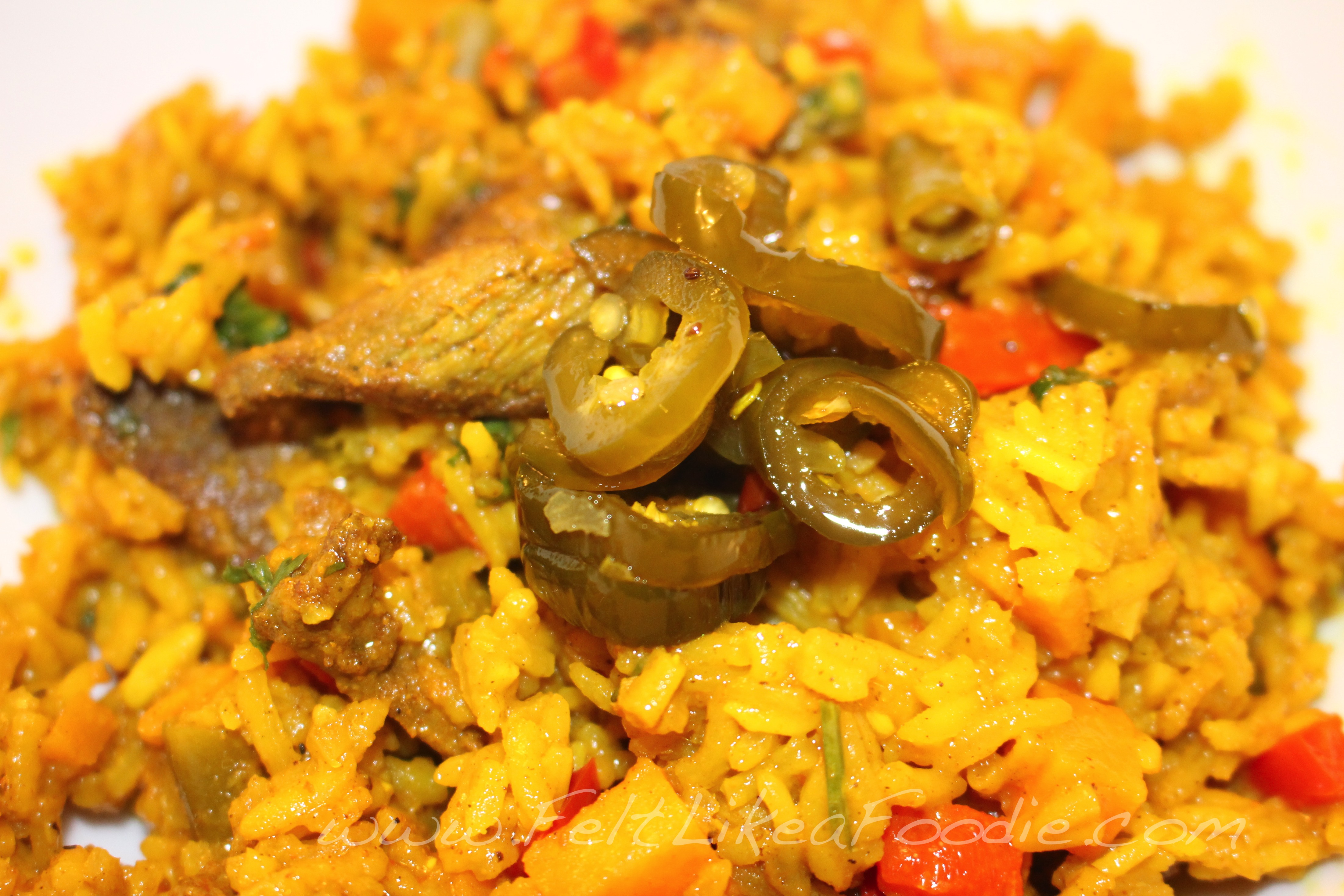 Do you every get that feeling that you are getting too big for your britches?  (Do you ever really use the word britches in a sentence?)  This winter has made me feel that way literally and figuratively.
Literally…I am TOO big for my britches and can honestly say my pants are too tight.  Apparently the cure for cabin fever in this house is any kind of food.  And like antibiotics, I've developed a resistance and I need more food to make myself feel better.  (I started to type something about my muffin top but that just made me want to go make muffins!)
Figuratively, I have had a run of good luck with winning Foodies Show Heart at RA Sushi (my roll is on the menu for the month of March), my amazing shopping trip with Jose Garces and most recently a super-flattering article in The BeachCoast!  (The article is a wonderful 3rd anniversary gift for Felt Like a Foodie.)
So this past week, I have felt like if you give me an ingredient…..I can conquer the world!!!  (Imagine me jumping up on a kitchen chair waving a spatula like a magic wand.)  BUT my kitchen beat me into submission when I decided I should make a curry recipe I found in a magazine.
The recipe was pretty straightforward and I just started cooking.  I didn't take into account that some of the author's ingredients may be different than my own and cooking times may vary.  Without going into the ugliness that occurred in my house when the timer went off, I'll just say it wasn't the dish I was looking to create.  (I will admit that I screamed to my husband "Get ready to order a pizza because I'm about to serve you a bowl of ….")
For some reason, I overlooked one of the most basic cooking school lessons….use a layering process to showcase the best of your ingredients.  (It is also good to understand how certain spices work in a dish.  Some need time to evolve, some don't.)  It is better to put some extra time into your dish than to throw it out the window!  (Okay, in another ugly moment I did threaten to pitch my entire pan out the kitchen window and blamed my husband for my failure!)
After a few more tastes, I was able to salvage my meal and more importantly salvage some humility.  The part of the meal that I loved was the flavor of the meat and the coconut curry sauce.  I would make these two parts again and just serve it over some basmati rice and veggies.
Beef Biryani (Adaptation)
Ingredients
2 tsp curry powder (make sure yours is fresh and not something that has been on your spice rack since you got married 15 years ago)
1 tsp turmeric
1 tsp garam masala
1 tsp sea salt
1 rib-eye (1 lb) sliced into VERY thin strips
½ cup shallots
1 Tbsp garlic
1 Tbsp ginger
1 cup vegetable broth
1 cup coconut milk
1 Tbsp curry powder
1 tsp turmeric
1 tsp garam masala
Optional:
Cooked basmati rice, pickled green beans, sliced hot peppers, cooked red pepper
Directions
In a small bowl, mix first 4 ingredients (2tsp curry powder, 1tsp turmeric, 1 tsp garam masala and 1 tsp salt).  Toss the steak slices and set aside.
In a large frying pan over medium heat, add some oil.  (I used olive oil but the recipe suggested canola.)
Add shallots and cook until they are translucent.  Add ginger and garlic cook another minute or so.  (It should be nice and fragrant.)
Add beef and brown it on all sides.  (This is why you are using a large fry pan so you don't crowd your meat.)
Deglaze the pan with the broth.  And add the coconut milk and simmer until the meat is cooked.
Stir in the remaining spices (1 Tbsp curry powder, 1 tsp turmeric and 1 tsp garam masala)
Our dish was mixed with the rice, some sweet potatoes (I wouldn't do that again…too sweet with the coconut milk) and pickled green beans.  I added a couple pieces of cowboy candy too.
I also want to try this again and just do the beef with the spice rub and make a curried fried rice.
We learn from our mistakes and the mistakes of others.  This did knock me down a peg or too but I know my next home curry experience will be much better.  No worries.