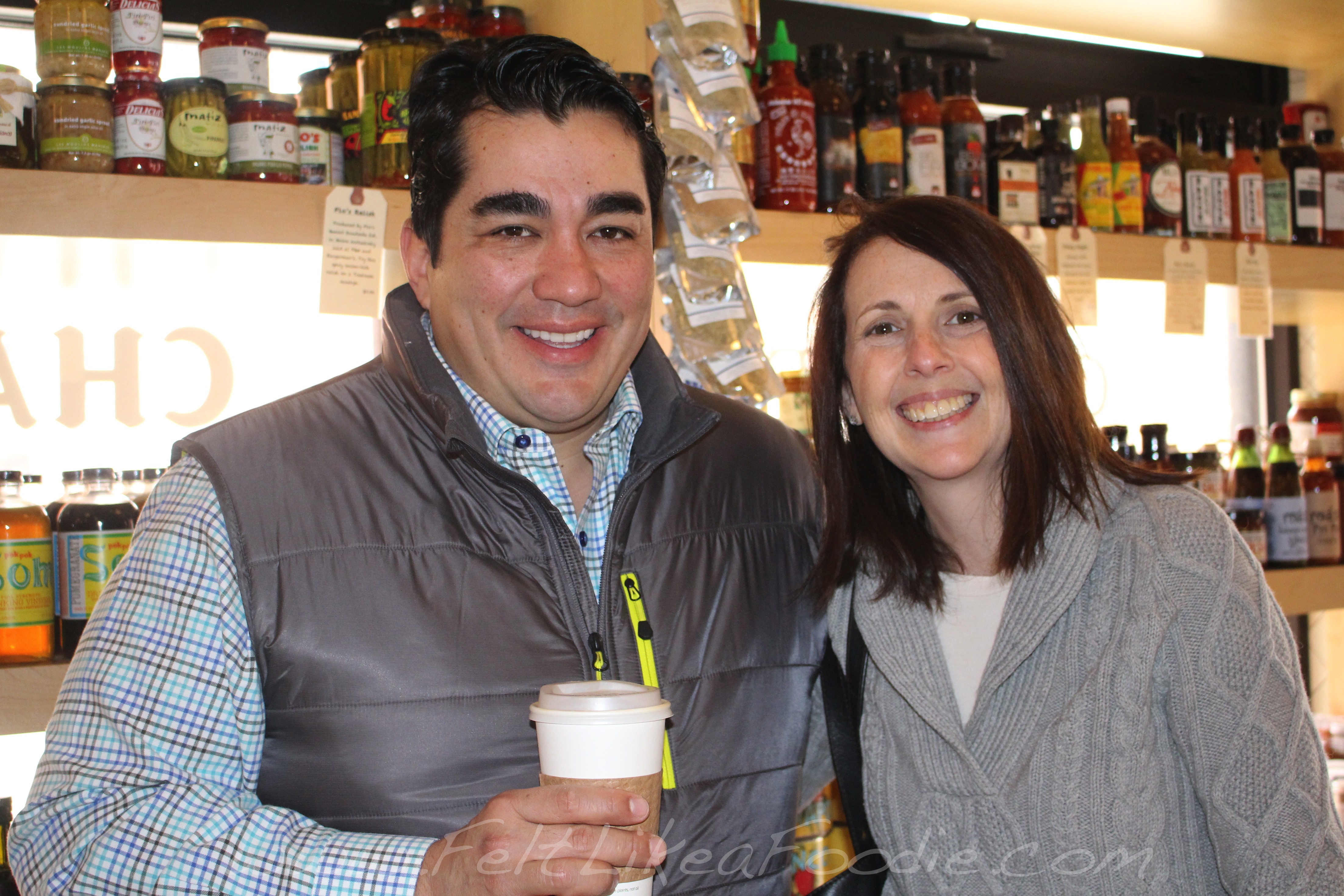 As a fan of all things food, I love to see the development of a meal.  I watch television shows on cooking and read an innate amount of cookbooks just so I can study and mimic how exceptional meals develop.
One of my preferred shows to watch is Iron Chef because of the great skill it takes to truly think outside of the box.  I always cheer for Jose Garces for a couple of reasons.  First, he is a "local" guy with one of my favorite restaurants in Chicago.  (Mercat a la Planxa).  Second, his cookbooks (Latin Evolution and The Latin Road Home) are not only wonderful cookbooks but also include some entertaining stories.  And finally, watching his climb to Iron Chef status made me see he is like all of us.  We just want to prepare meals where our ingredients shine.
With that said, when I heard Iron Chef Jose Garces would be hosting the opening of Mercat a la Planxa's new private event space (The Barcelona Room) on Saturday, February 22, 2014; this fan wanted to attend.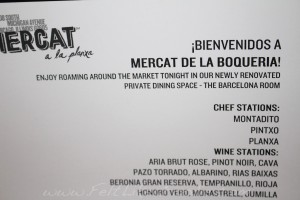 I knew Chef Garces' vision for the evening was to create an authentic "Boqueria" experience.  (A boqueria is casual street market where guests go from stall to stall enjoying dishes that highlight the best of what the region has to offer.)
What I didn't know is that I would get to have the opportunity to watch Chef Garces and Mercat's executive chef, Cory Morris, pick out some of these ingredients for the 3 Chef Stations (Montadito, Pintxo, Planxa).
With the enthusiasm of a teenager at a boy band concert, I met up with the chefs at our first stop of the morning, Publican Quality Meats.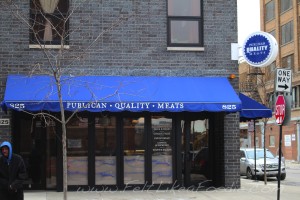 It took me a few minutes to stop giggling but Chef Cory and Chef Jose got right to work.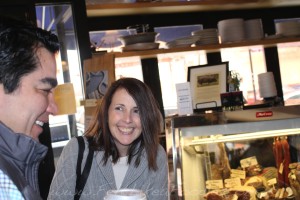 I discovered that their plans for the evening's event were coming together organically as they were piecing together the evening like a puzzle.  PQM has a beautiful showcase and the chefs picked out some Dirty Rice Pate and a "white" sausage.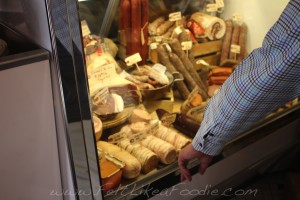 Next we took the short walk to Isaacson & Stein Fish Company.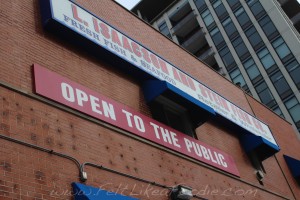 Chef Garces and Chef Cory perused the displays of fish when they both decided that the Spanish Octopus would be perfect on the planxa.  (A planxa is metal plate used in for grilling.)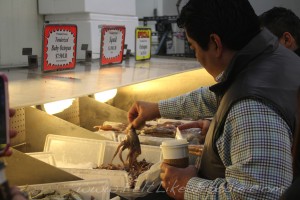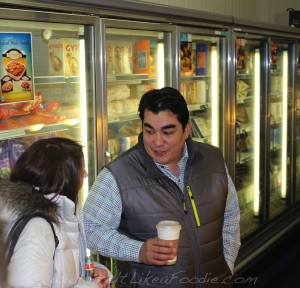 The other big catch was the giant head on shrimp!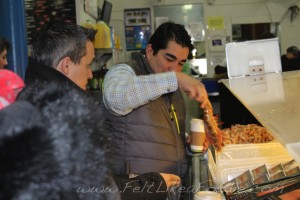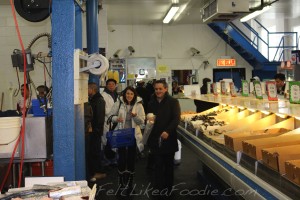 Next we hopped into the car and headed out to West Loop Salumi, the first USDA-certified salumeria in Illinois, for a tasting hosted by owner, Greg Laketek.  (I will be writing a whole post on West Loop Salumi in the near future.  It was fascinating!)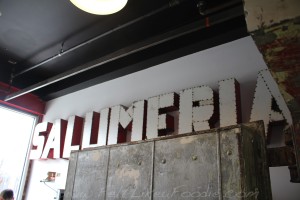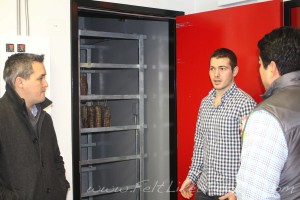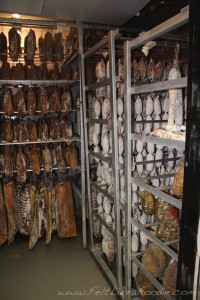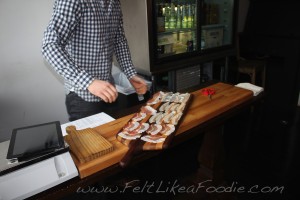 As we were driving, I took the opportunity to have a Kathy Bates Misery moment and pull out "A Latin Road Home" for Chef Garces to autograph.   (Can you hobble someone with a salami?)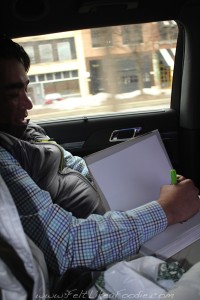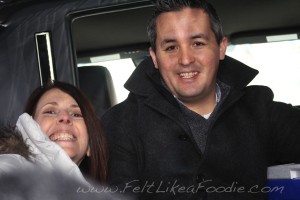 Next, we were off to our final stop for some freshly baked bread at Little Goat Diner.  (Top Chef fans will know Stephanie Izard, another Chicago favorite, owns this awesome diner and bakery.)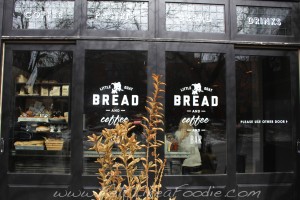 The shopping trip was a whirlwind and I was intrigued to see how these ingredients were going to be showcased at the Boqueria.  (My husband and I got to go take a nap upstairs in The Blackstone while the chefs REALLY went to work.)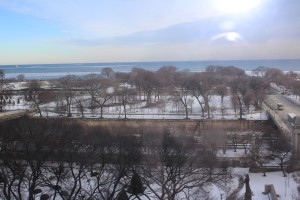 As our elevator from the hotel descended, the music and the aromas lassoed us into the event.  We were now in Spain and I could the see the vision of Chef Garces come to life.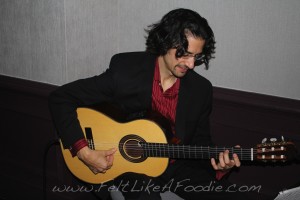 Like an Easter egg hunt, I looked at the 3 chef stations to see where are ingredients landed.  The Montadito Station (Montadito comes from the Spanish word for mount.  So essentially the small slices of bread are topped or "mounted" with ingredients.) highlighted our pate from PQM and some of the cured meats from West Loop Salumi.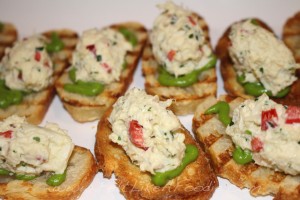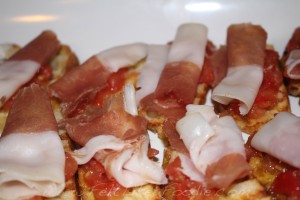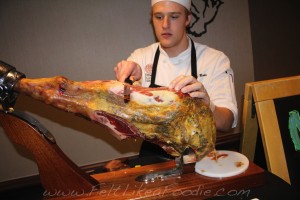 The Pintxo (small little snacks usually pieced with some type of skewer) had a lovely Spanish torta with a saffron aioli, the best Spanish olive and anchovy combination I've ever had and some melon with another of West Loop Salumi's delicious artisanal meats.   (I apologize for not having all of the names of the Salumi's.  The amazing variety of cured meats in this world is new to me and I don't want to "butcher" their real names.)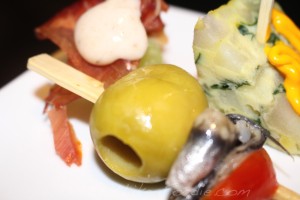 The Planxa was probably the most exciting to me because it just woke up all of my senses.  I could smell, see and hear the food being grilled.  And the best part was that the ingredients were the stars.  (Okay, Chef Garces cooking the ingredients was pretty cool too.)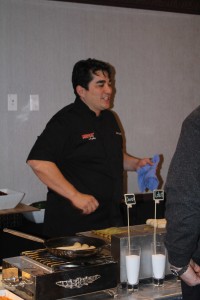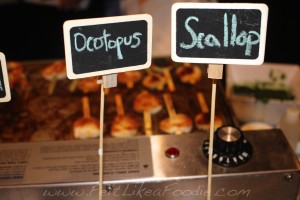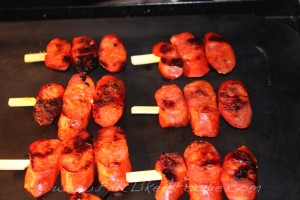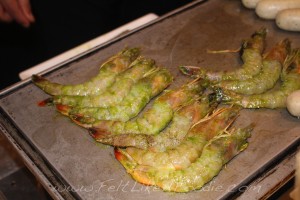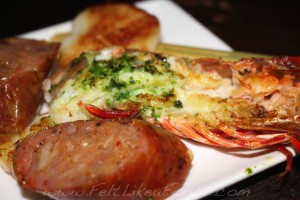 Plus there were some wine stations with an abundance of Spanish offerings (Aria Brut Rose, Pinot Noir, Cava, Pazo Torrado, Albarino, Rias Baixas, Beronia Gran Reserva, Tempranillo, Rioja, Honoro Vero, Monastrell, and Jumilla) to pair with all the tasty little bites.  (Okay, I know less about wine than I do Salami!)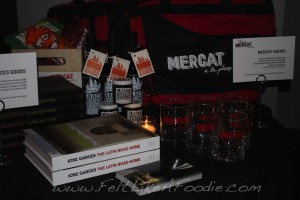 On my long drive home from Chicago on Sunday, I was replaying the day in my head.  Besides my admiration for both Chef Garces and Chef Morris growing exponentially, this adventure was further encouragement to keep learning all I can about food.
What I learned after a shopping expedition with an Iron chef is that every dish or recipe is essentially a building block.  You lay the foundation and go from there.  By using exceptional, local products that radiate their own uniqueness, you make your meal exceed your expectations.
Thank you so much to Mercat a la Planxa for giving me this once in a lifetime opportunity.  Thank you to Chef Jose and Chef Cory for allowing me to share in your busy day.  And most of all, thank you to my husband for taking so many excellent pictures.  I promise I will stop blurting "I went shopping with an Iron Chef" in a few weeks.  (Maybe months…or years.)