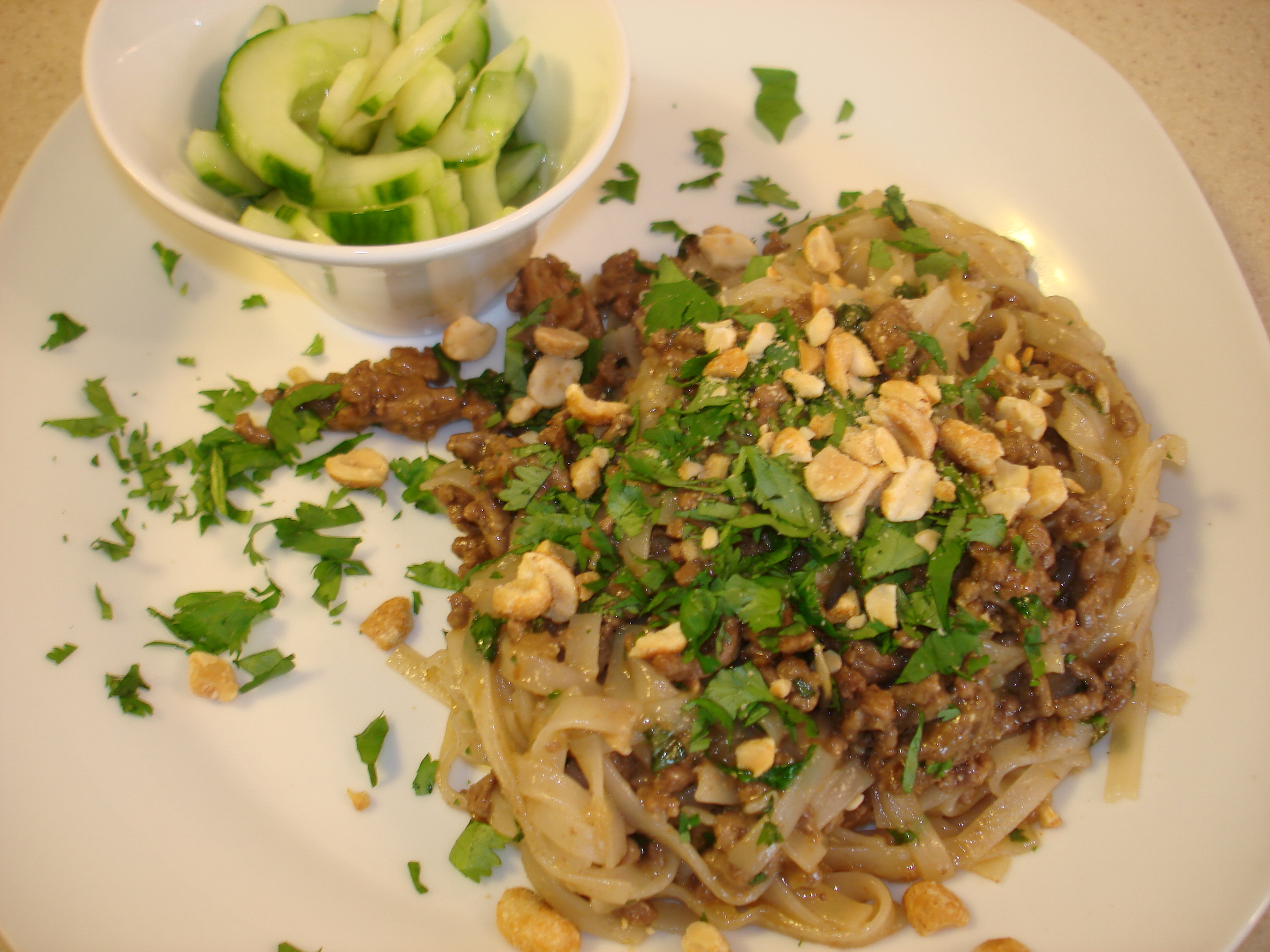 As much as I love to cook, I still have nights that it seems like a chore.  I don't think it is the actually process of making the food that wears me out, it is the fact that I'll have to clean it up when it's done.
I've tried to leave clean up until the next morning but that is bad scenario in itself.  The dishes are harder to clean and there is no joy in waking up to a mess.  I learned the hard way that fairies do not come into the house and clean your kitchen when you sleep.  Garden gnomes don't do it either so don't get your hopes up.
So on nights I don't want to cook, I make a special effort to still make a good meal with minimal effort.
I find Asian noodle dishes are often my best bet.  They are filling, quick to make and utilize ingredients I already have in the pantry.  The other nice part is that they combine two of my favorite meal components: pasta and Asian flavors.  I still have a little clean up but it usually well worth it.  And as they say in Thailand, dai yahng sia yahng.  Loosely translates to "you have to sacrifice something to get something."  (I don't really speak Thai but it gave this post a more authentic feel than if I said that in my other foreign tongue, pig Latin.)
| | | |
| --- | --- | --- |
| Thai "Bolognese" with rice noodles | | |
Author:
Ingredients
12 ounces size "m" rice noodles (Prepare per package instructions, reserve a little of the pasta water)
1 lb ground sirloin
2 Tbsp minced garlic
2 Tbsp minced shallots
2 Tbsp minced ginger
1 tsp red curry paste
1 Tbsp rice wine vinegar
1/2 cup chicken broth
2 Tbsp fish sauce
1 tsp palm sugar (or brown)
Peanut oil
1/2 cup chopped cilantro
Chopped peanuts
Instructions
-In large skillet, brown beef, drain and set aside.
-Heat up a little peanut oil in pan; add garlic, shallots, and ginger. Sauté until shallots are done.
-Stir in curry paste and cook until well combined and fragrant.
-Deglaze the pan with rice wine vinegar.
-Add chicken broth, sugar and fish sauce.
-Add beef and bring to a simmer.
-Cook until liquid is reduced.
-Taste for seasoning, add fish sauce if you need more salt. Add sugar if the curry is too strong.
-Top with chopped cilantro and peanuts.
Itway aymay otnay avehay eenbay away oodiefay ishday utbay itway uresay asway oodgay.  (See what I mean, the pig latin just doesn't work for this recipe)