Hooray for Memorial Day weekend!!!!!!!  Any big plans?  Maybe you like to travel with your family for a quick getaway and play tourist is a small town.  It is also a good weekend to get those veggies in the ground that you've been meaning to plant.  And you can't have a Memorial Day weekend without a little time on the barbie!  (Um, I'm talking about the barbeque….in case my husband is reading that differently.)
The only problem with Memorial Day in the Midwest is that the weather sometimes can be a little iffy.  So, what do you do?  You don't cancel a basketball game because of rain, do you?!  No, you go out and still play ball!
Wait, did I say basketball?  Basketball is not weather dependent and neither should your Memorial Day barbeque.
Honestly the other reason I had basketball on the brain was that this week, I was invited to go to Michael Jordan's Steak House to celebrate National Burger Month with an interactive barbeque on their patio.  (Michael Jordan's Steak House is making a different burger every day in the month of May.)
Sounds great except…..it rained.  So, our interactive class of learning to create an epic burger turned into something better….a primer on how to turn your rained out bbq into a party.
As champagne and cocktails made the way around our table, we started to nibble on two of my favorite Michael Jordan's Steak House favorites, the double smoked bacon and the Wisconsin Roth Kase Blue Cheese Fondue Garlic bread.
The Burton's Maple glazed Nueske's bacon was like kissing a boo-boo.  It just made the day better.  Salty, sweet and thick enough you had to cut it with a knife.  (That is if you didn't just pick up a piece with your fingers….it was supposed to be a bbq so this would have been acceptable…licking your fingers is a no-no.)
And the garlic bread….oh…that garlic bread….(I think I just double dribbled).  Rich, buttery garlic bread is good….rich, buttery garlic bread drizzled with hot, creamy blue cheese fondue is legendary.
And since we were technically here to celebrate National Burger Month, Chef Craig Couper (MJSH executive chef) decided to give us a little treat to try some of his new creations.  (And when asked which was his favorite…he compared it to having a favorite kid…you don't have one…except in my family…because I'm the favorite.)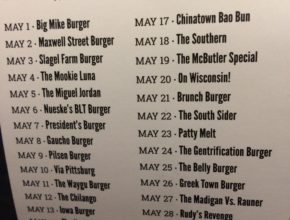 We got to try 3 of the 31 burgers, The Big Mike, The Black and Bleu and the Pattymelt.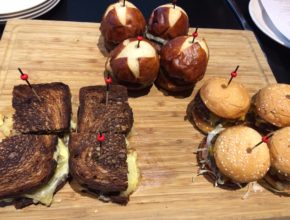 The Big Mike was the all American burger with a pickle, sweet onion, American Cheese, special sauce on a sesame seed bun.  No surprises lingering….just a great burger.
The Black and Blue had a little Cajun seasoning, Salemville blue cheese, balsamic onions on a pretzel roll.  I'm a sucker for a black and blue burger so I loved every bite.  (The pretzel roll was a really good choice for bread.)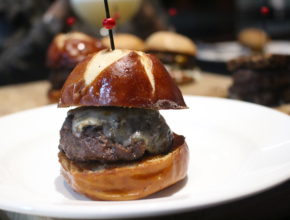 My favorite was the Pattymelt…gruyere, caramelized onions, mustard crème fraiche on marble rye.  The nuttiness of the gruyere with the sweetness of the onions was outstanding.  The mustard crème fraiche had just enough tartness without overpowering or hiding the taste of a great tasting burger.  Sigh….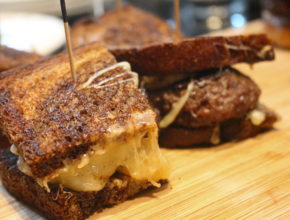 Now don't be sad if you don't have enough time to get to Michael Jordan's Steak House before May.  They offer some burgers for lunch and in the bar plus they have great drink pairings to go along with your meal.
And if you want a little extra swoosh to your summer plans, make sure you come into Michael Jordan's Steak House in June while they are celebration National Steak House Month.  Chef Couper will be showcasing the new "Captain's Menu" (quantities limited) in the dining room which will include
The KC
20 oz. Linz Heritage Angus 30-Days Dry Aged Bone In Strip
The Tomahawk
36 oz. Slagel Farms Long Bone 45-Days Dry Aged
American Wagyu
7X Ranch American Wagyu New York Strip
The Cowgirl
18 oz. Iowa Premium USDA 40-Days Dry Aged "Rib Eye Filet"
Chef's Beef Tasting
Five 4 oz. Cuts
American Wagyu Striploin
Bone In Linz Heritage Angus Beef Tenderloin
USDA Prime Wet Aged New York Strip
45-Days Dry Aged Linz Heritage Angus Rib Eye
Grass-Fed Plains Raised Rib Eye
There still may be a chance that I am going to receive a recipe or two to share so I'll let you know when I do and post them immediately.  I just wanted to get this up so if you were planning to hit the city this weekend that you could go get a burger…..rain or shine!