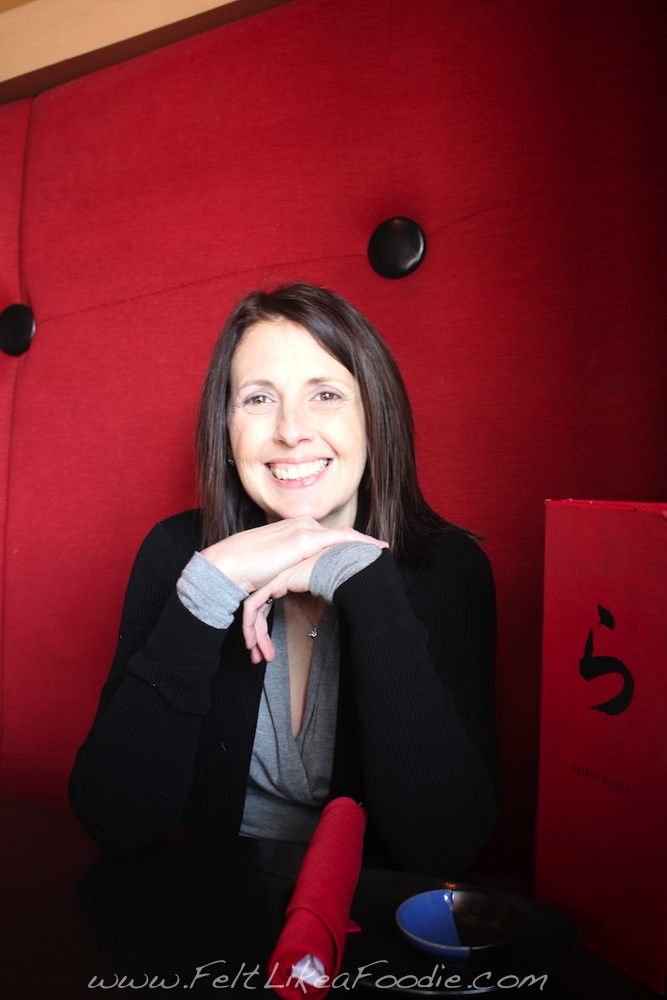 This February has been VERY popular for competitions.  There was the Super Bowl.  (But I think more people watched the Puppy Bowl.)  The Winter Olympics are in full force in Sochi.  (Speaking of puppies, wouldn't Sochi be a good puppy name?)  And then there was Foodies Show Heart this past Sunday at RA Sushi in Lombard, Illinois.
In case you are behind on your Felt Like a Foodie blogs,  RA Sushi in Lombard had asked local food writers/bloggers (I was one of them) to each create a one-of-a-kind sushi roll as part of the first "Foodies Show Heart" charity competition Sunday afternoon.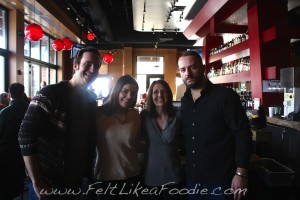 From 1 to 3 p.m. on Sunday, February 9, guests came in and were able to sample all of the original creations and voted for the most creative, tastiest and original roll.  (RA also had the Happy Hour menu available so everyone was guaranteed a smile win or lose!)
Besides bragging rights, a portion of the proceeds generated from the sale of the roll will benefit the winner's charity of choice.
Gotta say….the competition was tough.  The gals I was rolling against are "professionals."  (Wait, that doesn't sound right.)  They are professional foodies and I was really honored to be competing side by side with them.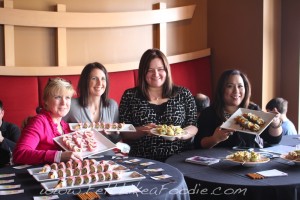 We were all allowed to give a short speech about our roll and our charity and it was apparent I was playing with the big girls.  Everyone was well spoken and heartfelt about her participation in Foodies Show Heart.  (I was a bit like Jennifer Lawrence, a little scattered and goofy.)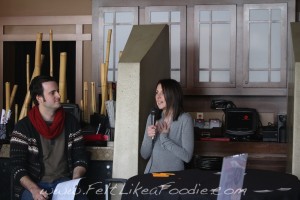 Journalist Deb Pankey partnered with the Western DuPage Special Recreation Association, which serves children and adults with special needs through recreation programs, trips and special events.
I was at RA when Deb created her "Heartbreaker Roll", a blend of tuna, yellowtail, jalapeño, mango and bell peppers served in the shape of a heart so if I couldn't win, I was really cheering for her.  (Plus her roll was so cute and really fresh tasting.)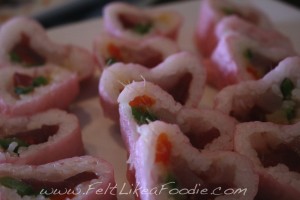 Most photogenic of the rolls was Samantha Schultz's (The Peanuts Gang) Prima Donna Roll.  Besides the fact that it was on a stick, it was a blend of raw tuna, yellowtail, salmon, boiled shrimp, avocado and bell peppers, topped with tempura bits, Sriracha sauce, garlic ponzu and mango salsa.
   Her charity was Donna's Good Things, which provides joyful opportunities for children facing adversity.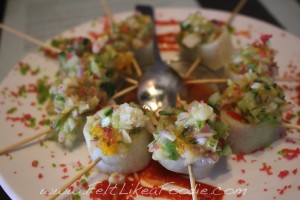 But the roll and Foodie I was most scared of was MJ Tam, co-creator of Chicagonista (and she was rolling for Lurie Children's Hospital).  Besides the fact that she is a big time Chicago Foodie and known everywhere, she made a roll (The Chicagonista Roll) that mixed fresh water eel, boiled shrimp, crab mix, avocado, jalapeño and cream cheese together all topped with spicy mayo and eel sauce.  Oh and it was tempura fried! (Seriously, FRIED AND CREAM CHEESE!!  How am I supposed to compete with that!?)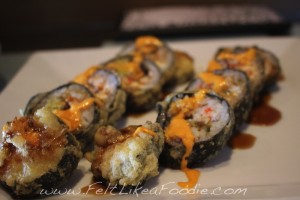 The roll I developed was called "In the Line of Fire" and it included shrimp tempura, Viva mix (spicy tuna/crab), cucumber and avocado, topped with red tempura and served with spicy mayo and Sriracha.  (My mayo was on the side so people could dip and control the heat on the roll.)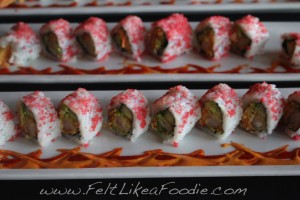 My charity, the 100 Club of DuPage County, offers assistance to families of law enforcement and firefighting personnel who have been killed or injured.
The guests of RA Sushi were all very serious sushi eaters and loved the opportunity to taste so many new rolls and vote on their favorites.  (Okay, I may have influenced some votes by walking around talking to the crowd.)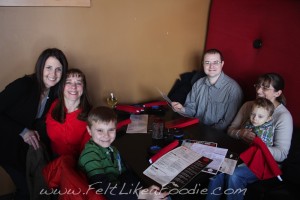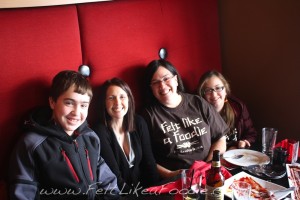 The tension in the air before the results was intense.  (Not really, I added that for drama.)  And then the winner was announced….IN THE LINE OF FIRE!!!  I WON!!!!
I did the best Taylor Swift "who me" face I could muster and jumped up.  Waving the tears from my eyes, I grabbed the microphone and gave my acceptance speech thanking my Food Crew for being there for me, the other contestants and RA Sushi.  It was just awesome.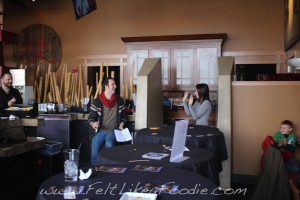 But not just for me, for my charity.  "In the Line of Fire" will be featured on the menu from March 1 to 31 at all three RA Sushi locations in the region, including Chicago, Glenview and Lombard. A portion of the proceeds generated from the sale of the roll will benefit the 100 Club of DuPage County.
I have included links to all the charities that were represented yesterday and encourage everyone to support them.
Meanwhile, I can't wait for March so I can go see my roll on the menu and start earning some money for my charity.  (Once again, a competition where I don't leave with a tiara or sash!  Bummer.)