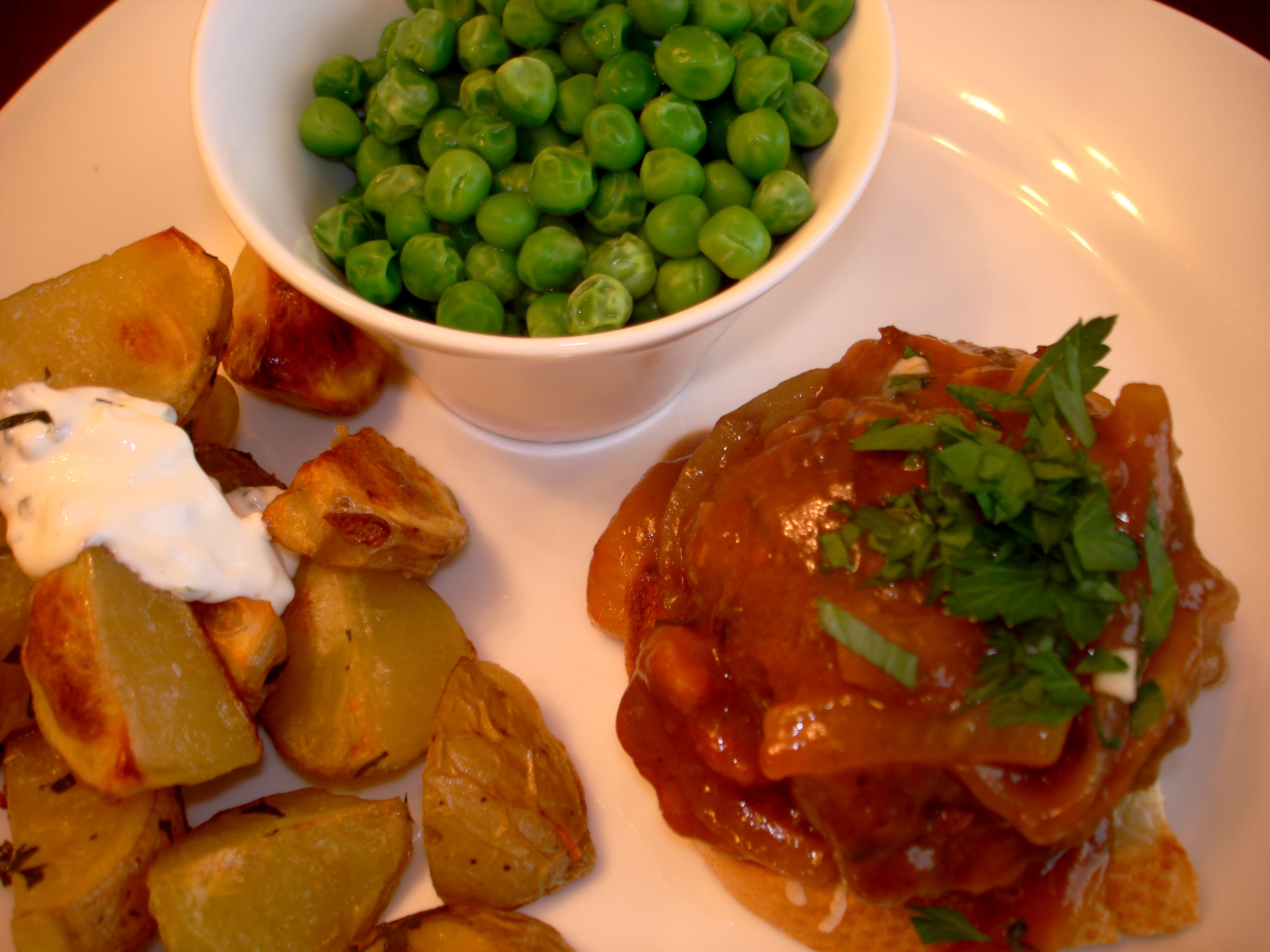 When I think of the food I prepare (and like), I don't think I could ever be categorized as a beef and potatoes gal. And luckily for me, I didn't marry a beef and potatoes guy so he doesn't mind the lack of the combination in our house. Don't get me wrong we aren't anti-cow (I don't want the cows writing in.  I'm not anti-potato either but I'm not worried about offending them since they can't write letters.)
Back on the topic, I should cook more beef dishes at home because for the most part preparing a steak or a burger is pretty simple.  I can always "foodie" it up by pairing it with a great sauce or side dish.
I was recently asked by a couple of people to put up more "simple" recipes on this blog.  I love this challenge!  It will prove the point that simple food doesn't have to be tasteless.  With the proper seasonings and love, you can make the most basic recipe "foodie" quality.
So for my devoted readers, I will present you with my version of Salisbury Steak.  If you can make a hamburger patty, you can make this dish.  I don't make it with the 1960's brown gravy, I jazz it up with an onion and tomato based gravy.  The sweetness of the onion-tomato gravy on the steak patty takes it that extra step.  It is rich but not heavy.  This is the kind of steak dish that makes my mouth water!
Simple Salisbury Steak
Ingredients for Steak Patties
1-pound ground sirloin (you can use ground beef but I am married to Jack Sprat)
3 T. fresh flat leaf parsley minced
2 scallions, minced
salt/ pepper
Flour to dredge
Extra virgin olive oil (Not EVOO because that freaks some readers out)
Directions for Patties:
Combine first 4 ingredients and shape into 3-4 patties. (Note: I make my patties more like burgers since I usually cook them longer waiting for my husband to come home.  A flatter patty is more traditional and perfect if you are going to cook and serve immediately).
Dredge in flour.
Heat oil in sauté pan over medium/high heat. Add patties and brown each side. Remove from pan, keep warm. (It is okay if they aren't fully cooked because they will finish in the pan with the sauce)
Ingredients for Sauce:
1 cup sliced onion
3 tsp. chopped fresh garlic
1 TBsp. Tomato paste
1 TBsp flour
1-cup beef broth
¼ cup T merlot (Or red wine of your choice) If you aren't a wine drinking, buy some of the itty-bitty bottles that the stores sell for about a dollar or two.  They are great to have in the pantry for recipes like this one.
1/4 tsp ground thyme
Flat, parsley garnish
Directions for Sauce
Add onions to patty pan. You may have to add a smidge more oil.
Sauté over medium heat until they are golden.
Stir in garlic and paste and sauté another minute.
Sprinkle with flour and cook another minute.
Stir in broth, wine and thyme.  Scrap up any brown bits on the bottom of the pan.
Return patties to pan and bring sauce to a boil. Reduce heat to a low/medium and cover. Simmer for 10 minutes or so.
Taste for seasoning and add salt and pepper.
Serve patties on garlic cheese toasts. (I make my own but you can use Texas Toast cheese toast if your time is limited)
In the old days, Salisbury Steak was served over mashed potatoes.  Since I serve it over the garlic toasts, I served it with a simple roasted potato and overcooked peas.  (Once again, hubby was late to dinner.  In his defense, he did call).  Also, don't skip out on the parsley garnish.  You should have enough leftover from the patties to chop some for on top of the patties when they are done.  The earthiness of the herb adds just the right finishing touch.
So I CAN make a simple meat and potatoes meal!  What is your next request?