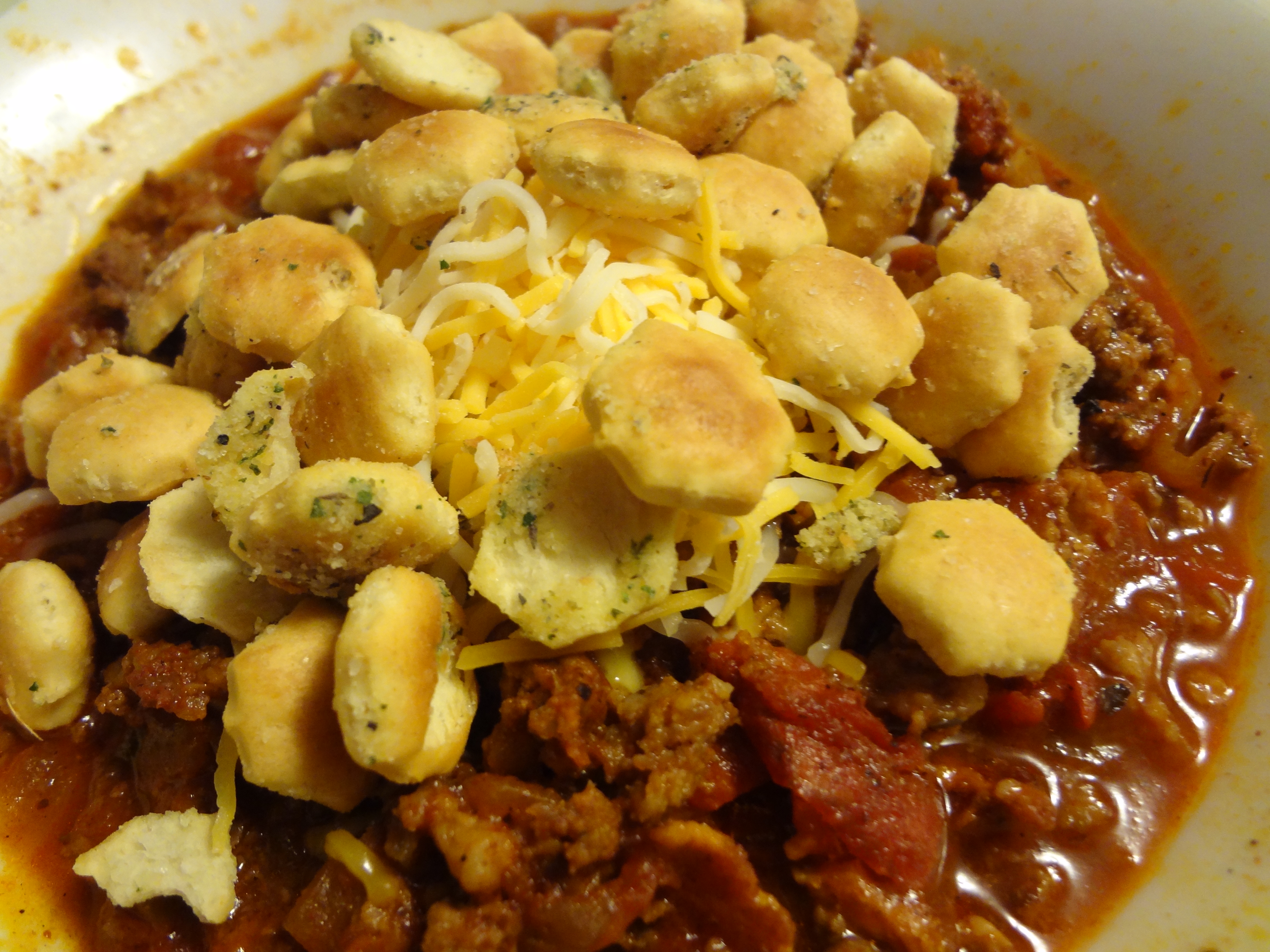 Neighbors.  Love them or hate them, they are part of your life.  I am VERY fortunate to be surrounded by one of the best groups of neighbors a gal could ever ask for.  (This is the part that I am buttering them up because I am posting one of their recipes.)
We are a multifaceted group brought together by one single decision we all made and that was to live on this particular block.  (Okay, my husband grew up here so I wasn't a huge part of the decision process but I do really like where we landed.)
Last year, the neighbors  (only the really cool ones) decided to start having a big group dinner together once a month.  I loved the fellowship and friendship that was shared over these meals.  (The gossip was pretty good too.)
Before we all went into winter hibernation, we shared one last gathering, a chili and soup night.   There were various soups (I brought soup), desserts and one chili that I can't stop thinking about….Shaun's Chunky Texas Chili.
Besides it 's great BIG flavors (if I'm talkin' Texan I have to emphasize the BIG part), it didn't have beans!  (Yes, we can debate over and over on beans and chili but a true Texas chili has no beans!)
The heat in this chili is the kind that hits you in the back of your throat.  It let you know it was in the room but it didn't overtake the other flavors in the dish.
The other week, I got my hands on this recipe by sneaking in their house while they were out of town.  Just kidding, the family patriarch brought it over to me.  (I haven't snuck into their house in weeks years.)  The recipe was straight forward and the perfect chili to help march away the last cool days.
My Version of Shaun's Texas Chunky Chili
Ingredients
1 lb. pork sausage
1 lb. bacon, chopped into smaller pieces
1 lb. ground beef (I used sirloin, Shaun uses Chuck)
2 large yellow onions, diced
3 cloves garlic, minced
1 jalapeño, finely chopped
2 tsp oregano
½ tsp cumin
3 10-ounce cans Rotel diced tomatoes (Original)
1 6-ounce tomato paste
3 TBsp chili powder (I used a mix of chipotle, ancho and regular chili powders)
Sprinkle of sea salt
½ cup of beer
3 cups water
Cheddar Cheese (optional)
Aunt Anne's Oyster crackers (optional, recipe coming soon)
Directions
In a large non-reactive pot (5 quart), brown pork sausage, remove and drain.
Brown the ground beef, remove and drain.  (This is a good time to give your pan a little swipe with a paper towel.)
Next, cook up the bacon, remove the pieces and drain the bacon juice reserving a tablespoon or two.  (Set the bacon aside)
Add the tablespoon of bacon juice back to the pan and sauté the onion and jalapeño until tender.  (A little sprinkle of salt is good here.)
Add garlic and sauté another minute.
Add the cumin and oregano, sauté another minute.  (You should be able to smell the spices.)
Add the tomato paste and cook another minute.  (This helps bring out its tomato goodness.)
Deglaze the pan with the beer.
Add ground meats, canned tomatoes, chili powders and water.  (You CAN add the bacon but I wanted it to stay crispy so I saved it to sprinkle on at the end.)
Bring to a boil, reduce heat to a low simmer and cook uncovered for about 2 hours stirring every 30 minutes.
Sprinkle with cheese, bacon and oyster crackers.
(The bacon adds a nice salt component at the end so I didn't find it necessary to add any more.  As I always say, taste your food and judge for yourself.)
My husband and HAD to have the bean and chili discussion so to please him (I'm a pleaser), I split the batch in half and added a can of black beans with love.  (Or I just acquiesced, however you want to look at it.)
Thanks Neighbors for the great comradery and I look forward to us all gathering again in the coming months.  (So I can steal more of your recipes.)