Valentine's Day.  If you have a schmoopie-woopie, cuddle-pie in your life, you probably look forward to a day of love and romance.  (Or if you are married it is just another day that ends in 'y'.)
But this year I want to focus on my readers who don't have that special someone in their life.  You know who you are. Once you see that calendar turn to February, you silently mumble and swear how it is just a holiday for florists, card stores and the chocolate shops.
You start questioning the relevance of everything you see and hear.
You turn on the TV and all you see on cable are movies like Pretty Woman where the story always ends happy….if you are a hooker.
If you hear the Lion King's "Can you feel the love tonight," on the radio one more time you are going to scream.  I mean, really, Mufasa was either a player or a polygamist.  Did you ever notice how many lionesses hung around him?  What kind of role model is that for Simba?  (Bring on the hate mail from the polygamists.)
You can't even go out to eat without seeing some sweetie-petey, huggie-wuggie menu specials posted.  Realistically you know that there isn't one person in the near future who is going to be rolling a meatball over to you with his/her nose!
I feel your pain, dear readers.  I've had years where I'd make up poems about how Cupid was stupid.  (Actually that was as far as my poetry would get and then I'd bust into tears.)
Honestly, do you really need a "Valentine?" Do want some help squashing all of your yearning on Valentine's Day?  Well I think I have the recipe for you. A spaghetti squash casserole!!!  Your anger and resentment can be utilized as your scrape the spaghetti "noodles" out of the squash and your inner chubby kid will be happy with the comfort food.
This will be much better for you than sitting eating that overpriced, heart shaped box of candy that you thought would make you feel better.  (Wait for it to go on sale the Monday after Valentine's Day and then you can really feel like you showed "them.")
Spaghetti Squash Casserole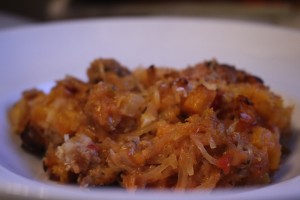 (Adapted from my awesome neighbor's recipe)
Ingredients
1 small spaghetti squash (about 2 pounds or less)
1 pound of Italian Sausage (You could also mix half Italian sausage and half ground pork)
1 small onion, diced
1 red pepper, diced
3 cloves of garlic (add more if you like since you aren't smooching anyone in the near future)
16 ounces of whole canned tomatoes (squish them in your hands to break them up…it is very therapeutic.)
1 tsp. oregano
Salt and pepper to taste
½ cup of shredded mozzarella cheese (plus an extra 2 Tablespoons set aside)
2 Tablespoons of panko (You can mix this with the extra 2 Tbsp. of cheese and set it aside.)
Olive oil
Directions
Oven 375.  Cut squash lengthwise and scrape out the seeds.  Drizzle with a smidge of olive oil and place flesh side down (rindside up) on a parchment lined baking sheet.  Bake for 30-40 minutes. (Should be fork tender.)  Allow to cool a smidge before you take a sturdy fork and scrape the "noodles" out of it and place in a large bowl.
Lower oven to 350.
While the squash is cooking, in a large sauté pan, brown the meat.  Remove from pan.
Add about 1 Tbsp of olive oil and sauté the onion and peppers until they are just tender.  Add garlic and sauté another minute.  Add beef back to the pan with the squished up canned tomatoes and spices.
Cook another few minutes so the flavors can hook-up (I was going to say marry but this is Happy Singles Awareness Day.)
To the bowl with the spaghetti squash strands, you will add your meat mixture and your ½ cup of cheese.  Sprinkle the cheese in as your stir it together or you end up with a glop of gooey madness.
Transfer it to a 1-½ quart baking dish and bake uncovered  (did you remember to lower your oven to 350?) for 25 minutes.  Sprinkle with the cheese and panko mixture and pop it under the broiler for another few minutes.
I was pleasantly shocked at how delicious it was.  And the leftovers were almost better than the first overs.
Hopefully Spaghetti Squash Casserole will become a long lasting love for you.  (Just don't do what that kid did in American Pie!  You might burn something you may want to use one day.)