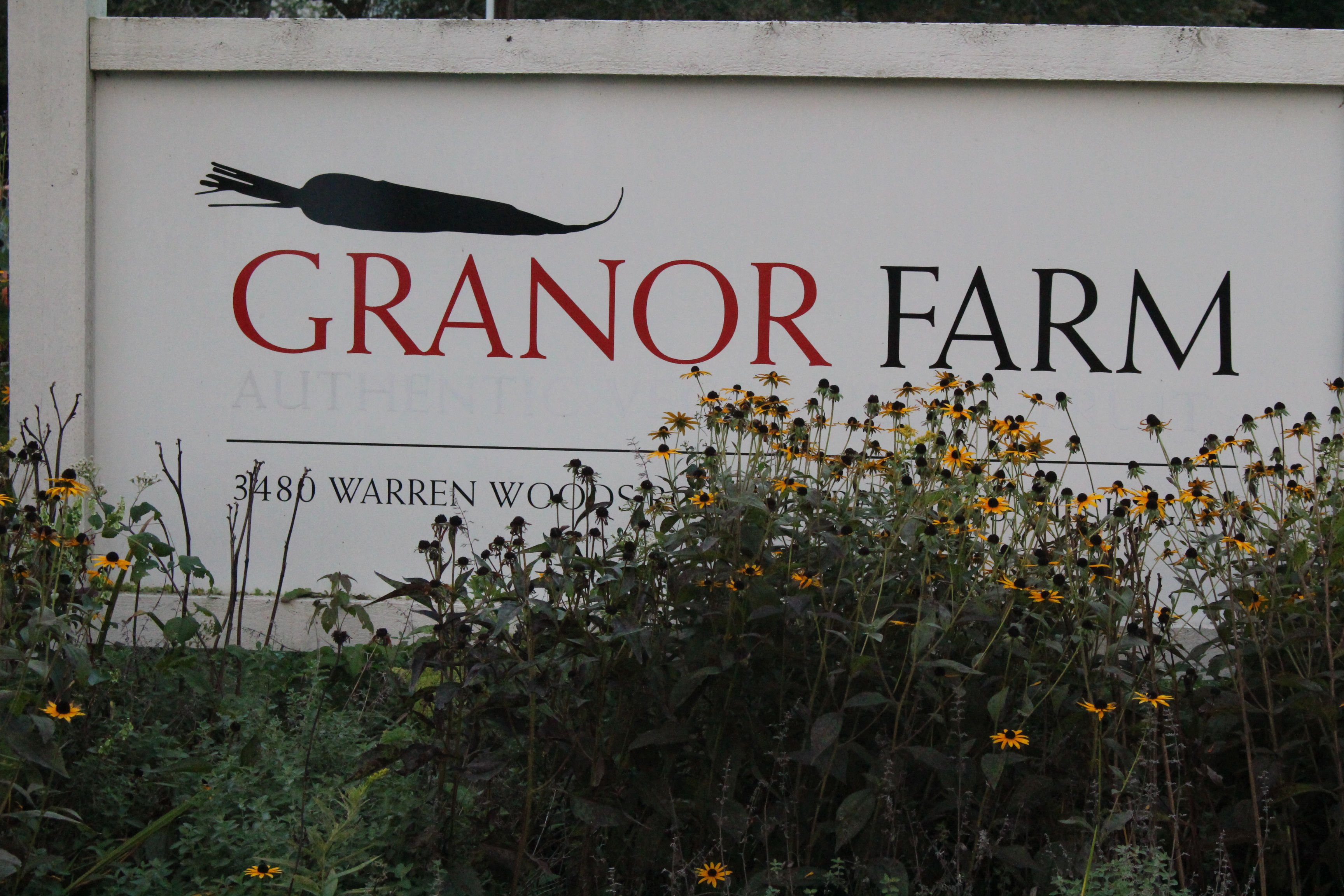 "Slow down, you move too fast." Do you know that song from Simon and Garfunkel? It kept going around my head this weekend when I learned about something new…slow food.
No, I don't mean food that at one point was slow like a snail or turtle. The definition of slow food is "food that is produced or prepared in accordance with local culinary traditions, typically using high-quality locally sourced ingredients."
The Slow Food Movement is a nonprofit group that is connecting the joy of savoring great food and the work it takes to produce healthier, local options for everyone.
On Sunday, I was invited to dine at the Slow Food South Shore Sunday Supper at Granor Farm in Three Oaks Michigan. The theme of the night was Heritage and Heirlooms and our meal was prepared by Chef Luke Caenepeel of Journeyman Distillery, Chef Nathan Freiburger of Oak and Alley and Pastry Chef Rachel Murphy of Spire Farm to Fork.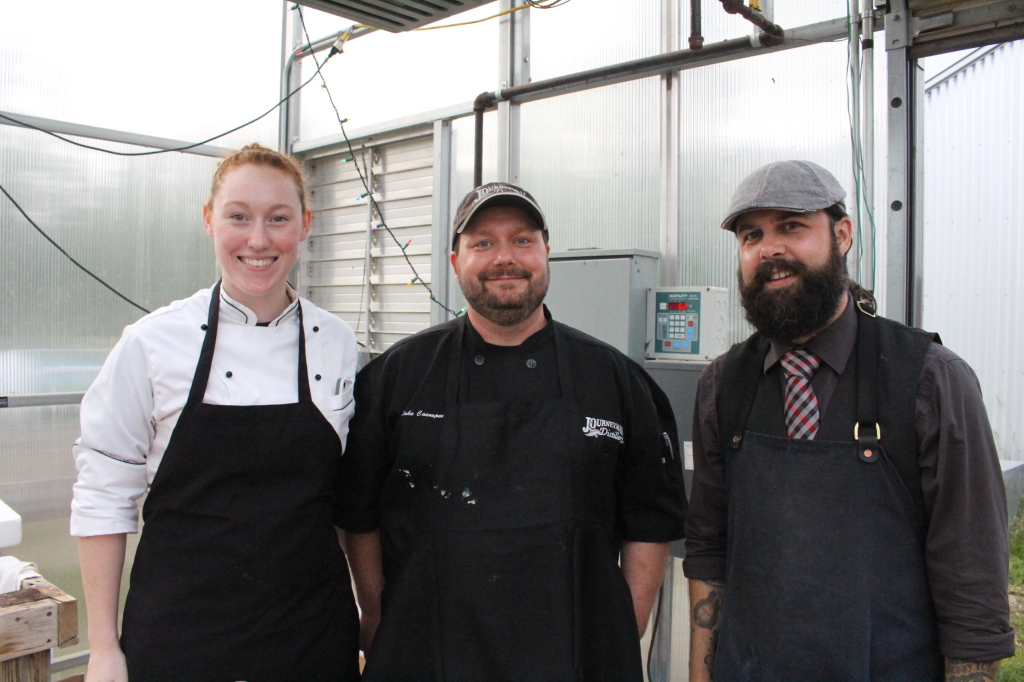 With a lovely communal table set in the middle of a greenhouse full of lettuces, we all were invited to introduce ourselves and enjoy a couple of nibblers* before we embarked on the tour of the farm. (The imbibers of the group also enjoyed some beer by Tapistry and Wine by Domaine Berrien Cellars.)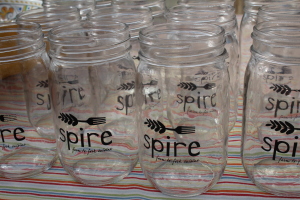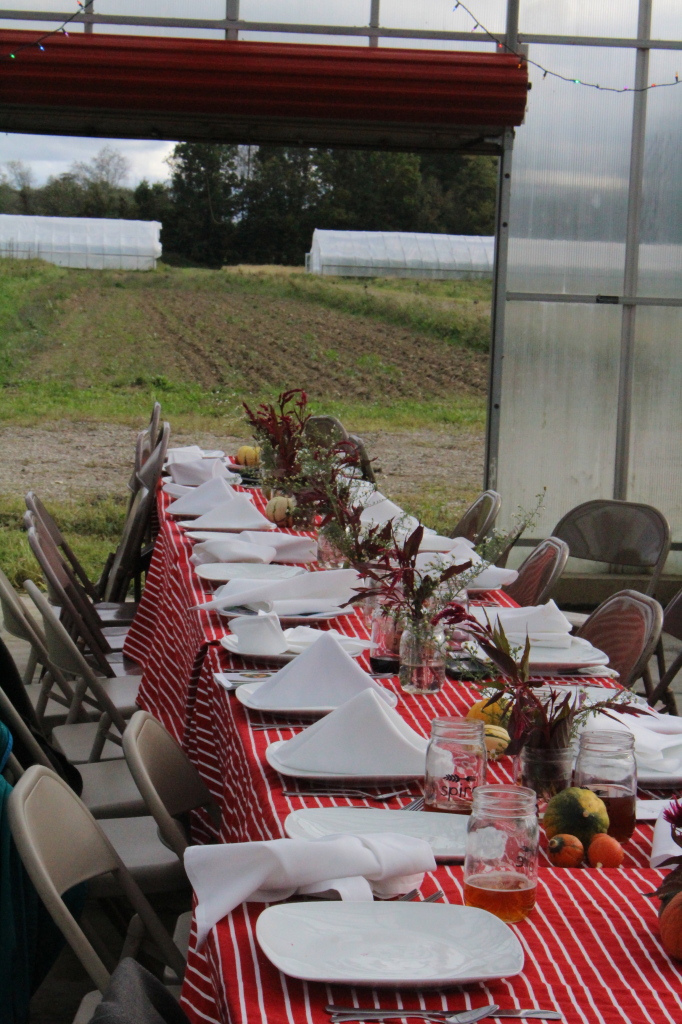 *The nibblers (a perfect smoked belly tartine with tomato jam and the roasted beet crostini with goat cheese, avocado cream and Serrano peppers) were so good that I felt distracted on the tour because I couldn't wait to get back to the table and eat more!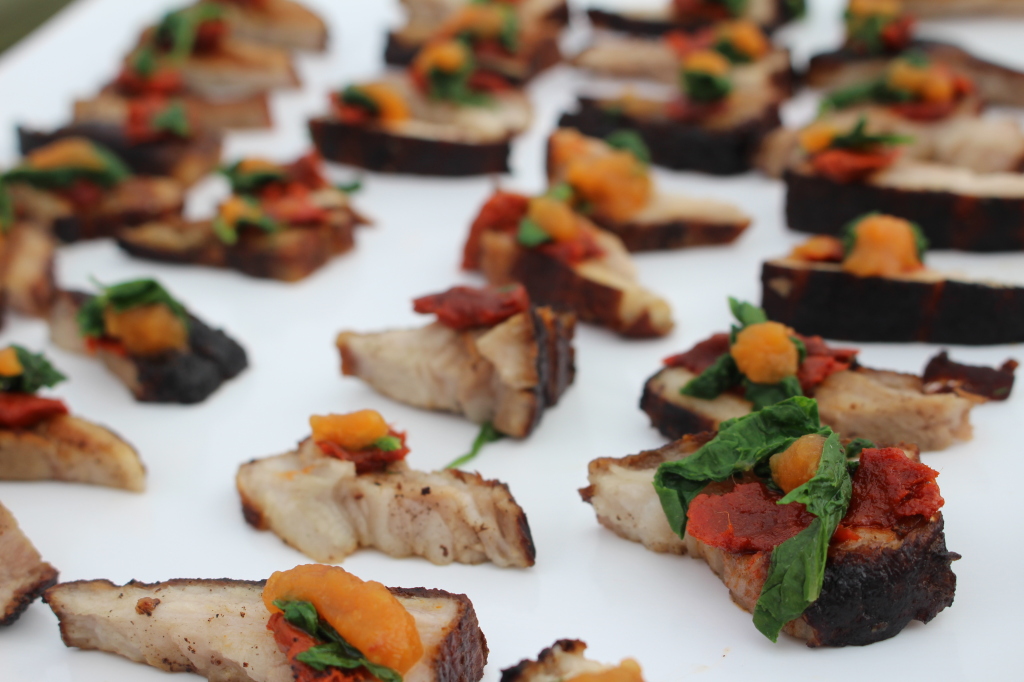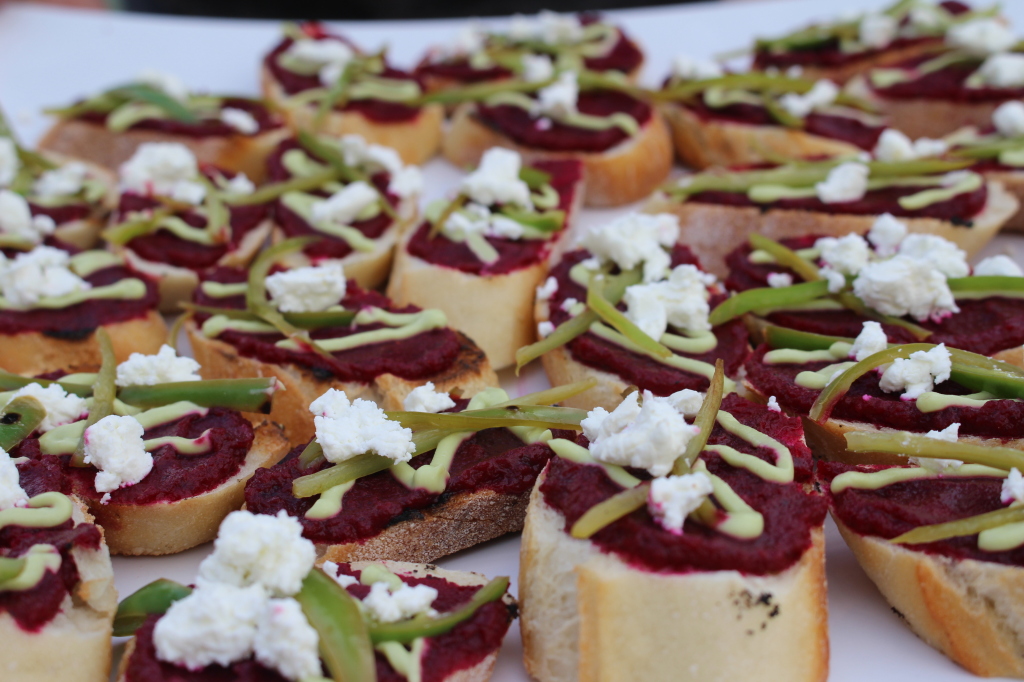 Granor Farm did a great tour describing the different areas of the farm in terms of the seasons. It was fascinating to see all of the land and how the hoop houses could accommodate so many fresh vegetables.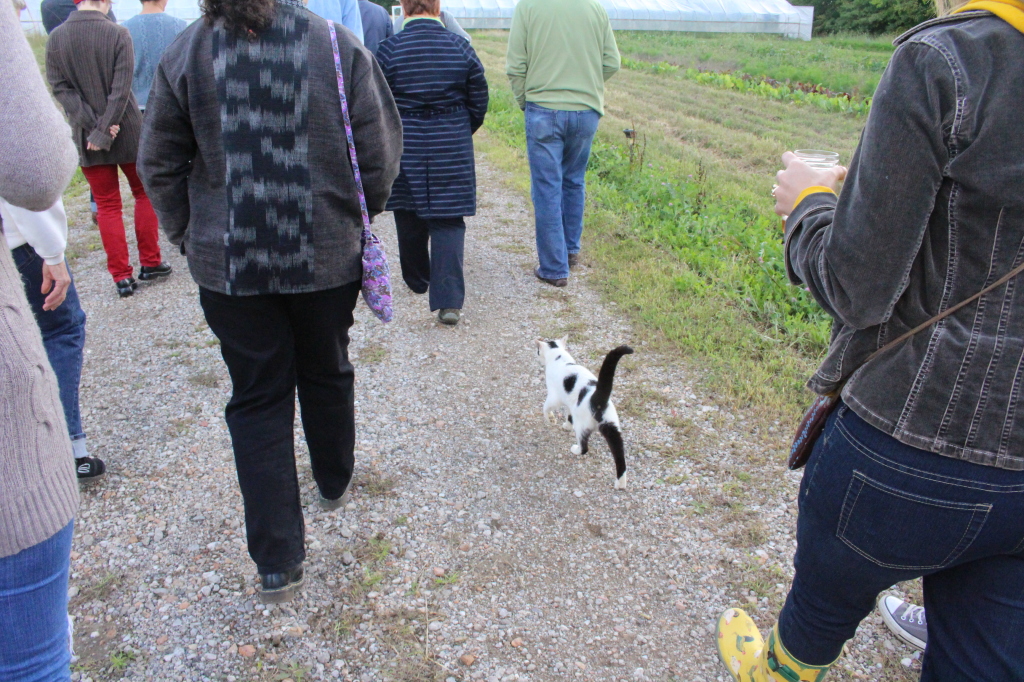 After the short walk and seeing the roots of our dinner components, I couldn't wait to sit down to dinner. We started with a fabulous fresh salad with mixed greens, delightfully rich and buttery Mindoro blue cheese, tomatoes, roast radishes and a hibiscus Bilberry gin vinaigrette. You could taste the freshness of the greens and the radishes.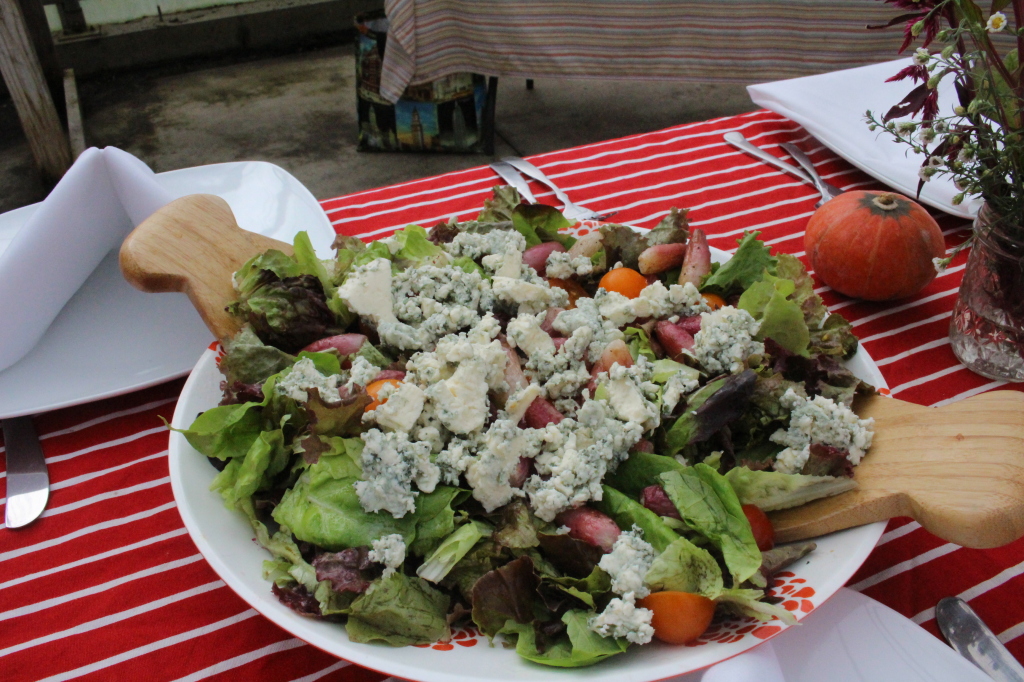 Next we had the best pork chop I've ever eaten in my life. The meat was heritage pork from Jake's Country Meats and the chefs brined it in cider and served it with smoked peaches. The light dousing of whisky sauce complimented all the flavors. It took all of my self-control to not gnaw on the bone at the table and lick my fingers. (Just a little window into my table manners at home.)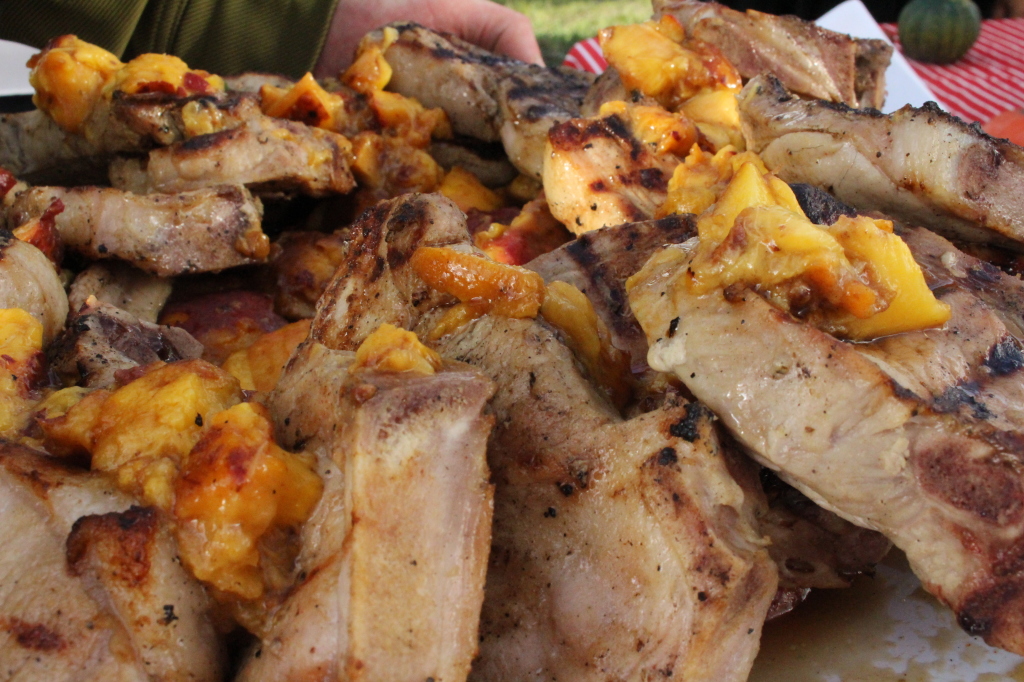 The other main component of our meal was pork carnitas with pickled cabbage, onion, lime and corn tortillas. I'm not really objective when it comes to carnitas because I LOVE THEM! I liked the pickled veggies on top and will do that next time I make them at home. They also served some tomatillo sauce and it made these carnitas sing.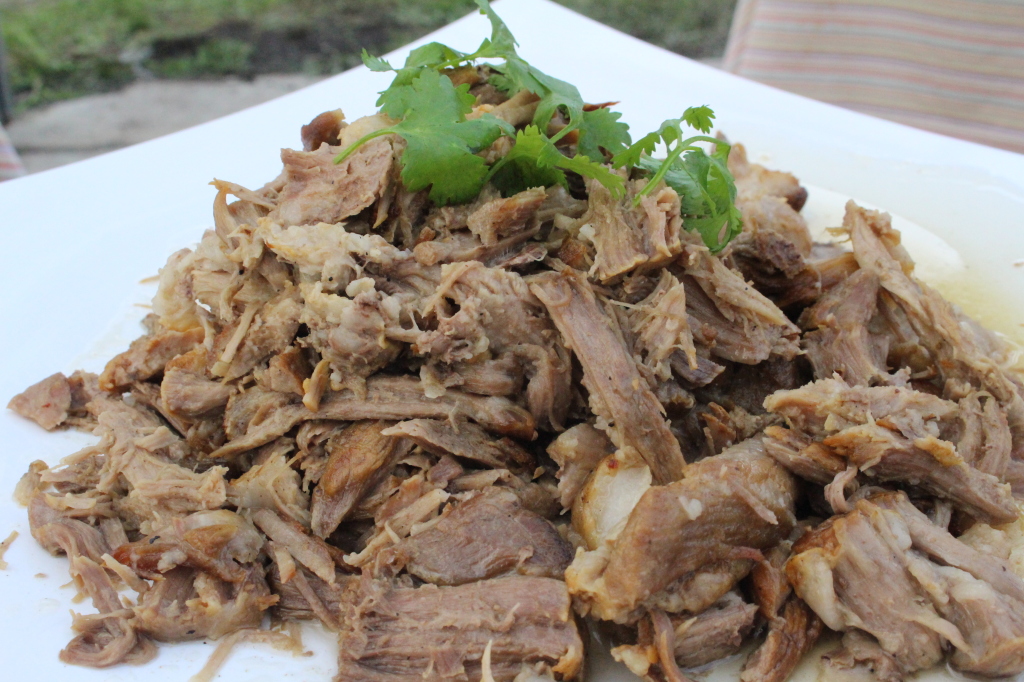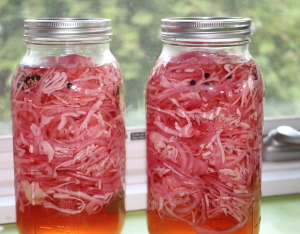 We were able to fill our bellies with Dragon tongue beans, sautéed kale and homemade beet pappardelle pasta with peppers, eggplant, cherry tomatoes, fresh basil and a Whisky Barrel Balsamic.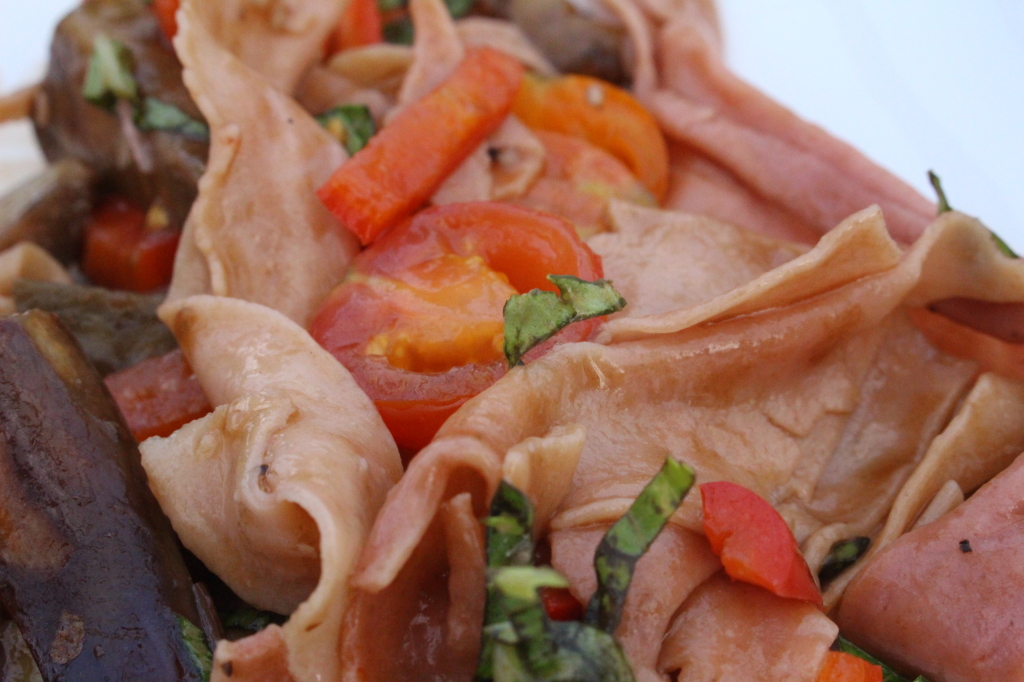 Our meal was completed with a brown butter cake with tarragon olive oil ice cream and a schmear of candied beets. I didn't even realize that the schmear was beets. It was sweet like strawberries but it had a bit of an earthy finish.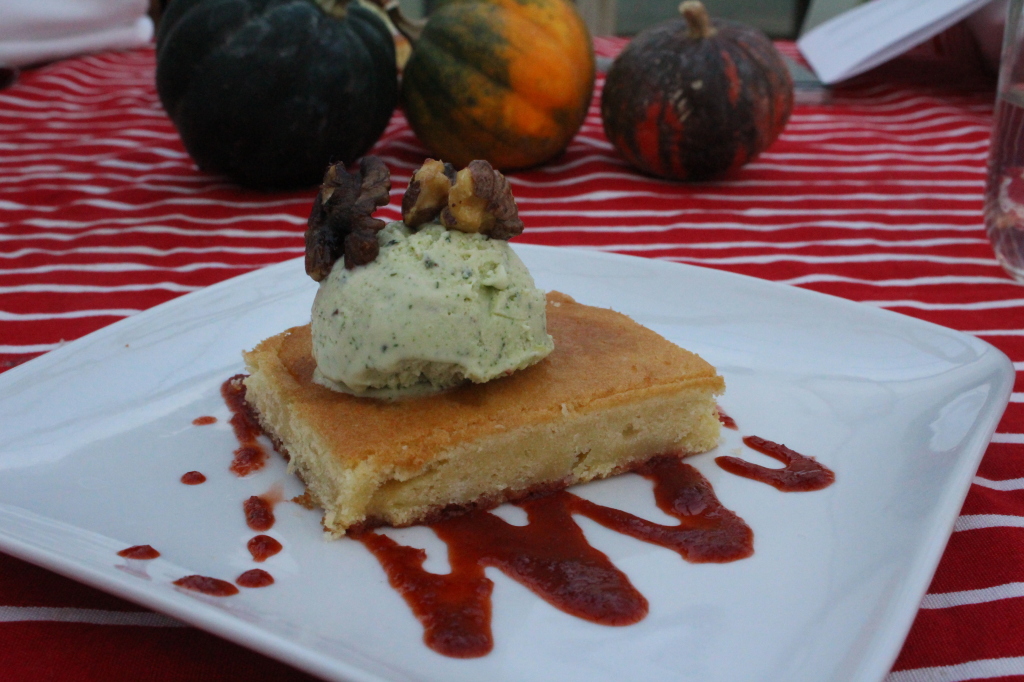 Slow Food South Shore conducts monthly meetings that are open to the public if you would like to learn more. Meetings are held on the last Friday of every month at 9:30 a.m. CT at Bartlett's Gourmet Grill in Beverly Shores. Membership is not necessary to attend meetings.
After sharing this outstanding Sunday Supper, I did feel more connected to my meal. There was a link that allowed me to identify not only with the farmer who grew my meal but also to the Earth that has to fight so many battles internally to produce the food. (Okay, I have to give props to the chefs who knew how to throw down a wickedly good meal.)
Special thanks to Slow Food South Shore for allowing me to share in this event. I guess Simon and Garfunkel were right. Slowing down does make you feel groovy.