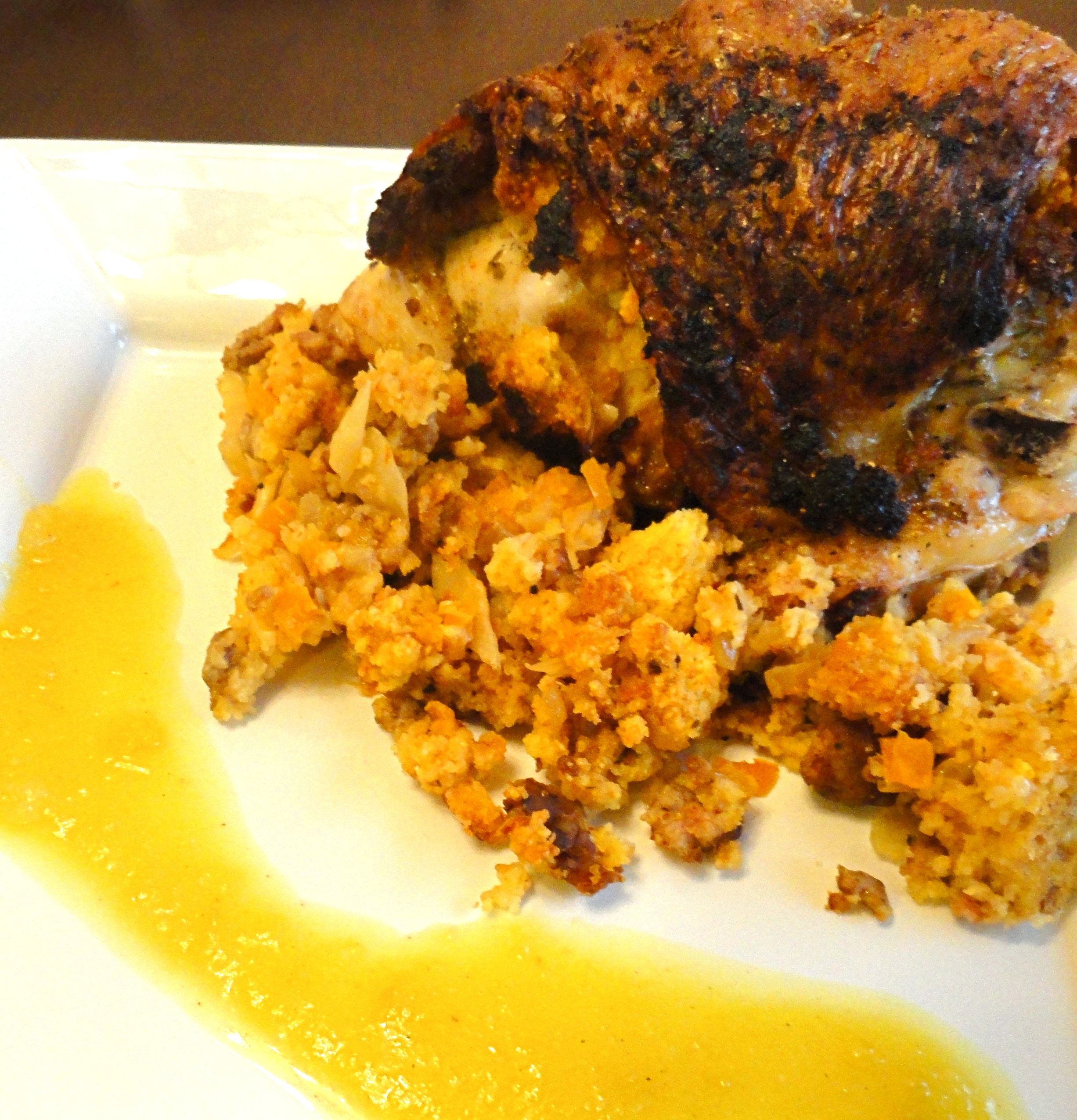 As much as I have been enjoying my "Foodie Fun Days," I will have to admit that I miss personal time cooking in my own kitchen. (My husband is missing it too.).  I am having a challenge keeping up with seasonality and miscellaneous holidays.  (Groundhog Day, Lincoln's Birthday, Spay Your Dog Day, Etc.)
For example, how did I miss Mardi Gras and all the of the wonderful foods that New Orleans represents.  I didn't make one gumbo or jambalaya.  I didn't labor over the perfect dark roux.  And I didn't get to enjoy the aromatic goodness of the trinity of celery, bell pepper and onion simmering.
I feel like I let my reader's down because I didn't entertain you with one thought about this festive time of year.  So I thought there is only one way I could make this up to you, I will do as they do in New Orleans and show you my breasts.
I don't want to intimidate anyone.  So let me preface my picture by saying, they don't all have to this big to be appreciated.  It is more important that you know how to work with what you have available to you.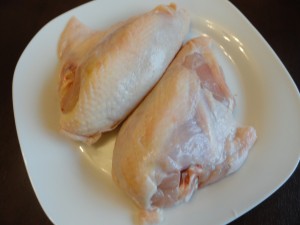 So what do you think?  Nice, right? What's even better than these beautiful breasts? How about a Cajun Cornbread Stuffed Chicken Breast? It is a definitely a "big easy" dinner!
Cajun Cornbread Stuffed Chicken Breasts
Ingredients
4 Big Beautiful Chicken Breasts (no skinless or boneless), rinsed and dried, bigger is better in this recipe
6 Cornbread muffins (crumbled and dried out like stuffing cubes)
1 onion, diced
½ Fennel bulb, diced
½ Orange Pepper, diced (Use your favorite)
2 andouille sausage links (remove from casing)
2 cloves garlic, minced
Olive oil
1.5 Cups Chicken Broth
1 egg, beaten
A smidge of dried thyme
Cajun Spice Mix
¼ tsp cayenne (1/2 tsp is good if you like a little heat)
½ tsp oregano
¼ tsp onion powder
¼ tsp thyme
½ tsp salt
Directions:
Heat oven to 350.
In a large sauté pan, heat brown andouille sausage over medium/high heat.  Remove from pan and set aside.  (I wiped the pan out a little but left a little of the fat.)
Sauté the onion, fennel and pepper until tender.  Add garlic and sauté until fragrant.
Deglaze the pan with about ½ cup of the chicken broth.  (In exact amount wasn't relevant, I just wanted to get the "fond" off of the bottom of the pan.)
In a large mixing bowl, add crumbled cornbread, sautéed vegetables, egg, thyme and cooked sausage.  Mix well.
SLOWLY add the remainder of the chicken broth.  YOU MAY NOT NEED ALL OF IT!  Add enough so the bread is slightly moist but not sopping wet.  (That is not a cooking term!)
Take about a quarter teaspoon of the spice mix and season your chicken breasts.  Make sure you toss some under the skin.  (It should loosen easily if you slid your fingers between the meat and the skin.)
Finally, take a scoop of the cornbread stuffing and tuck it under the skin.  Be generous!  (If you have some extra, place in a casserole dish and bake for 30 minutes.)
To cook the breasts, heat a cast iron pan on the stove over medium/high heat.  Once your pan is hot, add a little olive oil.
Add your breasts to pan skin side down and brown for 2 minutes.  Flip your breasts and place pan in pre-heated oven.  (I got a nice, dark char on mine and my skin crisped up wonderfully)
Cook for 30 minutes.  CHECK YOUR TEMPERATURE.  According to the FDA, chicken internal temperature should be 165 degrees.
With breasts as big as mine, I had to keep them in the oven a little longer but they were worth the wait.  You may even say they were "bead-worthy."