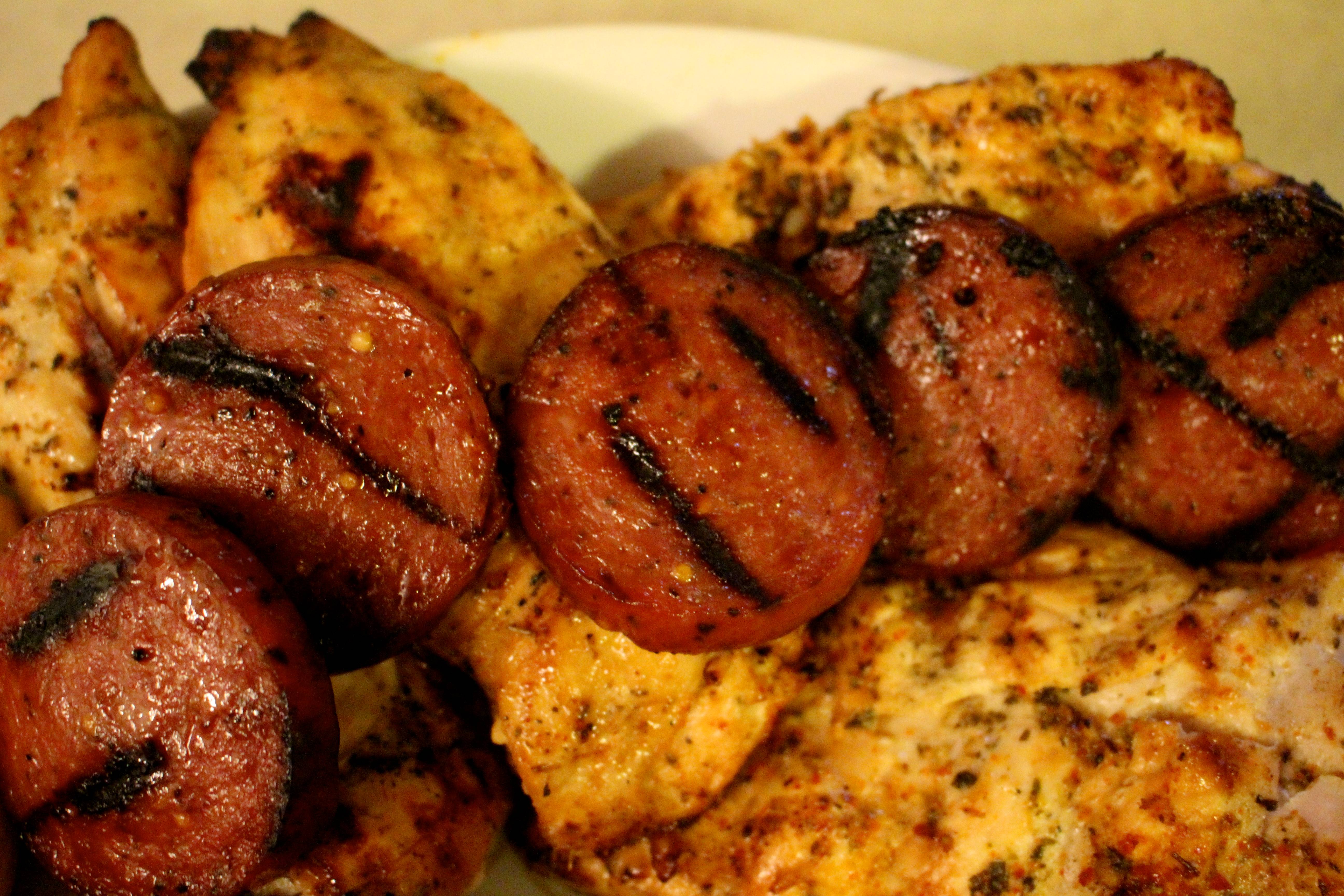 Let's admit it ladies.  We all know the men in our lives have fantasies.  Some admit it with no hesitation but there are others who adamantly deny that anything like that ever goes on in their head.
The real truth comes out when you say something to your spouse and he doesn't hear you right.  Next thing you know there is COMPLETE miscommunication and one of you ends up disappointed.  (Odds are he is the one disappointed because I'm not freaky like him.)
Well this week my husband, Earl, and I are celebrating our 15th wedding anniversary.  After so many years, I know which side of the fantasy fence my husband stands on.  (Lies on, hangs from, bounces on, swings from…you get the picture.)
Example:  This week we were discussing dinners or let me rephrase that, I was discussing dinners.  He was listening in that husband sort of way with a head nod here and a smile there.
As I was talking, I said this would be a good week for some girl on grill action.  He looked up and smiled.
Inquisitively, he asked "Really?"
I said "Sure, why not.  I'll make sure we have lots of breasts."
He just sat there smiling.  It was like someone slapped him silly.
All I thought (to my angel self) is that he must really be in the mood for grilled chicken breasts.  Earl is just so easy to please.  I am one lucky gal.
So he comes home from work last night and looks around.  I innocently tell him that all the action is out back.  I informed him that I had already got started and was getting pretty hot.
He then asked if he should get the camera.  I purely replied "Sure, the breasts look great.  I can't wait to get my hands on them."
Earl gets outside with the camera in hand and disappointedly looks around.  I give him a hug and ask what is wrong.  All he said is that he must have misheard me the other day.
I start pulling the chicken off the grill; I asked how many breasts he would like.  And all Earl sadly said that he would be settling for just two.  (Personally, I think 2 are more than enough!)
The Publican Chicken Marinade
Ingredients
2½ Tbsp fresh lemon juice
½ cup extra-virgin olive oil
1 Tbsp espelette pepper
1 Tbsp dried oregano
1½ Tbsp brown sugar
2 cloves garlic, sliced
½ tsp salt
¼ tsp black pepper

4 Chicken Breasts
(The Publican uses a whole chicken with the backbone removed.  I used boneless, skinless breasts and it was delicious too!)
Serve with Summer Sausage, cut into slices and grilled
Directions
 Combine all ingredients except chicken in a bowl.

Add chicken and toss to coat. Marinate in refrigerator at least one hour or overnight. 
(I had mine in the marinade from breakfast until dinner.
Grill over indirect heat.  (I have a gas grill.)
Baste the chicken every five minutes with the marinade for about 30 minutes or until juices run clear when you cut into the chicken.
Remove from grill and let rest five minutes. Squeeze the juice of about half a lemon onto chicken.
This was some of the best chicken I have ever had in my life.  It was so easy to marinade and the flavor was out of this world.  We opted for grilled veggies from my garden as a side dish instead of potatoes.
Thank you to The Publican  (837 W Fulton Market, Chicago) for allowing me to share their AWESOME marinade recipe that they use on their farm chicken dish.  Stealing The Publican's idea to pair the chicken with grilled summer sausage was the kind dinner REAL fantasies are made of!
*DISCLAIMOR:  The Publican probably didn't realize the silly post I was writing today that included their recipe.  I am in no way saying that they endorse, support or condone fantasies!