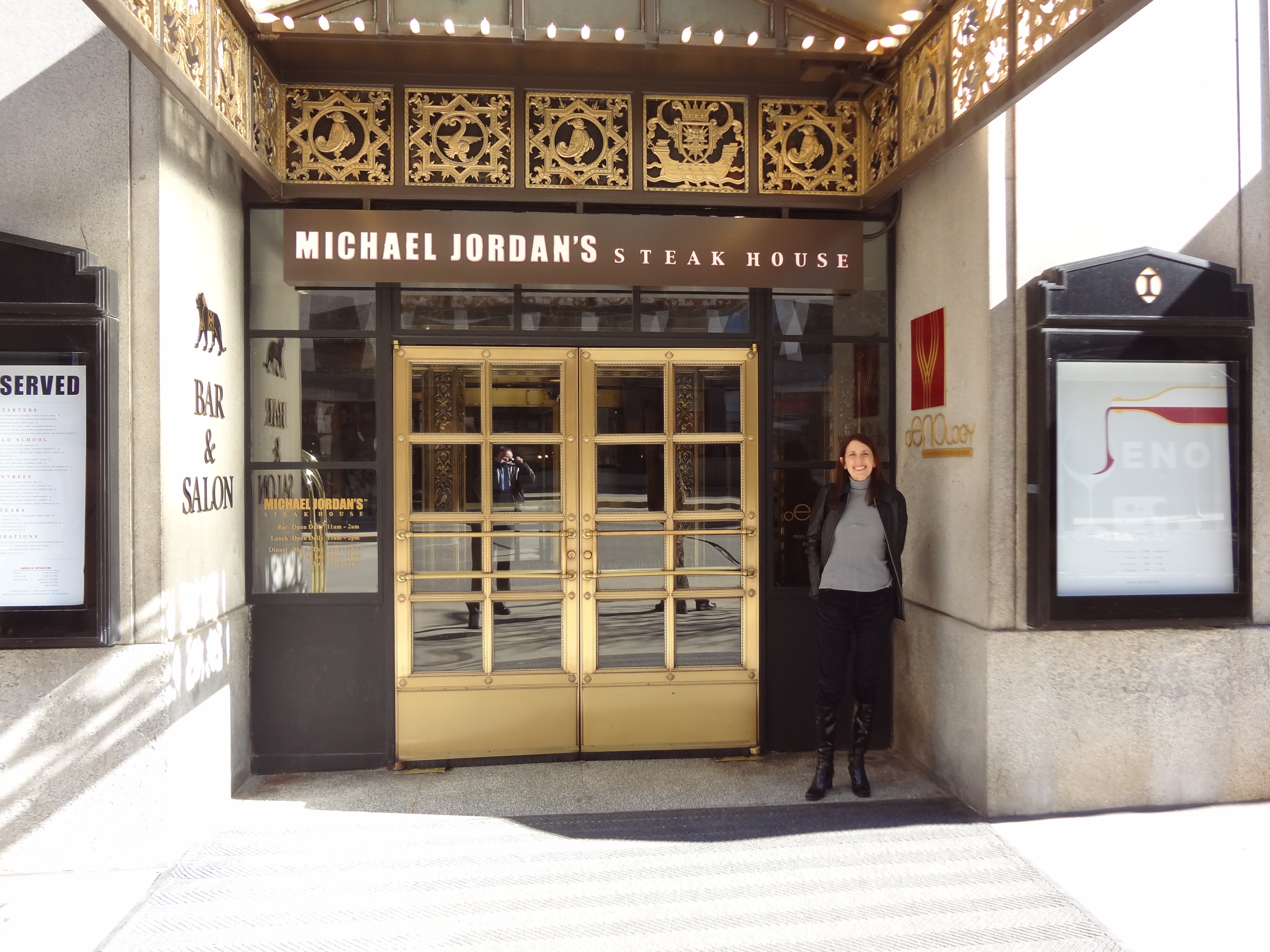 What does it mean when something is described as "magnificent?"  When I hear that particular adjective I think of something that is impressive, amazing, sensational and even breathtaking.
These would all be words that I could use for iconic basketball player Michael Jordan but they would also be synonymous with Michael Jordan's Steak House in downtown Chicago.
Located on the suitably named Magnificent Mile (505 N. Michigan Ave.), it is far from a sports bar or ordinary steak house.  Michael Jordan's Steak House has the elegance, refinement and warmth that you would expect from a beloved sports hero of his stature.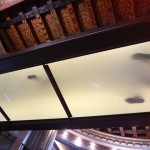 The very entrance of this steakhouse is as exciting as one of Michael Jordan's games.  The two level restaurant's décor offers elements of sophistication and a bit of fun of with a light up footbridge directly over your head in the lobby.
Under the master hand of Chef James O'Donnell, the menu is a culinary progression on the American steak house classics.  I have been fortunate enough to have Chef O'Donnell's food on a few occasions and it amazes me how he takes the ordinary and makes it extraordinary!
For example, the "Starters" included representations of the wedge salad (moody blue smoked blue cheese and Nueske's bacon) and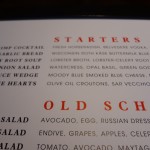 shrimp cocktail (fresh horseradish, Belvedere vodka, celery leaf).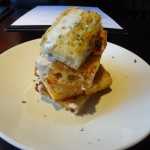 I was blown away at the stack of garlic bread that we ordered.  It looked delicious on its own but then our server took a little pitcher of creamy, buttermilk blue cheese fondue and poured it over the top.  I almost started to clap and jump up and down in my seat.  It was SENSATIONAL  (I also must add that my husband is not a blue cheese fan and absolutely loved this and took more than his fair share….not that I was counting pieces.)
The lunch menu has an "Old School" section, which gives Chef O'Donnell another venue to showcase his unique skills.  Salads like Crab Louie (avocado, egg, Russian Dressing) and Waldorf Chicken Salad (endive, grapes, apples, celery, mustard vinaigrette) provide the "non-steak eaters" a great dining option.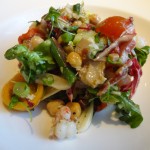 We couldn't resist having the Chopped Salad with shrimp and 23 ingredients!  (I thought this was a really creative way to incorporate Michael's jersey number.)  I put my waitress on the spot and without hesitation she rattled off the ingredients!  There was everything in this salad from garbanzo beans to shaved fennel to green beans.  It was a refreshing arrangement of fresh, local produce.  The vinaigrette was a perfect balance to all of the sweet, salty, and bitter flavors you would find in such a complex salad.
I can't bear to go on without mentioning the tomato soup that was served tableside.  A lovely bowl with some roasted tomatoes came to the table and then our server poured a beautiful, orange-hot soup over them. The contrast of the smooth velvety soup and the pieces of sweet roasted tomatoes made my taste buds jump for joy.  (And this time I did too!)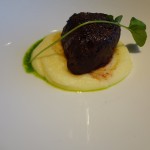 Now a steak house is not complete without steaks!!!  Chef O'Donnell's prime, hand cut, dry-aged steaks will soon be as famous as the restaurant's namesake.  (This is the point of the meal where my husband was clapping and jumping up and down in his seat.)  The menu offers everything from Delmonico steak, Kansas City Strip, Ribeye's (for two), Prime New York Strips and Filet Mignon.  The filet my husband ordered was so delicious.  (Between mouthfuls, he kept muttering that it was like eating butter.)  The few bites that he spared for me were the best bites of steak I've ever had in my life.  The simple seasoning of salt, pepper and a Worcestershire sauce glaze was just enough to let this beautiful cut of meat be the star of the plate.  (I used to be one of those "non-steak" eaters, I will order my own next time because it was so good!)
The end of our meal put our stomachs in double overtime. My husband enjoyed the impeccable flavor balance of sweet and salty with the Butterscotch Panna Cotta.  I liked the fact that it was topped with Chicago's favorite popcorn from Garrett's!
I couldn't help myself and I had to have the Chicken and Waffles for dessert.  (Technically it is an entrée but I just had to try it!)  I loved the crispy chicken on top of the crispy waffle.  And the faultless combination of bourbon pecan butter and maple black pepper syrup were the perfect ending to this amazing meal.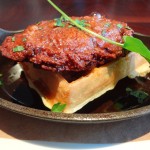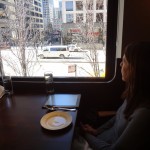 We sat for little bit and just enjoyed the hustle and bustle of Michigan Avenue on a Saturday afternoon.  I love living in my small town but I must admit that I really enjoyed the city scenery that entertained us during our entire lunch.
Needless to say there is something for everyone at Michael Jordan's Steakhouse. From an extensive wine list and creative "libations" to fish and imaginative side dishes, the restaurant has instantly become one of our new favorites.
Finally, I know there are people who will ask but I did not meet Michael Jordan! We asked miscellaneous staff members what he was like and the response was that he is really nice….and tall!  I have met Chef O'Donnell; he IS just like Mike in the sense that his talent in the kitchen is as magnificent as Michael was on the court…he's just not as tall.