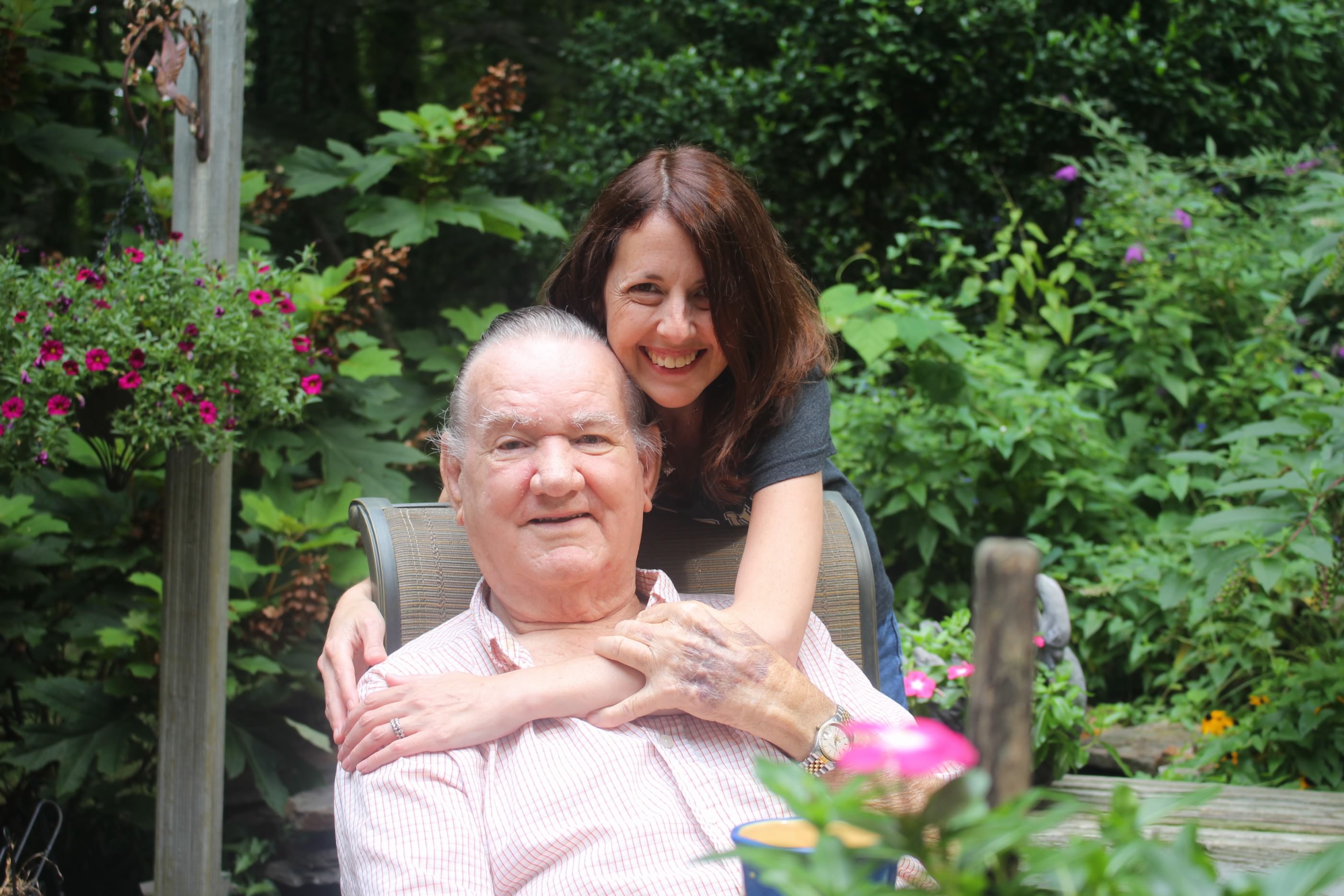 Do you ever wonder what you truly mean to a person?  Are they really your friend or are they just being polite?  Do people really want to hear your opinion or are they just making their grocery list in their head while you are talking?  When someone says they love you do they mean it or is just how they say good bye?
I'm an open book.  People know that I am pretty upfront with my feelings and I have no poker face.  If I care about you, you know it.  (Plus, I have these wrinkles on my forehead that are really a billboard of my emotions.)
I had this on my mind the last couple of weeks because my Uncle Albert died recently.  He had been ill for awhile now but the blow has hit me hard.  He was the husband of my dad's oldest sister (Barbara….who I was named after) and I don't remember any of my life without him.
When I was a child, I think he kind of scared me.  He was a loud southern guy who started a lot of sentences with "hell" or "damn."  He didn't just say the words; his southern drawl would make the words last multiple seconds.  The funny thing was that this was not one of his bad qualities, it was something I found endearing.
I quickly learned that the sternness in his voice was often followed by a glimmer in his eyes.  He had a way of letting you know his opinion but with me there was always an element of joking and love.
As I grew up, I got to see how he was an incredible hard working man who expected the same from his kids and others.  Uncle Albert would not complain about working long hours, it was what he had to do to provide for his family.
When I would call their house, I would usually just talk to my Aunt Barbara.  On occasion, he would be home and answer the phone.  He'd say "Who the hell is this?" but I could hear the laughter in his voice.  He would yell to my aunt that it was "Little Barbara" and continue to  razz me about one thing or another while my aunt would be in the background telling him to pass the phone.  By the time Aunt Barbara would get on the phone, I'd be laughing and telling her that she married a grumpy old bear.
I always felt lucky to be named after his wife.  I always felt he loved me a little extra and he always made me feel so special.
My respect for Uncle Albert's opinion was pretty high.  I always knew he'd tell me the truth whether it was what I wanted to hear or not.  I also knew he would love me no matter what my decision would be in life or choices I made.
One of my fondest memories is after Uncle Albert met my husband.  He had spent some time talking to him and then took me aside.  Uncle Albert gave me a nod and a wink and said "You did good, Girl."  His approval meant the world to me.
As Uncle Albert got older and the diseases of the mind started to take over, our conversations became more interesting.  He would repeat stories that I had heard over and over but then I'd hear new ones that were like missing pieces to family stories.  (My favorite is how he knew he'd marry my aunt…and how he pursued her.)
The hardest part of seeing his illness was knowing he'd rather be working and he would have hated being a burden on his family.  I learned from watching my aunt the true meaning of the vows in sickness and in health.  She and my cousins did what they could to allow this process to happen with dignity and grace and set an example we all could learn from.
As I've been thinking about Uncle Albert's life, I started to think of one of the last conversations we had…. where to pick up food.  He was telling me and my husband some places to stop and pick up lunch while we were on the road…. all of which included fried chicken.
I wanted to do a tribute to Uncle Albert and make a fried chicken this week but I have a confession….I'm not the biggest fan of fried chicken.  I don't mind eating it but it is just something I don't like to cook.  So, I made a baked version and thought of Uncle Albert the whole time.
I kept my time in the kitchen quiet so it could be me and my thoughts.  I smiled, laughed and cried all within minutes.  I will never question if he loved me.  I know he did.
When my chicken was done, I took a bite and thought of what Uncle Albert would say to me and it would be simple….With a wink and a smile, he would have said "Hell Barbara, this isn't fried chicken!"
He was a good man and he will be missed.
Panko Baked Chicken (Damn, I wish I had fried it.)
Ingredients
3 chicken breasts, pounded thin
1 cup panko crumbs
1 Tbsp dried ranch dressing
salt/pepper
1 egg beaten with 1 Tbsp of milk
Directions
Heat oven to 375 degrees.  Prepare a baking sheet with a rack (like the kind you cool your cookies on).  This will help your chicken stay crispy.
Mix panko and ranch together, set aside.
Sprinkle the chicken with salt and pepper.
Dip the chicken in the egg and then coat with the panko crumbs.
Place in a single layer on prepared pan.
Bake for 15-20 minutes.  (It shouldn't take long since they were pounded thin.)
If you want more color, broil for 1 minute.
Honestly, these tasted good and light.  They had some crunch but by no means did they taste like fried chicken.  It is a great alternative if you just want crispy chicken but I will admit that I think it would have been better fried in a pan!!  (I also think that if I would have coated the chicken with mustard and not egg it would have had some great zing!)