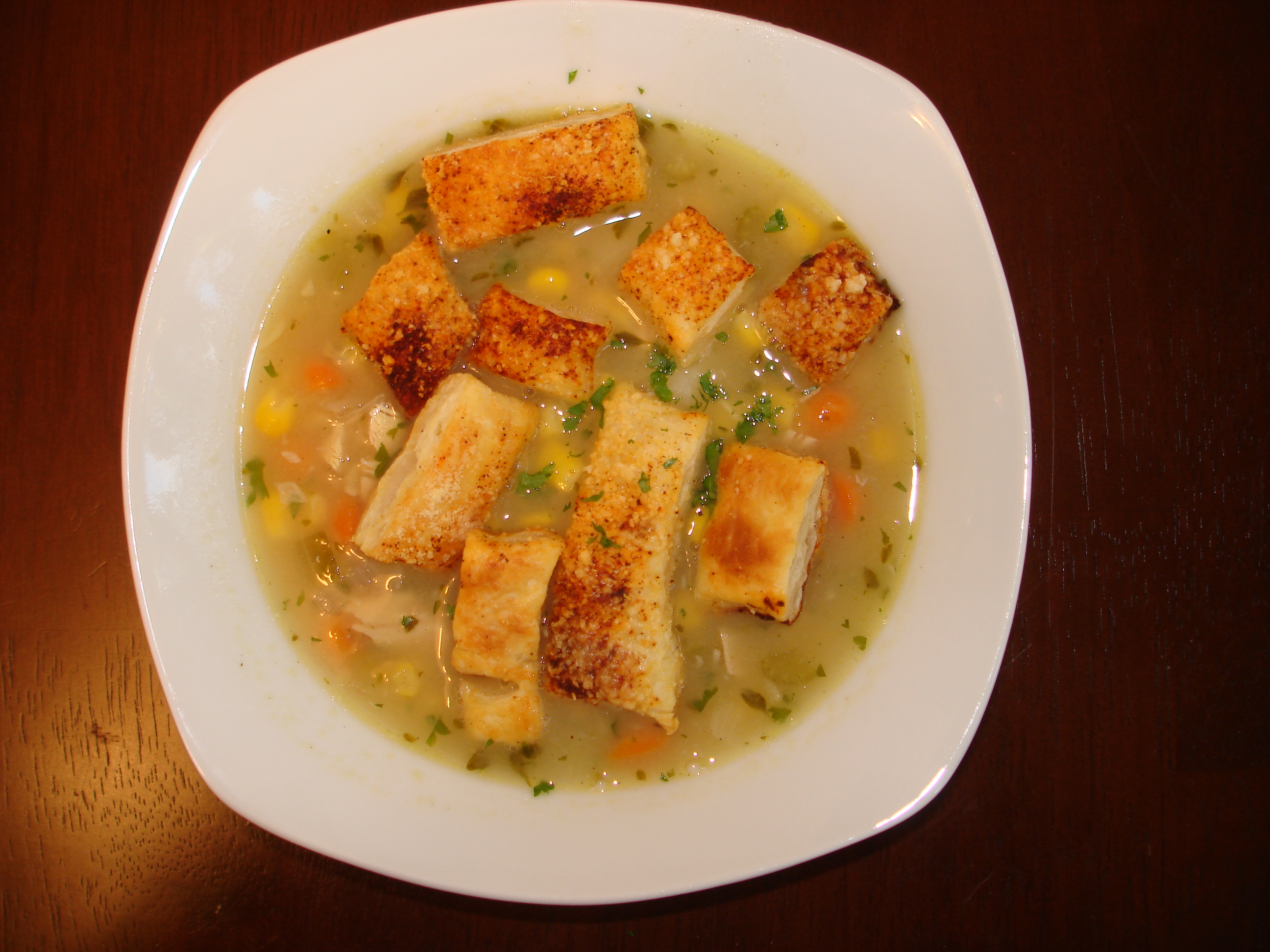 I love soups that can be considered a meal.  They are warm and completely satisfying while only dirtying one pot. Plus it gives me an excuse to eat with a spoon and I love to spoon!
To me, there is nothing better than homemade soup.  In canned soup, the flavors seem to mush into each other and the veggies have lost their bite.  In homemade soups, each ingredient is allowed to evolve on its own.  If you close your eyes and take a bite, you can taste each piece of celery, carrot or chicken.  The other part is by tasting the soup as you go along; you are in control of the depth of flavor.
Today's soup has been called many things like Chicken Pot Pie Soup or Rustic Chicken Soup.  I decided to call it Provencal Chicken Soup because of the use of thyme, bay leaf, garlic and puff pastry garlic.  It is a little bit of a stretch but once you eat this soup, you won't question the name, you'll just want more.
Author:
Ingredients
4 Tbsp. Butter
1 cup onion, diced
1 cup celery, diced
1/2 cup carrots, diced
2 tsp garlic, minced
1 ½ cups potatoes, diced
1/4 cup flour
2 Tbsp sherry
6 cups chicken broth
Meat from 1 rotisserie chicken
3 tsp thyme (use 1.5 tsp ground and 1.5 tsp thyme leaves)
1 bay leaf
Salt and pepper
Pinch of nutmeg
2 Tbsp chopped parsley
1/2 cup frozen corn kernels
2 tsp lemon juice
Instructions
In a large stockpot, melt butter and add onion, celery, carrots and garlic over medium heat.
Cook 4 minutes, and then stir in potatoes.
Cook 5-7 minutes.
Add flour and coat all the vegetables. Cook another 1-2 minutes.
Deglaze the pan with sherry, and then stir in broth, chicken and seasonings.
Bring to boil and reduce heat to medium.
Simmer 20 minutes until thickened and potatoes are finished cooking.
Add corn, parsley and lemon juice.
Season with salt and pepper.
Garnish with Puff Pastry Croutons.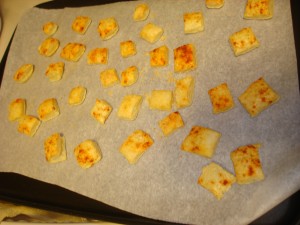 Puff Pastry Croutons
Ingredients:
1 sheet of purchased puff pastry, thawed.
1 egg
1 Tbsp water
Sea salt
Paprika (or garlic powder or favorite spice)
Grated Parmesan cheese (Good Ol' Kraft Parm. in the green bottle works best)
Directions:
Preheat oven to 425.  Line baking sheet with Parchment paper.
Roll pastry on a lightly floured work service until it is ¼" thick. *
Beat egg with water and brush over dough.
Sprinkle dough with salt, paprika and cheese.
Cut into ½ inch squares.
Transfer to baking sheet.
Bake until golden brown and puffed up.  (Check on it after the first 10 minutes, these burn very quickly.
*The last time I made the croutons, I cut 3 separate pieces of parchment paper.  I rolled the puff pastry on the parchment, added the toppings and it was easier to cut.  Instead of trying to transfer all those little squares to a baking sheet, I just picked up the parchment and baked it.  After one pan was done, I'd just remove the parchment paper to allow the croutons to cool and place another piece on the baking sheet.  It made this tedious process extremely simple!