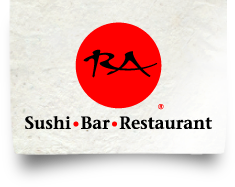 As someone who loves to spend time in the kitchen, I am always challenging myself to learn new techniques or to finesse some old ones.  So when I found out that RA Sushi in Lombard, Illinois was offering a Sushi 102 class, I was ecstatic at the thought of learning a few new tricks.  (And eating some sushi!)
A compliment to their already successful Sushi & Sake 101 class, Sushi 102 is the class to take when you want to master sushi making techniques, etiquette and learn some neat sake pairings.  (And eat sushi!)
Now I hadn't taken the Sushi 101 at RA but luckily it wasn't a prerequisite to 102.   Our hosts for the evening Niko and Robin didn't skim the basics as they walked us all through a "typical" sushi night out.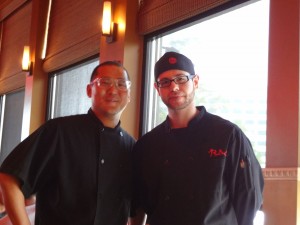 Our evening started with the traditional presentation of a warm towel (oishibori) to wipe our hands.  Niko and Robin taught us about chopstick etiquette as we were served delicious miso soup and perfectly salted edamame.
Since this was a hands on class, the guys took great care in showing us some beautiful garnishing techniques.  I am serious when I say I got the tingles when I learned how to make a wasabi leaf!  (And no, we hadn't started on our sake yet.)  We had 4 women in our class and 1 gentleman and it was the guy who made the prettiest ginger flower and leaf!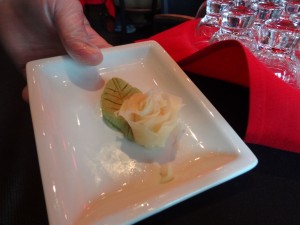 Other class highlights included a discussion what to look for in your fish and proper cutting techniques.  (And eating sushi.)
Niko and Robin established their credentials as sushi chefs when they started showing us how to make nigiri sushi, maki sushi and sashimi.  They first would show us in slow motion and then it was like the Flash was our sushi chef.  One second, all of the components were on the workstation and then the next second we would have a beautiful piece of sushi.  (It was like watching Penn and Teller!)
Niko made us a "tootsy maki" which was crab, shrimp tempura, cucumber rolled and then topped with beet tempura bits and drizzled with eel sauce.    (I'm laughing at my picture because like usual I forgot to take pictures before I dove in.  So the only picture is this one where I'm eating it off my personal cutting board!)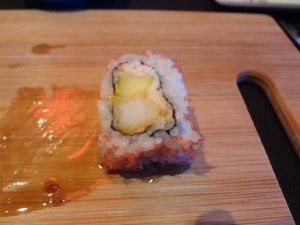 Next, he showed us how to make a rainbow roll.  In my 15 years of sushi eating, I had never paid attention to the detail of the colors of the fish.  The layering of the tuna (red), salmon (orange), Yellowtail (not really yellow but it works) and avocado (green) gives it the brightness that we would normally associate with a rainbow.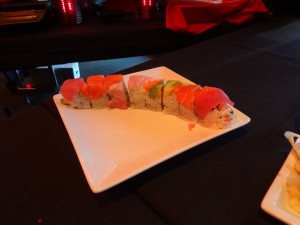 Now for as much as I know about sushi, I'm not a drinker so I haven't spent much time learning about sake.  Our Sushi 102 class included a wonderful Sake Master who gave me the Cliff Notes on different sakes and how to pair them with your dinners.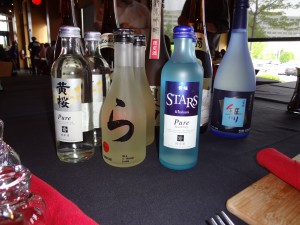 We were given 8 sakes with various food pairings.  It was intriguing to taste the sake first, eat a bite of the fish and then another sip of sake.  The flavors of the rice wine were really complimented by the different dishes.  (I was partial to the Kizakura Stars.  It was a sparkling sake that was a little bit sweet and sour.)
The last part of our class was my favorite making our own sushi!!!!  I stepped up first to show off my rolling skills and loved having Niko standing by my side instructing every step.  My maki sushi consisted of spicy crab and avocado inside and tuna on the outside.  I gave it a little drizzle with chili oil because I love to drizzle!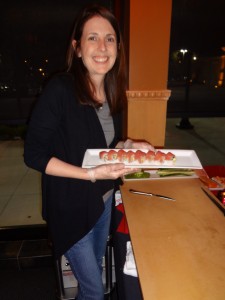 Just having someone hold my hand or I should say direct my hands as I used my makisu (bamboo rolling mat) was immensely helpful.  In addition, he helped me understand the steps in making nigiri sushi.  (I was a bit awkward at this but I think with some practice, it will feel more natural.)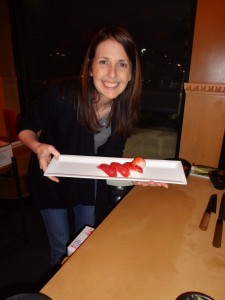 For the record, I have taken 3 other sushi classes but this was the first one I had ever taken in a sushi restaurant.  I want to state that their presentation of all of the information was so incredibly detailed that even the most experienced sushi eater/home cooks will come out of this class with tons of new knowledge and the confidence to make sushi at home.  (I will be honing my skills later this week so I'll let you know how it goes.)
RA Sushi has 25 restaurants nationwide.  Contact your local RA to find out when they will be offering their classes.  (And if you don't want to take a class, just go for the food, it is awesome!)
And finally, thank you to all of the awesome people at RA Sushi, Lombard, Illinois.  This class was educational and engaging.  I felt like I was hanging out on a Saturday night with my friends.  (My cool friends who know everything about sushi!)