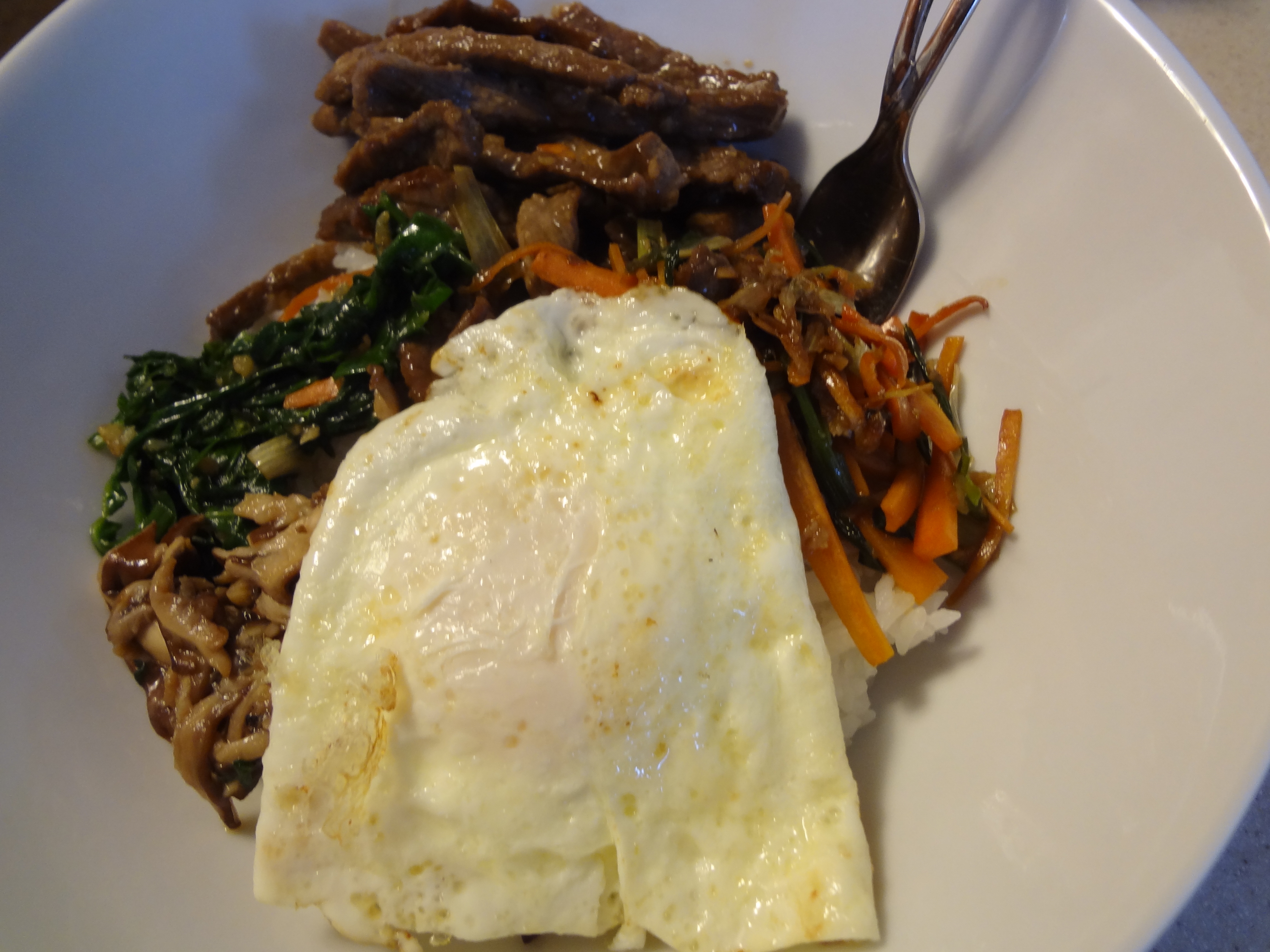 One of the most challenging parts about cooking in a small town is staying "authentic" in ethnic recipes.  It may be something you grew up eating or a flavor you only tried once but trying to recreate it with limited resources may be just enough of a hitch to keep you from attempting the creation at home.
I have had this battle with one of my favorite Korean dishes for years.    The dish is called "Bibimbap" and it is considered one of Korea's iconic dishes.  I have not attempted it at home because I hold my first taste of it so dear to my heart that I thought I could never recreate it.  (You never forget your first, right?)
The first time I ever had bibimbap; I was in Boston with my husband visiting with his childhood friend, Eddie, and his wife, Renee. On one of our first nights in town, they took us to an "authentic" Korean restaurant.  It was wonderful because they knew what to order and showed us the ropes.  (Actually, Renee knows more about food and she led the way.  If Eddie was in charge of meals we would have been eating Spam.)
Renee took the time to explain the ingredients including the vegetables (some variety of cucumber, zucchini, mushrooms, spinach, mung sprouts and fern stems), the Korean chili sauce and the fried egg.  All of the ingredients beautifully decorated the top of the rice and I couldn't wait to dive in.  But then, Renee did the unthinkable…she started to mix it all together!!!  I thought she lost it there for a second until she explained that was how you were supposed to eat it.  (If it had been Eddie twirling it all together, I would have thought he was just pulling our leg.)
The mixing resulted in one of the most fabulous compilations of tastes a fork could ever have the honor of holding to your mouth.  There was a smokiness from sesame oils, a crunch from the veggies and a spot of heat just to let your mouth know it is alive.  And I can't leave out the lusciousness that the egg provided with it's broken yolk's creaminess coating almost every bite.  (If that didn't make you hungry than you are not human!)
I have longed for this taste for years but never had the confidence until recently to make a version that may not be completely authentic but it sure turned out good!  (And I'll admit right now that my egg was over-easy so it didn't photograph as pretty as if I would have done my egg sunny side up!)
 Bibim"Barb" with Bulgogi (Korean Beef)
Bibim"Barb" recipe
Ingredients
8 ounces baby spinach
3 tsp garlic, minced
8 ounces mushrooms, shitake (or whatever mushroom your town provides)
2 carrots, julienned
3 green onions cut into thin strips (This in NOT traditional but it was the only green component I had in the house.  Zucchini or cucumber can also be used and are more authentic.)
1 cup mung sprouts (or fresh sprouts if you can't find mung or if you can't find either just deal with it like I did.)
4 eggs
3 cups cooked warm rice
1 Tablespoon toasted sesame oil  (Use the best you can find)
1 Tablespoon of light soy
Grapeseed oil
Bulgogi Ingredients
3 Tbsp rice vinegar
3 Tbsp light soy sauce
2 Tbsp brown sugar
1 Tbsp ginger
2 tsp garlic, minced (you'll be using this in 1/2 tsp increments)
1 Tbsp sesame oil
1 pound sirloin, sliced thin and into strips (My grocery actually had this!)
Directions
Whisk the first 6 ingredients of Bulbogi together and add the sirloin to marinate.  (It should sit for at least 30 minutes.)
Meanwhile start working on your bibimbap. In a small bowl mix the 1 Tbsp of sesame and 1 Tbsp of soy together and set aside.
In a large nonstick skillet, heat about 1 tsp of grapeseed oil over medium heat.  Add 1/2 tsp of garlic and the spinach.  Sauté until the spinach is wilted.  Transfer to a bowl and toss with 1/2 tsp of the sesame-soy mixture.  Set aside and keep warm.
In the same skillet, add another teaspoon of grapeseed oil and another 1/2 tsp of garlic.  Add your mushrooms and sauté until they soften up and are no longer emitting liquid.  (Mushrooms hold a lot of moisture so when you sauté them the liquid is pulled out.  You want to sauté until that liquid is evaporated.) Transfer to a bowl and toss with a 1/2 tsp of the sesame soy mixture.  Set aside and keep warm.
Finally, heat 1 teaspoon of grapeseed oil in the same pan.  Add 1 tsp of garlic and the carrot and green onion (cucumber or zucchini).  Cook until veggies soften.  Transfer to a bowl and toss with 1/2 tsp of sesame soy mixture.  Keep warm.
(If you happen to find bean sprouts, you CAN sauté them in the same manner but I like their flavor better raw so I just toss them with the remaining sesame soy mixture.
At this point, I'd cook my beef.  Remove beef from marinade and let excess drip off.  In the same skillet, heat about 1 Tbsp grapeseed oil over medium high heat.  Stir-fry in batches and keep warm.
Finally, fry your eggs!!!  You really want the runny yolk so I'd say sunny side up, over easy or poached would be my top choices.
Assemble your bowls.  Divide rice evenly over 4 bowls.  Arrange your veggies and beef around the edges of the bowl.  Top with you egg.
One more thing….
Korean Chili Sauce is a must for this dish but it is hard to find.  The traditional kind found is called Gochujang.  (I make a sauce with 4 Tbsp Gochujang, 1 Tbsp sugar and 2 tsp sesame oil which is very yummy.)  If you can't find Gochujang in your market, use whatever chili paste you can find and add a little sugar or honey and a dash of sesame oil.  Taste it!!!  It should be spicy and warm but it shouldn't make you cry.
There are many things that make me happy about this dish.  First and foremost, it brings me back to a great time with friends who I wish we saw more often.  Next, it is a great dish to make when you are just trying to use up some produce in your fridge.  Finally, it has given me the challenge of recreating more dishes with limited resources.  (Hmm, what should I try next???)