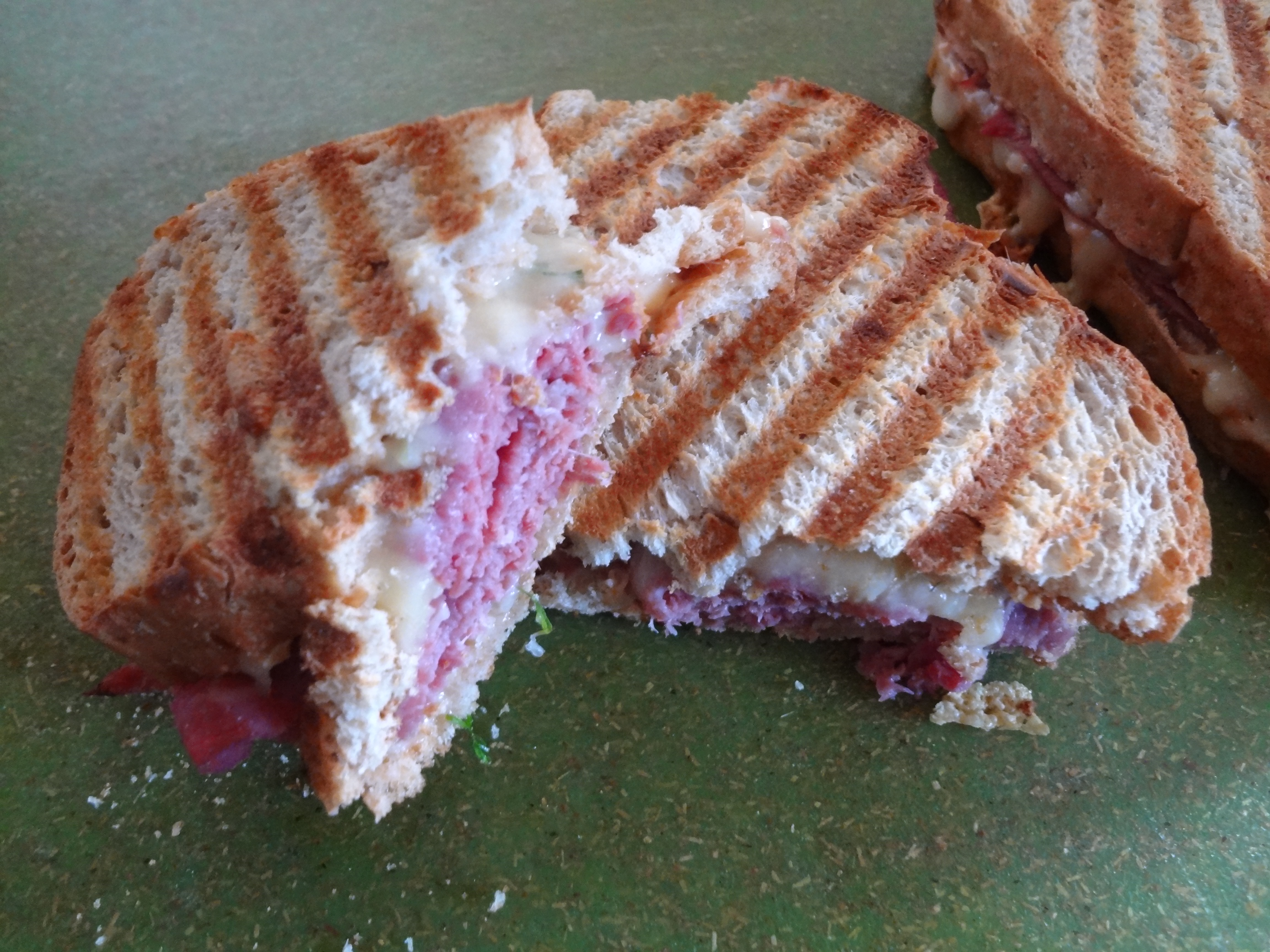 So, last year I did it.  I made my husband happy.  What I gave him was close to perfection, very hot and made him take a nap instantly.  He isn't going to be so lucky this year.  I'm just not in the mood….to make the traditional St. Patrick's Day dinner.
I didn't want to disappoint the guy completely so I decided to make him the infamous sandwich that goes along with this time of the year, the Ruby.
Um Barb, don't you mean the Reuben?  Nope, I think it is time to talk about St. Patrick's younger little sister.  She has been in his shadow for years and I want to be the first to put the spotlight on her. (Because all little sisters sit in shadows…. just kidding, the youngest are the coolest!)
Ruby Succat, Maewyn's (St. Patrick) little sister has never been talked about before.  (Okay because I just made this all up but keep reading it gets better.) She was a nice girl (no saint) and stayed out of trouble.
Their father was a Roman-British Army officer (this may actually be true) so they moved around a lot and lived pretty typical "army-brat" lives.  Until, Maewyn got kidnapped by pirates! (Not cool, Pirates of the Caribbean pirates…scary pirates.)
The family was shattered and hoped every day that Maewyn would come home unharmed.
Ruby never fully believed in the pirate story and was very bitter at the burden her brother left on the family.  She carried on for years, taking care of her siblings and caring for her ailing parents.  (She had heard rumors that Maewyn escaped and waited for him to come home.)
Almost 20 years later, Ruby heard about this guy (Patrick) from Ireland teaching religion via the three leaves of the shamrock.  Her boyfriend, Reuben, asked Ruby to go with him to listen to this "Irish" man's words.  (One of the best pick up lines of that time.) Ruby packed them a lunch of corned beef  and cheese sandwiches topped with sauerkraut and decided to make a nice day out of it.
It was a beautiful day to go hang out in a shamrock field.  It was warm enough for them to lay their sandwiches on a stone to toast them up while they listened to this man Patrick speak.  (Okay, that is a little far fetched but I couldn't think of how to get the cheese to melt.)
Ruby listened with a light heart when she detected something familiar in Patrick's stories.  He was talking about casting all the snakes out of Ireland and sending him to the sea.  Wait…Maewyn used to tell her that he cast all the snakes out of the fields into the shed.  (He kept all his cool stuff in the shed and didn't' want her touching it.  So this was how he manipulated her to stay away.)
She looked up and caught the glimmer in his eye and knew at this moment that this St. Patrick was her long lost brother.  When he finished speaking, she and Rueben approached Patrick.  He recognized his sister immediately and hugged her.
As she held back her tears of joy, Patrick whispered in her ear something only a brother would say to a sister after decades of absence.  "Sis, you stink like kraut and who is this guy you hanging out with?  He's no saint!"
Ruby laughed, held his hand for a moment and watched her brother walk across the field.  She picked up a four-leaf clover and walked home with Reuben. As Reuben bent down to kiss her hand good-bye, he belched and smelled like sauerkraut.
It was the last time she ever saw her brother…and the last time she ever had Rueben….the sandwich.
The Ruby
Ingredients
½ pound lean cooked corned beef
½ pound shredded Swiss cheese
6 pieces of rye bread
Homemade Russian Dressing
¼ cup mayonnaise
1 Tbsp ketchup
1 Tbsp chopped cornichons (or whatever dill type pickle you have hanging out in the fridge.)
1 tsp chopped celery
¼ tsp dry mustard
½ tsp Worcester sauce
1 tsp chopped fresh, dill
1 tsp chopped green onion
Directions
In a small bowl, mix all the ingredients for the Russian Dressing.  Put in fridge for at least a half hour so the flavors can meld together.
Heat up your sandwich grill of choice (grill pan, Panini grill, George).
Lay all six pieces of bread on cutting board and spread each slice with some of the chilled Russian dressing.  Add cheese to all six slices of bread.
Divide the corned beef over three of the slices and top with the remaining pieces of cheese covered bread.
Grill until cheese is melted.
Serve with coleslaw on the side!  : )
My original goal was to tell a story about St. Patrick and the origin of the Reuben sandwich.  I was amused at how many different versions there were on both topics so I decided it was time for a "fractured fairytale."
I honestly don't know if St. Patrick had any siblings but maybe in 1500 years, historians will read this post and won't have to question the origin of the soon to be famous Ruby sandwich!
Happy St. Patrick's Day!!!