Living in a small town, one of my challenges is learning about food and flavors popular in other countries.  I have learned by opening my mind (and mouth), I am limitless.
With that said, I knew NOTHING about Spanish food until I started reading Iron Chef, Jose Garces book, Latin Evolution.  It is a fabulous book that could be considered a primer for learning Spanish cuisine.  From the recipes to the pictures, I was transported to Spain.
Being a fan of the book, I was excited to learn that Chef Garces also has a restaurant in Chicago called Mercat a la planxa.  Conveniently located on Michigan Avenue in the Blackstone Hotel, Mercat transports you to Barcelona without having to renew your passport!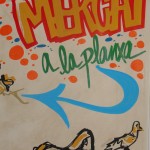 To say I was looking forward to this Foodie Fun Day would be an understatement. The anticipation swelled as I came through the entrance and walked up the winding staircase to the dining room.  I felt welcomed immediately by the bright colors and the warmth.  (Some wonderful staff also greeted me but I'll gush on about them later.)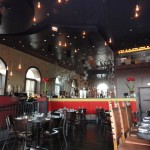 The sky-high ceiling was delicately lit but the room still emitted a friendly brightness.  The elevated special events room allows for those guests to be a part of the atmosphere while enjoying their privacy.  (Or semi-privacy because you can be seen from the dining room…so behave yourself!)
I sat by one of the expansive windows.  The activity on Michigan Avenue was entertaining but it was the kitchen activity that kept my attention.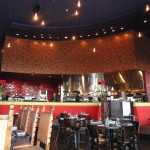 The open kitchen is reminiscent of how the markets in Barcelona are set up.  The food is prepared in front of you so your senses can experience every part of the cuisine.  It is a true "market on the grill" as the chefs make sure every bite is fresh and authentic.  (Picture the coolest farmer's market you've ever gone to and multiply it by ocho…the only Spanish number I remember from grade school.)
My reaction to opening the menu can only be compared to the first time I got a box of crayons.  (And I'm talkin' the 64 count with built in sharpener.)  It was colorful and exciting with so many great choices that I didn't know where to begin.  Wesley, my waiter and new BFF, was more than happy to take my hand and help me stay in the lines so I would have the best possible dinner experience.
Wesley explained the inspirational small plate menu and had great recommendations. (I love that they have a couple Tasting Menu options.)  He vocalized each "authentic" Spanish name with ease but would add on an "American" explanation so I knew what I would be eating.  (I kept making the guys repeat descriptions because I loved how the words rolled off their tongues!)
Oh Barb the suspense is killing us…what did you have to eat?  They (Chef de cuisine Cory Morris and Sous Chef Louis Goral) started me off with a Pan Con Tomat (homemade Focaccia, roasted tomato, garlic, olive oil). Similar to what I know as bruschetta, the clean, acidic flavor of the tomato was the star.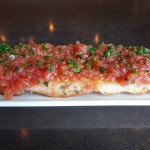 Menu selections of Charcutería(cured meats) and Quesos (cheeses) were mouth watering.  My meat selection was a fermin Ibérico de bellota.  The Ibérico (black hoof) pig is a descendant of the wild boar.  The natural diet of acorns and wild herbs allow this little piggy to store larger fat deposits that result in beautiful marbling in the meat.  Similar in looks to an Italian prosciutto, it literally melts in your mouth.  Mercat served it with some delicious bread, pickled peppers, crème Fraiche stone-ground Dijon mustard and cornichons.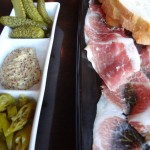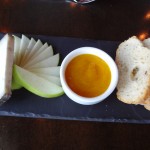 In addition, I enjoyed a Monte enebro with sliced apples and pear & saffron compote.  The Monte enebro is a goat's milk cheese that is made in a similar method as Roquefort.  The big difference is that it does not have the "veins" and the nutty flavor is developed in the rind.  The soft, creamy cheese had a mildly, distinct almost acidic tang.  (Don't miss out by skipping the rind.)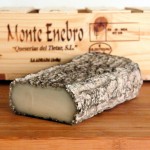 On the Tapas De Siempre (traditional tapas) menu, the hot item of the night seemed to be the Datiles con Almendras (bacon wrapped dates, stuffed with marcona almonds).  It was topped with a cow's milk cheese (la peral) fondue on an endive/frissee salad!  The contrast of the smoky cheese to the sweet date to the salt of the bacon was pure perfection.  Add the surprising almond crunch and you can color me happy!  (Maybe with a Tickle me Pink Crayon?)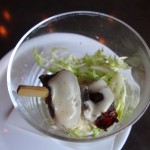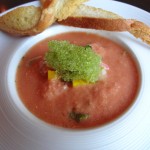 The special of the evening (and tied for favorite of the meal) was a halibut ceviche (lime, cilantro, pedron pepper) with tri-colored beets, an avocado crema, watermelon gazpacho and wasabi tobiko. I don't know what was more colorful, the actual plate of food, the flavors coloring my mouth or the ceviche that fell down my shirt? (I was really eating fast because it was phenomenal.)
Since I am talking about my favorite dishes, my other favorite was the Mar I Muntanya (Serrano ham wrapped yellow fin tuna, potato croquettes, foie gras torchon and pickled pearl onions.) I kept taking smaller and smaller bites so I could make it last longer.  (I learned my lesson with the wasted ceviche in my shirt!)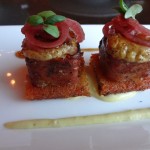 I know I am not objective when I eat tuna but I had never had tuna paired with "ham" and foie gras.  The mixture of the proteins with the onion and potato offered great textural and palate variations.  Every bite allows your tongue to taste something different.
My belly started to fill up, but I still found room to I enjoy the woodsiness of the sizzling Setas al horno (wild mushrooms, potato confit, shallot) and Conill Amb Castanyes (braised rabbit agnolitti, truffle chestnut puree, brandied cherries and rosemary brown butter).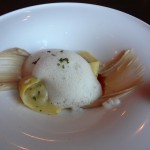 As a former picky eater, I was first scared of the rabbit but once I took a bite of this delicious pasta, I didn't give it a second thought.  This was a great lesson on trying new things (plus now I understand why my dog wants to catch one so badly).
Finally, you can't go to a restaurant with "a la planxa" in its name without having something from the grill.  The lamb chop (with romesco and mildly, spicy aioli sauces) had a good char while maintaining the succulent richness I would expect.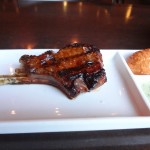 (Technically, I ended my evening with a perfectly moist piece of spice cake with pear mousse and pear/coriander sorbet but I've run out of colorful analogies!)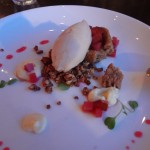 As a newbie to Spanish food, I was impressed with the staff's knowledge of each dish.  There wasn't a moment in time that they were not willing to teach me about this culinary diverse cuisine.  My Sweet Wesley (that is what I call him now) was not alone in helping me with my food decisions and the teamwork was outstanding.
Although Chef Garces (a new cookbook will be out this fall) was not "in house," Chef Morris, Chef Goral and their cooking "family" made dishes worthy of Kitchen Stadium.
My take away on the food from Mercat a la Planxa keeps bringing me back to my new box of crayons…everything was colorful, meant to shared and delicious. (The word "delicious" only goes for the food, not the crayons!)