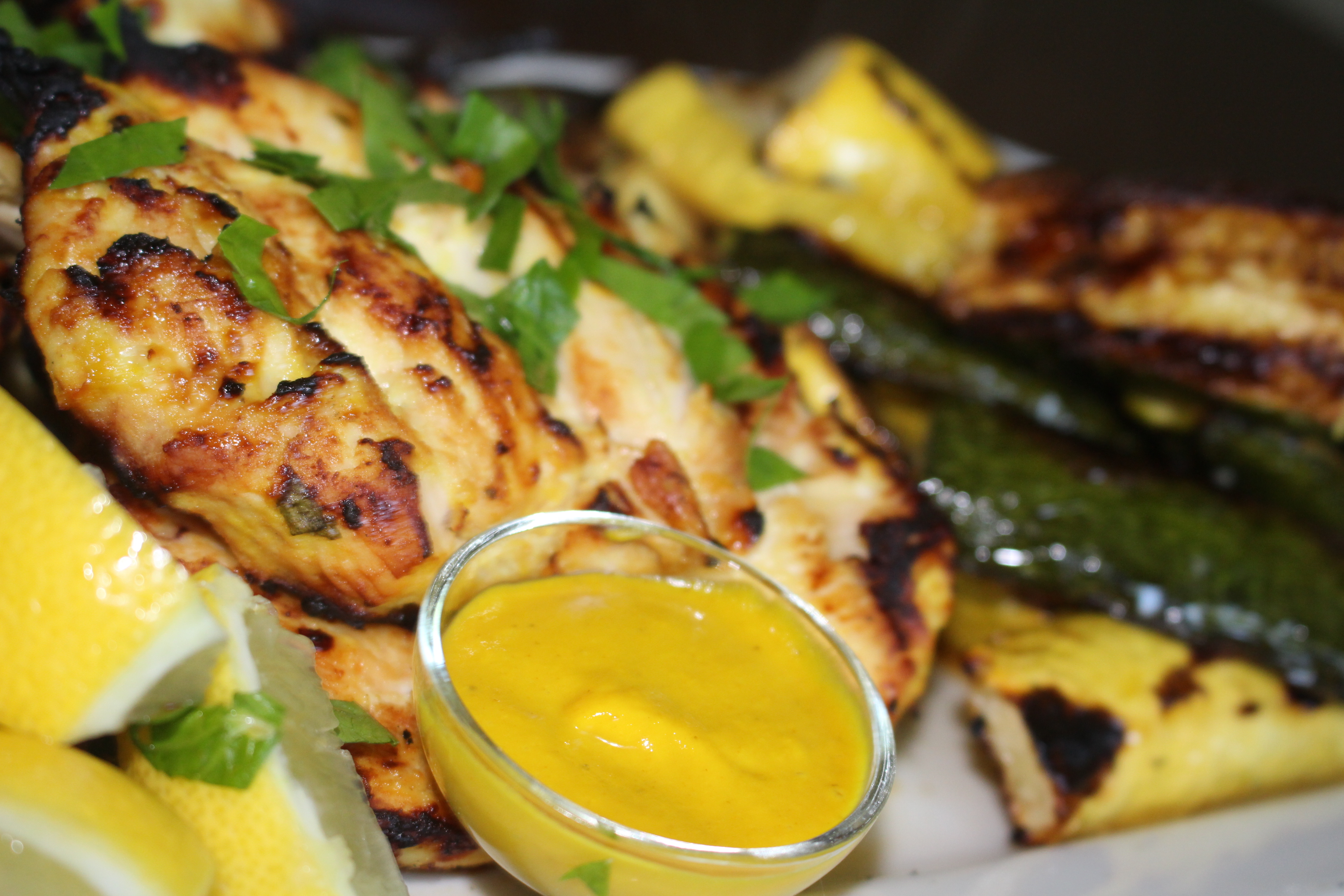 Can you remember the year you first tried a particular food or condiment? Did it make you so happy that each time you think of that first taste you are taken back in a taste bud time machine?
I have that relationship with Colman's Mustard. I was 27 years old in London on a business trip. I woke up in the middle of the night with a kidney stone and my hotel had to call an ambulance. (Stay with me here…it gets happier.)
I stayed at the hospital overnight but was told I need to take it easy for a couple of days. I was scared, felt sick and just disappointed.  (And I wanted my mommy.)
My hotel asked if it would be okay to come check on me to make sure I am getting enough to eat and drink. It was heartwarming to know that they wanted to make my two days of bed rest a little more manageable.
Like clockwork they would come knock on my door and bring me fresh water. They also brought these awesome little roast chicken tea sandwiches with a dish of Colman's mustard. The chicken wasn't that exciting but I fell in love with Colman's.
It was really zesty and had a smidge of heat. It not only perked up my sandwich but it also perked me up. (I requested those sandwiches for 2 days straight and I still give them credit for making me feel better!)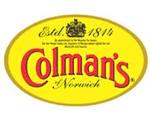 I was recently asked to do be part of a Summer Blogger "Grill Off" sponsored by Colman's Mustard and Cookina (found at Home Depot). The goal was simple…make an awesome dinner (easy) using both product lines.
The Colman's part was easy (recipe below) but I had never used the Cookina non-stick cooking sheet before let alone on the grill. It sounded foolproof …a heatproof mat that you put on the grill so foods don't stick and better yet fall between the grates!

It is 100% nonstick, withstands heat up to 500 degrees, FDA food safe and reusable. Great alternative to lining your grill with foil (and for those of us with a small grill you can cut it down to fit the area you designate as your nonstick surface.)
I must say I did couple trials with the Cookina mat. My first impression wasn't great. I didn't feel like I was eating something that was grilled. I missed some of the flavor you get when food is cooked on a piping hot grate.
To be fair, I gave it a second go and am now in love with my mat. I tossed some zucchinis with a little olive oil, ½ tsp garlic powder and about 1 tsp of Colman's powder mustard.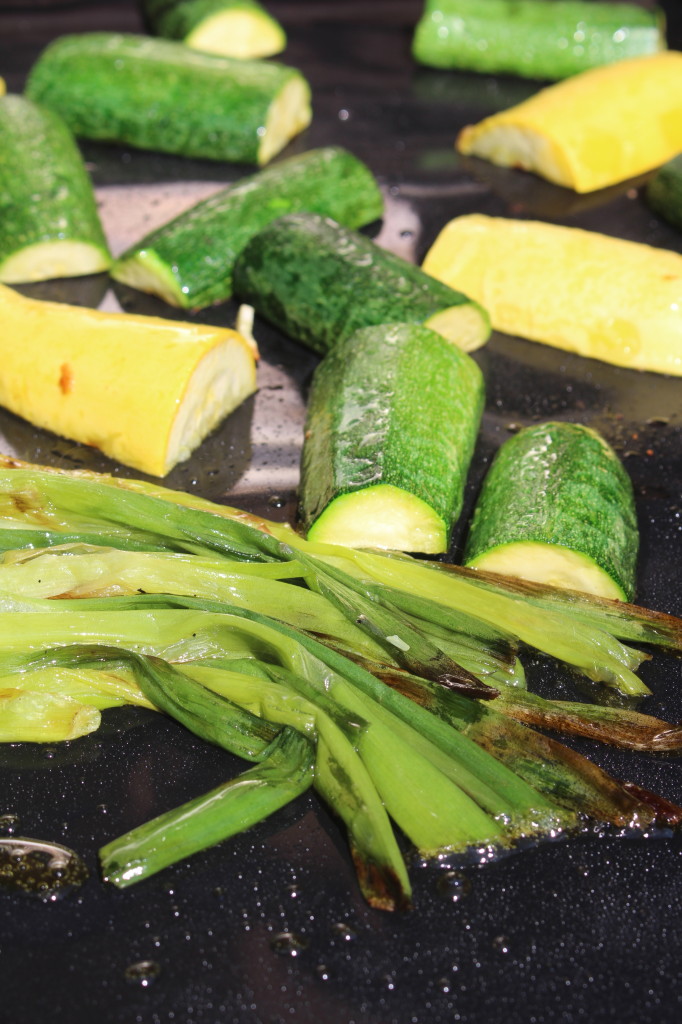 I heated up my grill and placed the mat down on the grates. The zucchini cooked up BEAUTIFULLY and I even got some grill marks. The veggies were super easy to flip because I wasn't concerned about them slipping between the grates.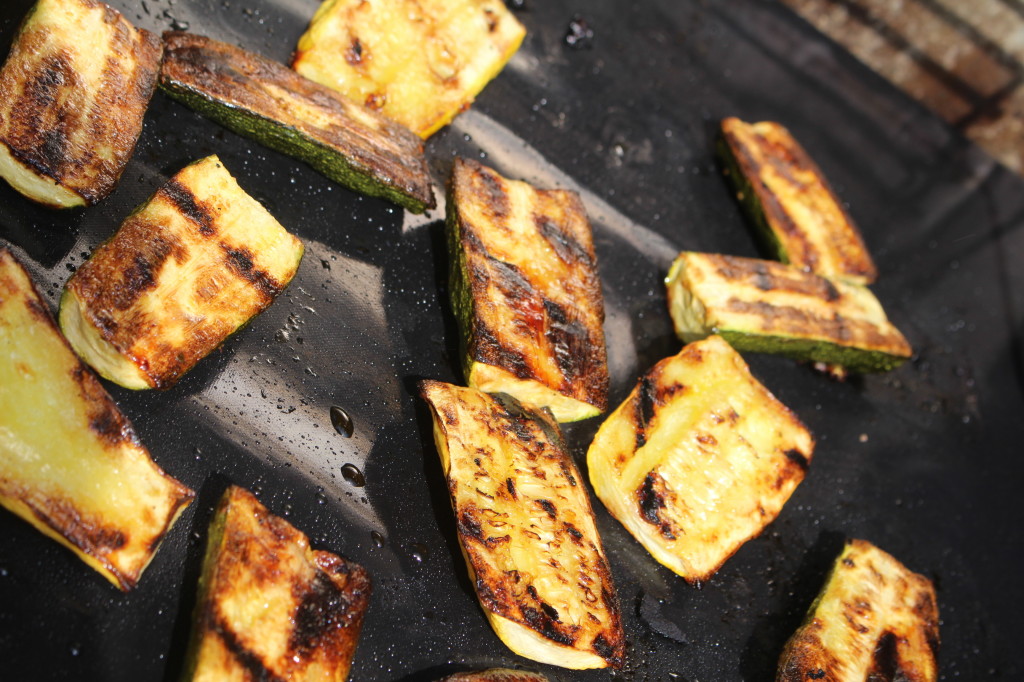 They cooked up in about 10 minutes (flipping at the halfway point.) And tasted EXCELLENT!!! (I could use less oil next time, which is another nice perk of the mat.)
After using the Cookina mat, I almost feel it was like a good cast iron skillet that needed a little seasoning to help it along. (I also have to add it was REALLY easy to wipe clean.)
So what did I cook with my veggies….I had to go back to London and make chicken with Coleman's mustard. (Minus the kidney stone.)
Colman's Mustard Grilled Chicken
Ingredients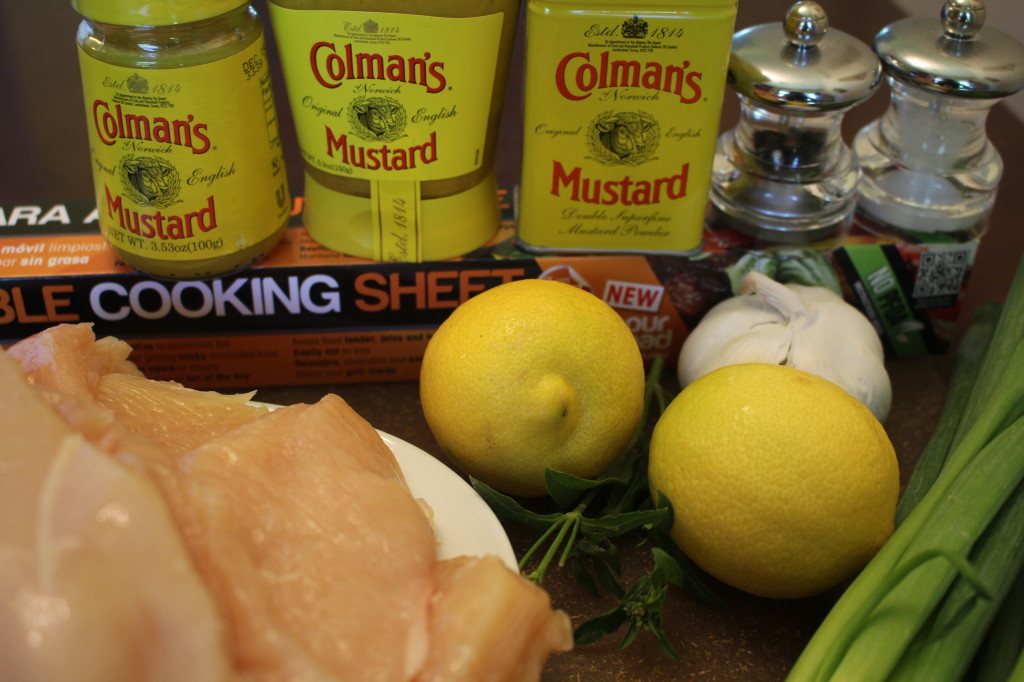 Juice from 2 lemons
4 Tbsp Colman's prepared mustard (separated in half)
2 cloves of garlic, minced
1 tsp fresh chopped tarragon
1.5 pounds boneless, skinless chicken breast (make sure they are equivalent in size by either pounding them down or slicing them horizontally)
Salt and pepper
Extra lemon slices
Directions
In a medium bowl, mix 2 TBsp of Colman's prepared mustard, lemon juice, garlic and tarragon. REALLY mix it well.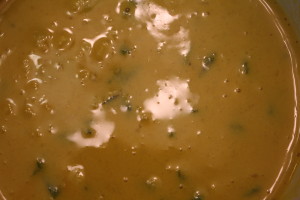 Add Chicken and let marinate in the fridge for about an hour. (You don't want to marinate it too long because the lemon will start to "cook" the chicken.)
Prepare your grill with one direct heat side (hot side, medium/high) and one indirect heat side (not so hot).
Sprinkle your marinated chicken breast with salt and pepper and lay on the hot side for 2-3 minutes AND DON'T PEEK AT THEM!!! When they are ready to flip, you should see a little opaque or browning come up the sides. Turn at about a 45-degree angle and cook another 2 minutes. (This will give you those snazzy grill marks that are all the rage.)
Flip the chicken and repeat for the same snazzy grill marks. IF your chicken isn't cooked all the way but getting too dark, move it to the cooler side of your grill and continue cooking until they are up to temp. (I pull mine off at around 160 because they will continue to cook off the heat.)
Let these sweet babies rest for 10 minutes and give them a squeeze of lemon and serve with lemon slices and the extra couple of tablespoons of Colman's prepared mustard.
With the grilled Cookina veggies on the side, you have the perfect dinner!
Thank you Colman's and Cookina for letting me participate in the fun and sharing your products.
If you are a fan of Colman's Mustard or Cookina, join the contest by sharing your own photos online.