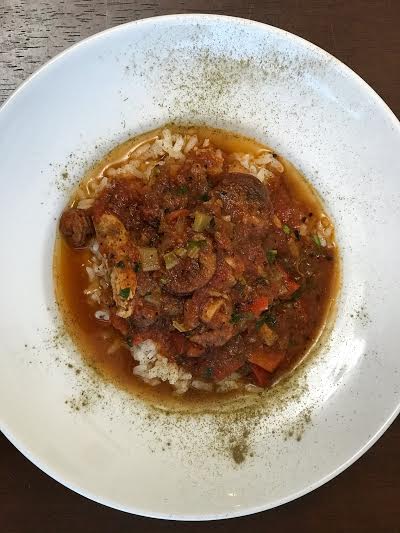 Food magazines and food based television really have a hard job.  One would think that getting to spend your life devouring plates of food, traveling to exotic places and hob knobbing with the best chefs in the world would be the best job in the world.  (And it would….call me if anyone is interested in a middle aged, real world housewife.)
The challenge in the job is that they always have to be a step ahead. These professionals have to know the trends that are going to be around by the time they publish magazine or book. They have to see the value in a small side street restaurant with 16 seats that many would pass by. They have to almost predict what is going to happen next.
The "easiest" part of their job is knowing when holidays are around the corner. The challenge I'd think is when they have to think about Christmas in the middle of the summer or write about seasonal summer food in the heart of winter. It is something to be admired that I'm not sure how they do it.
I was all excited because I knew Fat Tuesday was around the corner and I started thinking about doing some sort of New Orleans/Mardi Gras recipe. For once I was going to get out my recipe BEFORE the actually holiday occurred.
When I think of Fat Tuesday, my first thought always goes to gumbo or jambalaya.  (Sadly, I've never been to New Orleans so my exposure is very limited as to what IS VERY representative of that region and I really only know what I read.) 
Every year, I google "What is the difference between the gumbo and jambalaya" to make sure I'm using the correct terminology.
My simple memory trick is that gumbo is a simple starter since it is a really easy word to say.  Jambalaya is a little more complicated to say so it must be more of an entrée.  (And this is how I memorized things in college.)  Gumbo can be served without rice but you'd be in a "jam" if you didn't add it to jambalaya. Are you with me?
A gumbo is thickened by making a roux as the base whereas the starch in the cooking rice in the dish adds to the consistency of a jambalaya. I'm leaving out a lot of details but the gist of all this banter is that there are a lot of difference in these two dishes.
My goal this week was just to make something that tastes good.  I almost said I was going to honor the flavor profile but given my dislike of green peppers, I couldn't even do that.  (Dear Cajun friends, I'm sorry to let you down but I had some green pepper experiences as a child that I can't seem to get over.)
What got me started in this quest was a simple package of andouille sausage…it all steamrolled quite easily from there.
The step I would suggest to you NOT to skip was that I browned the sausage.  The Maillard reaction that takes place (you remember the browning effect we talked about before) really adds a depth of flavor to the sausage.  I also sautéed almost all the veggies in the same pan that I browned the sausage in. It was a layering effect of flavor. Finally, it was a low and slow finish with rice scooped into the bowl as it was served.  (You could easily say no rice but it made it more of "meal" for our dinner.)
As I ate this creation, I kept going back and forth as to what it was…gumbo or jambalaya. How was I going to write about it? Should I just not write about it at all? But what about Mardi Gras and being ahead of the game. It was a dilemma that was new to me but I kind of like a challenge.
So, what came together is a soup. (Insert your surprise face….Felt Like a Foodie made more soup.)  It was delicious.  It had that joie de vivre you want to feel when you eat something "creole." This soup had the spicy notes from the andouille and that unique ability to make you feel you were someplace else. (It wasn't so Mardi gras that it made me lift up my shirt to get some beads…. but oddly that WAS my husband's response.)
It is one of my blogger goals to try to be ahead of the curve a little more so I can provide recipes BEFORE events happen. It isn't easy so I won't make any promises. Hopefully besides giving you something easy to add to your weeknight menu this week, it'll give you a whole new appreciation when you are standing in the check-out line at the grocery looking at the magazines. Food writing is a rough job and I'm glad there are others doing the bulk of it.
Creole Soup
I made this in my slow cooker.
Ingredients
½ pound of frozen chicken breast, chopped (Here is a hint…when you buy chicken…always cut up some breasts and freeze them so they are ready to go)
8 ounces of "salad" shrimp (I chose salad shrimp….because it was on a super sale)
24 ounces of fire roasted diced tomatoes (fire roasted is better in this recipe)
4 cups of vegetable broth (you could use chicken too)
1 pound andouille sausage, cut into little ¼ inch rounds (you should be able to find it near the smoked sausage in your grocery store)
2 tsp of your favorite creole seasoning (I like Emeril's)
2 small yellow onions, chopped (it was a little more than a cup)
1 cup of chopped celery
2 red peppers, chopped (And yes, if you like green peppers use those instead)
3 Tbsp minced garlic
1 cup of Arborio rice cooked
Optional: Gumbo file seasoning, hot sauce
Directions
Put the tomatoes, broth, frozen chicken and shrimp in your slow cooker.
In a large skillet, brown the sausage pieces. You may want to do it in batches.
Add it to the slow cooker.
In the same pan, sauté the onions, celery and peppers. Once again, you may want to do this in batches. You want them tender but not mushy. Add to the slow cooker.
Add garlic and sauté for 1 minute and add it to the slow cooker.
Add in your seasoning.
Cover and set the cooker to low. My soup cooked all day. Adding the chicken to the pot frozen helps keep it from drying out.
When you serve it, put a little hot rice in your bowl and pour the soup over it.
Sprinkle with the gumbo file and a little hot sauce if it isn't spicy enough for you taste. (My husband thought it was perfect but I added a splash of hot sauce.)