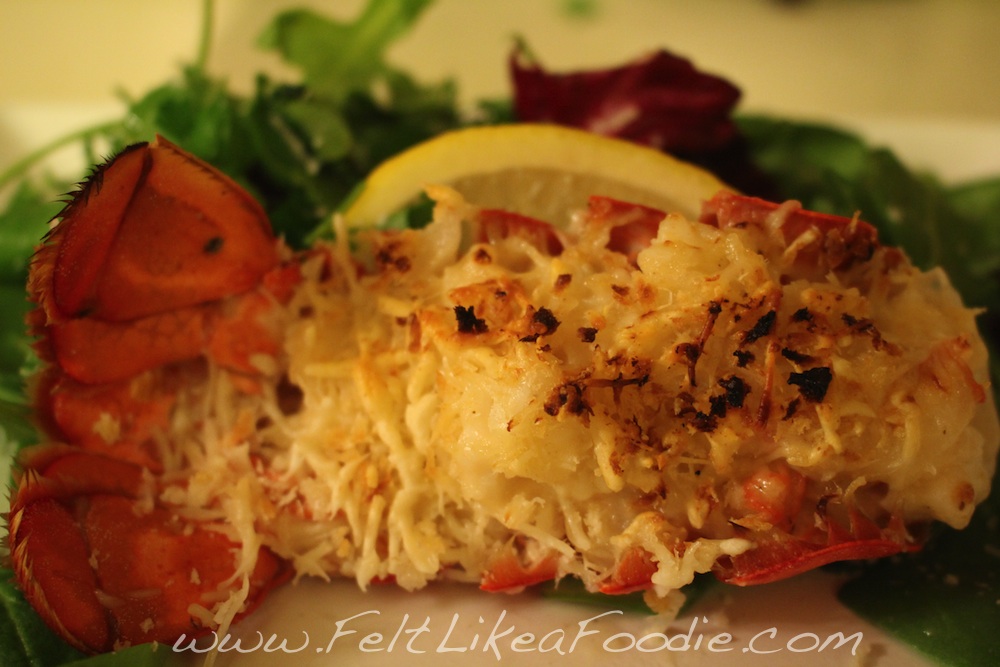 Oh Whole-y Foods
(Sung to the tune of O Holy Night)
Oh Whole-y Foods!
Lobster tails make feel like dining
They were on sale on last weekend's trip
I saw them there and I really started pining
Four were ordered and they were almost in my grip
A thrill of hope the lobster is in my cart
For my dinner-time is almost near
Fall in my mouth!
Oh taste the butter sauce
Oh lobster divine,
Oh lobster I won't share
Oh Lobster divine
Oh lobster divine
(So I just sang this to my husband….and he made some remarks that are not proper for this holiday season!)
Lobster "Thermidor"
Ingredients
4 lobster tails (6-8 ounces)
3 Tbsp butter
1 large shallot, chopped
1 Tbsp flour
2 Tbsp brandy
½ cup half and half
1/3 cup white cheddar, grated
½ tsp Old Bay seasoning
½ tsp Dijon mustard
2 Tbsp Parmesan cheese
2 Tbsp Panko
Salt and pepper
Lemon wedges
Directions
Bring a large pot of water to boil.  Add the tails and boil 8 minutes.  (While tails are cooking, prepare an ice water bath.)
Ding.  Take the lobster tails and shock them in the ice water and drain.
Using your kitchen shears, cut away the underside of the tail  (You want the top part to remain pretty because you are going to use them to cook and serve the lobster meat.)
Remove the meat and cut into decent size chunks.  And set aside in a bowl.
Heat a small saucepan over medium heat and melt the butter.  Remove about a tablespoon of the butter and toss it with the cut up lobster meat.
To the remaining butter, add the shallot and cook until soft.
Add the flour and cook for another 2 minutes.  Whisk in the brandy and slowly add the half and half.
Remove from heat and add the cheese, Old Bay and mustard.  Taste for salt and pepper.
Add a couple tablespoons of the sauce to the lobster meat and stir.  You want the lobster coated but not drenched in the sauce.  Add more gradually if needed.  (You may have leftover sauce.  Try it on some shrimp!)
Place your oven's broiler on high to preheat.
Place the reserved lobster tails in a shallow casserole dish.  Scoop the lobster mixture into each shell evenly.
In another small bowl, mix parmesan cheese and panko.  Sprinkle this mixture on top of the lobster meat.
Broil for 3-4 minutes until it gets brown and crusty.
This is really simple to make.  It is a nice way to stretch the meat on a smaller lobster tail and it is more filling.  (It was so easy…I can't wait for lobster tails to be on sale again.)