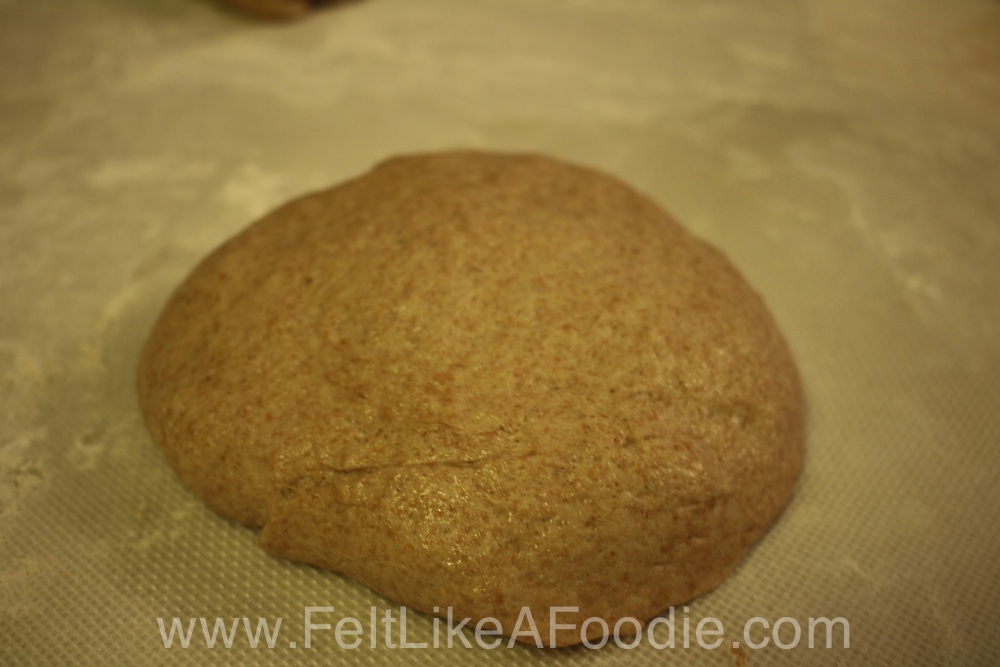 "Make Some Dough"
Oh the weather outside is frightful,
But pizza would be so delightful,
And since we've no place to go,
Make some dough.  Make some dough.  Make some dough.
It doesn't show signs of stopping,
And soon my pants buttons will be popping,
Maybe whole wheat is the way to go,
Make some dough.  Make some dough.  Make some dough.
When I finally take the first bite,
How I'll hate not having the norm
But if it really tastes right
It'll be gone while it is still warm!
The dough keeps on flying,
And my full belly has got me sighing
But as long as the pizza sauce will flow,
Make some dough.  Make some dough.  Make some dough.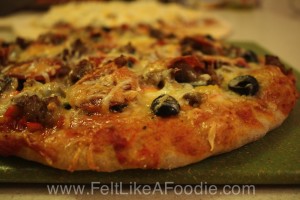 Almost All-Whole Wheat Pizza Dough
2 8-inch pizzas
Ingredients
1 1/8 tsp dry yeast (1/2 a packet)
3/4 cup lukewarm water
2 cups whole-wheat flour
½ cup all-purpose flour
1 tablespoon honey
1/4 teaspoon salt
Directions
Activate your yeast in water that is no hotter than 115° F.  (Sprinkle the yeast on top of the water and it should be frothy within the next 5 minutes.  If you don't get the froth…use different yeast!)
In a Mixmaster with a dough hook (kitchenaid, whatever you want to call it) add whole-wheat flour, proofed yeast, honey and salt.
Mix just long enough for it becomes a ball.  (It may still be gooey.)
Place the dough on your work surface with some of the all-purpose flour.  Keep kneading in the white flour until you get a smoother ball of dough.  (I should have used more wheat flour but I only had 2 cups!!)
To a large oiled bowl, add the dough and cover with plastic wrap and let that baby rise for 1 hour.  It should double is size.
Punch it down and knead for about a minute.  Divide into two and make them into balls.  Let them rise for another hour at least!
On a floured board roll and stretch each piece of dough into an 8-inch circle. Place each circle on a wooden pizza peel or pizza pan and top as desired.
Preheat oven to 450 degrees F. and bake 7 to 8 minutes per pizza on a preheated pizza stone!
I must say that I was really surprised how much I liked this dough.  I couldn't stop eating it!  (It was also wonderful cold the next morning!)
Hmmm, now what can I make next to get me through this cold weather???