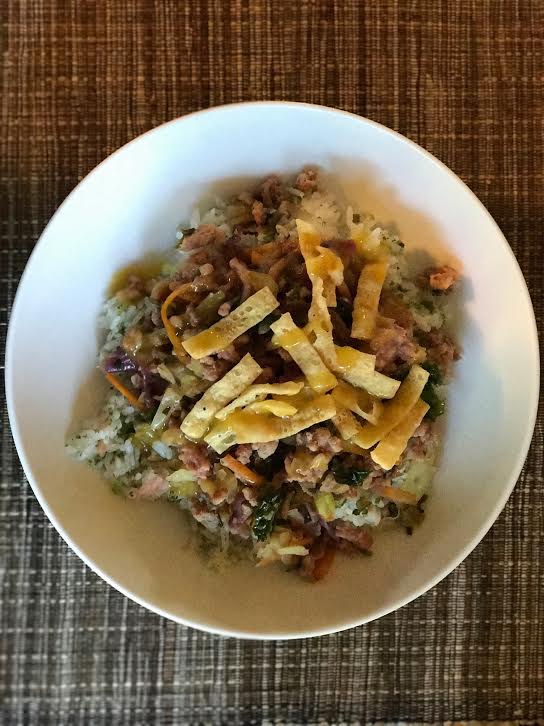 I'm trying to make a decision if I have a bad habit, an obsession or something that requires therapy. When you enjoy something when does it become an addiction?  I'm seeing an issue and I'm not sure if it is an innocent behavior or a serious problem.
It has to do with bowls. I think I wrote about this before but it is really getting out of hand.  I'm not to the point that I ask for a bowl at someone's home or when I'm at a restaurant.  I don't carry one in my purse (because that is where I carry my condiments.)
I just like to eat out of bowls.  Given I used to be a picky eater, this kind of amuses me.  I never wanted my food to touch as a child but now I get all bent out of shape if it isn't all lopped together in a bowl.
Maybe it has something to do with the fact that I eat too fast and bowls allow me to shovel it in faster. It could also be that I'm a messy eater and bowls afford me the ability to use the edges to get the food on my fork. (And here again who am I fooling, if I have a bowl…I'm using a spoon or a spork.)
I have different bowls for each distinct kind of meal too. Soups need to be in bowl with high sides and pasta needs to be in a bowl with room to twirl my spaghetti.  My stir-fried rice dishes go in a large shallow bowl while my soba noodles go in high-low bowl so I can see all the different components. Salads do best in a clear bowl and cereal needs to be in a bowl where it allows the proper cereal to milk contact. (I could go on and on.)
(After rereading what I just wrote, I've come to the conclusion that conversations like these are why I'm not invited to more parties.  Do people really talk about tableware this much?)
My awareness of the bowl fixation came to light last week when I was working on a recipe for this week's blog and realized it was another picture of my dinner in a bowl….but it was so good I still wanted to share it.
I have been dying for an eggroll…..a really good eggroll.  The last one I had that knocked my socks off was at the Peking Gourmet Inn located in Fairfax, Virginia.  It was the old school perfect eggroll with chunks of pork, big slices of cabbage and served with both hot Chinese mustard and the sweet duck sauce.  My mouth waters just thinking of it.
I can't find an eggroll like that anywhere near me.  (I'm sure if I made a trip to Chicago, my eggroll dreams would come true but locally it is a wash!)
I'm not big on frying so I decided to deconstruct the eggroll and serve it in a bowl.  (I saw this advertised as an option for one of those dinner kit services and thought it was brilliant.)
It was really simple because I found an Asian salad mix that had cabbage, kale and carrots…not all traditional egg roll ingredients but were a good healthy touch.  I added in some green onion and celery (for no other reason than it needed to get used up) for extra flavor.  Ground pork was the perfect weeknight protein add in and some wonton strips found in the produce aisle helped cure the craving for some crunch.
I did serve it on some rice mixed with pickled ginger, sesame seeds and green onion tops.  Those flavors had nothing to do with an eggroll but it was a great fusion.
It was the perfect bowl meal. I also think it would make a good entertaining appetizer and you could serve it in a wonton bowl!!!!
Eggroll in a Bowl
Ingredients
1 pound ground pork
16 ounces of Asian Slaw mix (save the dressing for another day)
2 stalks of celery chopped (use the tops too!)
4 green onion bottoms
2 Tbsp of ponzu, separated (You can use soy….I love ponzu almost as much as bowls.)
¼ cup each of hot Chinese mustard and duck sauce (Good time to clear out those packets hanging out in your fridge), mix 2 tablespoons of each in small bowl and set aside.
wonton strips
toasted sesame oil.
Directions
In a large nonstick skillet, heat up a small swirl of sesame oil using medium heat.
Brown the pork. Don't break it up into too small of chunks but do break it up a little.
As it is browning, add 1 Tablespoon of the ponzu, 2 Tbsp of both the hot mustard and the duck sauce.
Remove from pan but don't wipe pan clean.
Add a little more sesame oil.
Add celery and green onions.
Sauté until they start to soften.
Add in the slaw mix and cook about 2 minutes.  You want a little crunch left to it.
Add in the last tablespoon of ponzu.
Add in the pork and mix it all together.
Serve by itself or over rice.
Top with wonton strips and a drizzle of the mustard/sweet sour you set aside earlier.