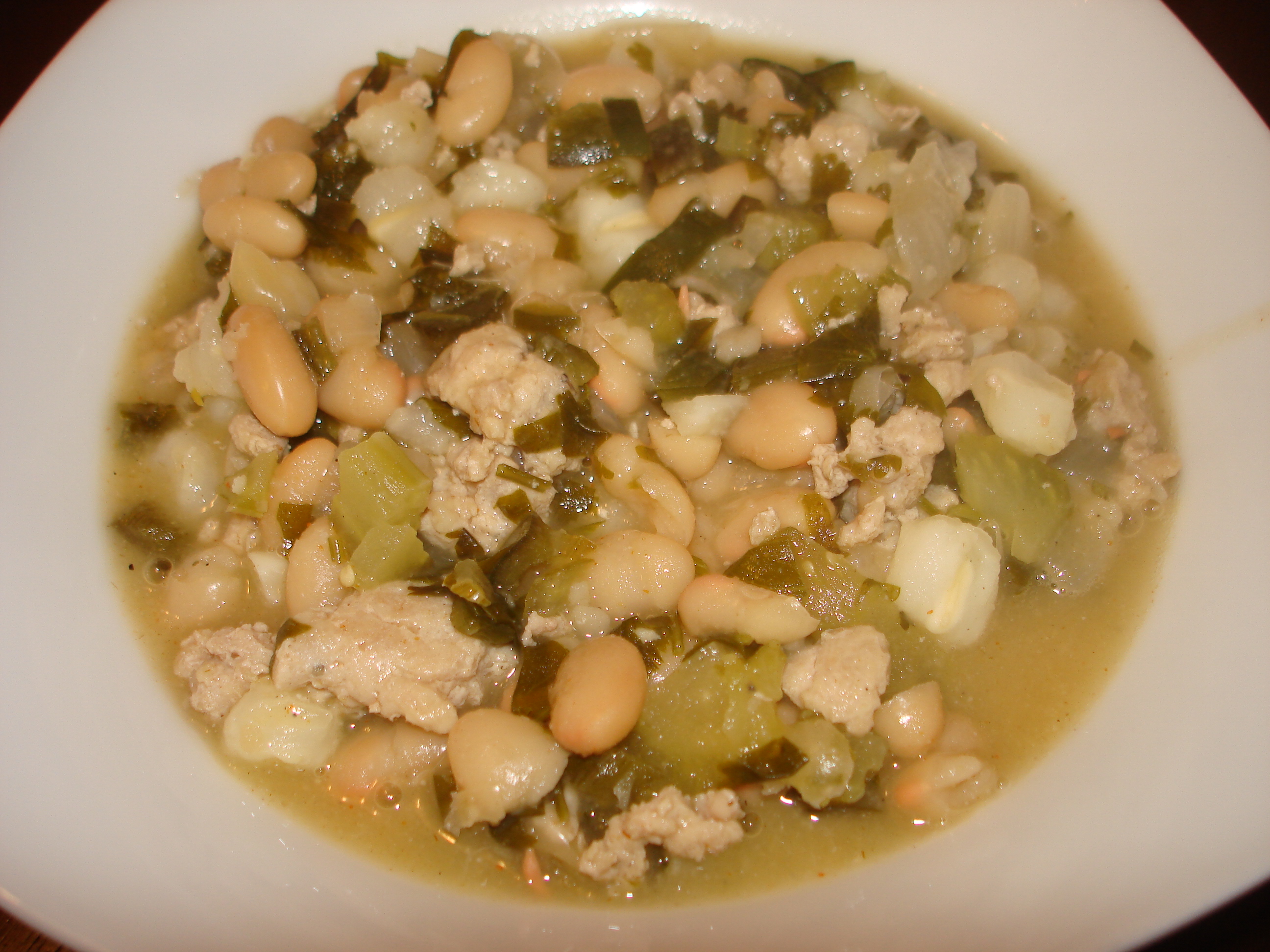 I get a fair amount of emails from people making "requests." Some of them are even about food!  (You know who you are!)  I make a list of people's interests and hope eventually I can make everyone happy.  (Once again, I am ONLY speaking about food-related happiness.)
A couple of week's ago, I received a request from a friend of my studly brother-in-law.  (Seriously, Shaggy is quite studly!)  His friend, Kevin, asked if I would be doing any white chili recipes to help welcome in the cooler weather.
I was a bit frazzled at this request because the picky girl in me has never been fond of chili.  I have had an aversion to beans since I can remember.   Toss in his request that the chili needed to be "white" really threw me over the edge.  (I'm very tense these days so it doesn't take much.)
I started researching chili recipes and found that there actually is a feud between chili chefs on whether or not there SHOULD be beans in chili!!!  (SCORE!)  Apparently on the frontier, they would make a "brick" out of dried meat, beef or mutton fat, and chilis.  The frontiersmen would carry it on the trails, add it to a pot with some water and ring the dinner bell.  (Maybe not a bell exactly, more like one of those triangle thingys that the music teacher always gave the tone-deaf kid in music class.)
Beans weren't added until later days as an inexpensive alternative to meat.  They were flavorful and a good filler.  This is also the same time the hole in the ozone layer was discovered.  (Just kidding, I made that up.)
I also learned there is a lot of controversy on what ingredients can go into a chili.  There are chilis with tomatoes, coffee and cinnamon.  It can be served over everything from spaghetti (my favorite way), hot dogs, burgers and Fritos.
So I had to ponder how to make Kevin's white chili while staying true to a chili-base and something that I wanted to actually eat.  This is what I came up with….
| | | |
| --- | --- | --- |
| Not Verde White Chili Soup | | |
Author:
Ingredients
1 onion, diced
2 celery ribs, diced
2 Poblano peppers, diced
2 large tomatillos, diced
2 cloves of garlic, minced
1 pound of ground turkey or chicken
1 tsp cumin
1/2 tsp ground coriander
1/2tsp chili powder
1/4 tsp cayenne pepper
3 cups chicken broth
3 cups great northern beans (Soak and drain dry beans per package instructions or use canned, DRAINED and rinsed beans)
1 can (15 ounces-ish) hominy
3 Tbsp chopped cilantro
Instructions
In a sauté pan (add a little olive oil) over medium heat, sauté onions, peppers, tomatillos and celery until just tender. (About 5 minutes)
Add garlic and spices and sauté about a minute more.
Remove from pan and add to your slow cooker.
In the same pan you cooked your veggies and spices, brown your meat (season with a little salt and pepper), drain any fat and add to slow cooker.
Add the remaining ingredients (except cilantro) to slow cooker set on the low setting.
I let mine cook for about 4 hours. Garnish with cilantro.
So I hope my version of a white chili satisfies Kevin's request!  (I am mentioning his name numerous times so he passes on this link to all of his family and friends to brag about his coolness of being mentioned in my blog!)
I welcome more food challenges and if you are lucky maybe I'll mention your name so you can be cool too!