Have you ever experienced being part of a wave in Soldier's Field during a Bears game?  How about watching the waves on Lake Michigan crash upon the shore?  What about dining on a fantastic lunch at WAVE restaurant on Lake Shore Drive?
All three events have one thing in common; once you experience it you will want to do it over and over again.
Wait…you are not familiar with WAVE at the W in Chicago?  Let me tell you about my foodie fun day this week.
WAVE is a hip-modern restaurant located in the W Hotel on Lake Shore Drive.  I normally would have been intimidated in the city to walk into such a sleek looking hotel lobby. Instead, the calming colors of WAVE, the inviting staff, and the amazing view of Lake Michigan made me feel right at home. (The wonderful aromas floating from the kitchen also drew me in.)
I went at lunchtime on one of the most beautiful fall days the Midwest could possibly offer.  The restaurant literally shimmered from the sun's reflection off the lake.   As much as the comfortable ambiance drew me in, the food hugged me like an old friend.
I must revel that I learned about WAVE when I was at Chicago Gourmet a couple of weeks ago.  They were in my first tasting pavilion and set the tone for my entire day.  The executive chef, Kristine Subido, really took the time to explain her dish (Embutido: Filipino style meatloaf, grape salad and toasted garlic aioli). As Chef Subido spoke of her food, you could see her passion for cooking in her eyes and it shows in her delicacies.
WAVE has a globally influenced menu with dishes brought to a new level by Chef Subido's experiences in the culinary world.  She has had professional history with food based on Italian, French and Moroccan cooking!  (To say "experiences" does not do her justice so check out her bio!)  Toss in her Filipino roots, some family recipes and you have a chef who can brilliantly fuse a lot of different flavors together with a delicate elegance and a lot of love.
So you are dying to know what I ate, aren't you?  WAVE's lunch menu had something on it for everyone.  To start, we had some delicious house-made pita chips with a Zatar seasoned feta and yogurt dip. (Zatar is a middle-eastern spice that has a distinct nuttiness complimented by thyme.)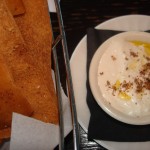 I was a good girl and didn't fill up on the chips but it was hard!  Next, we had a wonderful plum salad with fresh buffalo mozzarella over arugula.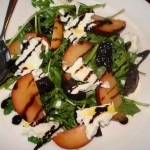 The natural flavors of the plum were enhanced by a balsamic crema and the freshness of the ingredients was unmistakable.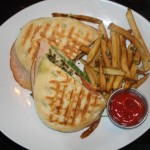 We all ordered different lunch entrees such as a smoked turkey Panini with roasted tomatoes, mozzarella, lemon aioli on a homemade Focaccia and an apple cider vinaigrette drizzled smoked chicken salad accompanied by apples, almond and manchego cheese
I ordered the lobster salad sandwich that won me over with shaved fennel, crispy pancetta on a warm brioche.  The curry mayonnaise on the sandwich was the perfect spice level to compliment the sweet lobster meat and I could have just eaten a plate full of the salad alone.
Our table also shared (we made her share) an amazing crispy calamari pizza with the best cracker crust ever.  I loved the ebb and flow of the textures on this dish.  Each bite satisfied my pizza craving with the delightful surprise of new flavors like the spicy pipara peppers.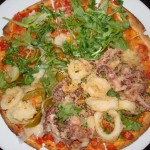 My favorite dish of the afternoon was the mushroom ravioli.  Anyone who knows me knows that I NEVER eat pasta in restaurants because I am a self-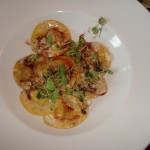 proclaimed pasta master. This ravioli put my pasta to shame.  The ravioli (the pasta was houseemade, of course) was stuffed delicately with 3 different types of mushrooms  (oyster, shiitake and crimini), ricotta cheese and seasoned with fresh thyme.  The white wine reduction was all the sauce that it needed because each bite melted in my mouth.  (And yes, I am going to "borrow" this concept and try this on a future blog.)
We ended our meal by sharing five desserts from WAVE's vast dessert menu.  I love that they serve their desserts in a "sweet bite" manner.  Each dessert was small enough so you weren't stuffed but they still satisfied your "after meal sweet tooth" with their large flavors.  The best part is that you can order a few sweet bites and share them.  (Unless you dine with my husband, he would need his own plate.)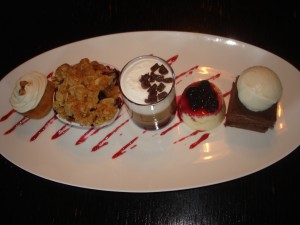 Our five treats were the banana-pecan cupcake, peach blueberry cobbler, mudslide, Brie white chocolate cheesecake and the Mexican brownie.  The chocolaholics at the table loved the Mexican brownie with its fig and ancho chili filling and vanilla gelato.  I, personally, was all over that banana cupcake and I don't normally favor bananas!!  Its banana flavor was so well balanced by the caramelized pecans and cream cheese frosting, I was completely amazed that it was my favorite!
The overall dining experience made us all sit back in our seats and undo our pants.  (Okay, I was the only one who did that.)  Everything from the beautiful plating (my pictures don't do it justice) to the expansive flavor profiles made this a lunch to remember!  (The staff was also EXCELLENT!)
WAVE offers breakfast, lunch and dinner.  There is a daily lunch special that features a seasonal soup, sandwich, chips and dessert!  It also has a lively little bar, which offers plenty of munchies, specialty drinks and some "rush hour" food specials.  (I have to admit that the atmosphere would be perfect for a date night.  Hint, hint, Honey.)
And if you are looking for an awesome spot for your Sunday brunch, the family friendly restaurant will soon (mid-November) be changing the way people view brunch.  It will be featuring your Sunday favorites but bringing in some neighborhood specialties so you can fully experience what Chicago food is all about.  Some of the new items include mini bhan mi sandwiches, hand rolled ravioli with stewed tomato sauce, and chilaquiles with house-made chorizo.
Occasionally, WAVE also offers a cooking class for those who want to learn from the amazing Chef Subido, a fun street cart, and a private dining area.
As much as I like to cook for myself, it was nice to be spoiled by the food at WAVE and get inspired by their creative menu.
I'm looking forward to sharing more foodie-fun in my future.  (Tell your server that you heard about WAVE on Felt Like a Foodie and you will receive complimentary pita and dip.  Just kidding, every table gets pita and dip without dropping my name!)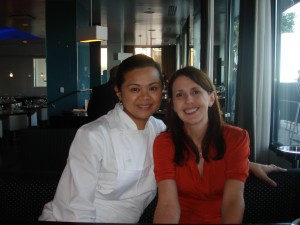 (Chef Kristine Subido and ME)