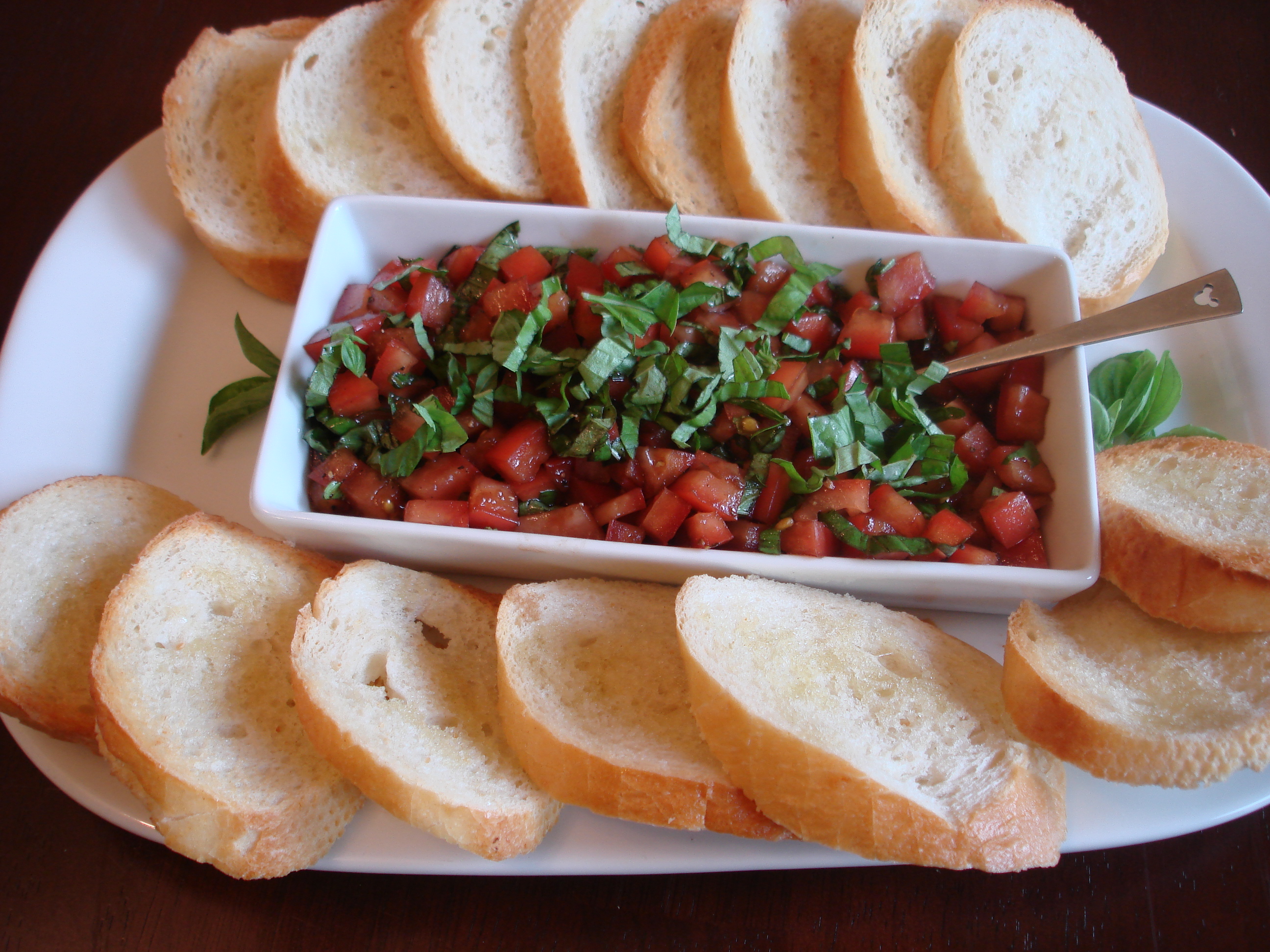 One of my favorite parts of summertime is the abundance of fresh tomatoes.   I would love to say I have a green thumb and grow them all myself but I didn't inherit that gene from my mother.  I am fortunate to live near some wonderful gardeners who always share their bounty.  (They don't grow anything illegal so please don't ask.)
I went to a neighborhood barbeque and wanted one of my dishes to be something easy to make and yet scrumptious.  My immediate thought was bruschetta.  I hadn't made it since last summer so I started searching for recipes.
I couldn't believe all of the variations!  I had always thought that bruschetta was toast with chopped tomatoes and basil.  I was incredibly wrong.  (Are you shocked?) 
Bruschetta is defined as toasted Italian bread brushed with olive oil and fresh garlic.  Is that it????  YEP!!! Other definitions continue on to say that it may also include toppings.  With that loose explanation, the common person would confuse bruschetta and crostini.  (I confess that I didn't know the difference until about 10 minutes ago.  Crostini is a smaller slice of bread.)
So basically bruschetta is flavored toast!  Luckily, it can be livened up with everything from beans to olives.  Think of your options like putting toppings on a pizza.  It is really up to your particular tastes.
| | | |
| --- | --- | --- |
| Barb's Favorite Bruschetta | | |
Author:
Ingredients
1 loaf of Italian bread
Olive Oil
2 Tbsp balsamic vinegar
2 cloves garlic, cut in half
Salt & Pepper
4 Roma Tomatoes
8 large basil leaves, torn
Instructions
Heat oven to 350 degrees.
Slice bread into ½ inch slices. Brush with olive oil. Bake for 5 minutes, flip, brush with more oil and bake another 5 minutes. (It is your bruschetta so make it as soft or crispy as you like.)
While bread is cooking, remove the seeds from the tomatoes and dice them.
In a small bowl, mix 2 Tbsp of balsamic vinegar and 2 Tbsp olive oil.
Add almost all of the torn basil but save a sprinkle for the top of the dish as a garnish.
Mix the tomatoes in the oil/vinegar/basil mixture. Taste for seasoning. Add salt and pepper as needed.
Place in a serving bowl and garnish with the extra basil.
When the bread is toasted, rub the raw garlic on both sides and place it around the tomato topping.
You may add any variation you may like but remember what Mom always said "Less is more."
Now I need someone to explain to me what bruschetta means when it is paired with chicken or fish on a menu?  It looks like our bruschetta-cation will be an ongoing project.