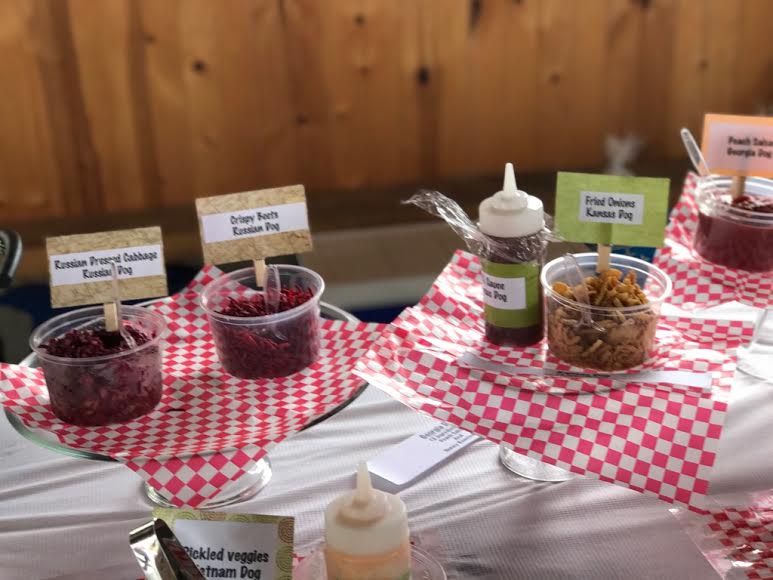 A hotdog walks into a bar and asks for a drink. The bartender replies "We don't serve food here."
Ah, yes, there is nothing like a bad joke or at least the ability to laugh at something.
Quite "frank"ly, I have been a little consumed at finding the humor in life the last few weeks with a party my husband and his siblings did for their dad's 80thbirthday. I didn't "relish" the idea because I knew to do it right, we'd have a bit of a challenge trying to herd all the thoughts of 3 very different siblings.
With multiple phone calls, emails and even a few bible quotes thrown as armor, we were able to come up with a cohesive plan with everyone having their respective jobs.
To "ketchup" on how this happened, my mother in law wanted a cook out with a few meats and only chips as a side. Being the "food" person, I was not happy with this menu.
Next thing you know, I got myself into a "pickle" and suggested doing a hot dog bar. I proposed coming up with some hot dog concoctions or recipes based off of moments in my father in law's life and a "Hot Dog…it is your birthday." theme. Brilliant, right?
This may have been the "wurst" thing I've ever said! The notion was great but preparing 2-5 condiments for 7 hot dog recipes for 100 people may have been a little ambitious. (The other siblings were doing games, drinks and decorations.)
I got my "buns" moving and was able to pull together a menu board. The guests loved building their dogs and it was a fun way to have a BBQ.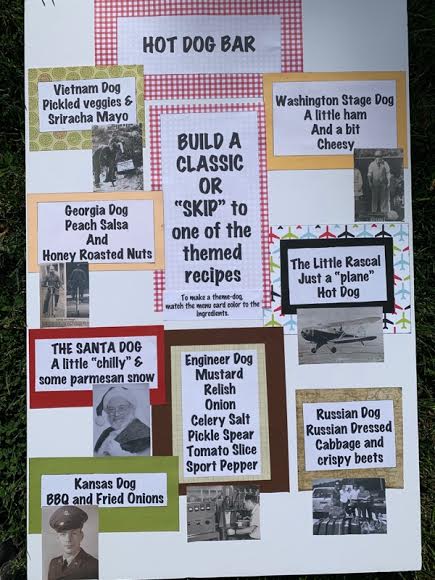 So I thought I'd share with you some suggestions that will help you make your summer Hot Dog bar a surefire "weiner."
Hot Dog Bar Suggestions
Decide if you want a topping bar or a themed recipe bar. A topping bar is by far easier because you can just set up a ton of toppings…tadah. The themed bar means a little more planning but really does add a nice personal touch.
Be creative with your toppings. We had the regular toppings like mustard, relish, pickles, tomatoes, onions, chili and cheese but had a little fun with things like salsa, peanuts, Asian slaw, crispy beets and sriracha mayonnaises.
Put your toppings in MULTIPLE small containers so you can refill quickly and so if someone contaminates one of the containers you don't lose all of your ingredients. (I used those 16-ounce takeout containers and labeled at least 2-4 for each ingredient depending on the commonality of it.)
Label your ingredients on the table so folks know what they are eating and use some cake stands or boxes to differentiate the heights so everything is visible.
Cut up a couple dogs into quarters and serve in white cupcake holders. This allows folks to experiment with combinations without wasting any food.
Make sure you have good, fresh buns. They need to be able to hold up to a little more than the average ingredients.
Don't try to please everyone. Have enough variety to make it interesting but this is the one time you can be positive that everyone will find something they like.
Don't try to make all your condiments from scratch. There are a lot of great salsas and relishes. (My best slaw was the Asian one I made that essentially was ¼ cup rice wine vinegar, 3 Tablespoons of white sugar, 1 teaspoon of salt mixed into a preshredded broccoli/kale slaw from the grocery store.)
Have extra serving spoons available because someone is going to drop one or stick it in the wrong container.
Have fun with it!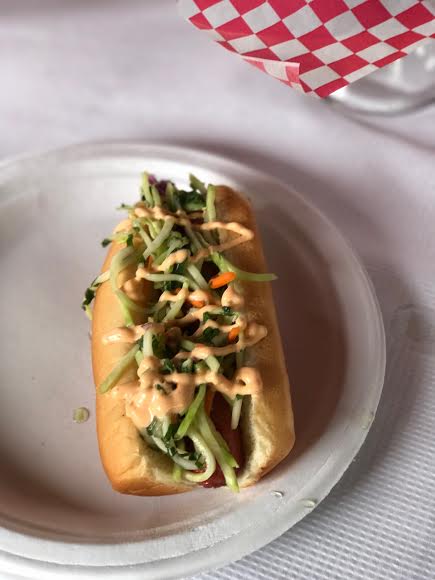 Happy Birthday Skip!