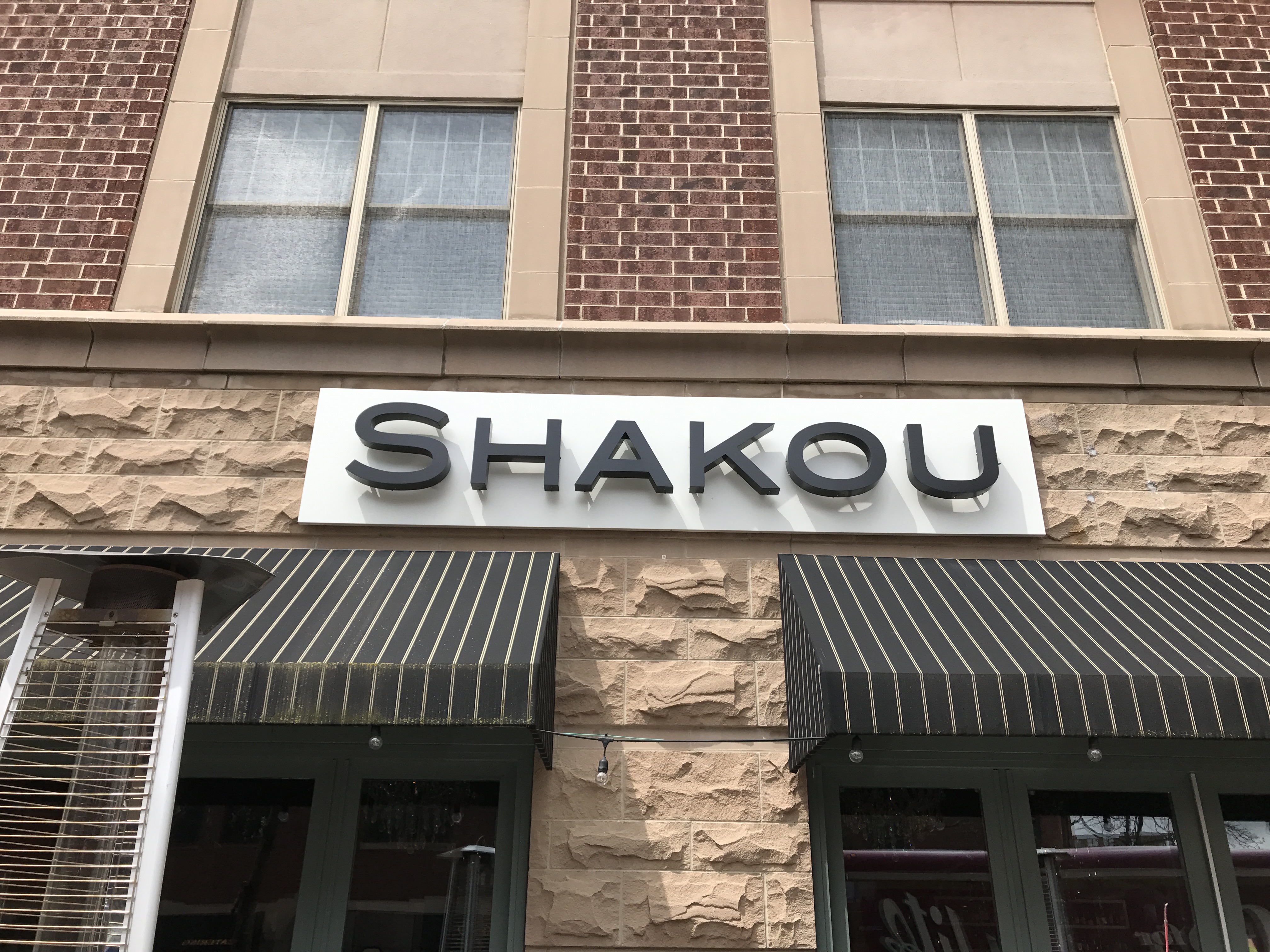 Do you have things you can't say no to?  Is it something like meeting a friend for coffee?  Maybe it is the offer of dessert at a restaurant?  It could be something as simple as joining a group of people at an awards dinner…whatever it is…do what makes you the happiest.
I had the pleasure of being invited to join the Annual Partnership and Awards Meeting for Meet Chicago Northwest. (This is the great group that continues to help me explore the awesome restaurant and entertainment options in the northwest suburbs of Chicago.) I couldn't say no to the opportunity to say hi to the special people I've met over the years and to see what fun bites of food the Renaissance Schaumburg was going to serve. (For the record the lighting was perfect for partying but not for food pics but just because it wasn't photo ready doesn't mean I didn't love every bite of the Chinese Chicken Salad, lobster mac and cheese as well as the delightful house cured salmon, goat cheese mousse and citrus pickled grape.)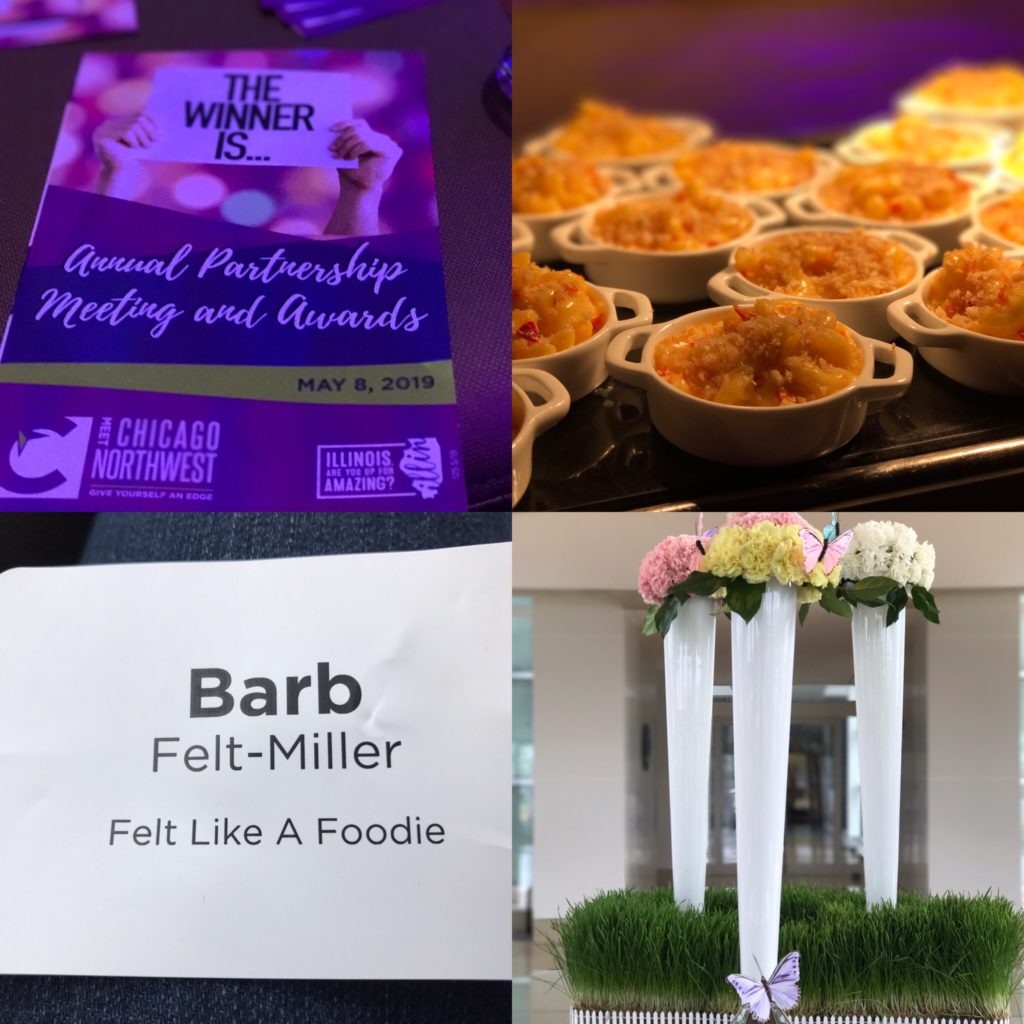 The other offer I couldn't refuse was the opportunity to try a great sushi restaurant in Arlington Heights called Shakou (70 N. Vail Ave) right in the downtown area by the train station (but oddly I never heard a train). This is one of five of Shakou's restaurants in the suburbs.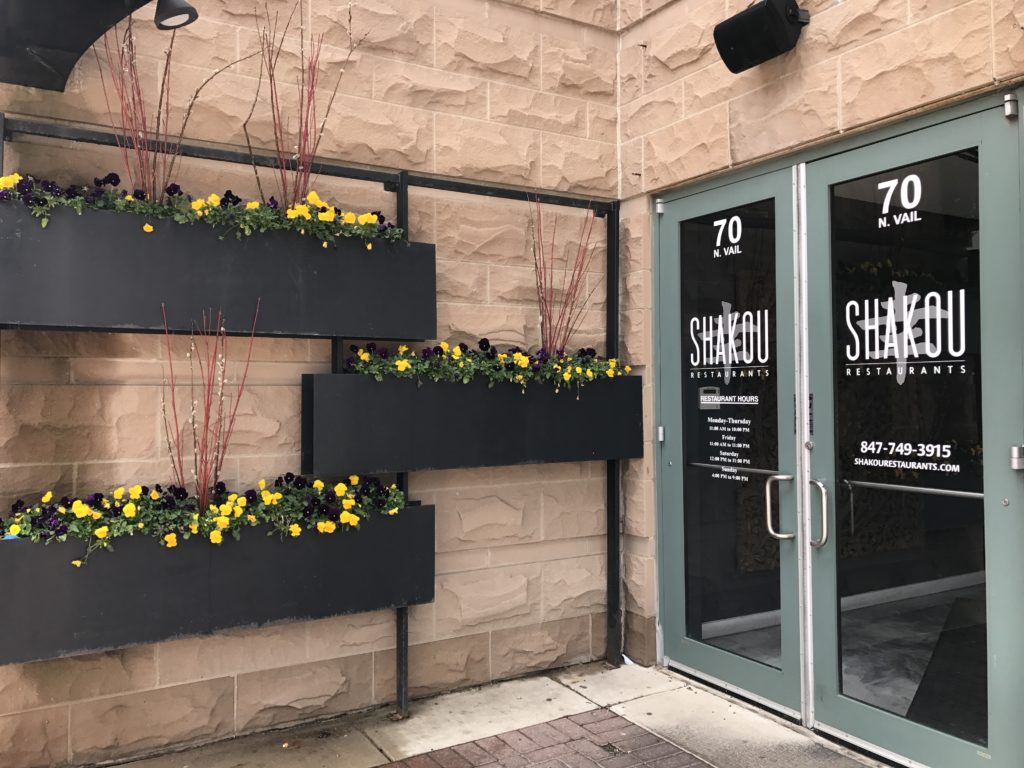 Outside there is a great wrap around patio for those of us who like to dine al fresco but it was the inside of the restaurant that was absolutely beautiful in the bright, contemporary whites and grey with pops of amazing royal blue accents.  It achieves that goal of being a spacious restaurant without losing the intimacy.  (And if you are a lounge person, this is an awesome spot to meet up with friends or a really good date!)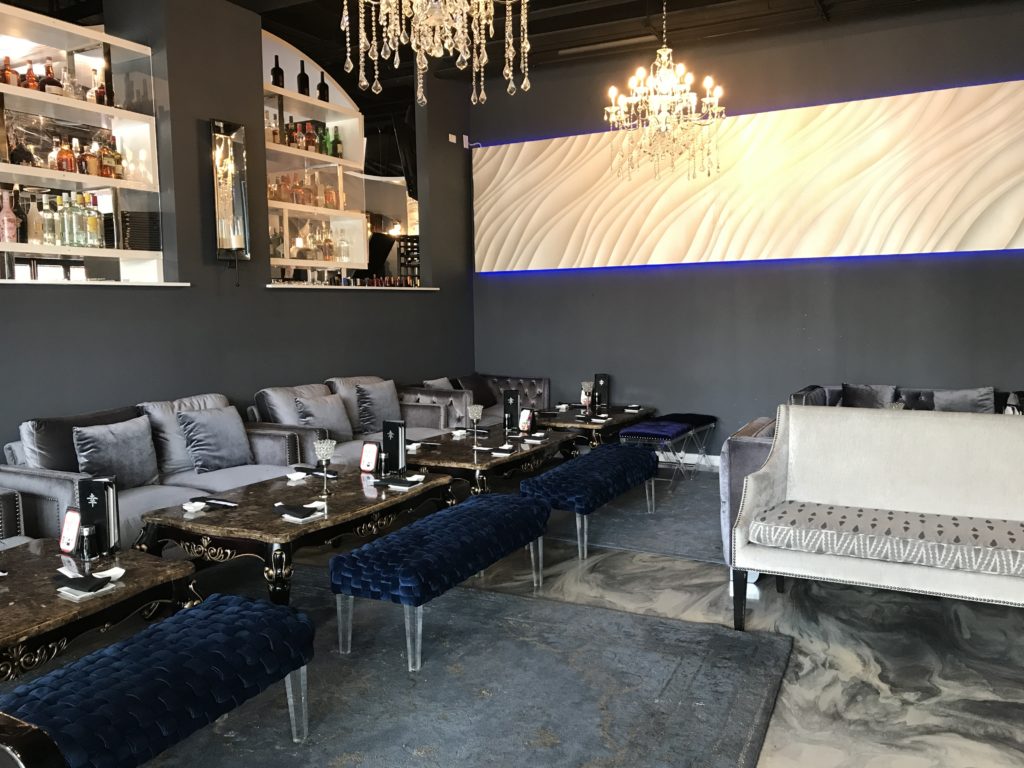 I came in at lunch (which I never say no to a lunch offer for the record). There is a menu for lunch but the regular menu is also available all day… I tried a little of everything. There is more than "just" sushi options…Shakou's fare seemed to be a compilation of all the great flavors of the continent of Asia but with a new unique spin.
I love to start with some edamame. With all the interesting creations at Shakou this may seem "basic" to some but don't underestimate a perfect steamed soy bean with just the right amount of salt. It is a great way to get your meal started…and veggies are good for you!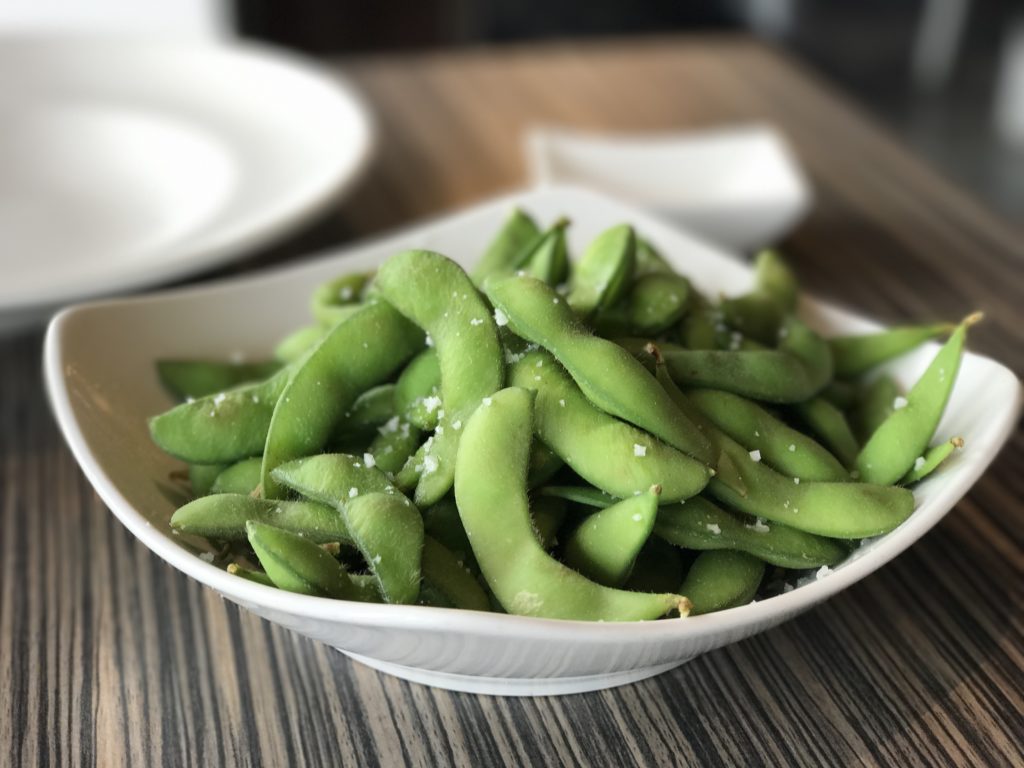 I also love soup (especially because it was a little chilly the day I went in.)  I was excited to see a shumai soup on the menu.  Shumai are typically a filled Chinese dim sum dumpling. (These were shrimp filled.)  What was great was that the soup merged a standard Japanese bonito based soup with yellow squash, carrots and the dumplings. There was a tiny bit of chili oil added but it was far from what I would consider a spicy soup.  It was incredibly light and the shumai remained firm and didn't get mushy.  (I will be trying to recreate this…imitation is the sincerest form of flattery…right?)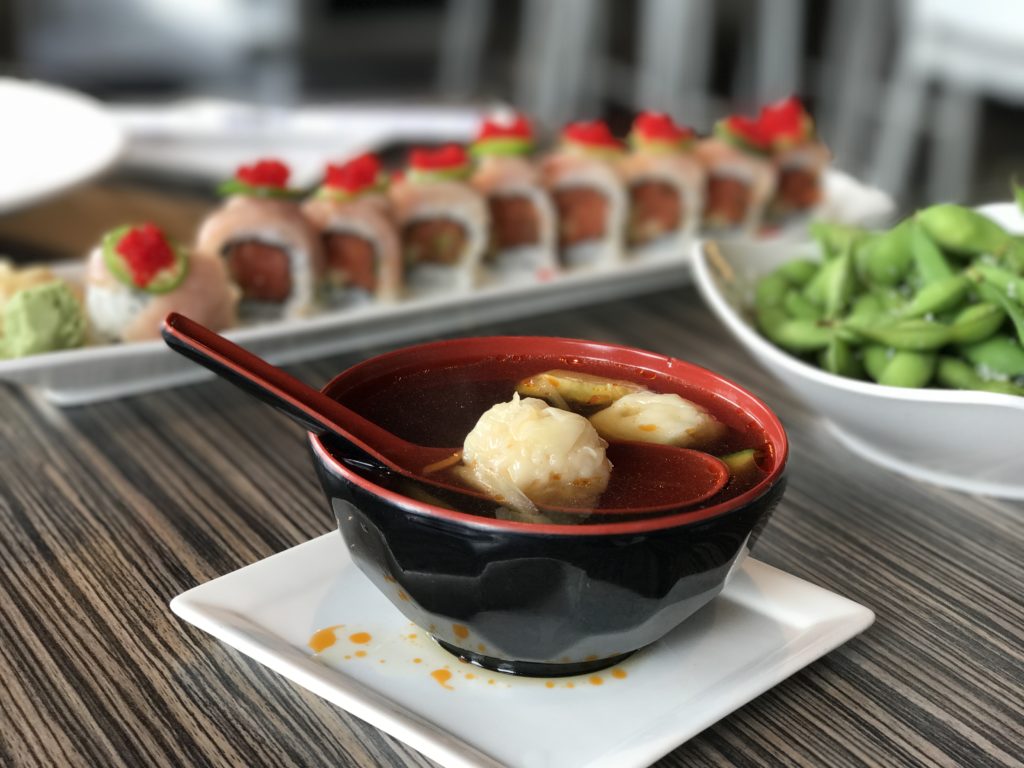 My waiter also recommended the "Seven Spicy Ahi" which was similar to nigiri (hand pressed small rectangles of sushi rice) except it was butter toasted!  Topped with spicy tuna, citrus Japanese mayo, jalapeño and tobiko….I was in heaven.  Typically, restaurants will make this kind of dish by frying the rice so it was nice to have a lighter version.  The spicy tuna did have a little heat on it but nothing over the top and the citrus mayo helped cut the heat.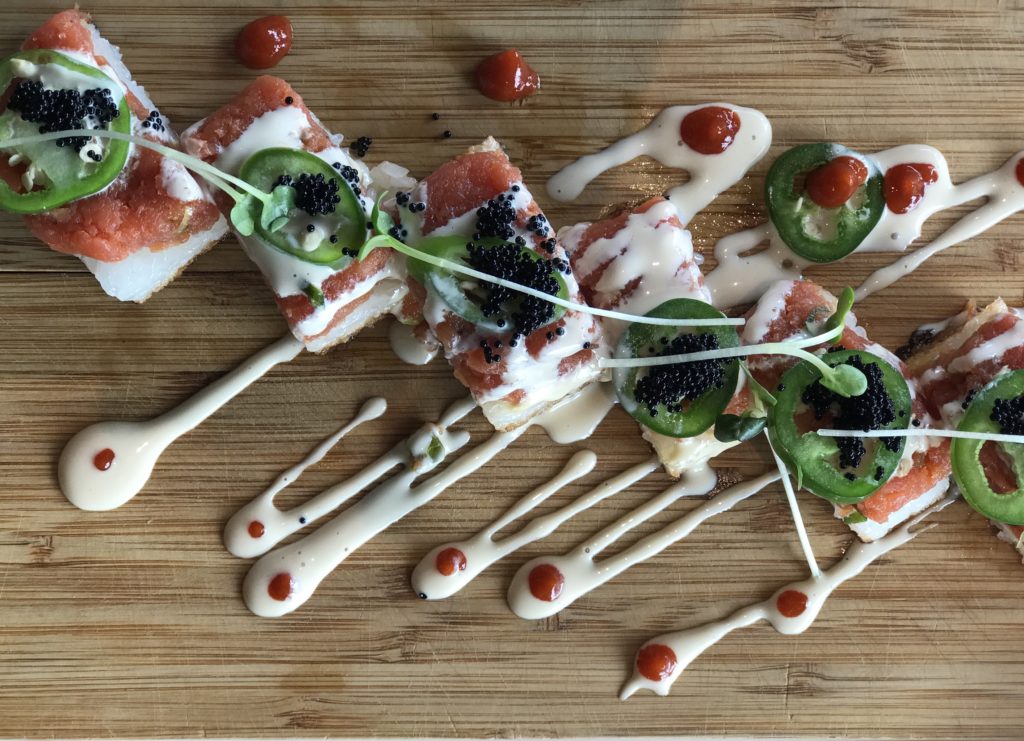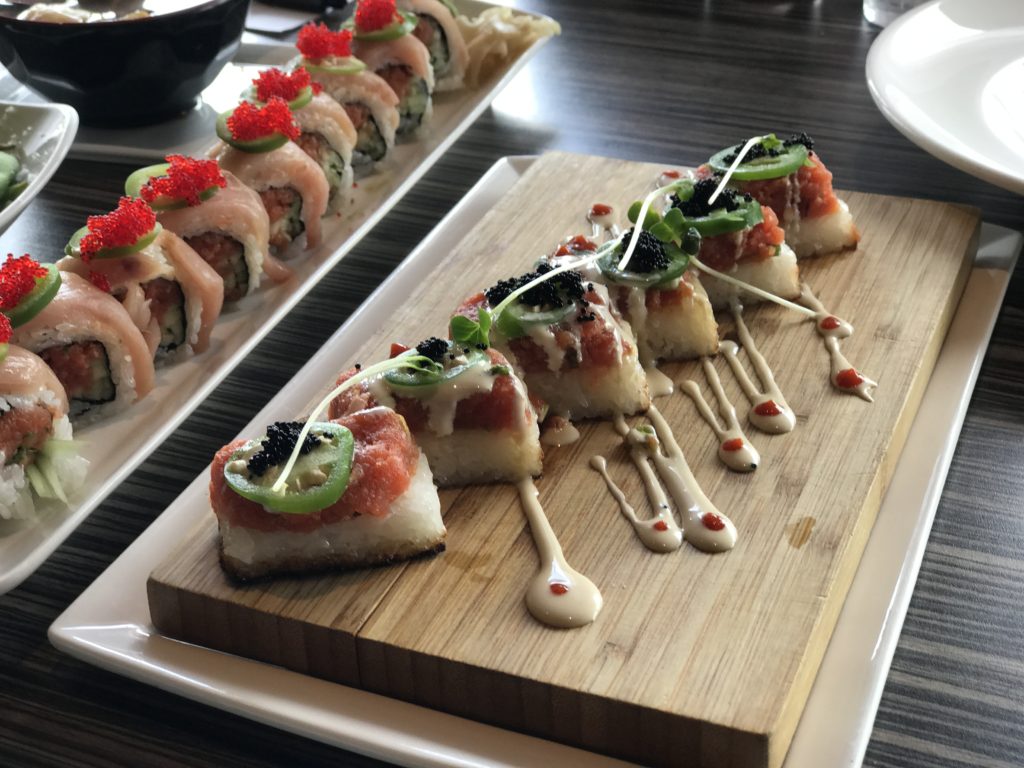 Shakou also had some really innovative signature maki such as the Flaming Hamachi,  spicy tuna/cucumber topped with yellowtail, tobiko, jalapeño and ponzu sauce.  The lavish amount of tobiko made literally "pop" in every bite.  It was very bright tasting with control of the heat not allowing it to overpower the great tuna flavors.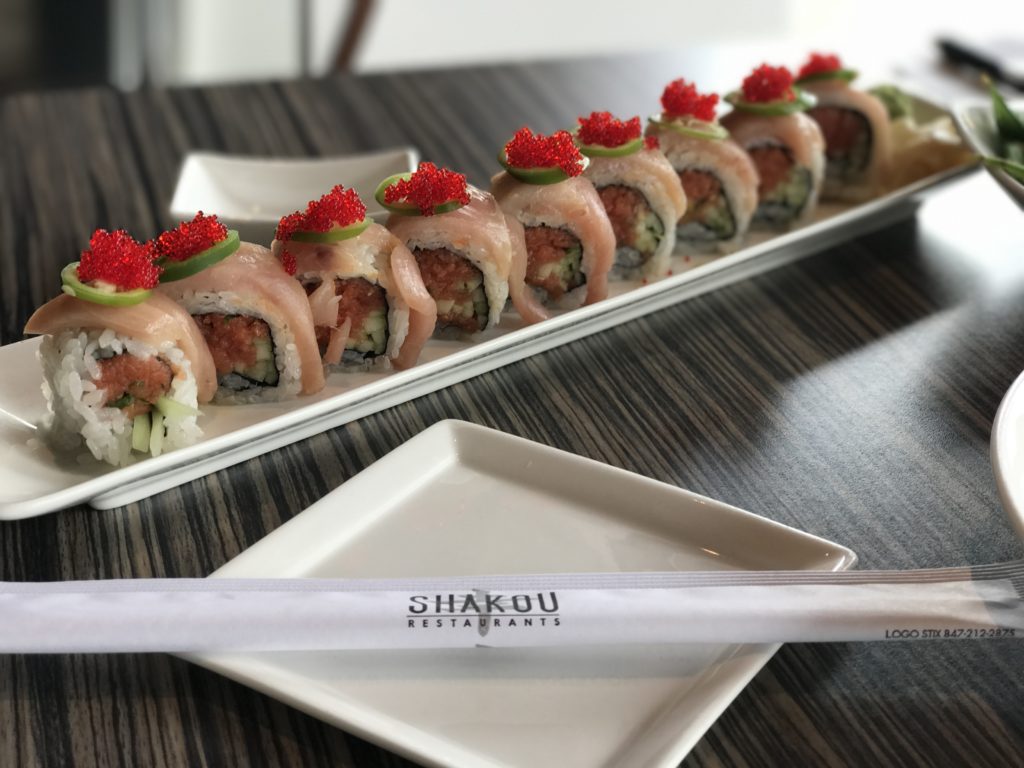 If you are here at lunch, make sure you consider the super affordable lunch menu.  I tried the Maki Lunch (A California roll, tempura shrimp roll and spicy tuna roll) and a Beef teriyaki bento box.  
The maki rolls were filled generously with the ingredients which was a pleasant surprise.  (In other restaurants, the lunch maki are usually small or overfilled with rice.)  It is a great plate for those who want a little of everything on a budget.  (It was $12 but worth so much more!)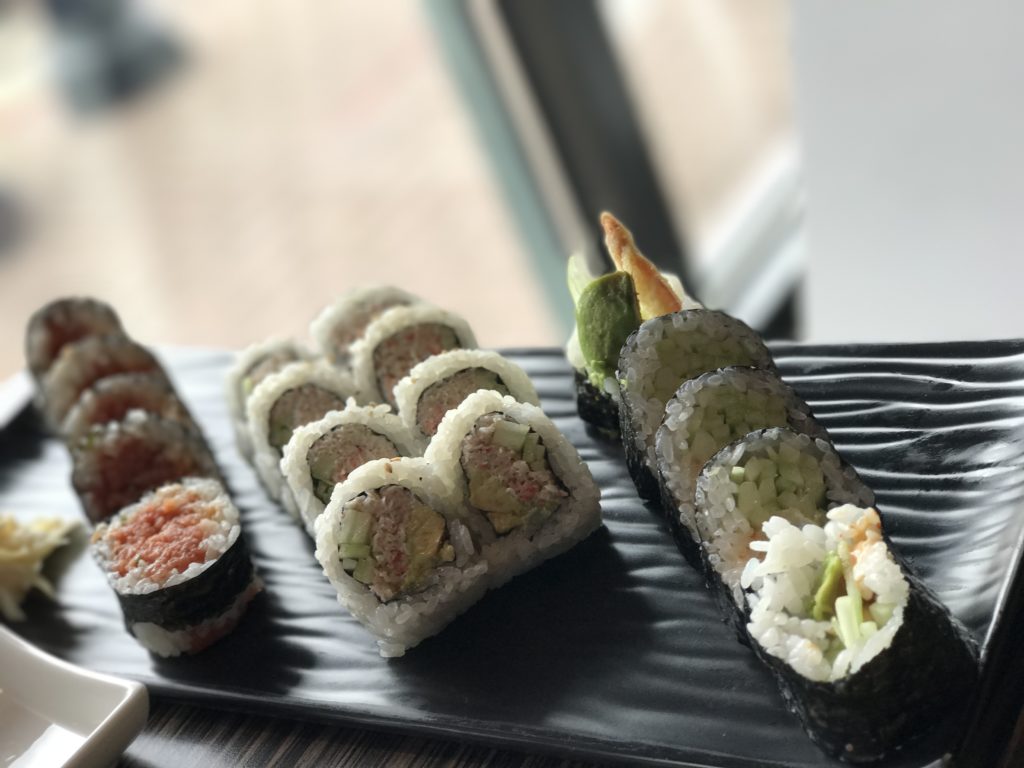 The Bento Boxes are also perfect for those who want to taste it all.  The Beef Teriyaki Bento was served on top big chunks of zucchini and yellow squash with tender slices of lightly marinated meat.  (It was not "saucy" but it had a lot of flavor.)  Every bento box is served with a couple of gyoza (a Japanese dumpling similar to a potsticker), a mixed green salad with house made ginger dressing, seasoned rice (not fried rice) and Shrimp/veggie tempura.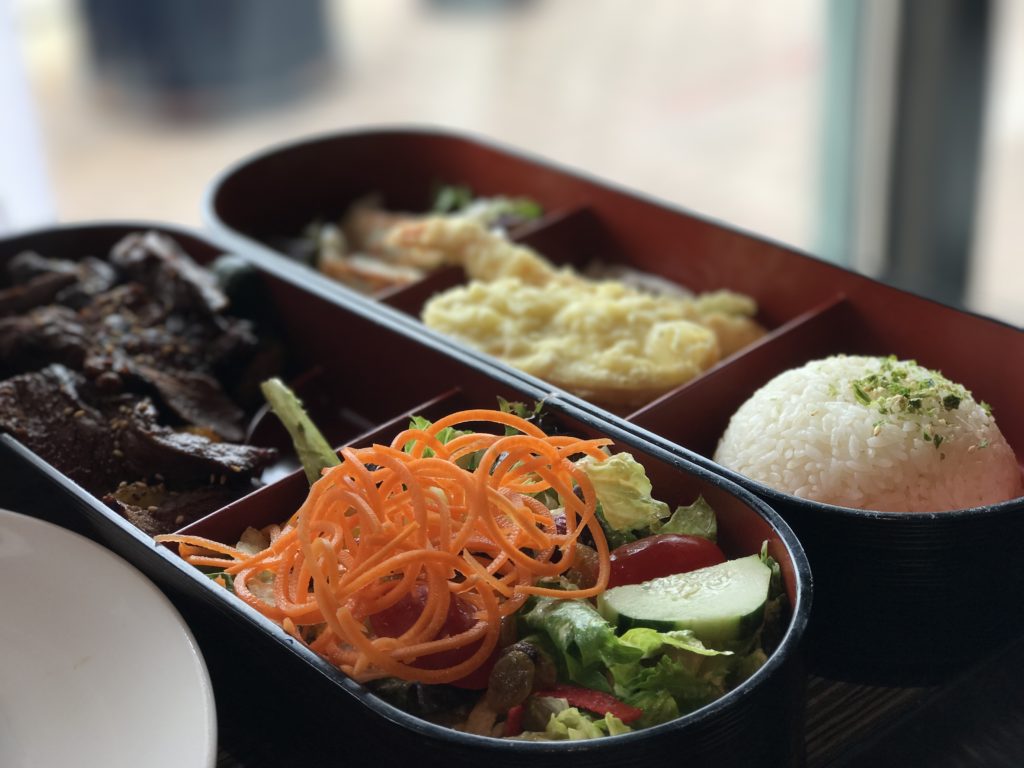 The entire "box" impressed me from the beginning as it is presented in two stories and having the lid removed in a "ta-dah" fashion.  (This is how Bento boxes should always be made!)  Bento boxes are fun because you can eat in any order you like.  I found that I kept eating a crunchy bite of the tempura and would follow it with a rich bite of meat or gyoza.  I cleanse my palate with a refreshing mouthful of the gingery lettuce and start all over again!  
I also want to compliment the staff at Shakou about the cleanliness of the entire restaurant. It is impressive to see a staff keep themselves busy with restaurant chores before the lunch crowd comes in. The place was spotless and the staff seemed to really enjoy each other as they got their work done.
If I were to make one complaint about my visit, I would say they need to get a good "mocktail" on the menu. They have a super creative bar menu but when I asked for options that were nonalcoholic, there aren't any options besides soda and tea.  (Shakou has really neat glassware according to their pictures and I wanted a fun "something" in a glass to go with my amazing feast….it would have completed the overall cool feeling I got from this place.)
There wasn't a bite of food that I would have changed and given the expansive menu…I WILL BE BACK!
Thank you to my friends at Meet Chicago Northwest for setting me up to try Shakou. It will become one of those restaurants you will never say no to!